Statcast of the Day: Trout finds rare air in Miami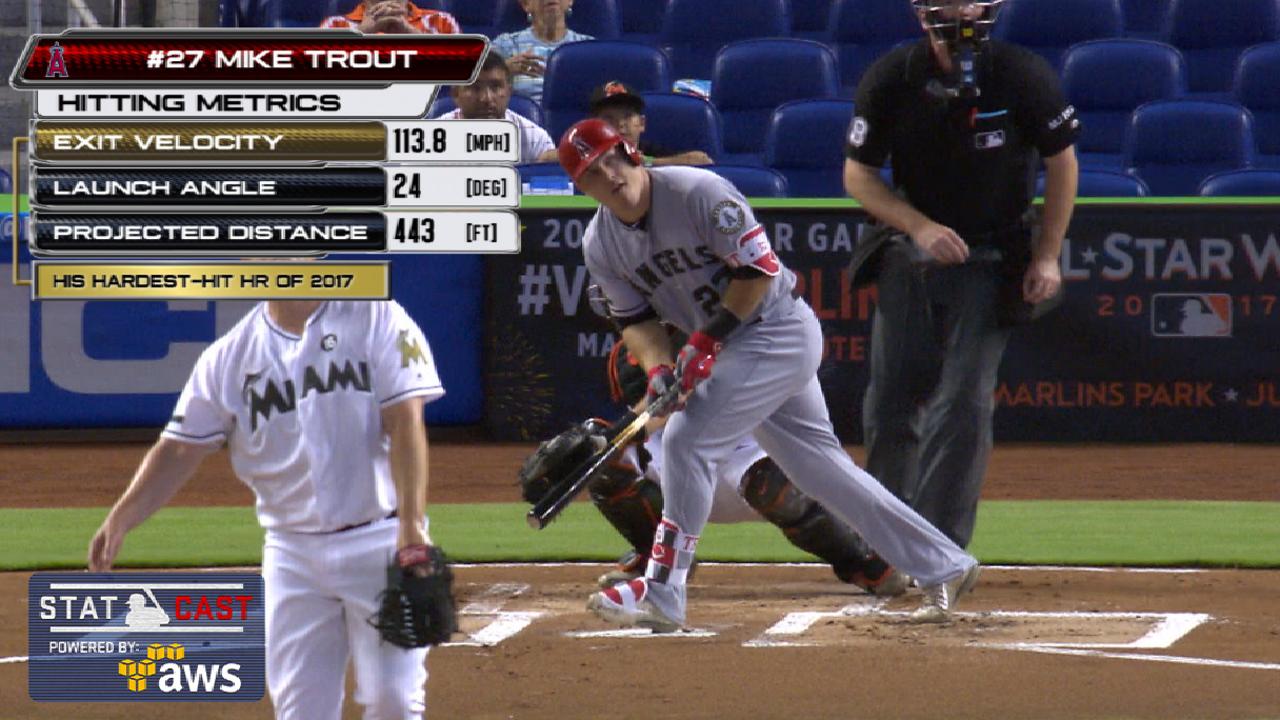 MIAMI -- Mike Trout tread on Giancarlo Stanton's territory Saturday, lifting a first-inning homer onto the concourse behind the bar in left field, an area where Stanton has launched a few at Marlins Park in his illustrious career.
Trout gave the Angels an emphatic lead in the opening frame of a 5-2 win with a two-out solo homer off Marlins starter Vance Worley, whose 87.6-mph two-seam fastball caught far too much of the plate. Trout's dinger was projected by Statcast™ at 443 feet with an exit velocity of 113.8 mph.
"I hit it good," Trout said. "I was just looking for a fastball, got one, and just barreled it up."
Trout's homer -- his Major League-leading 16th of the season, breaking a tie with the Nationals' Bryce Harper and the Yankees' Aaron Judge -- was both his hardest-hit and farthest of 2017. In fact, it was the hardest-hit and farthest home run by any Angels player this year.
The 113.8-mph exit velocity is Trout's second-highest on a home run in the Statcast™ era. Of Trout's 86 home runs since 2015, only a 114.4-mph shot off Joakim Soria on April 25 of last season was harder hit than Saturday's. The 443-foot home run distance against Worley is tied for Trout's sixth-farthest of the Statcast™ era.
• Cast your Esurance All-Star ballot for Trout and other #ASGWorthy players
"The first inning is usually the inning I try to find command," Worley said. "I try to stay out of the middle of the zone, and obviously, one got out. Overall, within the whole game, I felt I kept the ball down and kept them off-balance."
Trout ended Friday's 8-5 loss with a 384-foot flyout to center with a runner on base.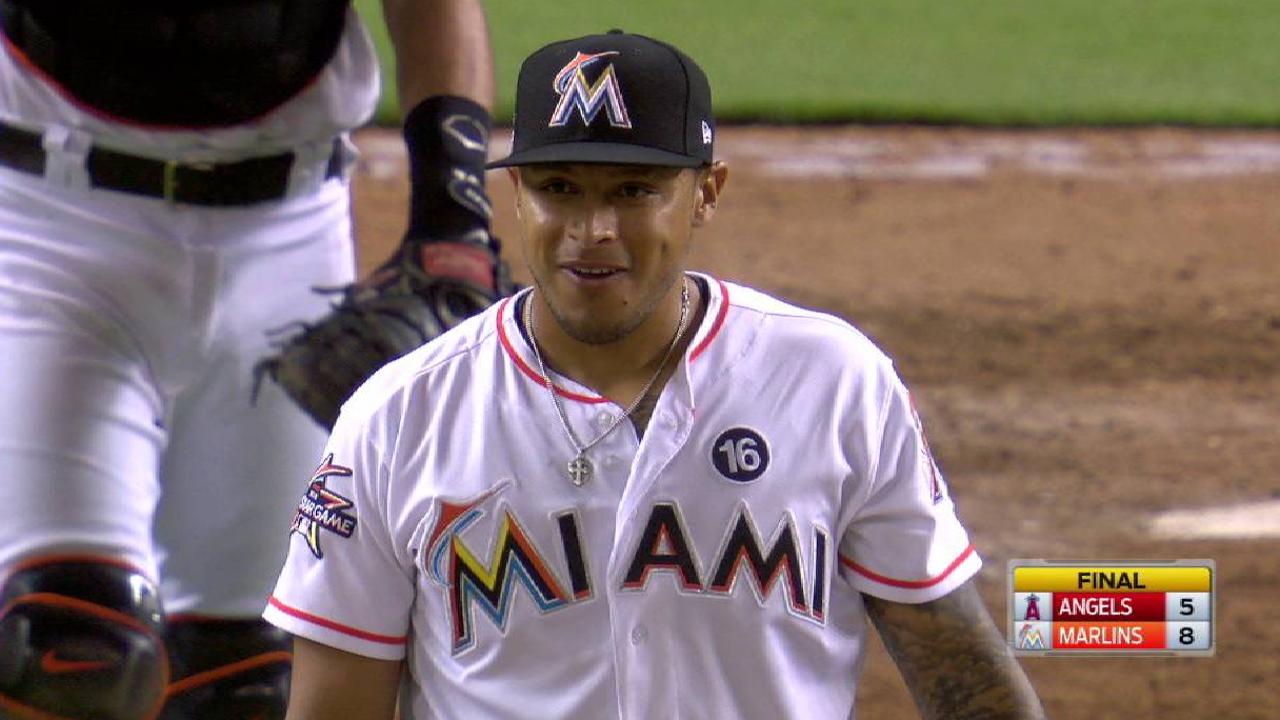 The homer on Saturday marked his eighth in the past 13 games. It was also his 184th career home run and first at Marlins Park.
It was Trout's 13th barrel of the month, tying him with Paul Goldschmidt, Khris Davis and Mike Napoli for the most barrels in the Majors in May. Barreled balls are the most dangerous type of contact -- batted balls whose combination of exit velocity and launch angle generally produce a batting average of at least .500 and a slugging percentage of at least 1.500.
Trout, who entered Saturday's game leading the American League in OPS (1.198) and extra-base hits (31), has reached base safely in 44 of his 46 games this season. In all, 32 of his 55 hits have gone for extra bases (16 home runs, 14 doubles and two triples).
"It's good," Trout said. "We're swinging it. Everybody knows their role, not trying to do too much. It's fun."
The Angels improved to 26-26 and look to get healthy and make a run at the postseason.
"We're right there, getting some guys back that were injured," Trout said. "We're just trying to win series. That's all you can ask for."
Glenn Sattell is a contributor to MLB.com based in Miami. This story was not subject to the approval of Major League Baseball or its clubs.