MLB.com Columnist
Phil Rogers
Moves have White Sox positioned for bright future
Robert signing latest in series of deals that have transformed franchise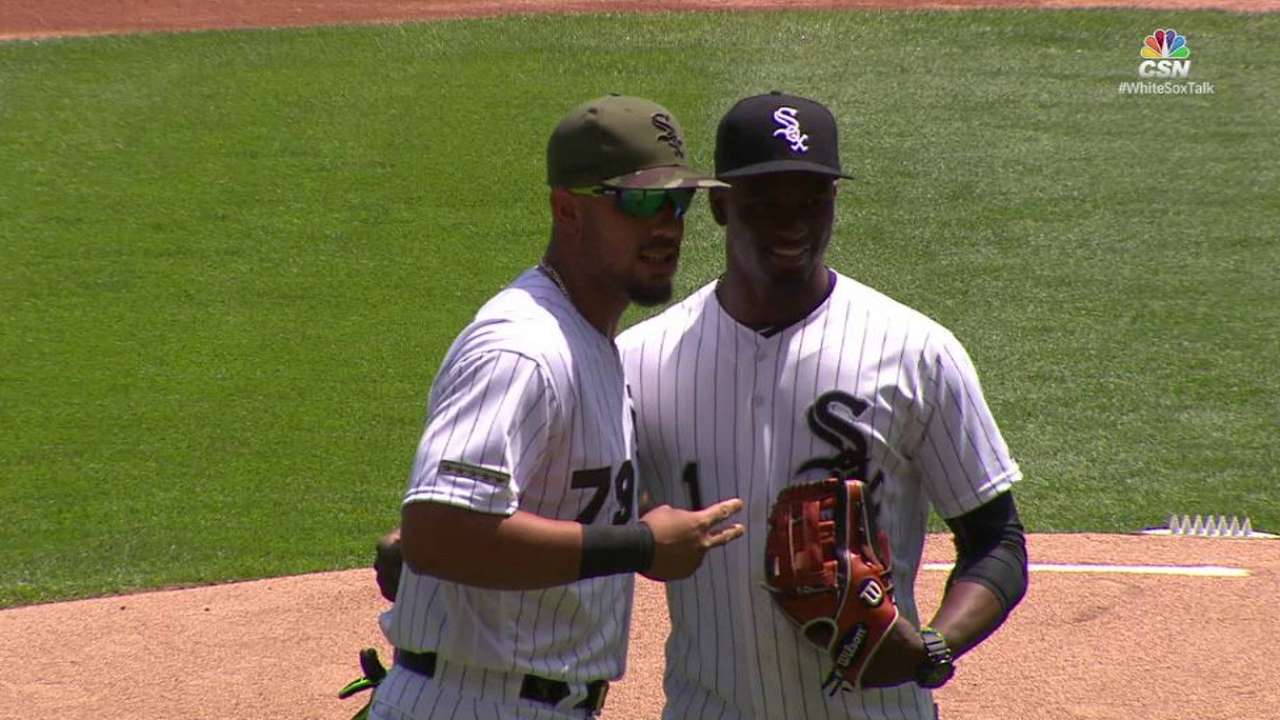 CHICAGO -- Luis Robert will probably never be further out of his comfort zone than when he took questions from English-speaking reporters on Saturday. He was sitting in a nicely appointed conference room at Guaranteed Rate Field, looking out at an audience that included White Sox chairman Jerry Reinsdorf and seemingly the team's entire front office, along with his agents.
But the 19-year-old Cuban center fielder was, to quote the late Stuart Scott, "as cool as the other side of the pillow."
There was a child-like wonder in Robert's eyes. But his chin, adorned with a closely trimmed goatee, was firmly set. Manager Rick Renteria had said earlier that Robert seemed a bit overwhelmed when they spoke in his office, but that wasn't the impression he made at the news conference announcing his deal, which included a $26 million bonus.
Robert was asked at one point what struck him about the White Sox sales pitch. He cited a statement spoken in Spanish by Renteria on a video produced by the team's communications staff.
"The part that impressed me the most was when Rick Renteria was talking straight to me, saying [the White Sox] need me to win several championships," Robert said, through translator Billy Russo.
Several championships?
That's the intent of Reinsdorf and his top two baseball men, Rick Hahn and Ken Williams. They concluded that would become more realistic if they were able to outbid the Cardinals and everyone else to sign Robert -- just as in 2013 they had identified another Cuban defector, Jose Abreu, as a signing that would change the arc of the franchise.
For the White Sox -- with a proud history of Cuban players that dates to Minnie Minoso's run of greatness in the 1950s and is highlighted by the contributions of Jose Contreras and Orlando Hernandez in the 2005 World Series -- these were essential signings.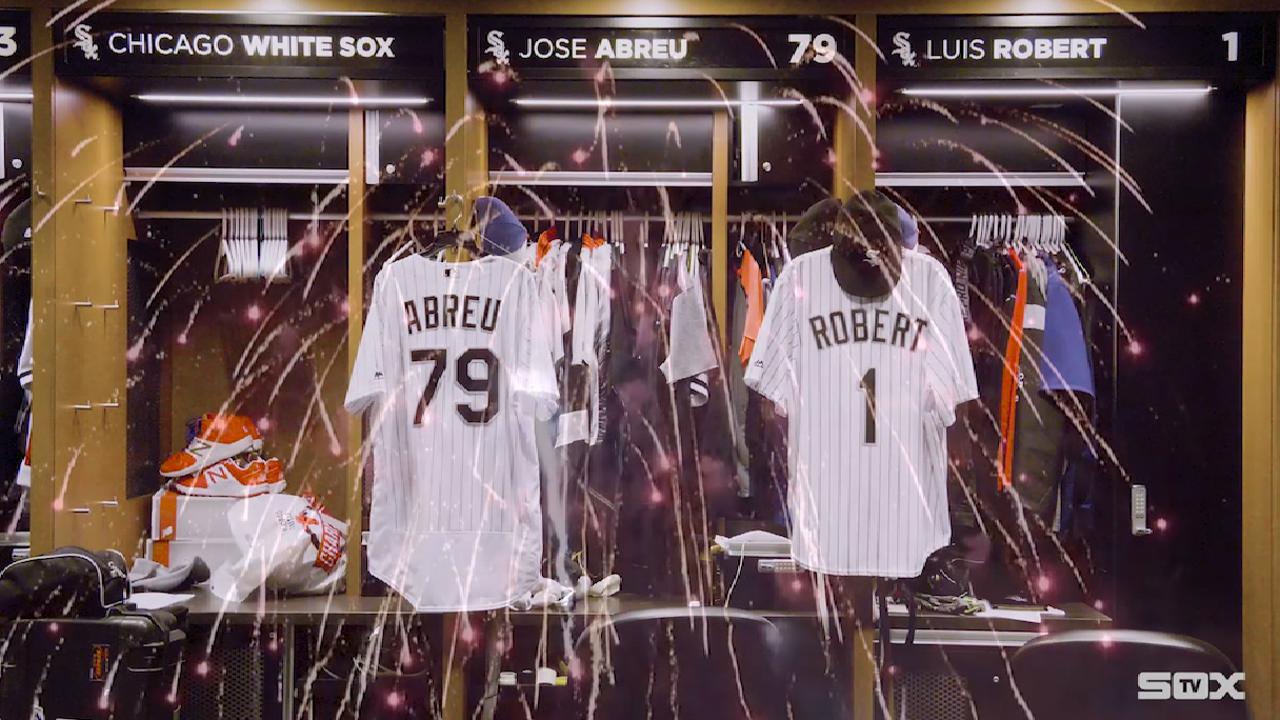 Reinsdorf gave his blessing and Hahn, Williams and the team's top international scout, Marco Paddy, worked together to bring badly needed talent into the organization.
"I think it was very similar to [signing] Abreu," Hahn said of the process. "... We spent a fair amount of time internally trying to come up with what we felt was [our] limit -- and ultimately as we got closer and closer to that number, there was an increased level of anxiety about whether we were going to be able to get it done. As far as these things go, when there's that level of competition, it was relatively painless. But, at the same time, we all waited with bated breath."
Abreu, who at 26 was a known commodity when he received a six-year, $68 million deal, was seen as a must-have piece for a team trying to win behind the 1-2 punch of Chris Sale and Jose Quintana. It didn't take long for the White Sox to concede they lacked sufficient talent and organizational depth supporting Abreu, and the team pivoted into a rebuild mode that has been accelerated by the trades of Sale to the Red Sox and Adam Eaton to the Nationals.
Beginning with a 2016 Draft headed by University of Miami power-hitting catcher Zack Collins, the White Sox have imported a ton of talent in a short time. Switch-hitting second baseman Yoan Moncada, acquired alongside power right-hander Michael Kopech in the Sale trade, is ranked as the game's No. 1 prospect by MLBPipeline. He cost the Red Sox $62 million in bonus and tax, just as the tax for going beyond their signing limit is likely to turn Robert into a $48 million proposition for the White Sox.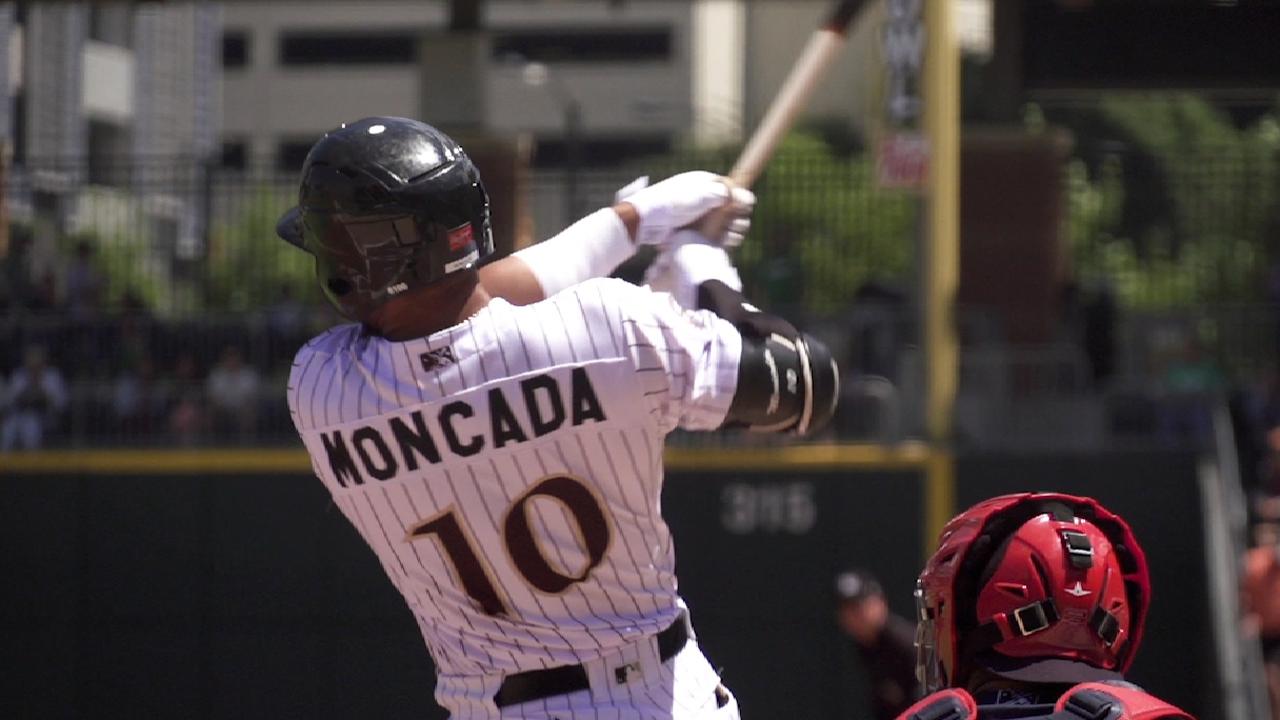 While Robert is at least two years behind the 22-year-old Moncada in terms of development, the two Cubans should become core players for an upwardly mobile South Side team by 2020 -- if not the second half of '19.
"It's about the talent," Hahn said. "Having potentially two high-ceiling players up the middle for an extended period of time [means] a great deal to us. Based on what we've done here over the last 12 months, we've started to accumulate middle-of-the-diamond talent that's going to be controllable -- [and] potentially very impactful -- for an extended period of time."
White Sox fans have welcomed the team's rebuilding mode after reaching the postseason only once in 11 seasons after winning the 2005 World Series. Hahn pointed out on Saturday that nine of the top 10 players on MLBPipeline's list of White Sox prospects have been acquired in the last year.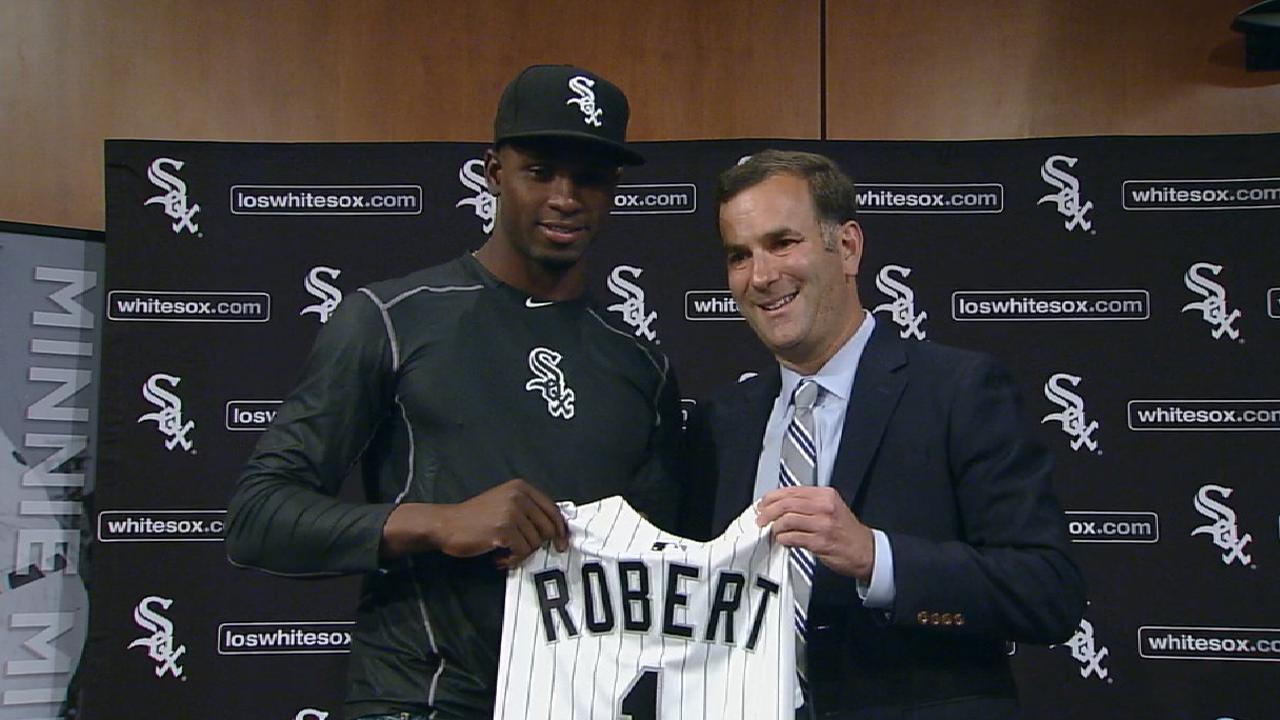 "We also know we have more work to do," said Hahn. "We have a big Draft coming up in a few weeks -- and hopefully at the [Trade] Deadline and again in the offseason, we hope to continue this process."
While the Sox are hanging around in the American League Central standings, they will look to trade veterans like Quintana, David Robertson, Todd Frazier, Melky Cabrera, Miguel Gonzalez, Derek Holland and Anthony Swarzak in July. Their payroll that stood at $115 million at the start of the 2016 season slid to $98 million this season and figures to be much smaller in '18.
That's why the outlay for Robert -- more than twice what Reinsdorf and his ownership group paid for the team in 1981 -- came so easily. The White Sox are reallocating assets -- investing in young talent added for the long haul, not stop-gap veterans.
There should be massive payroll flexibility after the 2018 season, when Hahn, Williams and the White Sox front office will have its next chance to pull together a big free-agent signing.
There's no way to know if they will be surprise players in a market that could be headed by Manny Machado, Bryce Harper, Daniel Murphy, Andrew McCutchen, Andrew Miller and Zach Britton. But they'll certainly be on the short list of teams with money to spend.
When Jason Heyward picked the Cubs over the chance to stay with the Cardinals, he cited the chance to win behind a nucleus of young players. Look for that to be part of the argument the next time the White Sox try to sign a player with the type of talent that caused them to covet Abreu and Robert.
They couldn't have claimed that a year ago.
Phil Rogers is a columnist for MLB.com. This story was not subject to the approval of Major League Baseball or its clubs.