Ramirez, Trout lead Angels over Marlins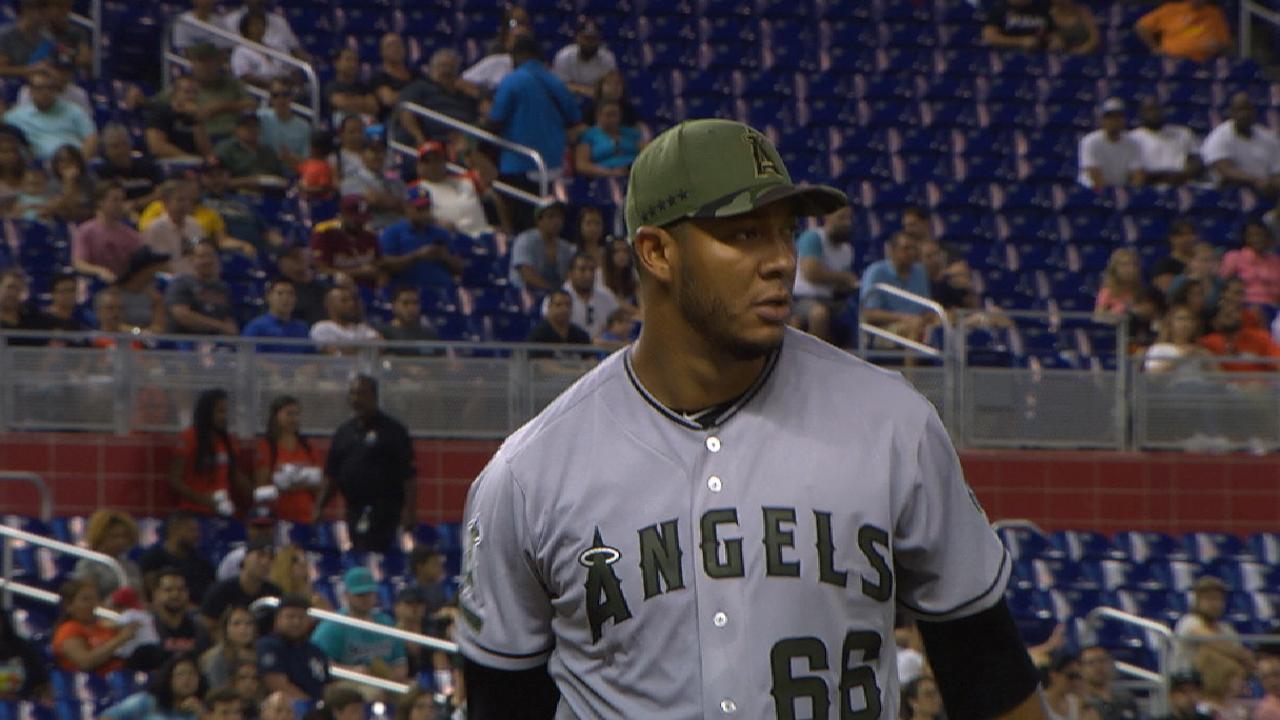 MIAMI -- After escaping a potentially bumpy first, JC Ramirez was in control on Saturday in his seven-inning outing at Marlins Park. Backed by Mike Trout's first-inning homer and Luis Valbuena's eighth-inning two-run single, the Angels defeated the Marlins, 5-2, to even the three-game series.
"For the most part, he was in the zone early and got some big outs during the game, pitched a strong seven innings," Angels manager Mike Scioscia said. "Coming out of the seventh, we felt he had enough to start the eighth. But as our inning got longer, we just thought we'd start with somebody fresh."
Relying on a four-seam fastball that maxed at 98.5 mph and a two-seamer that reached 97.9 mph, Ramirez allowed one unearned run in his fourth start of seven innings in his last seven outings. Of the 23 runs Ramirez has allowed this year, 10 have come in the opening frame.
"All my pitches were working today -- curveball, slider, fastball," said Ramirez, who became a starter this season. "It was nice to get my fastball velocity up."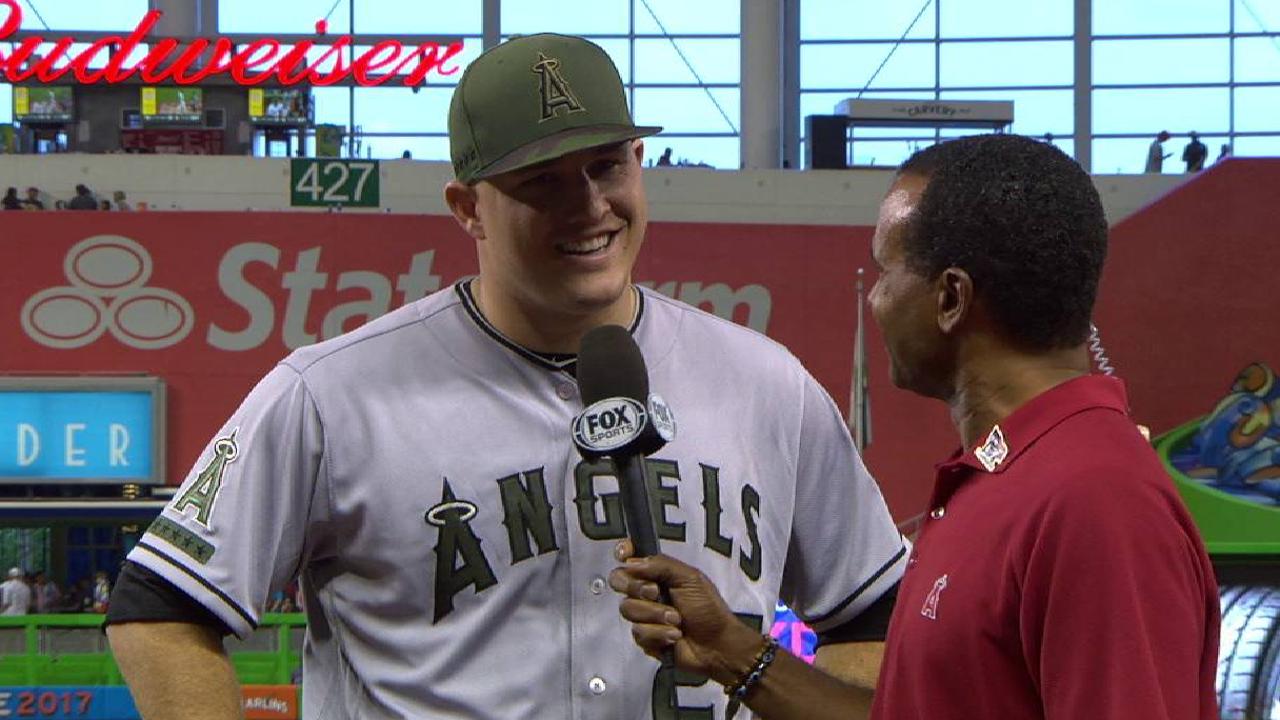 Added Scioscia: "I think he's understanding putting pitches together better for the long term. There's still a lot of growth there, but I think he's understanding how to pitch through the third or fourth time through the order."
The Angels took the early lead on Trout's two-out homer to left in the first off Vance Worley, who gave up two runs over five innings. Statcast™ projected the slugger's Major League-leading 16th of the season at 443 feet with an exit velocity of 113.8 mph.
"The first inning is usually the inning I try to find command," Worley said. "I try to stay out of the middle of the zone, and obviously, one got out. Overall, within the whole game, I felt I kept the ball down and kept them off-balance."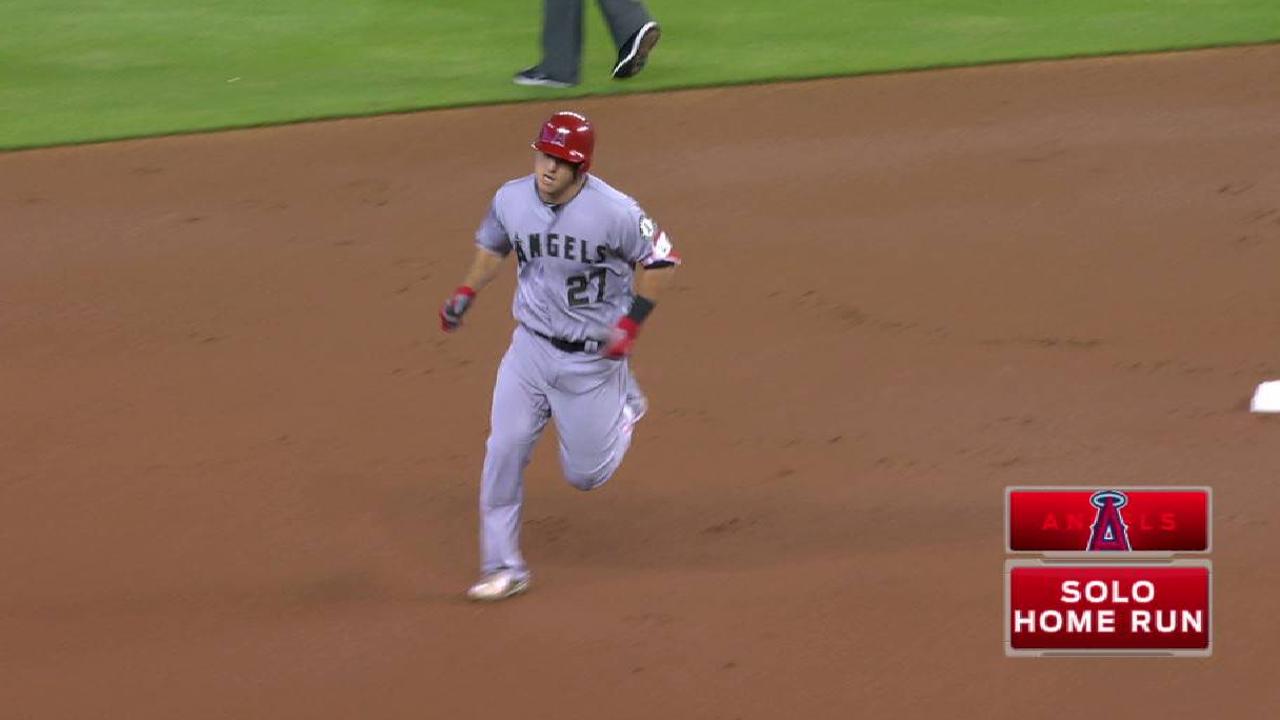 Marcell Ozuna belted an opposite-field home run off Bud Norris, in a non-save situation, in the ninth.
"In general, it was one of those games that we hung in there, and we felt we had a chance to win," Marlins manager Don Mattingly said.
Miami pulled even at 1 on a bizarre play in the bottom half of the first. With Christian Yelich on first, Ozuna reached on an infield single. But a wild throw by Andrelton Simmons, who tried to make a spinning play to get Ozuna at first, resulted in the ball going into the camera well. Yelich was awarded two bases on the error to score.
Ramirez induced double plays in the third and fourth innings, and he benefited by a huge pickoff play at first base by catcher Martin Maldonado in a one-run game in the fifth.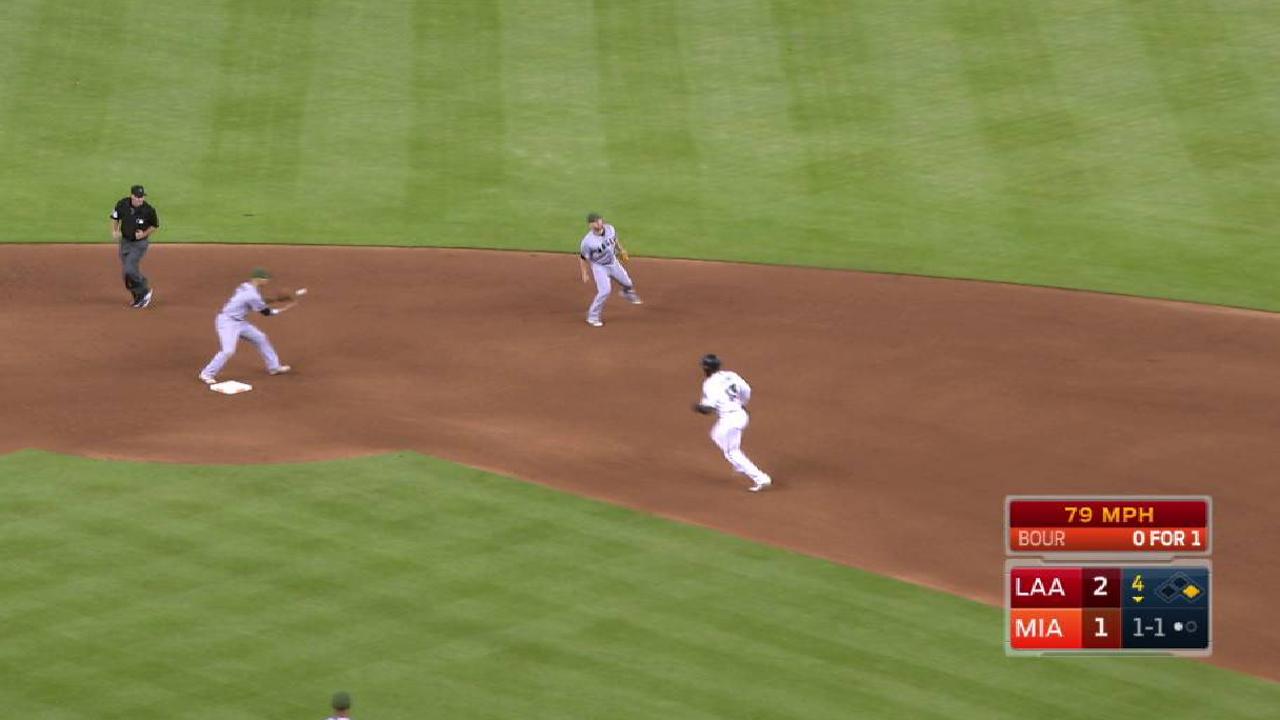 MOMENTS THAT MATTERED
Bases-loaded pickoff: An ideal bases-loaded situation for the Marlins in the fifth inning turned into an opportune time for the Angels to execute a pickoff play, and it worked. Dee Gordon's infield single loaded the bases with two outs, bringing up Giancarlo Stanton in a 2-1 game. After the second pitch to Stanton, a 96.9-mph two-seam fastball by Ramirez, Maldonado threw to Albert Pujols in a pickoff attempt of Gordon. The Angels challenged the safe call, and after a review of two minutes and 22 seconds, the call was overturned. The claim was Gordon's foot, which was obstructed by Pujols' foot, didn't touch the base.
"Obviously, the play kind of speaks for itself," Mattingly said. "It's not a great baseball play. It's a 2-1 game and Giancarlo is up with the bases loaded. The guy is in a little bit of trouble, from that side of it. From the other side of it, the [replay], I couldn't tell really on the screen. I couldn't tell if it was one of those that was clear and convincing that it should have been overturned."
Scioscia credited catching and information coach Steve Soliz with first noticing the mental error.
"He correctly read it that Dee's foot came in and was on top of Albert's foot when the tag was on him and wasn't on the base," Scioscia said. "It was a big play, and both Maldy and Albert worked it great and got the out."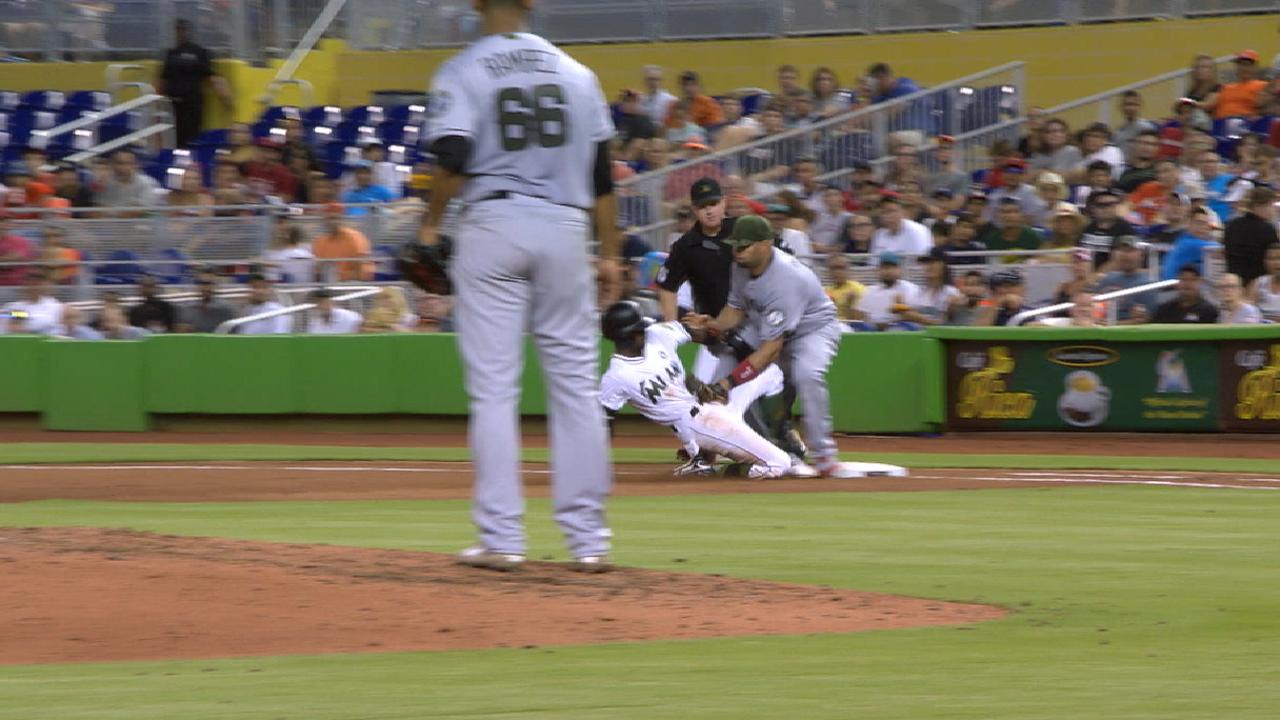 Robbing the thief: Angels shortstop Simmons has a reputation of taking hits away in the field. But in the first inning, it was Simmons who was denied of extra bases -- and perhaps a home run -- by Ozuna. Simmons drove a liner to deep left field that Ozuna tracked to the wall before making a leaping grab. The ball was projected at 374 feet with an exit velocity of 96.9 mph, per Statcast™. Ozuna traveled 63 feet to make the play, which was a big one because Trout followed with a home run.
"In that first inning, they hit a couple of balls hard," Mattingly said. "[Ozuna] makes a great play. Obviously, Trout hits the homer after that, so it saves us a run." More >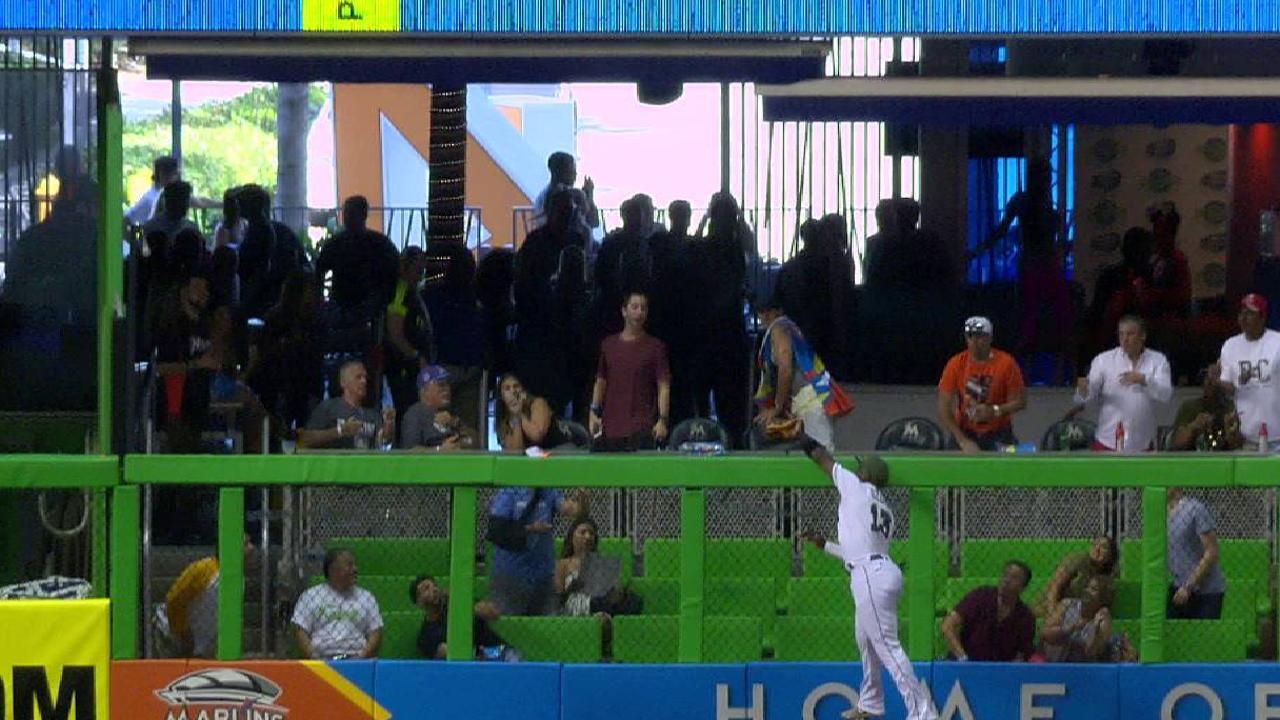 QUOTABLE
"He got most of that one. That ball was hit pretty good." -- Scioscia, on Trout's homer

"I like hitting. I like to contribute and help, not only on the mound, but if I'm in the box, I like to make things happen. If I'm called upon to bunt, I get my bunts down. On my at-bats, if I do get a chance to swing, I take it seriously." -- Worley, on his single in the third inning that had an exit velocity of 97.8 mph
SOUND SMART WITH YOUR FRIENDS
The Marlins entered Saturday seeking their first back-to-back wins since April 22-23 at San Diego.
INSTANT REPLAY
A nice leaping catch by shortstop J.T. Riddle on Pujols in the eighth inning nearly turned into a double play with the bases full. Playing the infield in with no outs, Pujols turned on Kyle Barraclough's 3-1 fastball and lined to Riddle. From the ground, Riddle flipped to Derek Dietrich at third base, as Cameron Maybin scampered back to the bag. Miami challenged, and after a review of 46 seconds, the call was confirmed.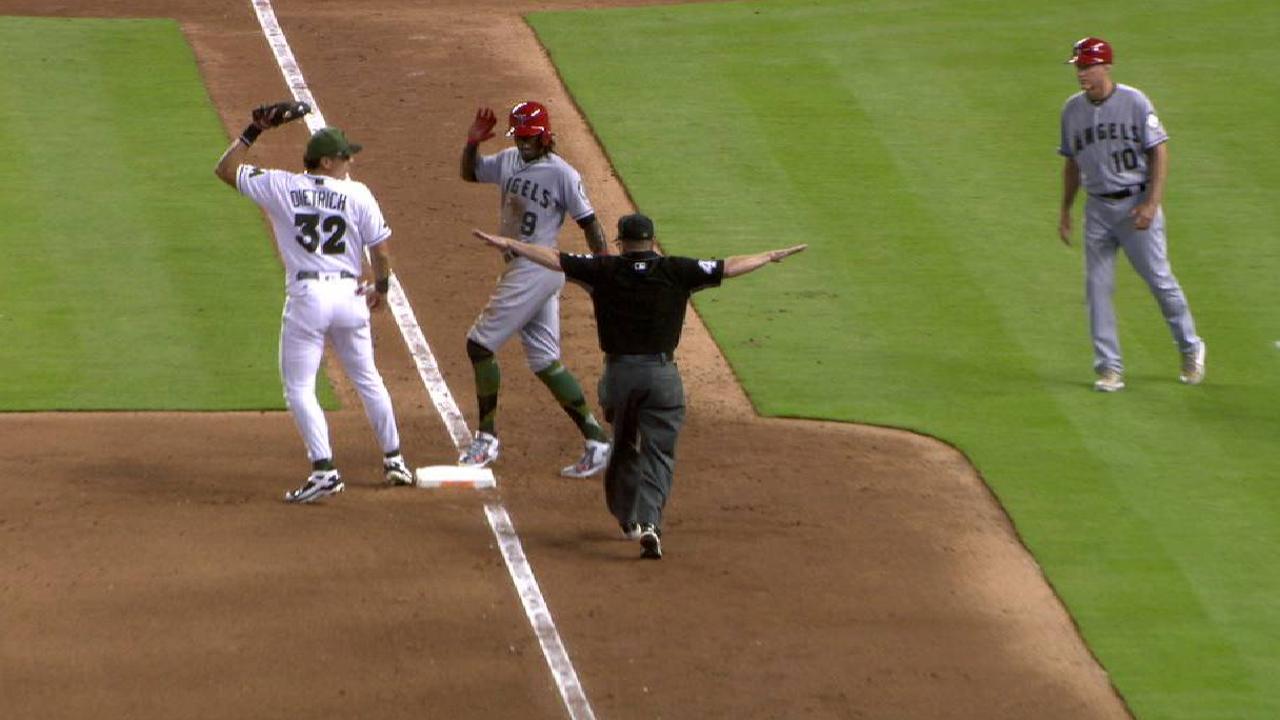 WHAT'S NEXT
Angels: The Angels send Matt Shoemaker to the mound at 10:10 a.m. PT on Sunday in the series finale with the Marlins. The right-hander has won his last three starts, allowing no runs in two of those outings.
Marlins: Closing out the three-game series at 1:10 p.m. ET on Sunday for the Marlins is right-hander Jose Urena (2-2, 3.08 ERA). It will be his fifth start after opening the season in the bullpen.
Watch every out-of-market regular-season game live on MLB.TV.
Joe Frisaro has covered the Marlins for MLB.com since 2002. Follow him on Twitter @JoeFrisaro and listen to his podcast.

Glenn Sattell is a contributor to MLB.com based in Miami and covered the Angels on Saturday.

This story was not subject to the approval of Major League Baseball or its clubs.