Change of pace? Moss making pitchers pay
Royals DH's numbers are up against offspeed offering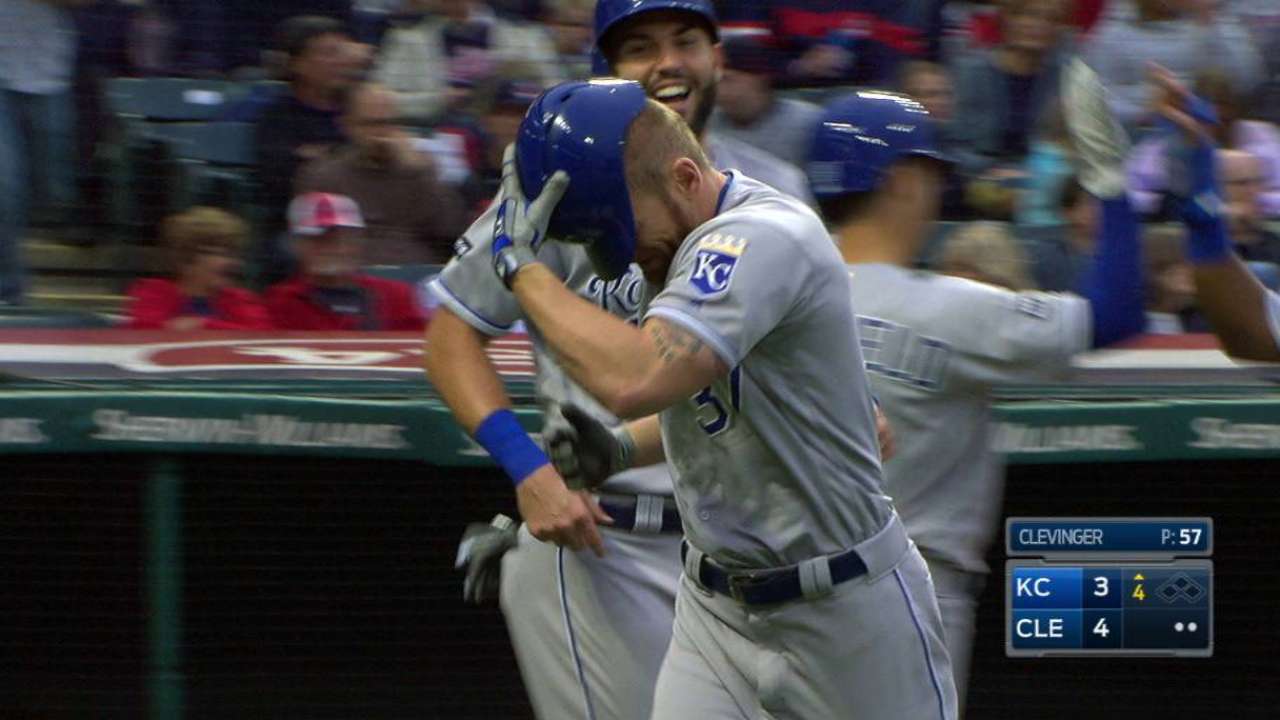 CLEVELAND -- Royals outfielder/designated hitter Brandon Moss always has had a love/hate relationship with the changeup.
"It's one of those pitches," Moss explained, "that if a pitcher keeps it down or executes their location with it, it's the pitch I can't handle.
"But when they miss up or over the plate, it's a pitch I've always driven. It's always been that way. Last year was a little different. I would pull them foul, be out in front of it a little bit."
The numbers bear that out. Moss hit .131 on the changeup last year with a paltry .311 slugging percentage.
But Moss is doing damage to the changeup this season. Moss got the Royals back in Friday's 6-4 win over the Indians with a three-run homer off a changeup from Mike Clevinger.
It's the third time that Moss has taken a changeup deep this season. Entering Saturday's game, he is hitting .273 against the pitch this season with a .545 slugging percentage.
Moss doesn't really have any explanation for why he's crushing the changeup this season.
"For some reason, it's been one of those pitches you're going to strike me out with or you're going to give up probably a home run," he said. "It's just because if you fool me enough, I'm going to swing and miss it. If you don't fool me, it just gives me more time to get my barrel to it."
Statcast™ numbers suggest Moss has been chasing the changeup out of the zone fewer times this season -- 38 percent, down from 45 percent last season.
Moss disputes that.
"I'm chasing it a ton," he said. "It's a great pitch. It's the best pitch in baseball. All the best pitchers have a plus changeup. It looks like a fastball, it's down like a fastball, you're looking for something straight, and it's straight, but it dives out of the zone."
Jeffrey Flanagan has covered the Royals since 1991, and for MLB.com since 2015. Follow him on Twitter @FlannyMLB. This story was not subject to the approval of Major League Baseball or its clubs.