Royals ride 3-run 6th for series win over Tribe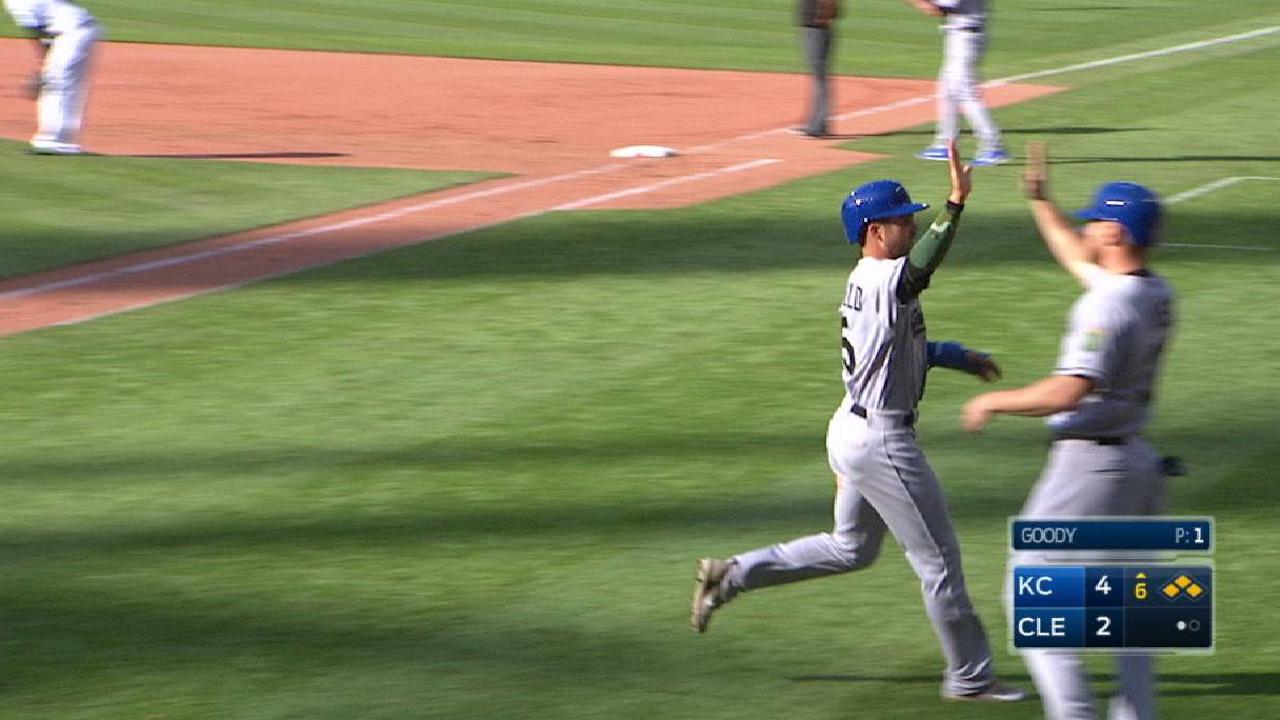 CLEVELAND -- Alcides Escobar hit a two-run double off Indians reliever Nick Goody to key a three-run sixth inning as the Royals rallied for a 5-2 victory on Saturday afternoon at Progressive Field.
Mike Moustakas hit his team-leading 13th home run in the ninth off right-hander Shawn Armstrong.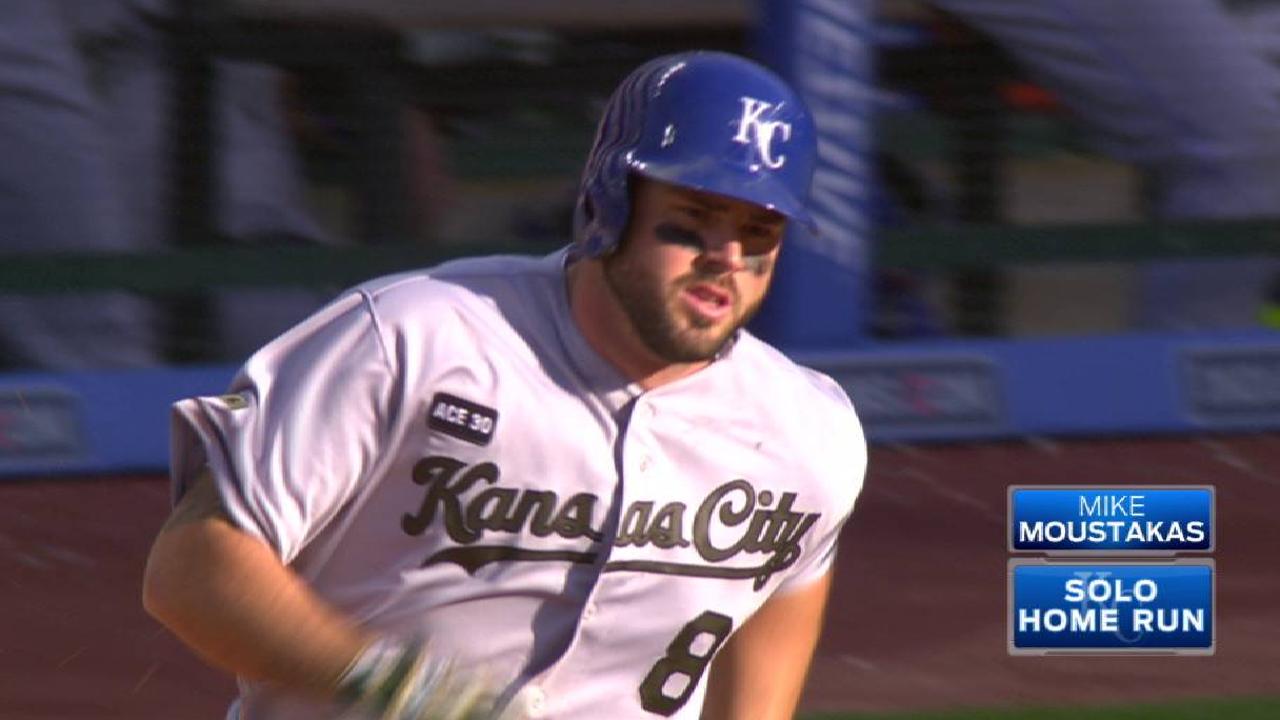 Neither starter got through the sixth inning. Indians right-hander Danny Salazar went 5 1/3 innings and gave up six hits, four runs (three earned) while walking five and striking out four. Royals left-hander Jason Vargas logged 5 2/3 innings and gave up nine hits and two runs.
"[Vargas] had to grind through it," Royals manager Ned Yost said. "He was a up today a little bit. But the competitiveness, the competitive nature in him, he just had to grind through it.
"He would bend a little bit, but never break. He held the fort. He made pitches when he needed to. He did a great job maneuvering through the game without his best stuff."
"They're such an aggressive swinging team," Indians manager Terry Francona said. "[Salazar] had five walks. If you look at his strikes to balls, it looks pretty good. I still think he didn't command the ball where he wanted to and there's walks mixed in that really hurt, like the inning when he came out. We got out of innings, there was traffic the whole time."
Francisco Lindor homered in the first inning off Vargas, his 11th of the season. Jason Kipnis, who committed an error in the first inning that led to a run, singled in a run in the third inning.
MOMENTS THAT MATTERED
Esky Magic: Escobar collected his first multi-RBI game of the season with his two-run double in the sixth inning. Alex Gordon, who had been 1-of-18 against Goody, tied the game at 2 with a bases-loaded single that scored Jorge Bonifacio, who doubled with one out. Escobar then lined a shot toward Lindor at shortstop. Lindor seemed in position to grab it, but the liner screamed past him into the alley and Brandon Moss and Whit Merrifield scored.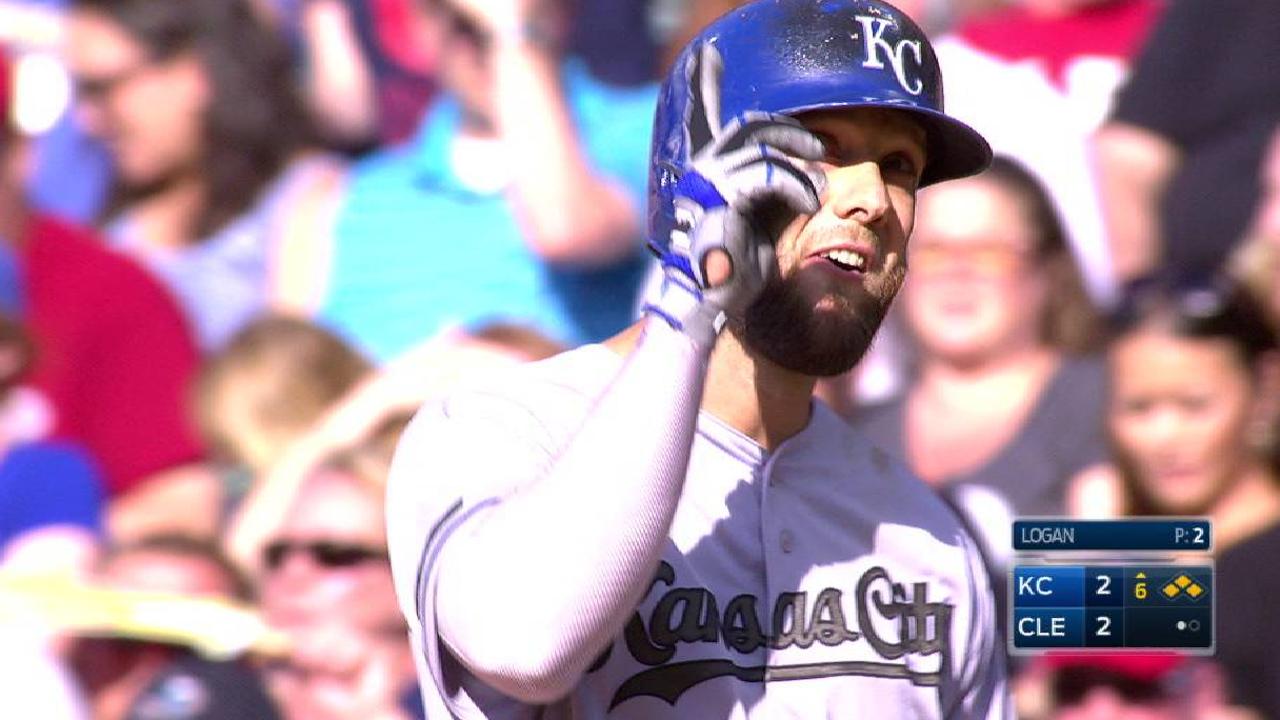 "In that situation, I was looking first-pitch [slider] 100 percent," Escobar said. "And it was a strike. I hit it really good and then I saw 'Oh, they might have it.' It feels really great to bring in two runs and take the lead."
Moylan ends Tribe threat:The Indians had a great opportunity in the seventh inning when Lindor and Carlos Santana walked against reliever Matt Strahm. With one out, right-hander Peter Moylan came on to face Edwin Encarnacion, who rolled into a 6-4-3 inning-ending double play.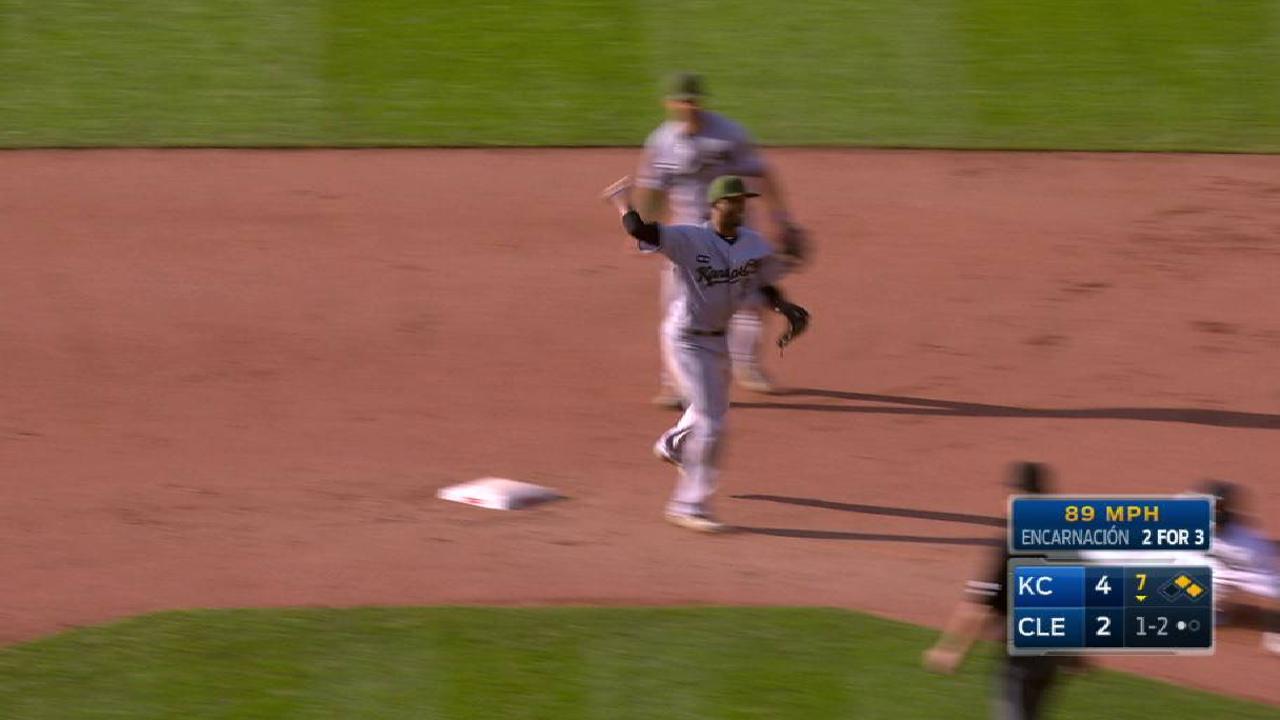 "I basically was trying to get him to chase something," Moylan said. "My whole focus was to get him to hit it on the ground to get a double play. I think he might have been looking slider and I jammed him a bit with a sinker."
QUOTABLE
"You can't go out and take batting practice and tell the guys there's two outs. We've got to get a line moving and keep it moving. It seems like at times, we get runners on with two outs. Then, you have to get a hit as opposed to giving yourself a lot of opportunities. When you don't cash in, it's not that big [of a] deal because you'll have the next inning, you'll have another opportunity. When you don't, it's really glaring." -- Francona, on the Indians' struggles with runners in scoring position
SOUND SMART WITH YOUR FRIENDS
In the first inning, Lindor and Michael Brantley extended their hitting streaks. Lindor's improved to 12 games with a solo homer to left, and Brantley extended his to 11 games with a single to right.
EJECTIONS
Royals first baseman Eric Hosmer and manager Ned Yost both were ejected in the top of the first inning. Hosmer, with the bases loaded and none out, was called out on a checked-swing attempt by third-base umpire David Rackley. Hosmer began barking at Rackley, and home-plate umpire Bill Welke tossed him. Yost came out to argue and Welke tossed him. It was Hosmer's second career ejection and Yost's 40th. More >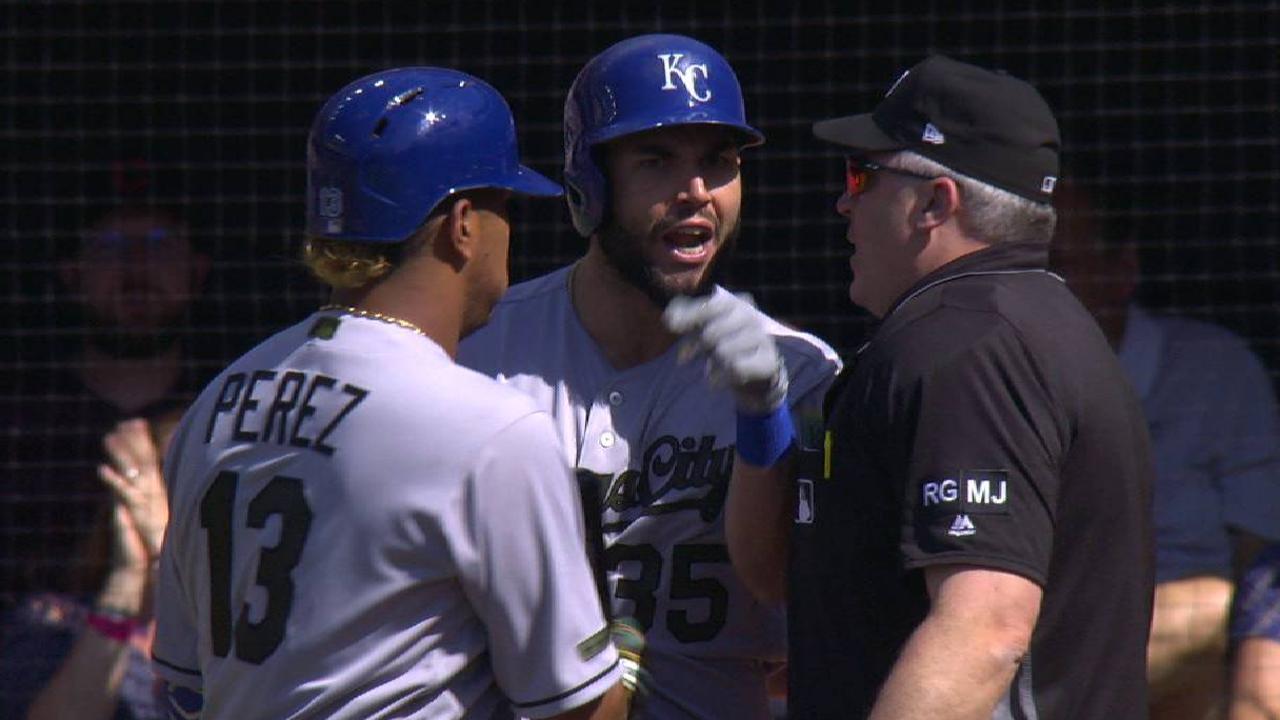 UPON REVIEW
With the bases loaded and two out in the fourth, Kipnis drove a 3-1 fastball from Vargas deep down the right-field line and into the seats. The ball landed in foul territory and was ruled a foul ball. After a 44-second crew chief review, the call was confirmed. Kipnis popped out to first to end the inning.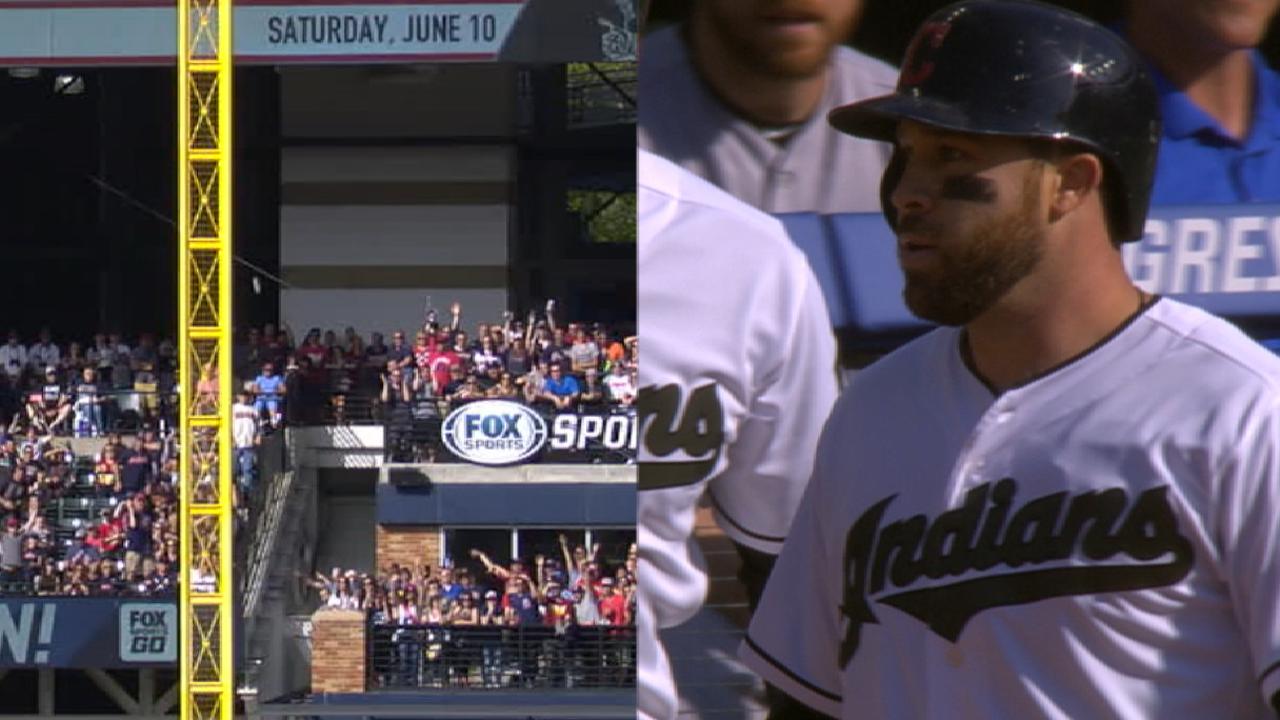 "I thought it was foul," Francona said. "I got maybe as good a view as anybody, but I saw [first-base coach Sandy Alomar] react and Kip kind of reacted, too. So there's no reason to -- I mean they're really good about those boundary calls because they want to get it right. I guess I was hoping maybe it nicked the pole. I think that's the best you could hope for because I never lost sight of the ball."
WHAT'S NEXT
Royals: Left-hander Danny Duffy (4-3, 2.92 ERA) takes the mound for the series finale against the Indians on Sunday at 12:10 p.m. CT. Duffy gave up two runs and six hits over seven innings on Tuesday in a 6-2 win over the Yankees.
Indians: Right-hander Josh Tomlin (2-6, 6.70) will get the ball on Sunday at 1:10 p.m. ET for the finale at Progressive Field. Tomlin is coming off his sixth loss of the season, after he allowed four earned runs on nine hits in 6 1/3 innings against the Reds on Monday.
Watch every out-of-market regular-season game live on MLB.TV.
Jeffrey Flanagan has covered the Royals since 1991, and for MLB.com since 2015. Follow him on Twitter @FlannyMLB.

William Kosileski is a reporter for MLB.com based in Cleveland and covered the Indians on Saturday.

This story was not subject to the approval of Major League Baseball or its clubs.