Power, approach carrying Rays' offense
MINNEAPOLIS -- Every day it seems as if there's a different hero at the plate for the Rays. And more often than not, the heroics involve a baseball sailing over a fence.
Corey Dickerson hit two home runs to beat the Yankees last Saturday. Steven Souza Jr. went deep twice in a win over the Angels on Wednesday. And on Friday, three Rays -- Logan Morrison, Kevin Kiermaier, and Souza -- launched home runs in the Rays' 5-2 win over the Twins.
The Rays have posted some amazing stats in the "three true outcomes" categories thus far in 2017. They lead the American League with 72 home runs, and lead the Major Leagues with 200 walks and 538 strikeouts. And it's not a coincidence, according to the team's home run leader.
"I just think it's the way that we're built," said Morrison, whose home run on Friday was his 13th of the season. "From personal experience, I know that when you're looking to drive the baseball, you're not looking to take a first-pitch fastball middle-in and just put it in play.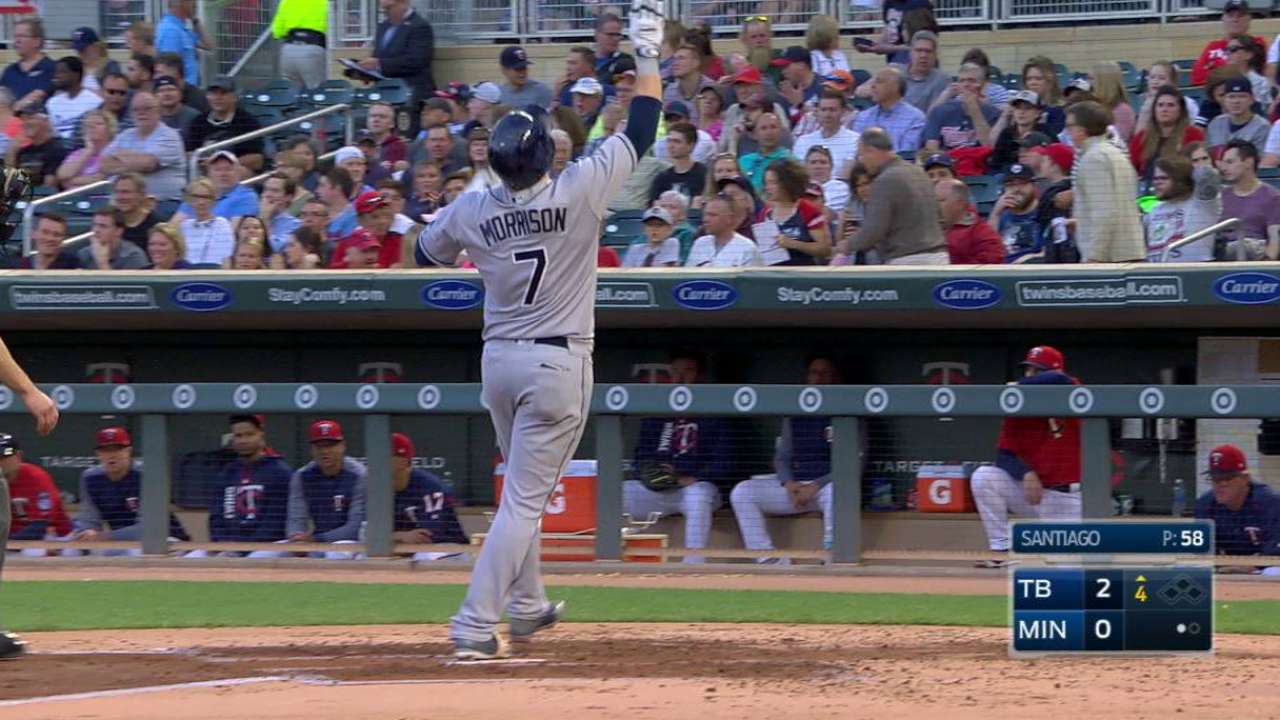 "Sometimes you're going to drive those pitches, sometimes you're going to foul them off and sometimes you're going to swing through them."
All five of Tampa Bay's runs scored on Friday were via the home run, and while that's not always the goal, it's turned out more often than not for the Rays this year.
"We definitely want to pride ourselves on being able to manufacture runs other ways, but we do have guys that can hit the ball out of the ballpark on any given night," Rays manager Kevin Cash said. "That makes it tough on opposing pitchers and pitching staffs, because one mistake can put a crooked number up."
Morrison provided a perfect example of that approach with his home run on Friday against Twins lefty Hector Santiago. Morrison patiently worked the count full, even taking a fastball on the outside half of the plate for strike two because it wasn't in the spot he was looking for -- up and in. So when Santiago left a 3-2 fastball up and in, Morrison was ready to pounce, driving it over the right-field fence.
"One thing about LoMo, you're going to get a really good at-bat," Cash said. "He's put himself in some positions to really impact us, from driving guys in and having quality at-bats."
It doesn't hurt that the Rays are back at the scene of their biggest power outburst of the 2016 season. Tampa Bay hit 11 home runs in a four-game series at Target Field last June. Evan Longoria hit five of them, and Morrison added four more. Morrison has homered in four straight games at Target Field, giving him a good perspective on the ballpark.
"I haven't been here when it's cold, so I don't know about [hitting in those conditions]," Morrison said. "But in my experience, yeah, I think the ball does travel well. If you barrel it in the air, it's got a chance to go."
Patrick Donnelly is a contributor to MLB.com based in Minneapolis and covered the Rays on Saturday. This story was not subject to the approval of Major League Baseball or its clubs.