Cain lacks support in bounce-back start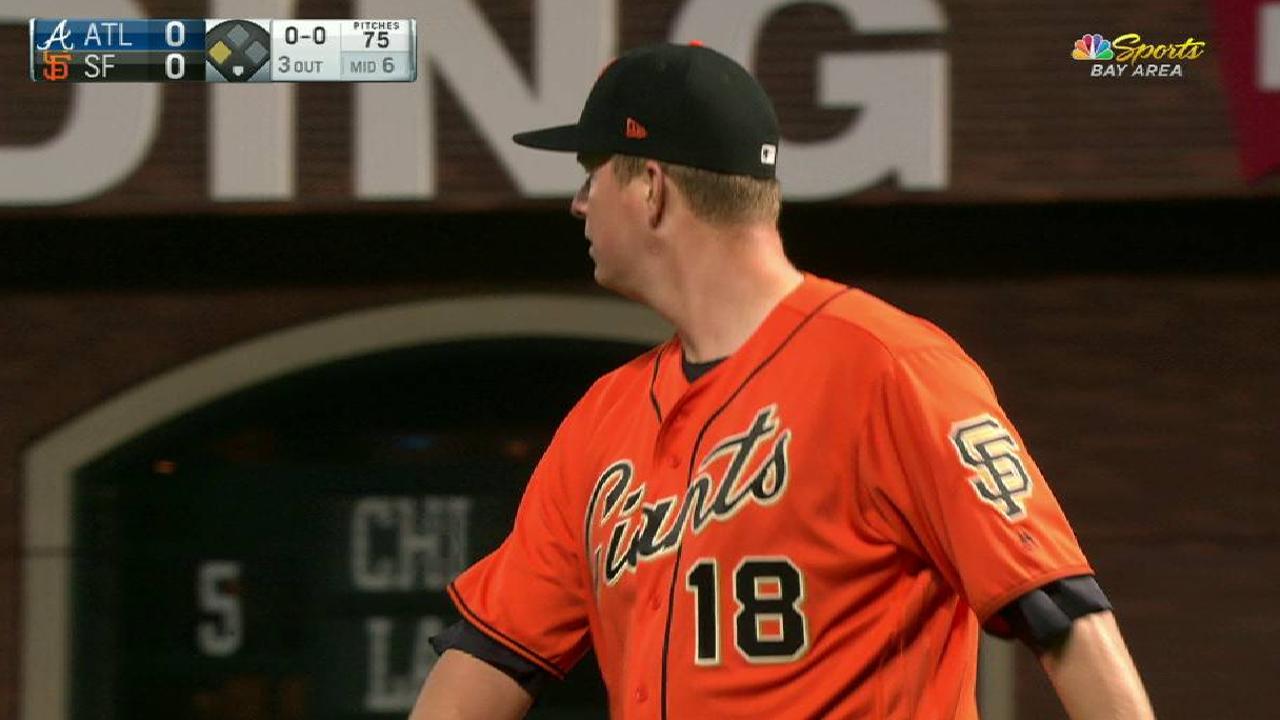 SAN FRANCISCO -- Matt Cain did his part Friday night, but the veteran right-hander was left out in the cold by his offense. Despite throwing seven sharp innings to match a season high, Cain was saddled with the loss in Friday's 2-0 defeat against Atlanta to open a three-game set.
Cain and Braves veteran southpaw Jaime Garcia engaged in a pitchers' duel that was ultimately decided by a Garcia single in the seventh that led to two runs for the Braves.
"That's tough," Cain said. "He was throwing the ball really good. That's kind of what it comes down to in a game like that when both guys are going back and forth. You're looking for that one little [thing] that'll scratch a run or two across. He did it."
With two outs in the top of the seventh and a runner on second, Cain intentionally walked Dansby Swanson to face Garcia. But the Braves pitcher made him pay by slapping a single to left field, scoring Tyler Flowers. Once Brandon Belt's throw from left field deflected off Flowers as he crossed home plate, Cain retrieved the ball and flipped to catcher Nick Hundley at home as Swanson was able to slide under the tag to score.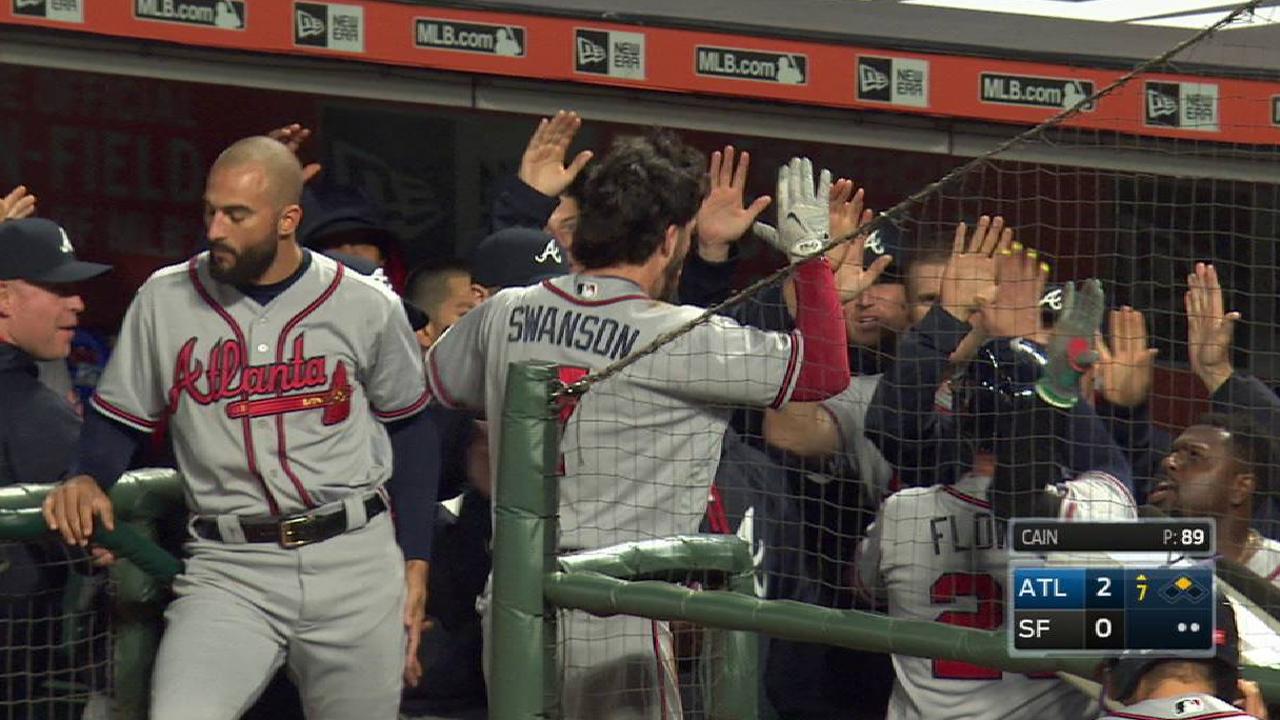 Otherwise, Cain was stellar again at AT&T Park, as his home ERA sits at 1.21 through five starts. Cain, whose road ERA is 8.28, was able to bounce back from a rough start in St. Louis when he was charged with seven runs. He allowed seven hits and a walk Friday night while striking out three.
"I was just trying to get ahead of them," Cain said. "Just trying to take the sting out of the bat. [Catcher] Nick [Hundley] did a tremendous job of just keeping those guys off balance and I was just kind of rolling with him and trying to stay focused and let the defense work."
Hundley, who struck out three times, including once to end the game, said it was disappointing to give no run support for Cain. The Giants have been limited to one run or less in six of Cain's 10 starts this season. But when Hundley was behind the plate, he was busy helping Cain get through one of his best outings of the year.
"His fastball command was outstanding," Hundley said. "He was ahead of pretty much every count, I think. He was throwing offspeed pitches where he wanted to, for the most part. He did an unbelievable job for us."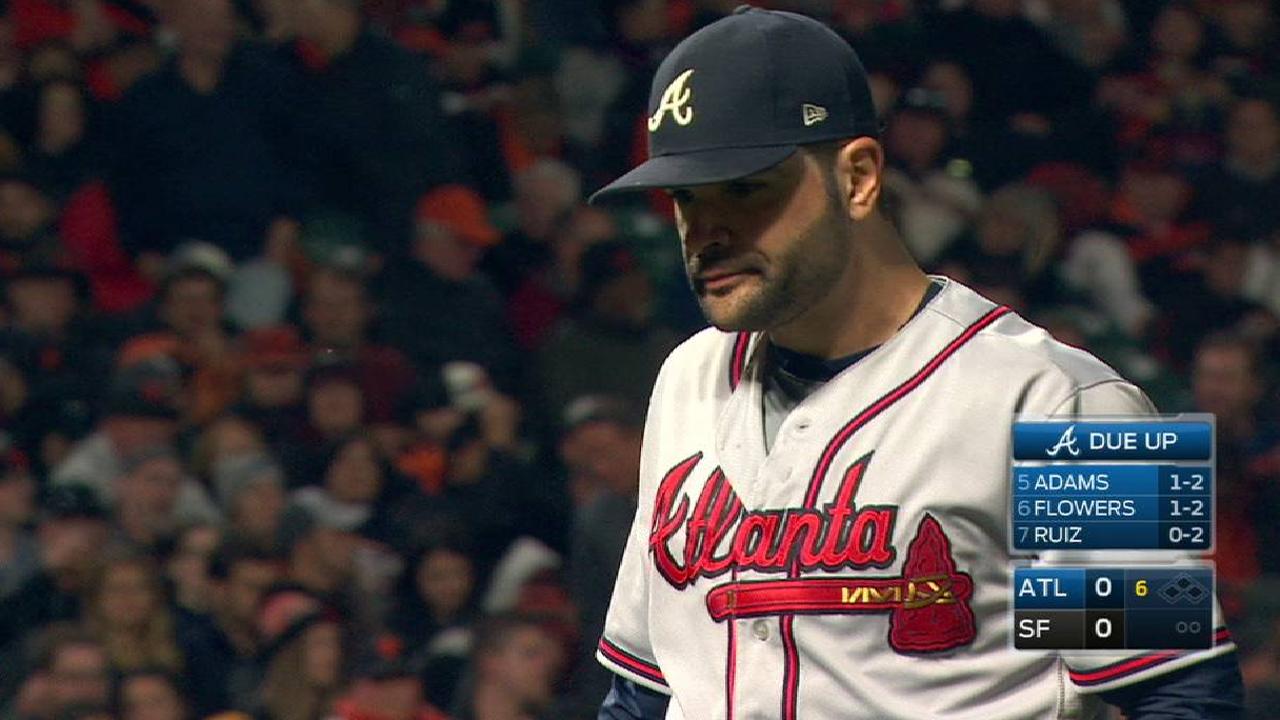 The Giants only put three batters into scoring position all night. The club's best scoring chance came in the sixth, but Justin Ruggiano grounded out softly to third base to end the inning. San Francisco has scored just six runs in the past four contests, lowering the team's scoring average to an MLB-worst 3.32 through the conclusion of Friday's action.
"It's a bump in the road, for sure," Hundley said. "But we're going to be playing in 24 hours. We've got to be ready to go against another good arm that they have. There's no breaks, we know that. We're going to go grind and try to get a win tomorrow."
Alex Espinoza is a contributor to MLB.com and covered the Giants on Friday. This story was not subject to the approval of Major League Baseball or its clubs.