With Kemp's help, Garcia gets key hit in win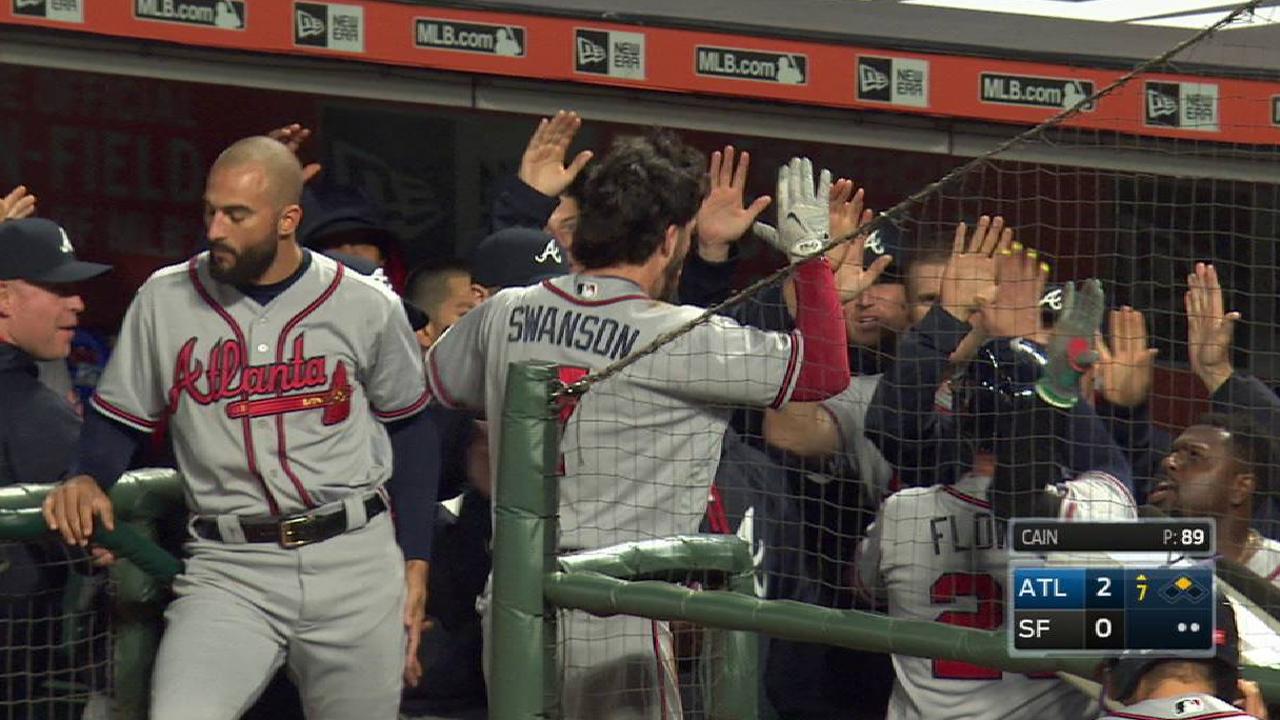 SAN FRANCISCO -- As good as Jaime Garcia was on the mound in his finest start of the season, the Atlanta left-hander was even more clutch at the plate.
A career .145 hitter, Garcia delivered the Braves' biggest hit of the night Friday with his two-out RBI single off Matt Cain in the seventh inning of Atlanta's 2-0 win over the San Francisco Giants.
It was only Garcia's second hit this season and the third game-winner of his career. And it came after manager Brian Snitker debated whether to pinch-hit for the 30-year-old veteran pitcher.
"I was glad he left me in," Garcia said. "Their pitcher was doing a great job. I just got a good fastball in the middle of the plate and I was able to do some damage with it."
Tyler Flowers got things going with his second hit of the night. After Flowers moved to second on a groundout, Dansby Swanson was intentionally walked before Garcia slapped an 0-1 pitch from Cain into left field.
Flowers scored easily and Swanson slid home seconds later when the throw by left fielder Brandon Belt hit Flowers and ricocheted toward the Braves dugout. Garcia alertly took second but was stranded there when Ender Inciarte popped out to end the inning.
"He actually has a really nice swing," Flowers said of Garcia. "He might have one of the prettier left-handed swings out there, definitely for a pitcher."
Credit outfielder Matt Kemp with an assist.
It was Kemp who earlier this month noticed a hitch in Garcia's swing. It turns out he was lifting his leg too much before swinging, causing him to be late. A few rounds of batting practice later, the problem seems to have disappeared.
"I don't hit as much as other guys do between starts but I like to talk to the hitting coach and some of the guys," Garcia said. "Matt brought out some stuff just from watching me hit in the game and watching me hit BP. I'm always picking their brain.
"I put a lot of focus on hitting. It's definitely not something I take for granted. It's something that I like to work on. Whenever I'm in that box I just try to put a good swing and do some damage. But I don't consider myself a good hitter."
It was Garcia's first game-winning hit with the Braves. Ironically, his last game-winner came Aug. 5 when he was still pitching with St. Louis. The opponent? Atlanta.
"He beat us, 2-1, with an RBI single in St. Louis last year," Snitker said. "He's a good hitter."
Michael Wagaman is a contributor to MLB.com and covered the Braves on Friday. This story was not subject to the approval of Major League Baseball or its clubs.