Devenski's great escape preserves shutout
Astros' relief ace works around bases-loaded, no-out jam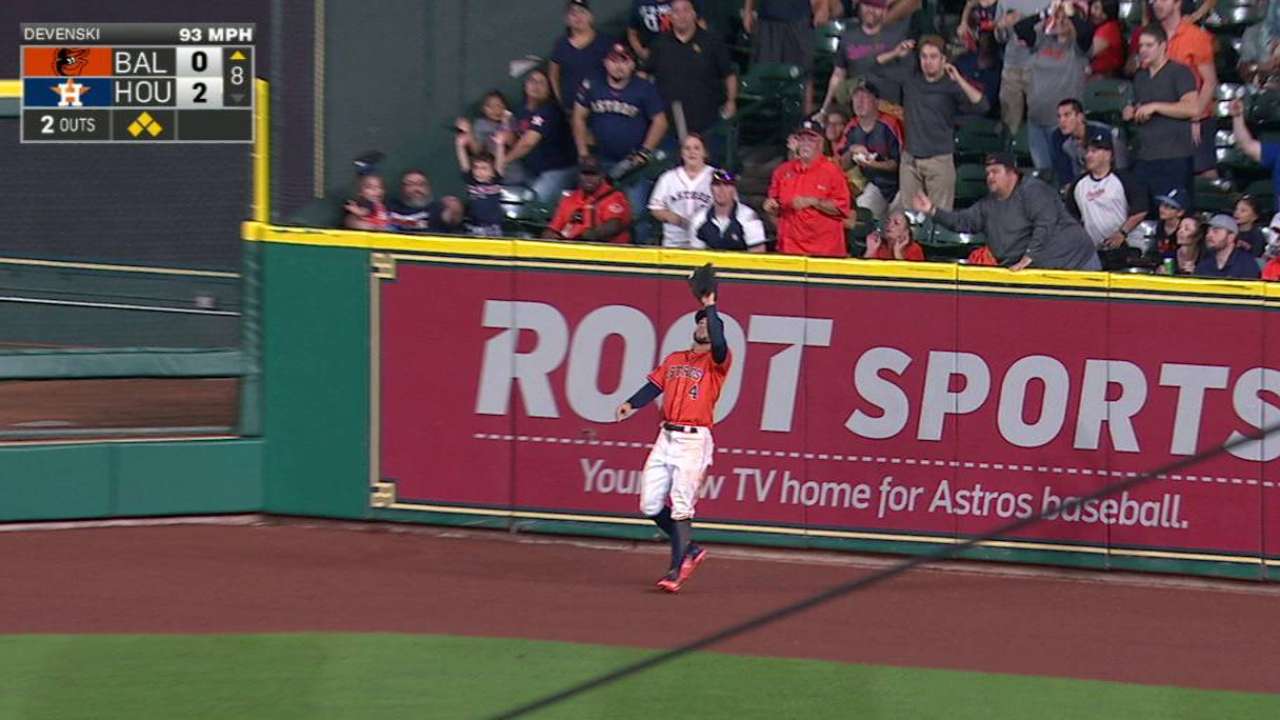 HOUSTON -- Astros reliever Chris Devenski came into a tie game in the eighth inning and was throwing strikes, as usual. Still, he found himself in a mess when the Orioles filled the bases with no outs thanks to a leadoff double and a pair of infield hits.
Devenski somehow wriggled his way out of the jam against the top of Baltimore's order, striking out Seth Smith, getting Adam Jones to fly out to shallow left field and keeping Manny Machado in the park in right to help seal the Astros' 2-0 win over the Orioles on Friday night.
"Bear down and find way to get it done," said Devenski, who threw 15 of his 16 pitches for strikes.
It wasn't quite that easy.
Hyun Soo Kim led off the eighth by ambushing the first pitch for a double. Jonathan Schoop hit a hard grounder to third base that a diving Alex Bregman stopped to keep on the infield and hold Kim at second base.
"Arguably the play of the game is Bregman keeping that ball on the field," Astros manager A.J. Hinch said. "Being able to keep it first and second as opposed to first and third and even a run in, changes the dynamic of that inning."
J.J. Hardy then tried to bunt the runners into scoring position and wound up with an infield hit when catcher Evan Gattis had trouble finding first baseman Yuli Gurriel and threw late to the bag. The bases were loaded with no outs.
"Devo had done nothing wrong and ended up in one of the biggest jams he's been in," Hinch said.
The swinging strikeout of Smith on an 83-mph changeup was key because it set up a double play, though Devenski didn't get a ground ball. Jones lofted a fly ball to left field that wasn't deep enough for Kim to score from third, thanks to a great throw to the plate from Josh Reddick for the second out.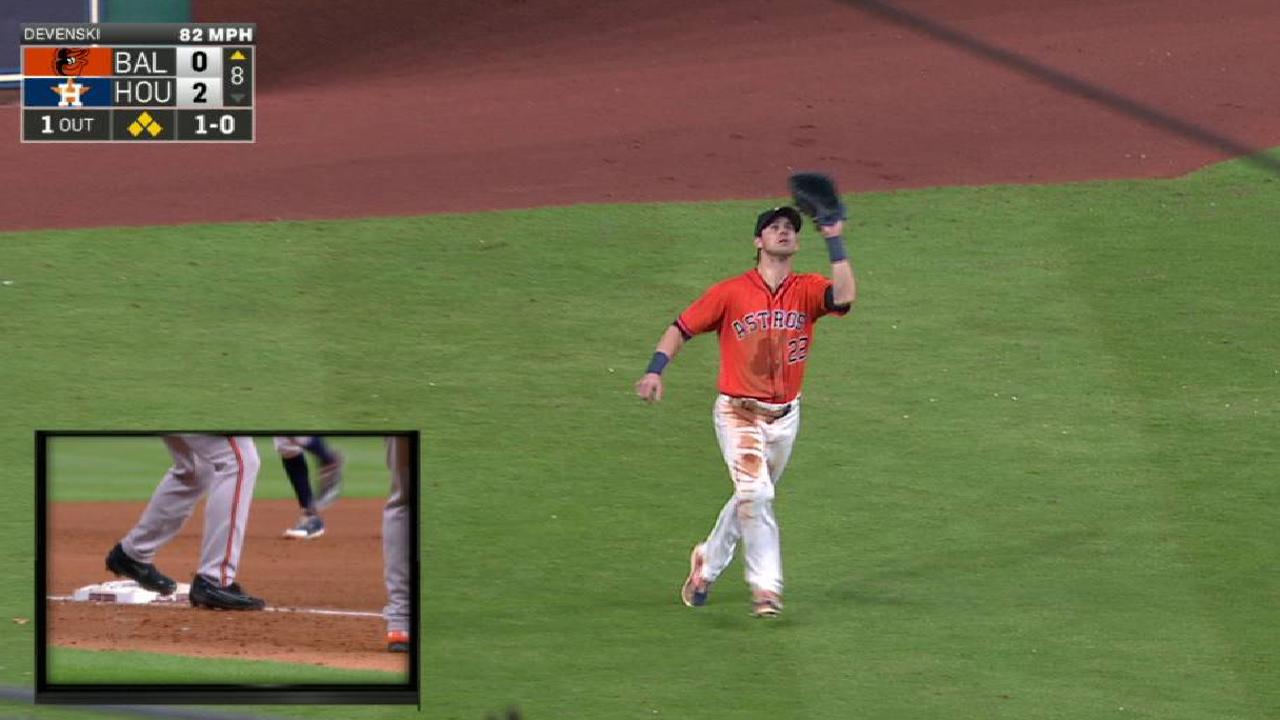 "Then the matchup everybody came to see, which is one of the best relievers against Manny Machado," Hinch said. "We won by 7 feet or so."
Indeed. Machado hit a rocket 380 feet, according to Statcast™, onto the warning track in right-center field that George Springer caught for the third out. Ken Giles pitched a 1-2-3 ninth, and the Astros celebrated.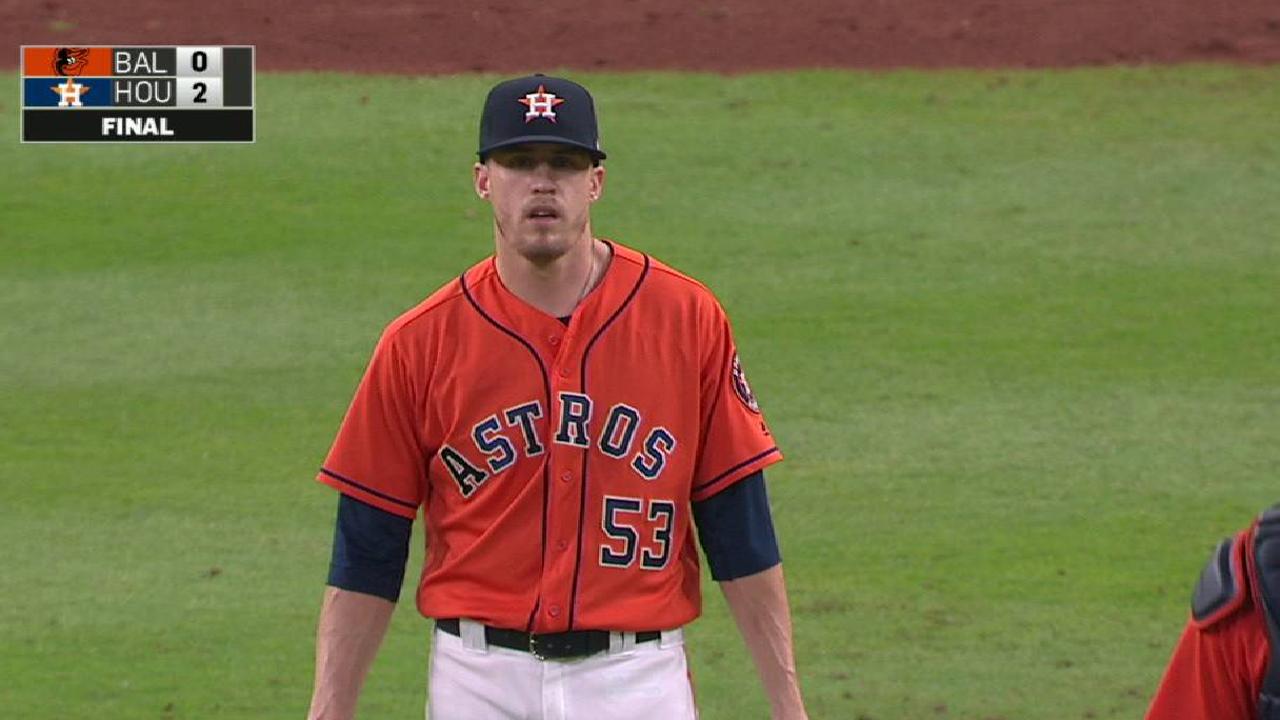 "Yeah, we're a team that if we get down 10 runs, we know we could come back in one inning," Schoop said. "But bases loaded, we didn't do it today."
Brian McTaggart has covered the Astros since 2004, and for MLB.com since 2009. Follow @brianmctaggart on Twitter and listen to his podcast. This story was not subject to the approval of Major League Baseball or its clubs.