Tanaka rediscovers delivery, has career night
After allowing 14 runs in 2 starts, righty has slider, splitter working while K'ing 13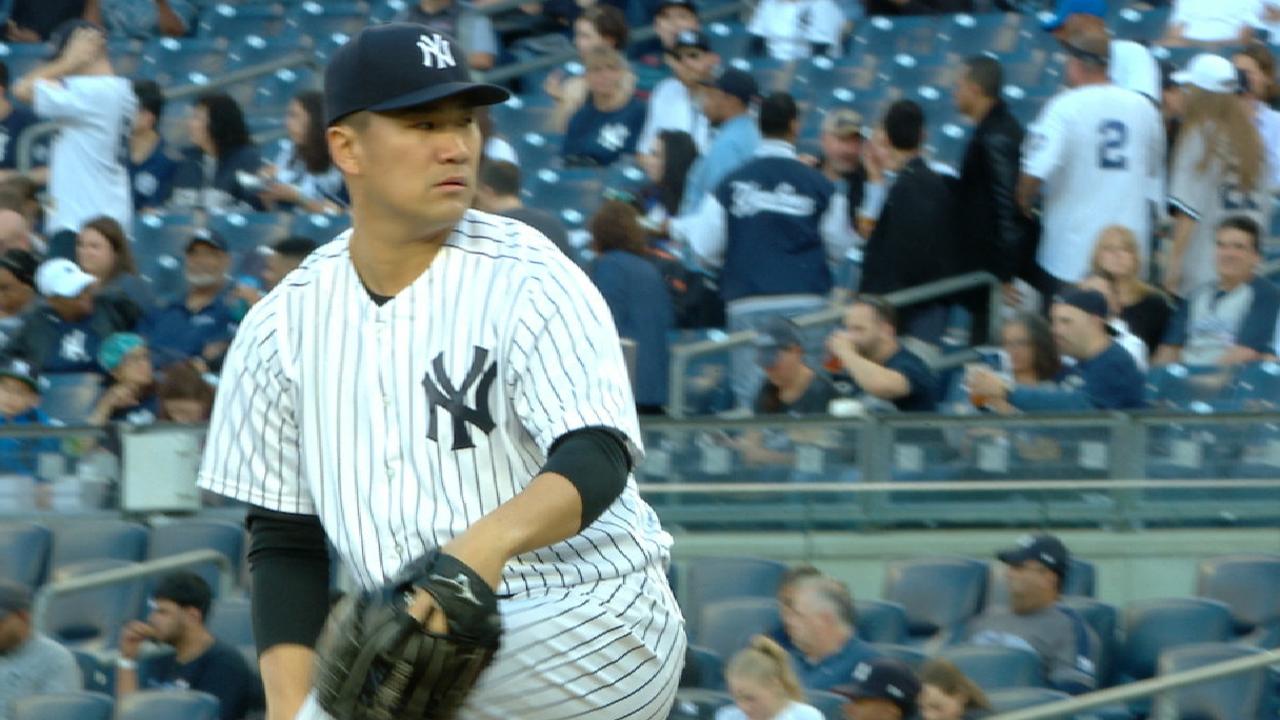 NEW YORK -- Redemption couldn't have come at a more needed time for right-hander Masahiro Tanaka in the Yankees' 4-1 loss to the Athletics on Friday night.
Tanaka tossed 7 1/3 innings and set career highs in strikeouts (13) and swings-and-misses (25) in a bounceback performance after allowing 14 earned runs in 4 2/3 innings over his previous two starts.
"The two things that I thought he needed to have was his slider and his splitter," manager Joe Girardi said. "And he had them both."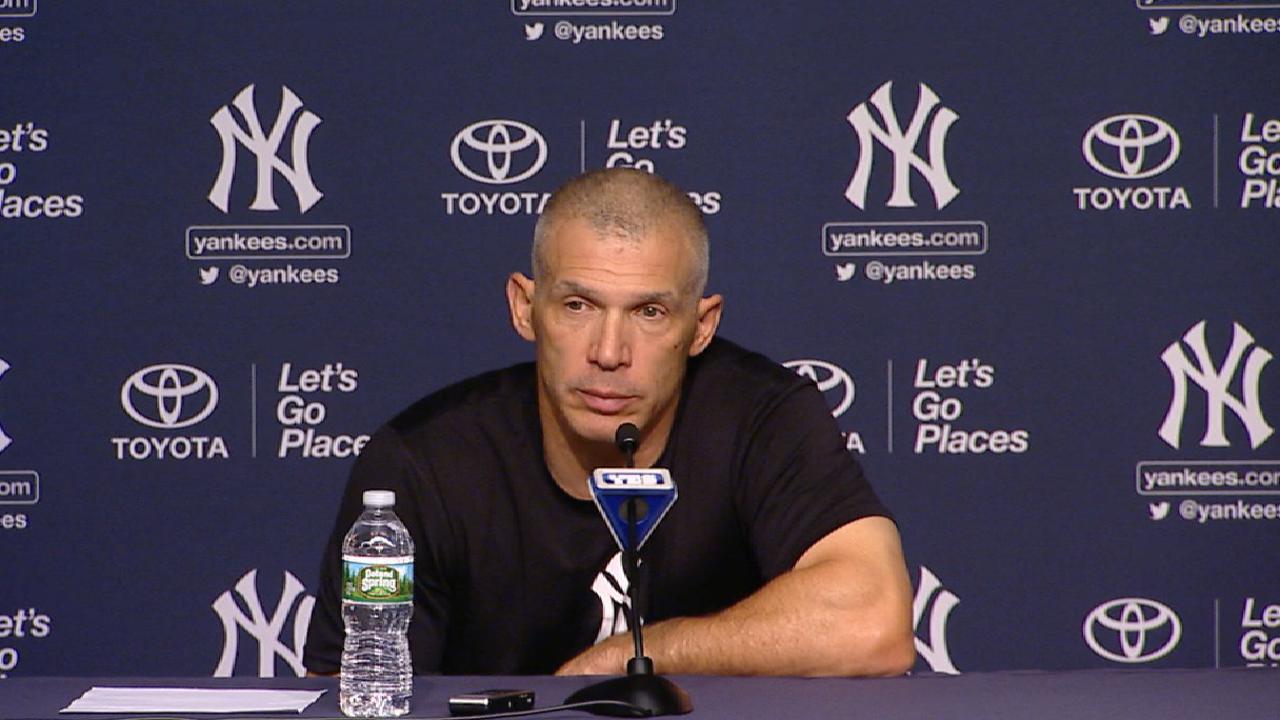 The talk for much of the week here had been about what was going wrong with Tanaka, who, heading into the season, was the closest pitcher the Yankees had to a sure thing.
There were questions of injury and mechanical issues, thinking it had to be one or the other following two of the worst outings of his career, which came in consecutive starts against the Astros and the Rays.
So in between starts, Tanaka and pitching coach Larry Rothschild went back to 2014. They watched tape after tape of his performances from his first year in the big leagues.
"I've looked at the video all the way back to 2014. But as a routine, it's something that he has to feel," Rothschild said. "Because I can talk about it, he can see it on video, but it's just something that he really has to feel.
"Instead of breaking it down piece by piece," Rothschild added, "it was just, 'Watch this and get to the point where you feel it, can see it and repeat it.'"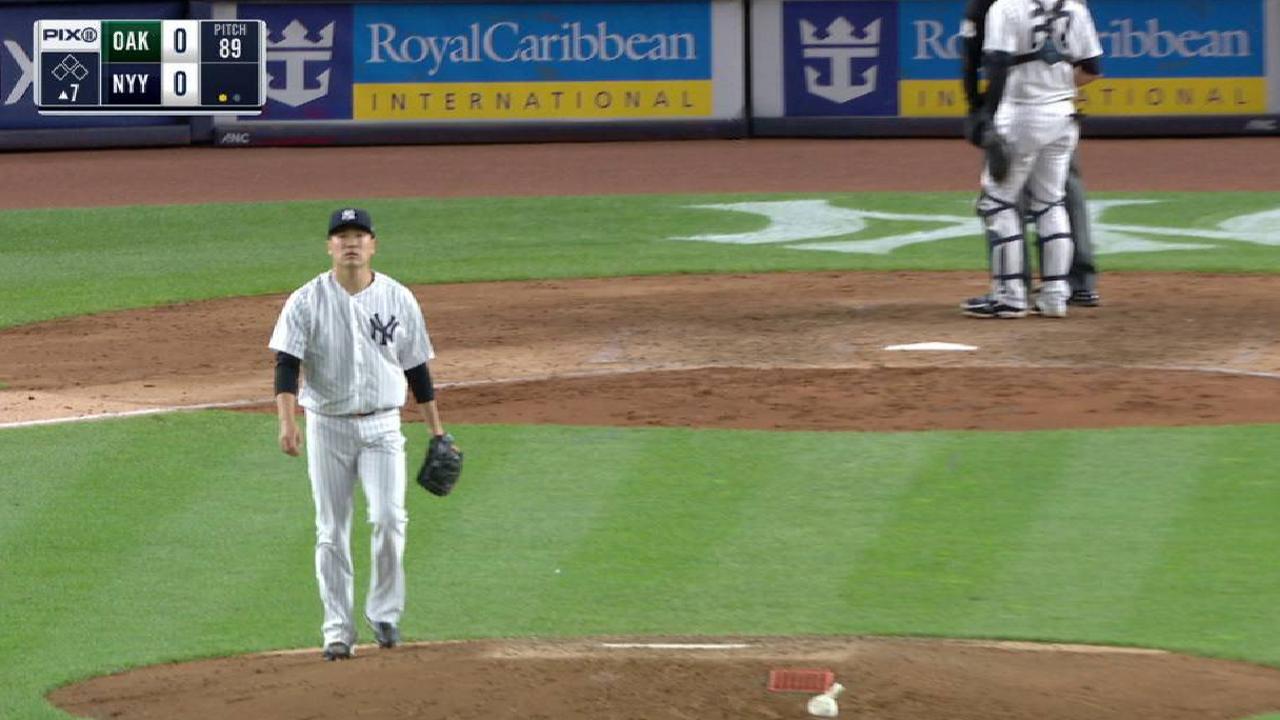 One of the things Tanaka had to feel, see and repeat was his delivery, Rothschild said, which was drifting to both sides of the mound, but not finishing directly toward the plate.
Often times in his previous few starts, Tanaka was opening his front shoulder too quickly, causing most of the force behind the pitch to come from his arm, instead of accelerating toward the plate with his entire body.
Less force behind his pitches didn't necessarily lead to a dip in velocity, but it resulted in flat splitters and less bite on his sliders.
"As long as he leaves the rubber the right way and is in line, I think everything else takes care of itself," Rothschild said.
Tanaka's lone blemish came when he was no longer in the game, as relief pitcher Tyler Clippard allowed two runs to score, one of which was charged to the starter.
Still, there was no doubting the dominance Tanaka showed on the mound Friday night.
"When he's got his good splitty going like that, it looks like a fastball, so there's not a whole lot we can do," A's catcher Stephen Vogt said. "That's as good a splitter as I've seen in a long time. He was outstanding tonight."
When asked whether Tanaka can duplicate his performance from Friday night in his next start, Rothschild said: "With the success he's had here, I don't need to see one start to think he can be successful. He's got the better part of three years under his belt with a lot of success."
Matthew Martell is a reporter for MLB.com based in New York. This story was not subject to the approval of Major League Baseball or its clubs.