Archer on the mark in victory over Twins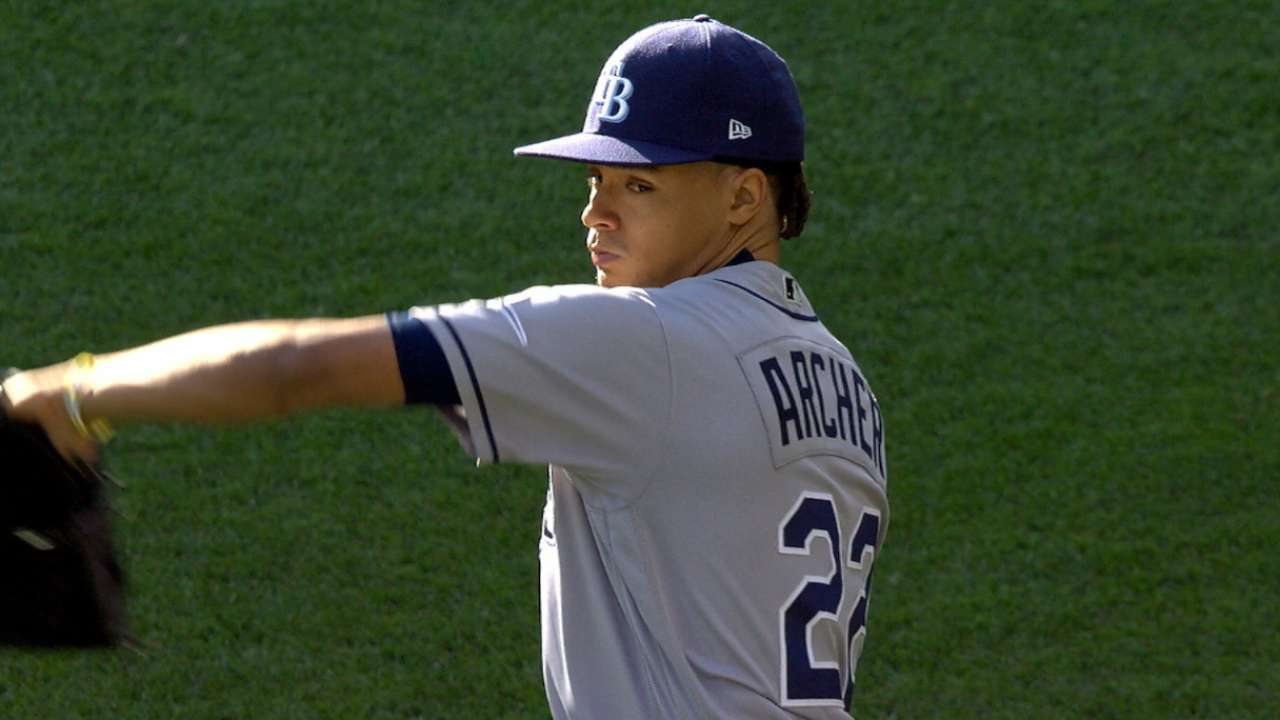 MINNEAPOLIS -- Target Field has been a home away from home for Rays right-hander Chris Archer. On Friday night he silenced the Minnesota bats with another gem in the Twins' ballpark.
Archer held the Twins to two runs on five hits while striking out 11 and walking just one in 7 2/3 innings as the Rays began a nine-game road trip with a 5-2 victory.
Archer is now 4-0 with a 1.38 ERA in four career starts at Target Field. On Friday he was even better through six innings, allowing just one hit -- a bad-hop single by Jason Castro in the third.
"The last two innings of work, his fastball command kind of eluded him a little bit, but building into that seventh inning, that's about as good as you're going to see any pitcher, not just him," Rays manager Kevin Cash said.
The Twins scratched out a run in the seventh inning on two singles and two wild pitches. After Eddie Rosario led off the eighth with an opposite-field double, Archer blew away Byron Buxton with a 98-mph fastball for his 10th strikeout. He then fanned Castro before Brian Dozier's RBI single plated Minnesota's second run.
When Joe Mauer coaxed a walk to bring the tying run to the plate, Cash turned to the bullpen, and Alex Colome fanned Twins home run leader Miguel Sano to end the threat.
"Given the pitch count [106], he [Sano] had seen every slider in every possible location going into that at-bat, it was time for somebody else to come in and get him out," Cash said.
Displaying his typical mix of bulldog mentality and team-first attitude, Archer agreed with Cash's decision.
"It was the most crucial point in the game. There's always a couple points in each game where it can go one way or another," Archer said. "I don't like to give up the ball, at any time, any point in the game, but if I'm giving it to Alex Colome in that situation, I can rest well."
The win snapped a two-game losing streak for Archer, though it was the fourth time in five games that he'd struck out at least 11 batters.
"Honestly, I'll be real with you, I felt the same the last game [against the Yankees], I felt the same against Kansas City, I felt the same way my two starts prior to that against Toronto," Archer said. "I've been feeling real good. Tonight was another night where I felt really, really good."
Patrick Donnelly is a contributor to MLB.com based in Minneapolis. He covered the Rays on Friday. This story was not subject to the approval of Major League Baseball or its clubs.