W eludes Martinez for 2nd straight start
Cards' ace allows 3 runs, fans 9 before Rox pile on late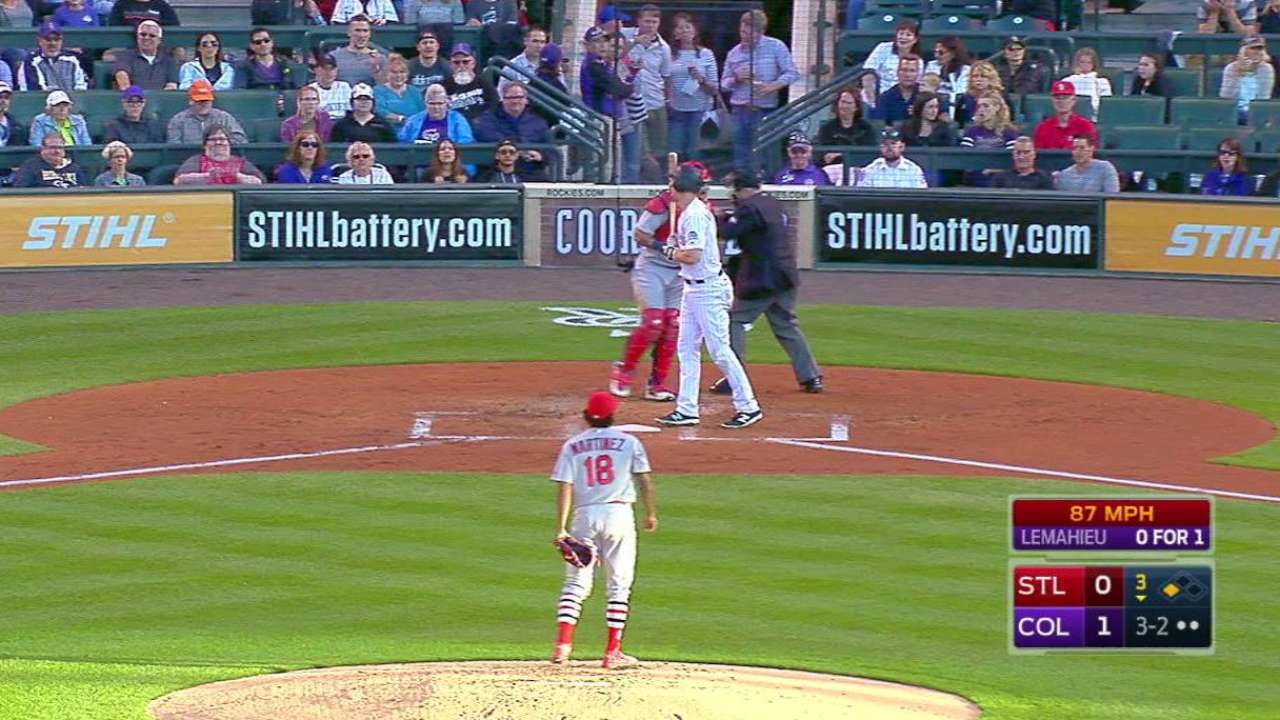 DENVER -- For starting pitcher Carlos Martinez, Friday night looked a lot worse than it was. In his mind, it was one of his best outings of the season, and it came on the heels of what was arguably his best start of his career. But at the end of the game, the scoreboard read 10-0 in a frustrating loss to the Rockies.
"They just kept adding on and made it look a lot uglier than what the game actually was," manager Mike Matheny said of Colorado's eight-run eighth inning, with seven of the runs coming after Martinez left the game.
For the second time in as many starts, Martinez had an excellent outing only to see the Cardinals lose.
In his last start, Martinez pitched nine innings of shutout ball against the Giants, allowing two hits and a walk while striking out five on 93 pitches (65 strikes). He got a no-decision in a game St. Louis went on to lose, 3-1, in the 13th inning. On Friday, Martinez pitched 7 1/3 innings of three-run ball, allowing six hits and two walks while striking out nine on 96 pitches. He left the game after giving up a one-out solo homer to Charlie Blackmon in the top of the eighth.
"It's a long season and I know good things are coming," Martinez said through a team translator. "I know everything will fall into place. I just try to keep my head up and do my best for myself and for my team."
Martinez's night began inauspiciously, with a leadoff single from Blackmon, who would go on to reach base in all five plate appearances and finish a double shy of a cycle. Take Blackmon out of his line, and Martinez would have allowed just one run on three hits and a walk, but it still wasn't enough on a night when the Cards were blanked.
"He's hot right now," Martinez said of Blackmon's homer off him. "I thought it was a really good pitch and any other day he would have missed, but he got it today. I know we're going to see him again down the road."
The 10 runs make the game look deceptively like the Coors Field baseball of old, but it was a 2-0 game entering the eighth, and Martinez's start would be good enough for victory most days in Denver.
"Taking a two-run game in this park in the eighth is a great job," Matheny said. "The slider was exceptionally good today. He was using it both sides. He had a couple even back up on him that worked out well. The sinker was good for him too, got a couple double-plays worked for our advantage. That was more of what we've seen here recently from Carlos, which was very good."
Martinez made no excuses -- and didn't need any after a sterling start.
"I went into the game feeling great and positive and I told myself I'm a good player, and I honestly felt like this was one of my best outings this season," Martinez said.
"He's a good pitcher. He's real, he's got a live arm," added Rockies manager Bud Black.
Owen Perkins is a contributor to MLB.com based in Denver. He covered the Cardinals on Friday. This story was not subject to the approval of Major League Baseball or its clubs.