Adjustments pay off for Turner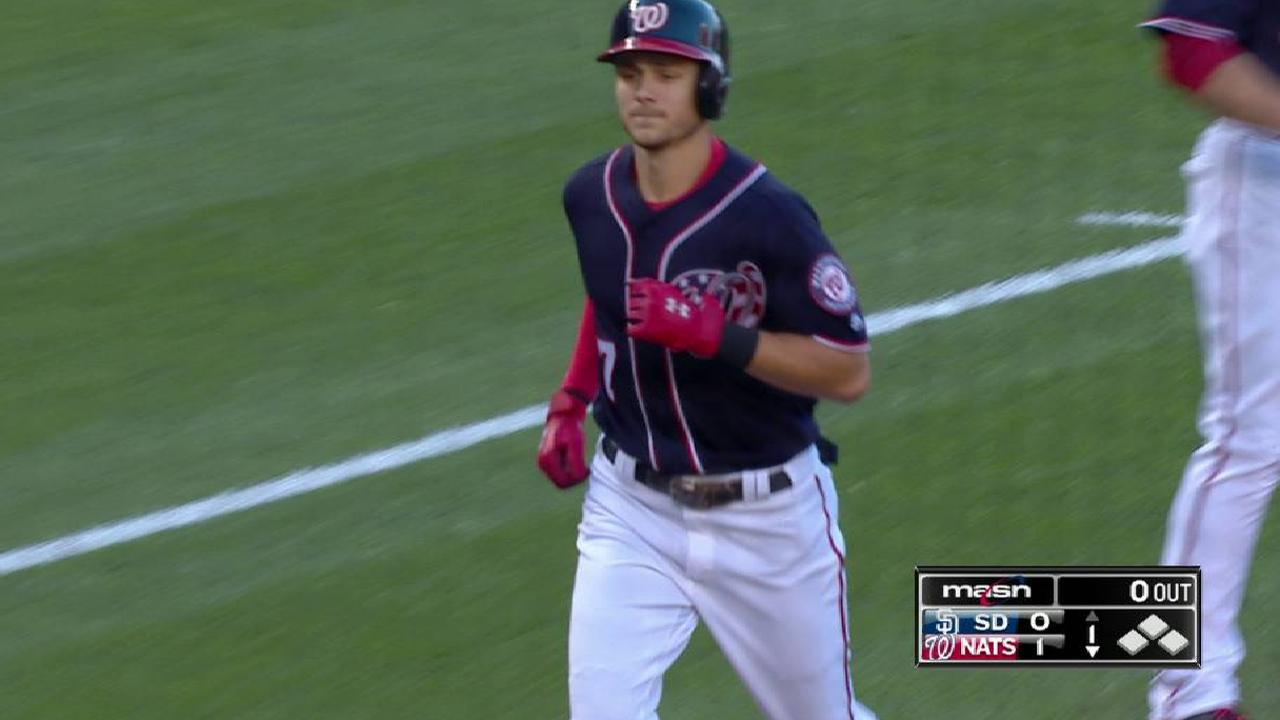 WASHINGTON -- Trea Turner has been watching video of himself from 2016 lately, trying to find something that will help him recapture the form that made him one of the most electric players in baseball and the runner-up for the National League Rookie of the Year Award in less than half a season. He said he has not felt like that hitter or had that swing at any point this season.
Turner has worked with hitting coach Rick Schu to make some adjustments, and they delivered encouraging results right away during Friday night's 5-1 victory against the Padres. Turner began the bottom of the first inning with a home run, the team's first leadoff homer of the year, and added a double in the third inning.
"I'm trying anything and everything that will make me feel better," Turner said. "Looked like the right [adjustment] so far. We'll see."
The Nationals' top-ranked offense has continued to soar lately, despite the fact that their leadoff hitter has struggled mightily for the past month. Turner has a .219 on-base percentage and .505 OPS since April 29, the day Adam Eaton landed on the disabled list with a torn ACL.
"Trea is a quiet guy, but he's got an intensity, and he really, really wants to do well," Nationals bench coach Chris Speier said. "I think for a while, he might have been putting a little pressure on himself once Adam Eaton went down, to get on base and be productive."
Turner says his adjustment was mechanical because too often lately he has played to two extremes: He is either fighting to just put the ball in play, which has resulted in weak contact, or he is swinging too hard and striking out.
"It's kind of getting in the middle," Turner said. "Trying to make sure I'm ready to hit a 95-100-mph fastball, but at the same time not just swinging out of my shoes. So it's interesting, but it's hard to explain. It's something you kinda have to feel and today it felt good."
The Nationals hope that feeling can continue. Turner was one of the most exciting players in baseball during the second half of last season and the spark for their offense. If they can get him back on track, it is possible their top-ranked offense could be even better.
"We just told him, 'Just be you,'" Speier said. "'You're going to be fine.'"
Jamal Collier covers the Nationals for MLB.com. Follow him on Twitter at @jamalcollier. This story was not subject to the approval of Major League Baseball or its clubs.