Perdomo's outing evidence of progression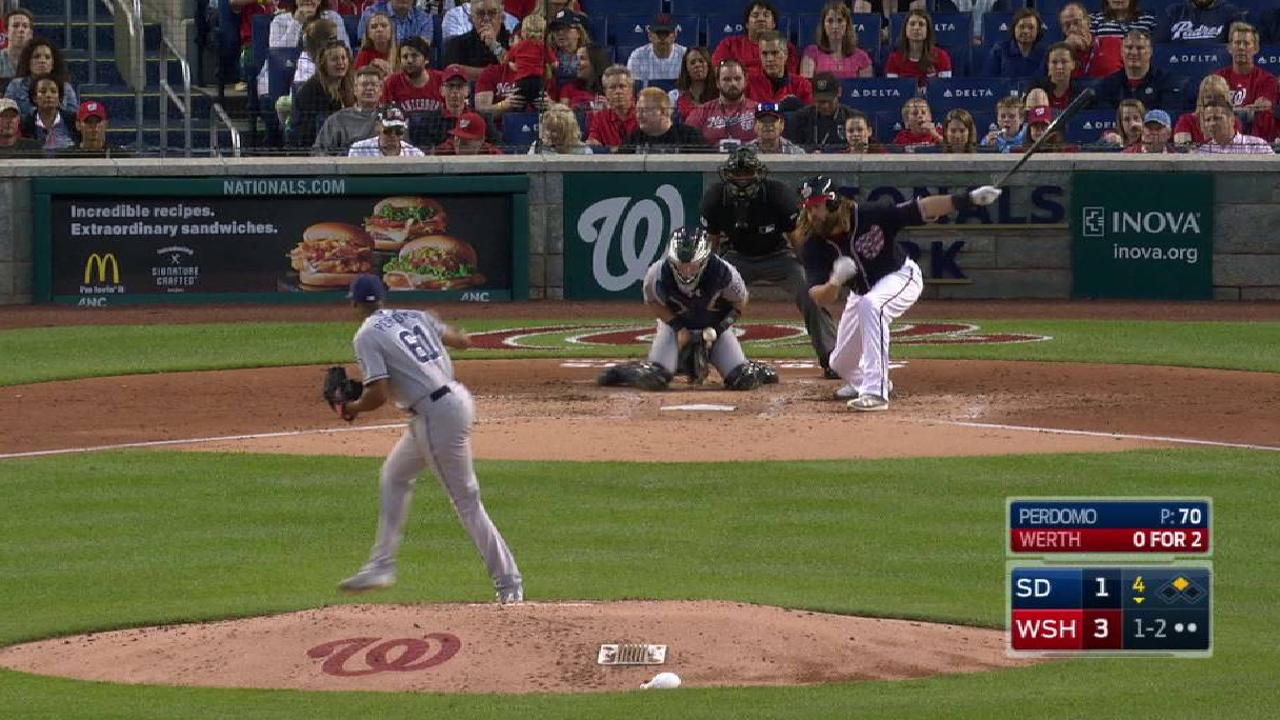 WASHINGTON -- Coming off the worst start of his career, Luis Perdomo again did not have his best stuff Friday night. The Padres' sinkerballing right-hander surrendered a leadoff home run to Trea Turner and instantly found himself in the midst of a battle.
But over the past year, Perdomo has matured immensely as a pitcher. And in that sense, Friday's 5-1 loss to the Nationals offered a testament to how far he's progressed.
On a night when the Padres bullpen desperately needed a starter to eat innings, Perdomo offered six of them, despite second-tier versions of his sinker and his slider. He allowed three runs on two mistake pitches that yielded home runs to Turner and Michael Taylor.
"It's always good to battle," Perdomo said. "That's what I try to do every time. Even if my sinker isn't necessarily how I want it to be, I'm always battling in the game and trying to make the best of it."
The easiest way to decipher whether Perdomo has his "A" stuff is to look at his ground-ball rate. Among pitchers with as many innings, only Dallas Keuchel has a higher mark than Perdomo's 66 percent.
That number was below 50 percent on Friday, which has often been a recipe for trouble with Perdomo. But he escaped a bases-loaded jam in the third inning, and he worked around a leadoff double in the sixth without allowing a run.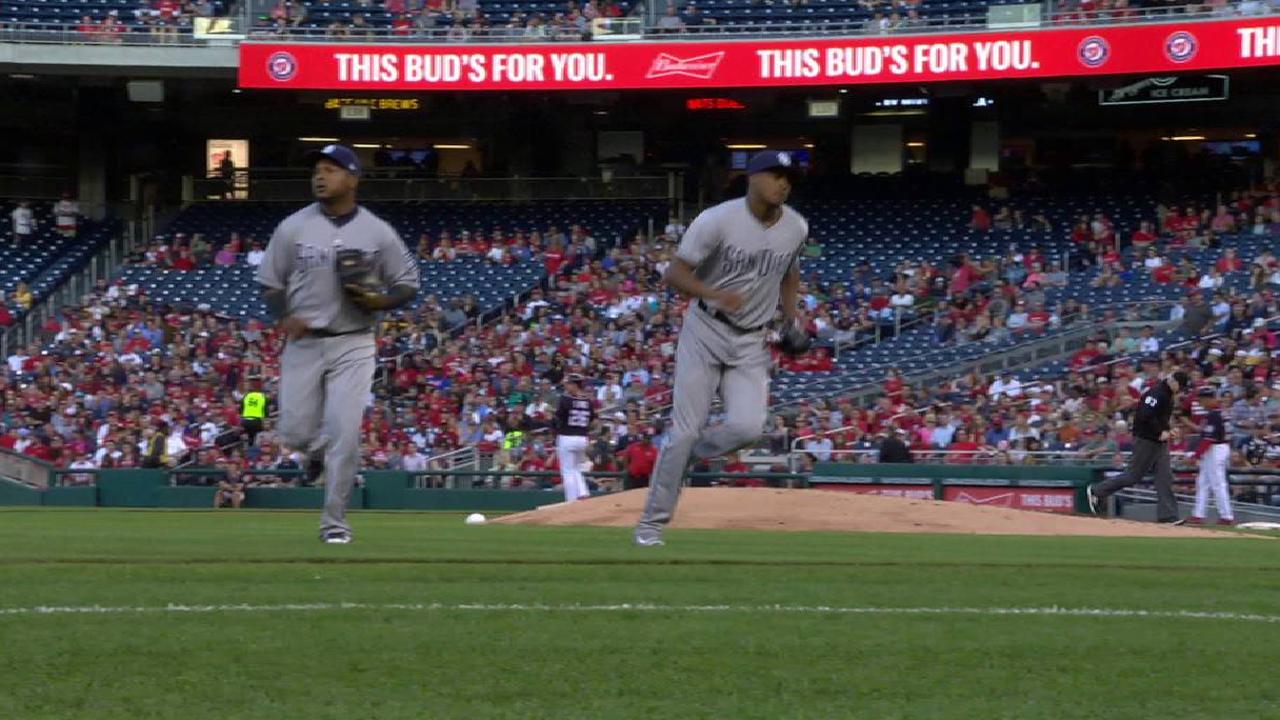 "The sinker for him, sometimes it's off the table really good," said Padres manager Andy Green. "The pitches that got hit out, they were in the bottom part of the zone, but he didn't have the life and the sink that he does when he's really good. I thought he threw some good pitches, battled really well."
In his last start, Perdomo gave up eight runs to Arizona and was pulled before he could record an out in the fourth.
On Friday, the Padres needed to avoid an encore at all costs. During their mid-week series in New York, their three starters combined for just 8 1/3 innings against the Mets.
"I was definitely happy to throw six innings," Perdomo said. "I would've liked to throw seven so the bullpen could rest a little bit more."
In hindsight, Perdomo's margin for error was razor-thin, given the way Nationals starter Max Scherzer was dealing. Afterward, Perdomo noted that he watched Scherzer closely and hopes to take a few pointers from the way he attacked Padres hitters.
Scherzer, of course, is a reigning National League Cy Young Award winner at the peak of his game. He struck out 13 Padres Friday. Perdomo, meanwhile, has spent less than a calendar year as a Major League starter.
The Padres envision a bright future for Perdomo. And they hope nights like Friday -- when he isn't quite so sharp -- can serve as a valuable learning tool.
"He works quick, throws a lot of strikes, doesn't really walk many guys," said Padres first baseman Wil Myers. "Perdomo is going to be a very good pitcher in this league. He's still taking his lumps right now. But he'll learn. And he'll get better from it."
AJ Cassavell covers the Padres for MLB.com. Follow him on Twitter @ajcassavell. This story was not subject to the approval of Major League Baseball or its clubs.