Counsell ejected after disputed review
Thames caught advancing home on wild pitch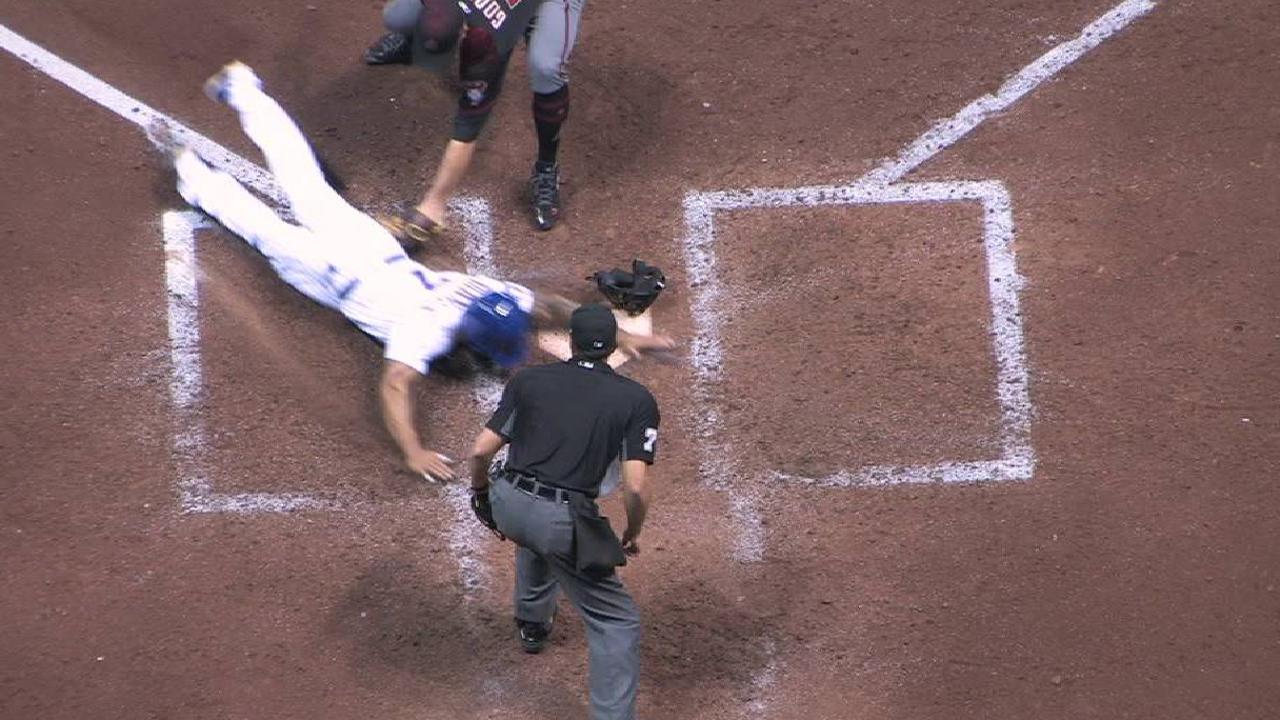 MILWAUKEE -- The Brewers thought they'd scored their first run in 18 innings. When they were denied, tempers flared at Miller Park on Friday.
Brewers manager Craig Counsell was ejected for the first time this season and the sixth time in his three-year managerial career after Eric Thames was called out trying to score the tying run on a wild pitch in the sixth inning of a 10-inning, 4-2 loss to the D-backs. Counsell challenged plate umpire Jim Reynolds' initial call, which stood after a 1 minute, 59 second review.
After Reynolds announced the decision from Major League Baseball's replay center in New York, Counsell angrily jumped out of the dugout. After a brief exchange, Reynolds signaled the ejection.
"It's like you're arguing against a ghost," Counsell said, a reference to the decision being made hundreds of miles away.
"I just saw, if you put the angles together, that he didn't tag him on time," Counsell said. "For whatever reason, that's where the grey area comes in for them. Whomever is judging, he didn't want to overturn it. He can do that."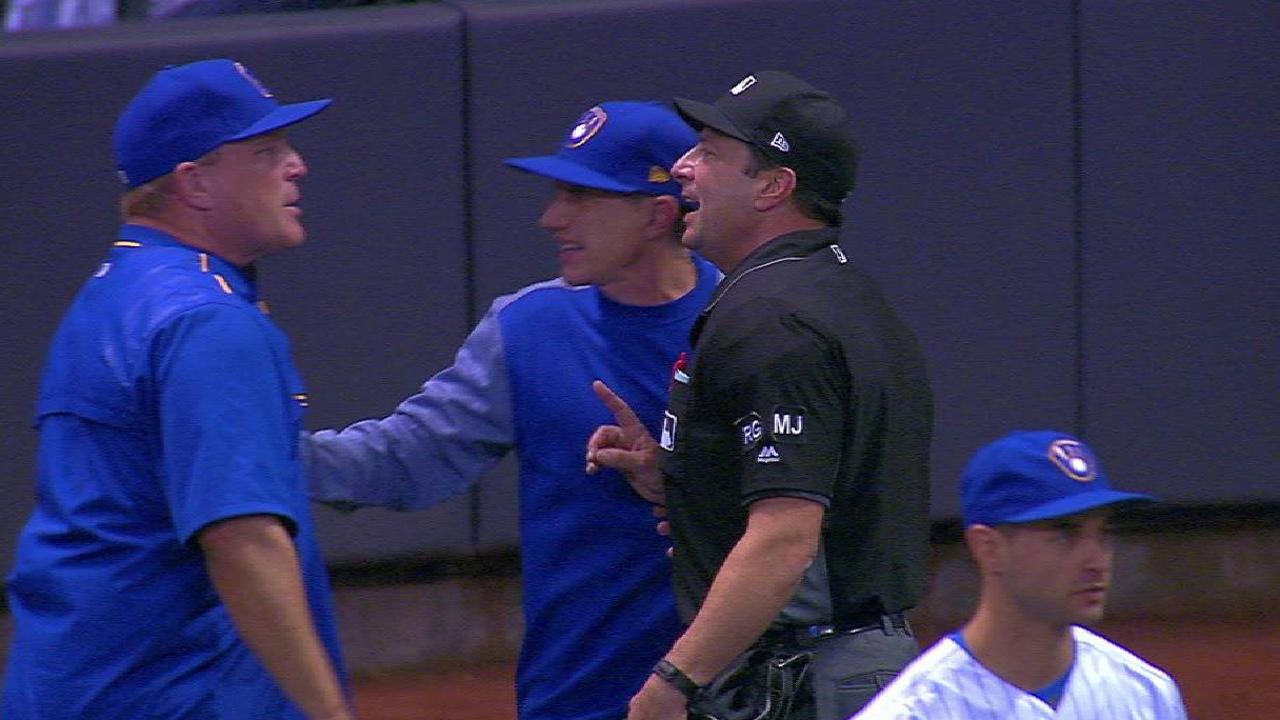 At the same time Counsell was airing his objection, Thames was being restrained by teammates in the Brewers dugout. He and everyone else at Miller Park had seen a number of replays on the scoreboard with various angles of D-backs pitcher Zack Godley receiving a backhand flip from catcher Chris Iannetta and making a swipe tag as Thames slid headfirst home. In some of those angles, it was not clear whether Godley made contact with Thames before he got a piece of the plate.
To overturn a call, replay officials would have to see definitive evidence of a whiff. They did not such evidence either way, so the original call stood, to the delight of the D-backs dugout.
"It was precision," Arizona manager Torey Luvullo said. "It was very well done. It looked like a basketball play more than something you retrieve at home plate. They did a great job and they executed and it was a huge moment for us."
Said Godley: "I was just trying to touch him just really and truly."
Of course, the Brewers and their 25,391 fans saw it differently.
"We all saw it on video. I guess it was different in New York," Thames said. "I don't know. That's the way the game is. … I've never seen an entire stadium boo after a call like that. That was unbelievable. But that's baseball."
Thames added: "I'm still shocked how that even happened."
Brewers bench coach Pat Murphy took over as manager after Counsell's ejection, and that call proved critical when Brewers closer Corey Knebel lost a 2-1 lead with two outs in the ninth on Iannetta's solo home run. Arizona won the game after scoring twice in the top of the 10th.
Adam McCalvy has covered the Brewers for MLB.com since 2001. Follow him on Twitter @AdamMcCalvy, like him on Facebook and listen to his podcast. This story was not subject to the approval of Major League Baseball or its clubs.