Norris exits with tight knee after 3 pitches
Righty doesn't believe injury is cause for concern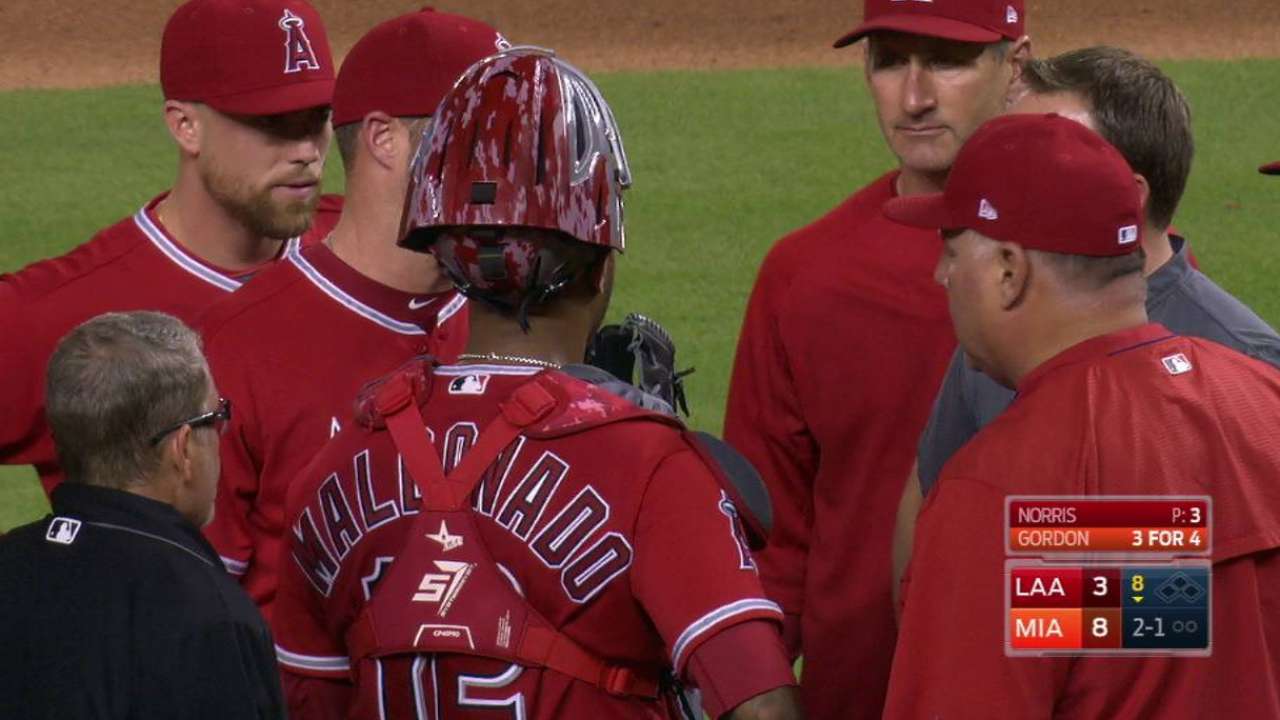 MIAMI -- Bud Norris left the Angels' 8-5 loss to the Marlins on Friday in the eighth inning after just three pitches. The closer left after a 2-1 count on the only batter he faced, Miami's leadoff hitter Dee Gordon.
Norris took no warmup pitches and exited the game with tightness in his right knee.
"It was just a little uncomfortable and pretty tight," Norris said. "Some days, your body doesn't wake up the way you want to."
It's a reoccurring situation that usually works itself out after warming up, according to Norris.
"I get it every once in a while," he said. "As my body adrenaline gets going and as you get going, ramped up, you don't feel it anymore. Sometimes you just get it in the 'pen, but that's why you try to get hot quick. But it just didn't really cooperate today."
The 32-year-old Norris took over as the Angels' closer on April 22, and he recorded his first save that night against Toronto. He earned his ninth save of the season on Monday, and he had produced 17 scoreless outings in 22 appearances this season prior to Friday.
Norris said he doesn't believe that the tightness is cause for concern.
"Not at all. I don't think so," he said. "I've had it before. Just got to stay up on my stretching. … I do a lot of lifting throughout the year, too. Sometimes your body just reacts a certain way. I don't expect to miss any time or that it's anything serious."
Norris described the injury as "tightness, dead knee pain."
"Sometimes it warms up, sometimes it doesn't," said Norris, who was hoping to remain in the game. "I feel like if I can throw a couple more pitches that I can definitely get hotter and it will go away. Our bullpen was taxed today, and I want to do my job, too."
But manager Mike Scioscia wasn't taking any chances.
"Obviously, we weren't going to push him," Scioscia said. "He's been evaluated, and it looks like he'll be day to day."
Glenn Sattell is a contributor to MLB.com based in Miami. This story was not subject to the approval of Major League Baseball or its clubs.