Scherzer K's 13, Harper HRs in win vs. SD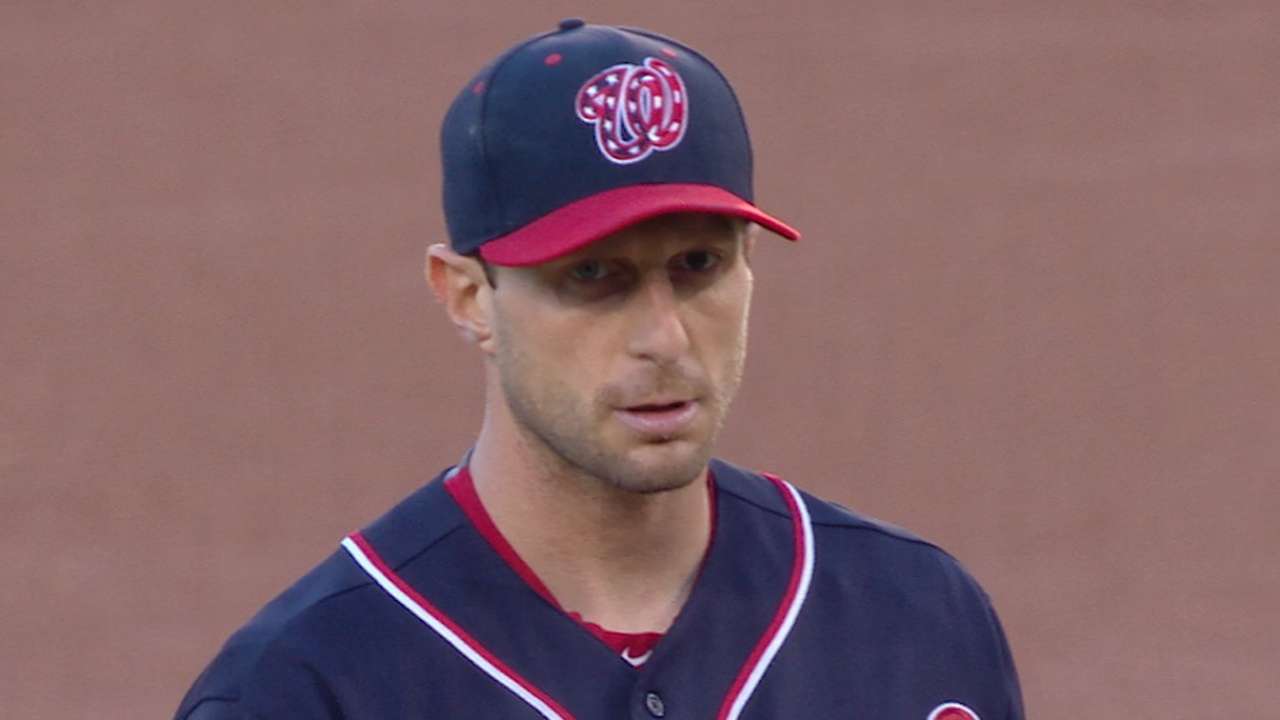 WASHINGTON -- As Max Scherzer stepped into the batter's box in the eighth inning, the crowd of 28,606 at Nationals Park gave him a standing ovation, an appreciation of his outstanding effort so far and a sign that he was going to get a chance to finish what he started. He delivered another stellar performance Friday night, nearly finishing off a complete game as he dominated the Padres offense for 8 2/3 innings to lead the Nats to a 5-1 victory.
Scherzer, the reigning National League Cy Young Award winner, credited a mechanical adjustment of raising his hands higher during his bullpen session this week after struggling in his last start against the Braves. It worked as he struck out a season-high 13 batters and gave up just three hits -- his only blemish coming via a homer from Ryan Schimpf in the fourth.
"That's the best I've seen him," said Padres first baseman Wil Myers. "I thought he mixed all four of his pitches really well tonight, painted the corners really well. Obviously, he's got an electric fastball that played even better tonight with how well he threw his offspeed pitches. It's just one of those days where you just tip your cap to a guy like that and move on to the next day."
Scherzer loaded the bases in the ninth inning before Koda Glover was called upon to strike out Hunter Renfroe for the final out.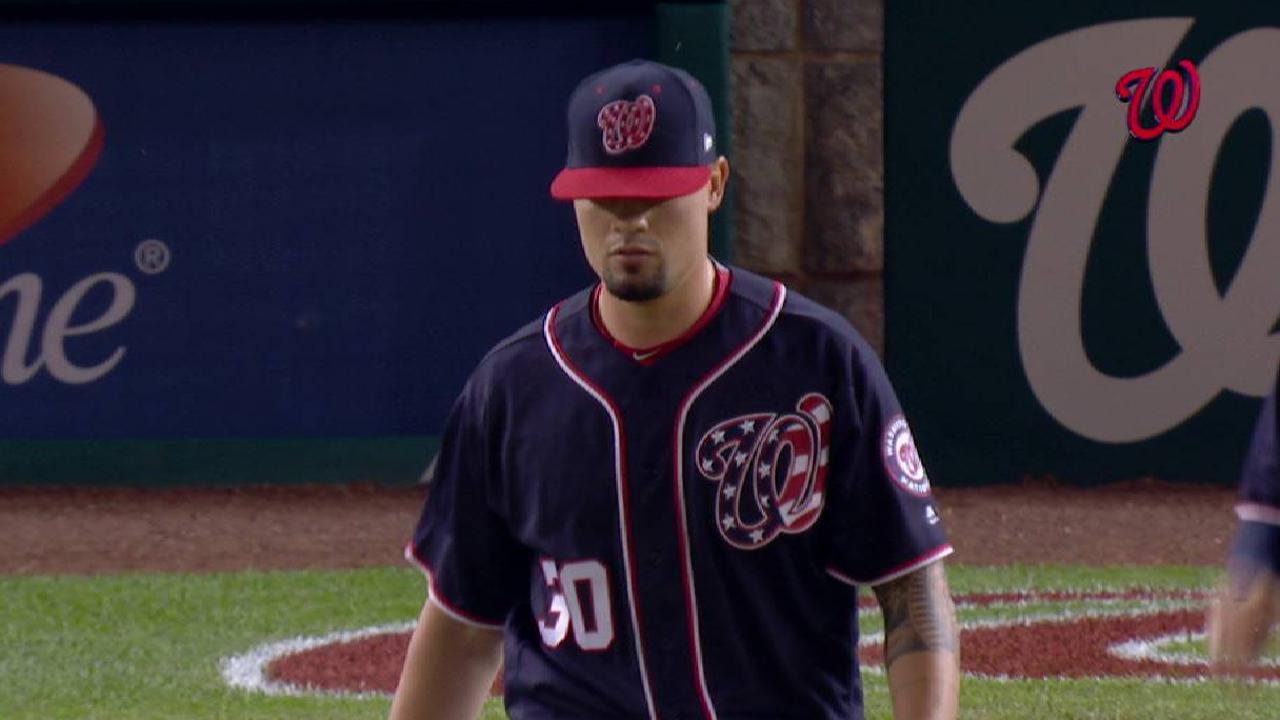 The Nationals offense hit three homers to back Scherzer. Trea Turner got it started with the team's first leadoff homer of the season and Michael Taylor added a two-run homer in the fourth off right-hander Luis Perdomo, who bounced back with six innings of three-run ball after a disastrous last start. Bryce Harper launched a moonshot two-run homer in the seventh inning to give Washington breathing room.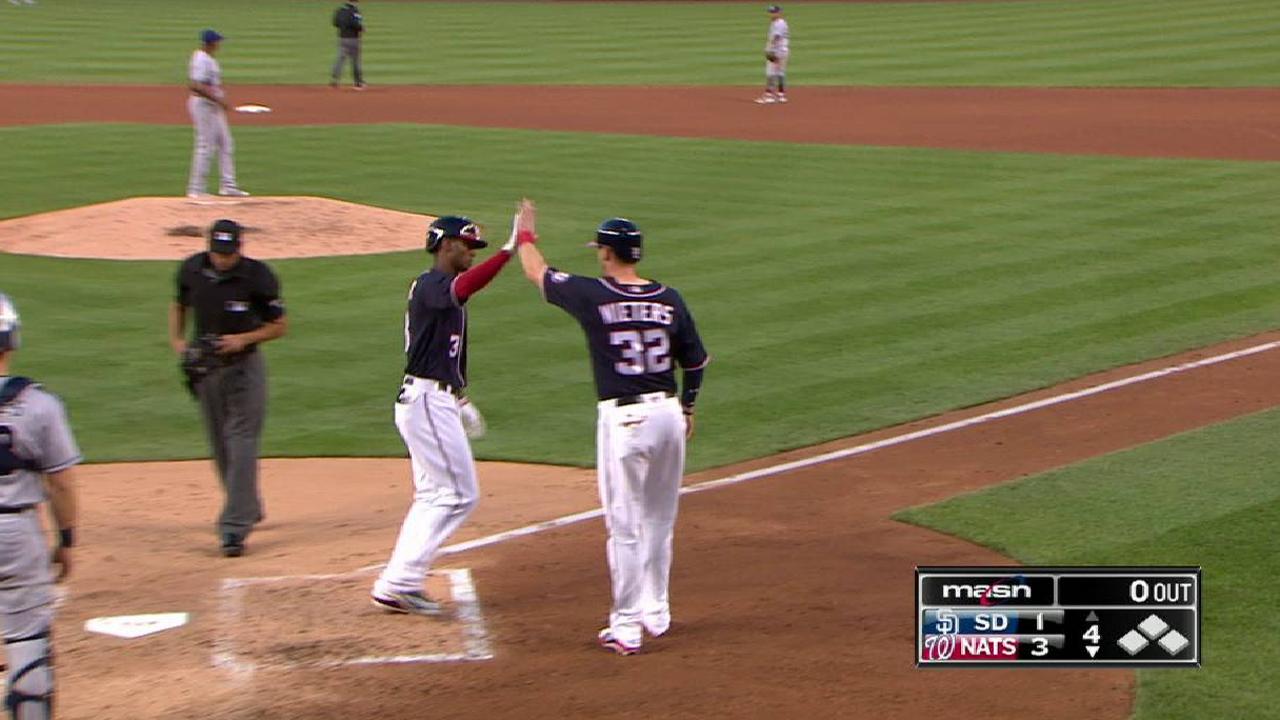 "Scherzer on the hill and three homers, that's a pretty good formula," acting Nationals manager Chris Speier said. "I didn't do a darn thing the whole game. Not a thing. I didn't have to."
• Turner hopes performance sparks turnaround
MOMENTS THAT MATTERED
Near complete: Prior to the game, Speier, who is filling in as the Nationals manager while Dusty Baker attends his son's graduation, joked that perhaps Scherzer could make his job easy and he would not have to go to the mound to pull him at all. But the Padres began threatening in the ninth inning after a one-out single by Allen Cordoba and a walk to Yangervis Solarte. Speier came out of the dugout to meet with Scherzer on the mound then, but left him in the game.
"He wanted it. I would have been booed like crazy if I had taken him out," Speier said. "The thought of a complete game entered my mind. So I gave him the opportunity to try."
Then Scherzer struck out Myers before hitting Schimpf to load the bases and Speier was forced to remove him from the game.
"We're here in May. I always say I'm built for 110," Scherzer said. "How many times in May do you really want to extend me past 110 pitches? They made the right decision. In this ballgame, considering that we're trying to play for the long run here, there's no reason for me to continue to try to fight, just to finish that game out."
Adding on: Harper worked a seven-pitch at-bat in the seventh inning off right-hander Kirby Yates before he deposited a 407-foot homer, per Statcast™, into the third deck in right field.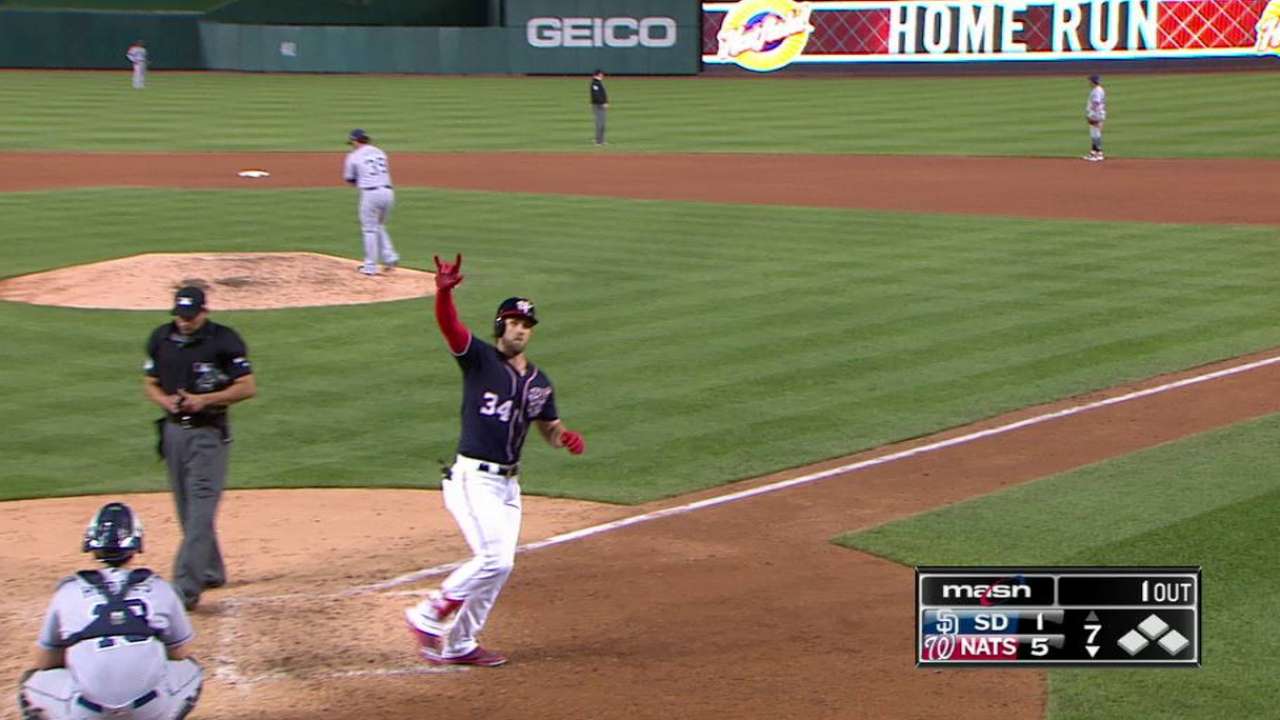 "That was one of the longest ... home runs I've ever seen," Speier said.
Harper now has 15 home runs on the season, the most in the National League and tied with Mike Trout and Aaron Judge for the most in MLB.
When Jayson Werth stole second with Harper at the dish, the Padres had the option of walking him with an empty base. Padres manager Andy Green noted that cleanup hitter Anthony Rendon had been "white-hot recently" and that played into his decision making.
"You're playing with poison one way or another with that lineup," Green said. "… We're trying to execute down and in, spin, in the dirt, to see if we can get Harper to chase. We left it over the plate. He made us pay."
QUOTABLE
"That version of Max Scherzer -- that's the Cy Young version. That's the guy that dominates playoff games. That's the guy that runs through the best lineups in the game. That's not an aberration. That wasn't just a young lineup facing an ace, even though that's what it is. That's an ace that will carve through any lineup when he's throwing the baseball like that." -- Green
SOUND SMART WITH YOUR FRIENDS
Schimpf's homer was his 12th of the season and his 23rd hit. In baseball history, Frank Thomas -- in his injury-shortened 2005 season -- is the only player to finish a season with at least 12 dingers and less than 12 hits of any other type.
WHAT'S NEXT
Padres: In his last start, Clayton Richard gave the bullpen a much-needed respite with a 96-pitch complete game against Arizona. The Padres could certainly use another outing like that on Saturday when the veteran left-hander faces the Nationals at 1:05 p.m. PT.
Nationals: Stephen Strasburg will pitch against his hometown team for the seventh time in his career when he faces the Padres at 4:05 p.m. ET at Nationals Park. His last outing was perhaps his best of the season when he lasted 7 2/3 innings and struck out a season-high 11 in a victory over the Braves on Sunday.
Watch every out-of-market regular-season game live on MLB.TV.
Jamal Collier covers the Nationals for MLB.com. Follow him on Twitter at @jamalcollier.

AJ Cassavell covers the Padres for MLB.com. Follow him on Twitter @ajcassavell.

This story was not subject to the approval of Major League Baseball or its clubs.