Statcast of the Day: Stanton hits batter's eye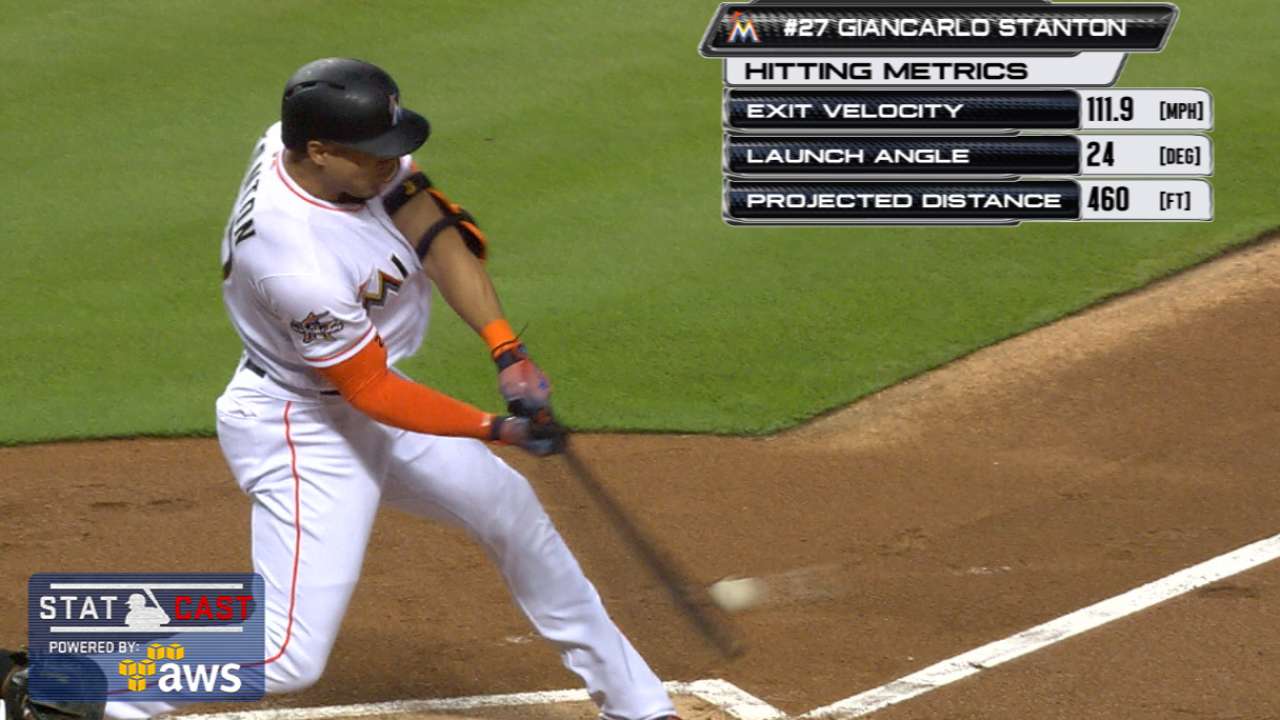 MIAMI -- When Giancarlo Stanton connects, the Marlins' slugger can do damage in many ways. The three-time All-Star did it again on Friday night in Miami's 8-5 win over the Angels at Marlins Park.
Stanton's two-run homer in the first inning not only put his team in front to stay, but it also clanked off the batter's eye and actually left a dent on the wall.
"That's just straight power, that's what that is," Marlins right-hander Dan Straily said. "Seeing it from afar, or every now and then when they come through town or highlights on TV, seeing it in person does it justice. You get to see what kind of special talent he is."
Stanton blistered a two-run homer to center field off right-hander Jesse Chavez. The shot off an 84.5-mph changeup was his first since May 8, and Statcast™ projected it at 460 feet.
• Cast your Esurance All-Star ballot for Giancarlo and other #ASGWorthy players
"It was a bad changeup," Chavez said. "It was supposed to be away, but it ended up in the middle. He did 'Stanton' to it. He dented it."
Per Statcast™, the exit velocity was 112 mph, and the ball reached a height of 94 feet, had a launch angle of 24 degrees and took 5.7 seconds to leave the park.
It marked the third-longest homer this season by the Marlins. Marcell Ozuna and Stanton previously had homers travel 468 feet. The duo of Stanton and Ozuna has had its share of long homers. Stanton (423) and Ozuna (415) are the top two batters in the big leagues in average home run distance among players with at least 10 homers.
Since Statcast™ began tracking in 2015, Stanton has 10 home runs projected at 460 feet or more. The next highest total is three, by seven players.
Asked about putting a mark on the batter's eye, Stanton smirked, noting he was just happy he was able to drive home Dee Gordon, who was on second.
"I did my job," Stanton said. "I'm just glad when he advanced. Get him over, and get him in. He gave me a pitch I could drive. If it's the [batter's] eye, that's good. If it bloops over and he scores, it's good, too."
Stanton, now with 12 homers, had gone 55 at-bats and 59 plate appearances since his last long ball.
"It was interesting," Stanton said. "I've been hitting balls hard. It's when I'm not hitting balls hard, and not hitting homers, I don't like. But I'm hitting balls hard and still having run production, [so] I'm OK. Homers, whatever."
Stanton's impressive long ball was in an area you don't see many home runs. The players joked that he needed to hit the ball over some to the "Monster" sign. If that sign is struck, someone wins a Bentley.
"It's a treat whenever he hits a homer," said Marlins first baseman Justin Bour, who had a three-run homer. "If he aimed it a little further right, he probably hits that Monster sign and wins a Bentley. Got to work on that."
Joe Frisaro has covered the Marlins for MLB.com since 2002. Follow him on Twitter @JoeFrisaro and listen to his podcast. This story was not subject to the approval of Major League Baseball or its clubs.