Counsell, Stearns say Crew didn't rush Braun
Left fielder returns to 10-day disabled list; club will exercise patience with injury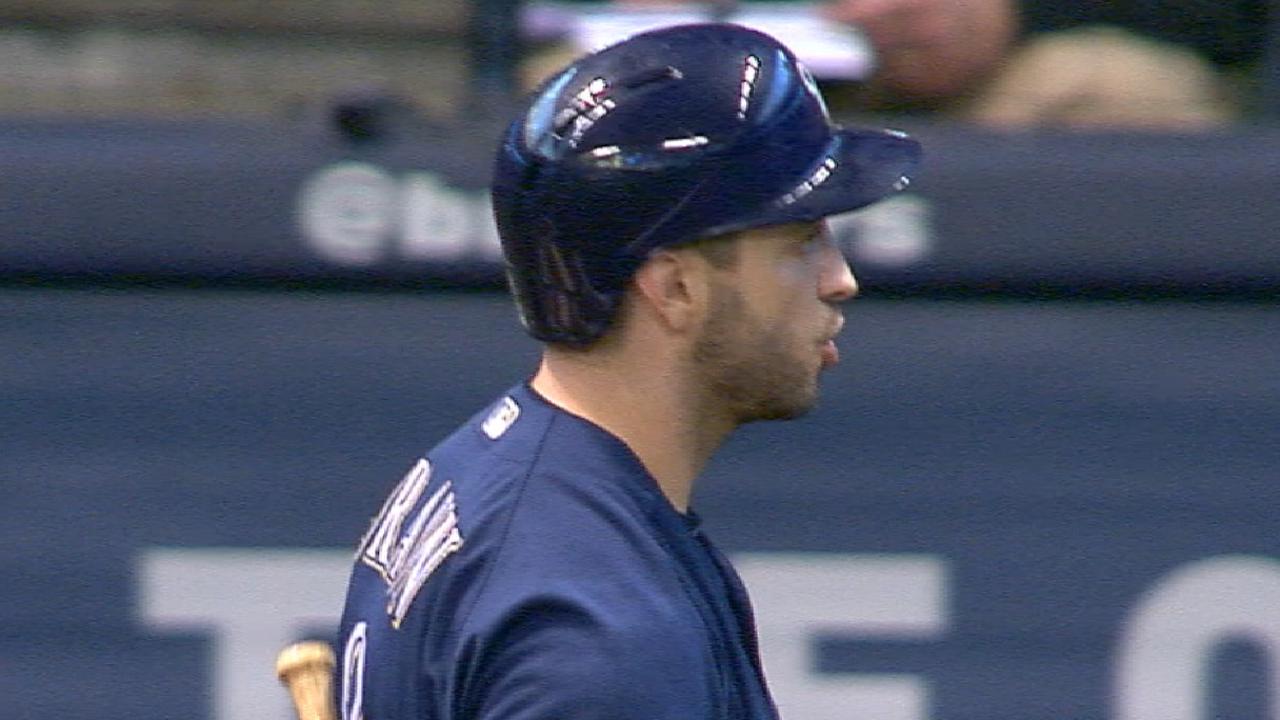 MILWAUKEE -- Ryan Braun was facing an open-ended absence as the Brewers placed him back on the 10-day disabled list Friday with a left calf strain.
Braun re-aggravated the injury Thursday night in his third game back from a minimum 10-day stay on the DL for the same ailment. In hindsight, did he return too quickly the first time?
"You can always look back," manager Craig Counsell said. "All the information we had told us he was ready to play. … Obviously you wish it didn't happen. But you're taking all the information you have and trying to make the best decision."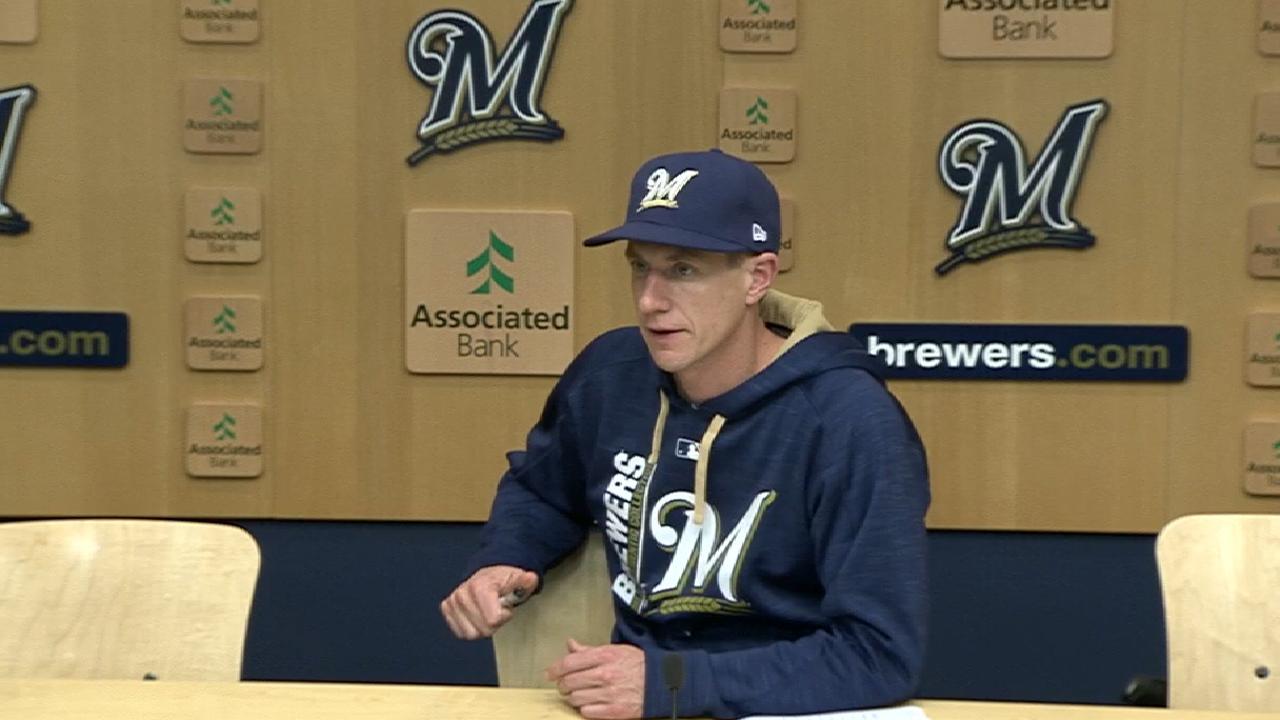 Braun was 0-for-9 at the plate and played 21 innings in the field before exiting in favor of a pinch-hitter in the fourth inning on Thursday.
Brewers head physician Dr. William Raasch visited Miller Park on Friday afternoon to examine Braun, though it could be a week or so before the team has a firm handle on the timetable for his return. No MRI had been scheduled as of Raasch's arrival, but the team was fairly confident that the injury was a low-grade strain, according to general manager David Stearns, one that is "significantly less severe" than the calf injury that cost pitcher Junior Guerra seven weeks after he was injured on Opening Day.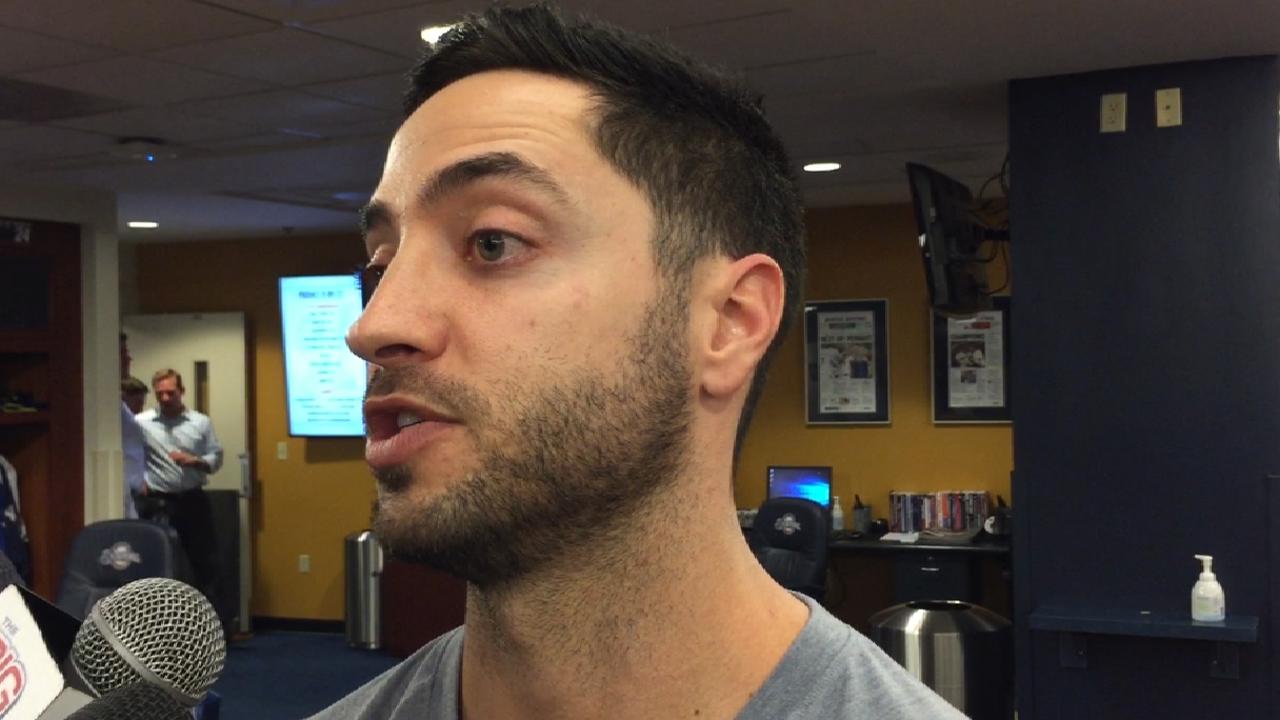 Guerra returned from the DL to start Friday night in a corresponding move to Braun's DL assignment.
"I think hindsight always helps inform us when something doesn't go as planned," Stearns said. "In this case, Ryan was feeling better. Our medical staff was comfortable that it was time for him to go back out there. He went back out there, and unfortunately, he aggravated it. Sometimes that's going to happen."
Rather than promote an outfielder from the Minor Leagues, the Brewers' initial plan is to cover left field with a combination of right-handed hitter Hernan Perez, left-handed hitters Eric Thames and Eric Sogard and switch-hitter Nick Franklin.
Perez started in left on Friday in Braun's first full day on the DL.
"I like our options," Counsell said. "I think we all like our options."
Pina improved
Brewers catcher Manny Pina took 30 swings in the batting cage Friday afternoon wearing a new elbow guard on his left elbow. He was hit there by a Robbie Ray pitch in the second inning on Thursday.
"It's not too bad," Pina said. "I thought it was going to be worse. … I think if something happened in the game, I'm there in an emergency."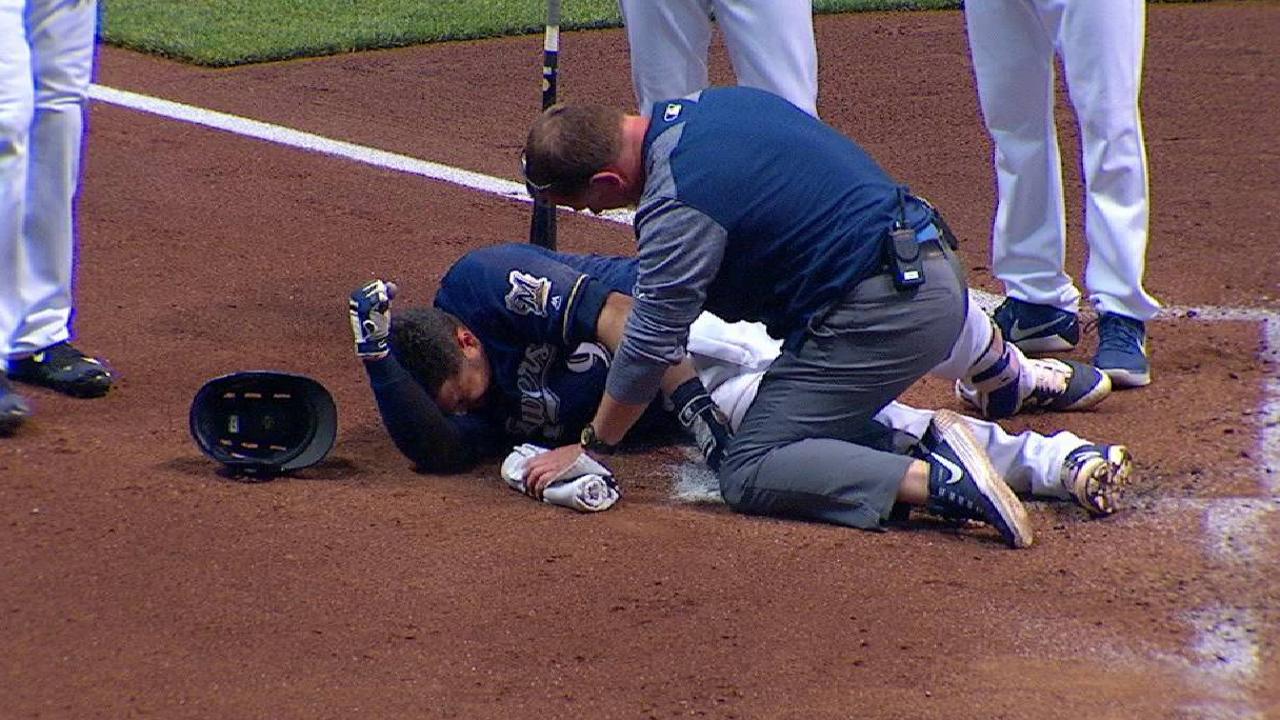 With similar improvement Friday night into Saturday, Pina said, he might be back to full strength. The Brewers' other emergency option to catch, Counsell said, is Franklin, who wears shinguards in the early innings of games and often helps warm-up pitchers between innings.
Susac on DL
Triple-A Colorado Springs catcher Andrew Susac's latest stint on the DL is for cluster headaches, Stearns said. Susac missed the start of the season with a neck injury.
"It's the first time in his life he has experienced this," Stearns said of the latest ailment. "They are not concussion-related at all. He has been seen, and they are getting better. He is on medication to help it get better, and this is the kind of thing that once you work its way through, it shouldn't bother you at all in the future. He is headed in the right direction."
Done deal
The Brewers on Saturday will formally announce their agreement with Cuban outfielder/first baseman Ernesto Martínez Jr., who was in uniform at Miller Park on Friday after passing a physical and signing his contract. The 17-year-old signed for a $925,000 bonus, according to MLB.com's Jesse Sanchez, which counted against the 2016-17 international signing period, which ends June 15. The Brewers acquired $885,300 of extra funds for that period in the April trade that sent relief pitcher Damien Magnifico to the Orioles.
Done deal between the Brewers and Cuban OF/1B Ernesto Martinez Jr., per his Facebook feed. @JesseSanchezMLB reported he signed for $925k. pic.twitter.com/vaXxQ0Mz9j

— Adam McCalvy (@AdamMcCalvy) May 26, 2017
Adam McCalvy has covered the Brewers for MLB.com since 2001. Follow him on Twitter @AdamMcCalvy, like him on Facebook and listen to his podcast. This story was not subject to the approval of Major League Baseball or its clubs.