Despite struggles, Herrera staying put in bigs
Phillies opting not to send center fielder to Minors for swing work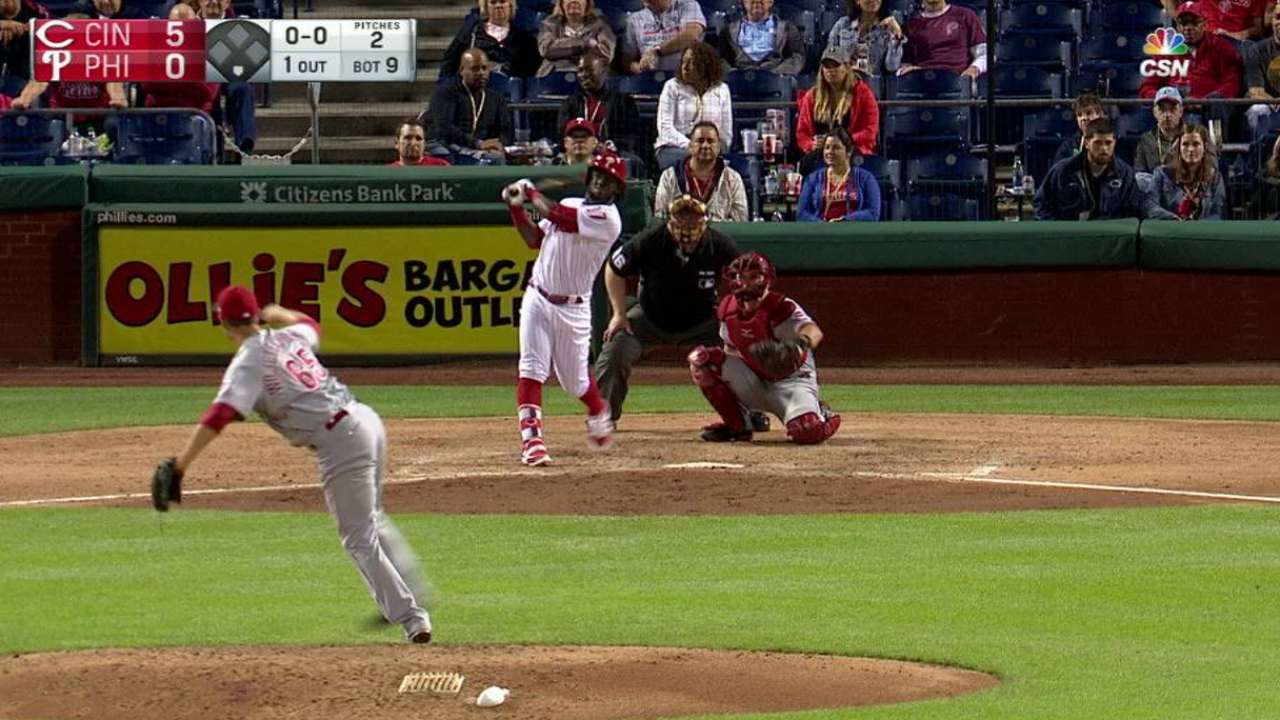 PHILADELPHIA -- Odubel Herrera struck out five times in five plate appearances Thursday in an 11-inning victory over the Rockies.
He hit leadoff Friday.
"I'm not going to sit him," Phillies manager Pete Mackanin said before Friday night's 5-2 loss to the Reds at Citizens Bank Park. "He needs to battle his way out."
Herrera is hitting .227 with 12 doubles, three home runs, 13 RBIs and a .617 OPS in 193 plate appearances, but fans thinking he should solve his problems in the Minor Leagues should not hold their breath. He doubled and scored the first run to jump-start the Phillies' ninth-inning rally Friday.
First, the Phillies recognize that Herrera has been the team's best player the previous two seasons. His 8.1 WAR ranked 43rd in baseball in 2015-16, which has earned him the right to work out things in the big leagues.
Second, Herrera is playing fantastic defense. His 8.8 DEF (Defensive Runs Above Average, according to FanGraphs) and 7.7 UZR (Ultimate Zone Rating) are the best marks in baseball among center fielders. According to Statcast™, Herrera is 4-for-7 making five-star catches (balls caught 25 percent of the time or less) and 3-for-5 making four-star catches (balls caught 26 to 50 percent of the time). No big leaguer has more five-star catches than Herrera.
"We haven't talked about it," Mackanin said about sending Herrera to Triple-A. "I don't know what [general manager] Matt [Klentak is] thinking. There's got to come a point where you have to figure out maybe it's a good idea to do that just to take pressure off a guy or not. We haven't gotten there."
Mackanin said nobody has discussed sending struggling third baseman Maikel Franco to Triple-A, either. Phillies fans might recall they asked the same thing about Pat Burrell in 2003, when he hit .209 with 21 home runs and 64 RBIs. He stayed in the Majors and bounced back to post an .821 OPS in 2004. He played left field regularly through 2008.
Mackanin also said Herrera hit leadoff Friday only because second baseman Cesar Hernandez has felt some tightness in his groin. Hernandez said it is not serious and he expects to play Saturday.
"He was drawing a lot of walks when he led off," said Mackanin. "So, whether he has that mindset or not, I'm not sure. But I just want to get him as many at-bats as possible, get him going. We need to get him going, him and Franco, to get going."
Todd Zolecki has covered the Phillies since 2003, and for MLB.com since 2009. Follow him on Twitter and Facebook and listen to his podcast. This story was not subject to the approval of Major League Baseball or its clubs.