Servais: Diaz is best fit for closing duties
Mariners manager says righty regaining confidence, making adjustments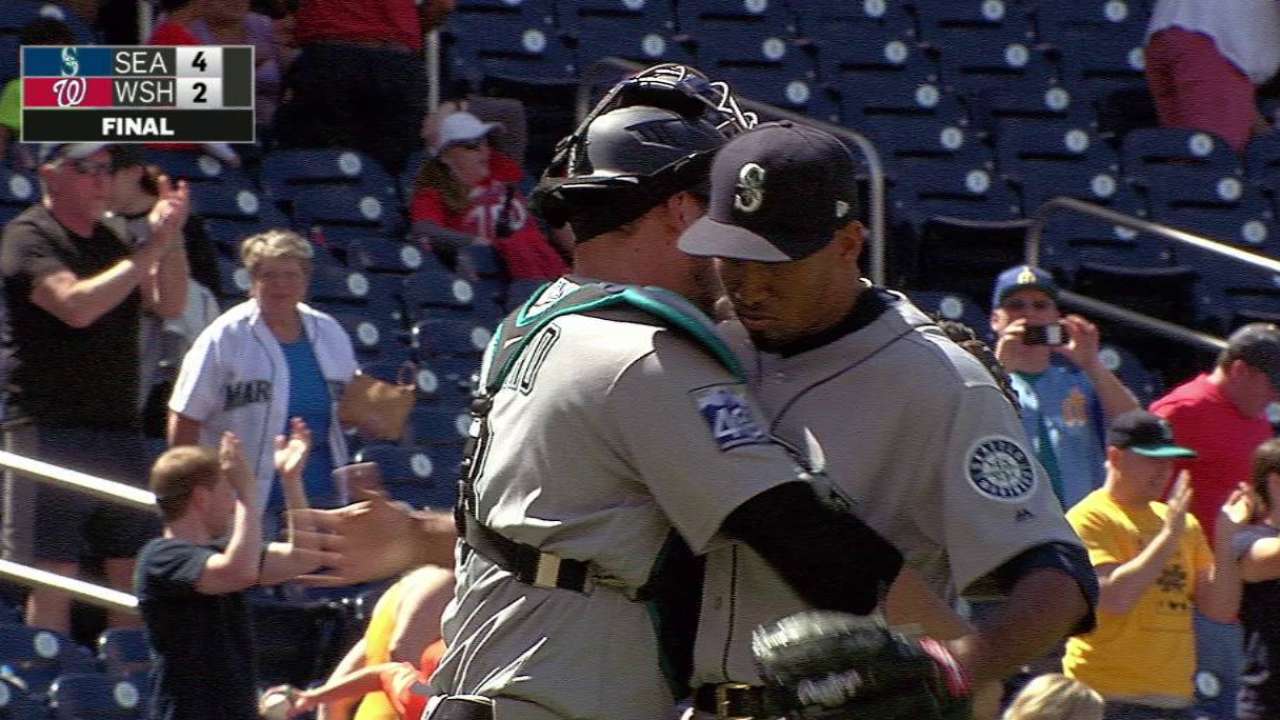 BOSTON -- Mariners manager Scott Servais said Edwin Diaz being the everyday closer again is "not set in stone," but acknowledged the 23-year-old is the best fit for the club in that role and will likely handle most of the ninth-inning duties after getting the save in Thursday's 4-2 win over the Nationals.
Diaz was shifted out of the closer spot after walking four batters in the ninth inning May 15 against the A's. He threw two scoreless innings in a setup role against the White Sox last Friday and a scoreless seventh with two walks in Wednesday's 5-1 loss to the Nationals before moving back to the ninth to pick up his eighth save in Thursday's victory in D.C.
"Is he the closer? Obviously he has the most electric stuff down there. We all know that," Servais said. "The point was to get him back in a good spot. He's starting to get his confidence back and able to make some adjustments when he's out there, so in a perfect world, yes.
"There might be some nights though you see him pitch in the eighth inning based on where we're set up. Maybe it's a better spot for [left-handers Marc Rzepczynski] or [James Pazos] or somebody to face somebody in the ninth inning. But ideally, yes, I would like to have him in the ninth inning."
Diaz hasn't been as dominant as in his rookie season, when he struck out 88 and walked 15 in 51 2/3 innings with a 2.79 ERA and racked up 18 saves in 21 chances after taking over the closer role for the final two months. Entering Friday's game, he had 23 strikeouts and 12 walks in 19 1/3 innings with a 4.19 ERA and eight saves in 10 chances, but opposing batters were hitting just .194 and he clearly stands as Seattle's best power arm out of the 'pen.
Servais said he's seen improved command in Diaz's past few outings with his upper-90s fastball and slider.
"He hasn't been spraying the fastball," Servais said. "You see the ball run off the plate once in a while, just the movement and life he has on the ball. But that's the big thing, in that position and role, you can't walk 'em. The good guys don't walk 'em. They make you hit them and go right after you. Seeing him able to make quicker adjustments, we certainly feel better about putting him back in the ninth inning."
Greg Johns has covered the Mariners since 1997, and for MLB.com since 2011. Follow him on Twitter @GregJohnsMLB. This story was not subject to the approval of Major League Baseball or its clubs.