Giolito's no-no provides big confidence boost
White Sox No. 2 prospect feels good about delivery after 7-inning no-hitter for Triple-A Charlotte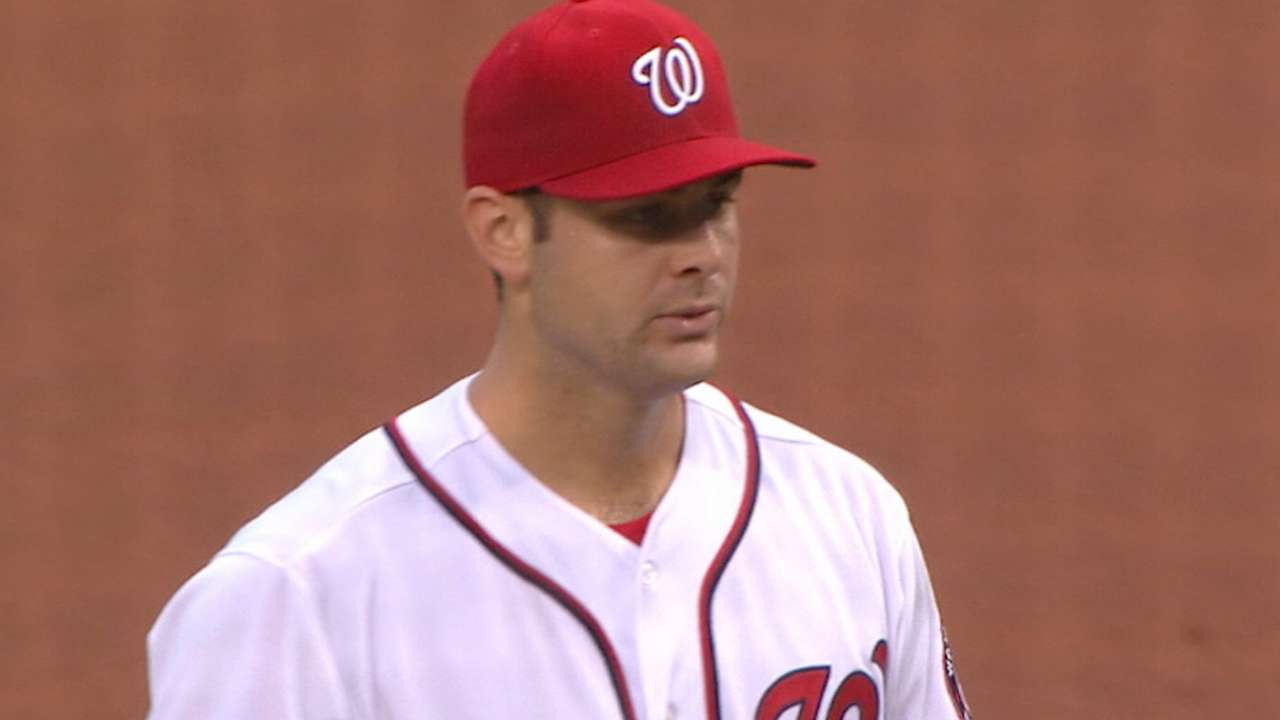 CHICAGO -- After a slow start to his first season in the White Sox organization, Lucas Giolito was looking for that moment on the mound when everything clicked.
That moment arrived on Thursday night in Game 1 of a doubleheader for Triple-A Charlotte, as the big right-hander hurlerd a seven-inning no-hitter against Syracuse. Giolito struck out three and walked three, picking up eight groundouts, against the team he pitched for last season before he was acquired from the Nationals in the Adam Eaton deal.
"Just the confidence, feeling confidence on the mound, commanding my pitches much better," Giolito said during Friday's conference call following his first professional no-hitter. "Just getting through the lineup a few times and feeling good about it.
"I did a lot better job of keeping the fastball down in the zone to both sides of the plate. I was able to get the ball inside to lefties pretty well, maybe got a few jam shots, some popouts here and there, and then I had my two-seamer working, as well. It was just a pretty solid day as far as throwing the fastball."
Giolito pitched before a significant group of media in Indianapolis on May 8, allowing four runs on five hits over five innings and watching his ERA hover at 7.31. He sounded frustrated when talking after that performance, but he also believed in the process and the work he was doing to improve.
Since that night, the White Sox No. 2 prospect, per MLBPipeline.com, and the No. 8 prospect overall has allowed five earned runs over 18 innings with 12 strikeouts and seven walks. His growing confidence received a major boost Thursday.
"Any time you can go a few innings in a row without giving up a hit, you feel pretty good about yourself," Giolito said. "Obviously, seven innings last night felt awesome. As far as confidence goes, I feel much better, and I can't wait to get back on the mound in five days."
"A no-hitter is a fantastic thing," White Sox pitching coach Don Cooper said. "He did very, very well. [It's] interesting he did it against the team who traded him. He walked three guys in the game, but a great game for him. He seems to be climbing. That certainly should be a lot of confidence for him."
The baseball from Thursday's final out is going to Giolito's dad when the righty sees him next. But Giolito is far from satisfied even after the no-hitter, pointing to the walk numbers being a little too high for his liking.
"There's still plenty to work on, but everything felt pretty solid last night," Giolito said. "I felt like I repeated my delivery well. I executed more pitches. Especially when I'd fall behind in the count, I'd execute quality pitches, and you can get yourself out of bad situations doing that."
"[I'm] so happy for Giolito last night to watch that," said White Sox pitcher Tyler Danish, who has been Giolito's Charlotte rotation-mate all season. "He's been working hard every single day."
Scott Merkin has covered the White Sox for MLB.com since 2003. Read his blog, Merk's Works, follow him on Twitter @scottmerkin, on Facebook and listen to his podcast. This story was not subject to the approval of Major League Baseball or its clubs.