MLB.com Columnist
Terence Moore
Pujols a few hacks from mighty 600-HR club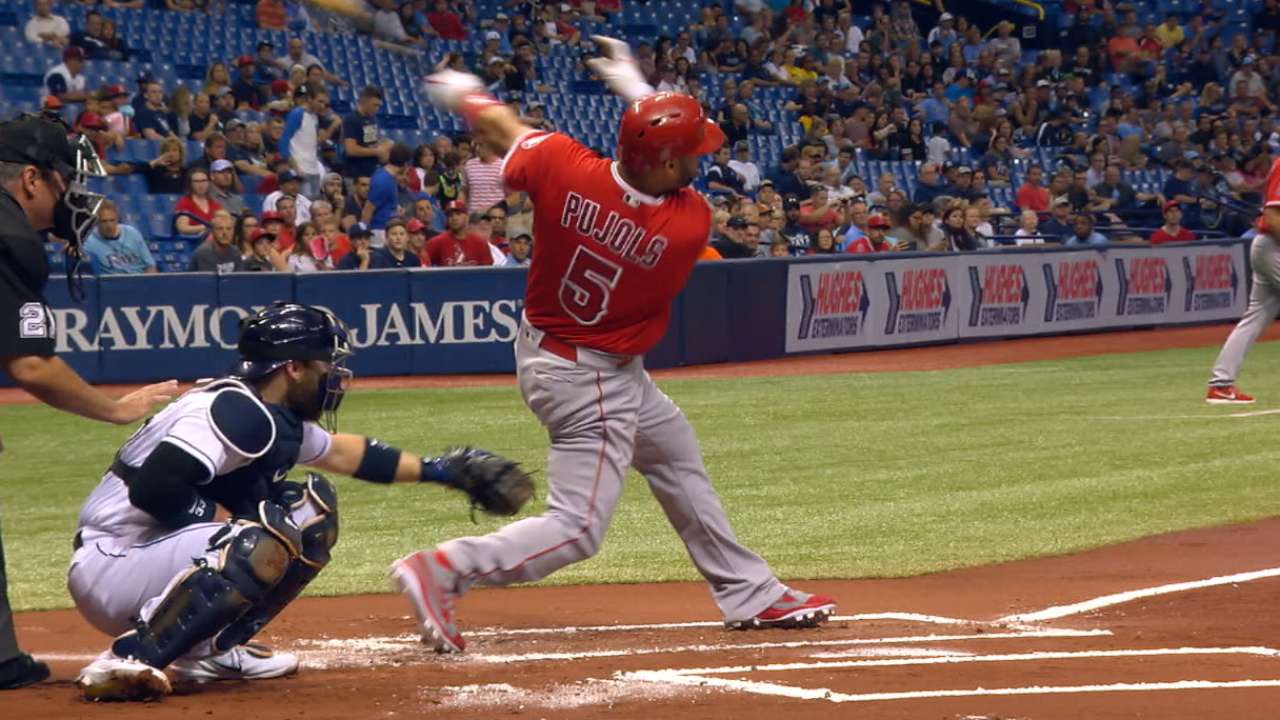 Every time I think about this, I shake my head in disbelief. Six hundred home runs?
That's a lot of taters, as they used to say. And after Albert Pujols slams three more of these things within weeks -- or even days -- he'll join one of the most exclusive groups in professional sports.
I'm talking about The 600-homer club for home run hitters. Its membership begins with an even more unfathomable gathering of sluggers, and that is The 700-homer club of Barry Bonds (762), Hank Aaron (755) and Babe Ruth (714). Then come the likes of Alex Rodriguez (696), Willie Mays (660), Ken Griffey Jr. (630), Jim Thome (612) and Sammy Sosa (609).
Not long ago, 500 was the old 600. I still get chills remembering how Cubs broadcasting icon Jack Brickhouse delivered a spontaneous "Wheeeeeee" at Wrigley Field between his shouting after Ernie Banks slammed his 500th career homer in May 1970. Just like Banks, Harmon Killebrew never reached 600 homers. Neither did Mike Schmidt, Willie McCovey or Reggie Jackson, all those among the The 500-homer club, which was larger than life for decades.
Now Pujols is on the verge of punctuating his 17-year career of 10 trips to the All-Star Game, three National League Most Valuable Player Awards and six Silver Slugger Awards by blasting No. 600 over somebody's wall.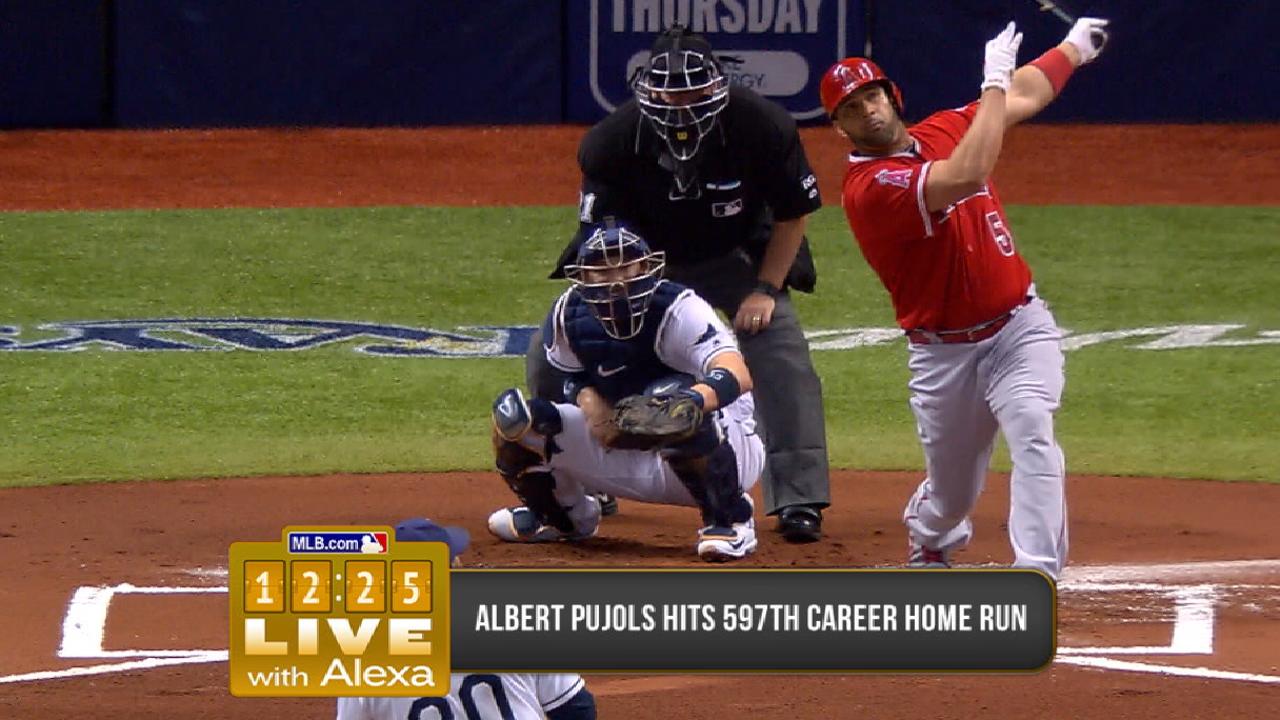 So you should join me with a hearty, "Wow." You also should be prepared to say that louder after Pujols joins The 600-homer club, because he likely will become its last member for a while. The active player with the most career homers behind Pujols is Miguel Cabrera, and he's No. 38 on the all-time home run list with 451.
OK, upon further review, I've changed my mind. When Cabrera joins The 600-homer club, he likely will become its last member for a while. He's 34, and that's also how many homers he has averaged per season during his 15 years in the Major Leagues. Except for his injury-filled 2015, when he played just 119 games for the Tigers, he's been pretty durable. So if he continues ripping homers at this pace, he will top 600 in slightly more than four seasons.
Thus good news for those who wish to see The 600-homer club expand beyond Pujols before the coming and going of several leap years. As for the bad, the other active players among the top 100 of home run hitters have to keep battling the unforgiving combination of pitchers and age to reach that level. Adrian Beltre is 38 and ranks No. 41 on the all-time homer list with 445, while Carlos Beltran is 40 with 425 homers at No. 51. Ryan Howard also is in the top 100, but he was released this month from a Minor League contract with the Braves. Even if Howard and his 382 homers are signed by somebody, he is a 37-year-old role player. Not good if you're that age and 218 long balls shy of 600 or more on your resume.
Just so you know, there are a slew of active guys from Nos. 101-383 on the all-time homer list, ranging from 34-year-old Edwin Encarnacion (319 homers) to 32-year-old Ryan Zimmerman (228 homers) to 31-year-old Mark Trumbo (184 homers), but you have to trust me on this. After Cabrera, the next person likely to reach The 600-homer club is ... Mike Trout.
Guess the Boy Wonder of the Angels really is all of that.
I'd like to go with prolific basher Giancarlo Stanton as a "600" guy before Trout at No. 287 on the all-time homer list. It's just that Stanton has suffered so much from injuries throughout his career at 27 that he only spent two of his previous seven years in the Majors playing more than 123 games during a season.
Yep, I'm guessing Trout will follow Cabrera as somebody in waiting for his 600th homer, and he's No. 383 on the all-time list. Even though he's just 25, nearly all of the 600-homer club members began ripping homers in bunches at an early age. Consider that, when they also were 25, Thome had 93 homers and Aaron had 179, but Trout already has 183. Only Griffey had more homers than Trout at that age with 189, and I say that with an asterisk. I'm excluding Ruth (who spent his opening six seasons in the Majors as a Red Sox pitcher through 1919), Mays (who was in military service at 22) and Bonds, Rodriguez and Sosa (who were surrounded by PED questions).
Trout is averaging 35 homers per season. If he remains at that pace, it would place him over 600 about the time he is 37 or so.
Count on it for Trout, and I like Nolan Arenado's chances, but he has longer odd at No. 648 with 123 homers. Still, he's just 26 and he's the owner of a potent bat that produced consecutive seasons of 40 or more homers (42 and 41) during the previous two years.
You also must consider the usual suspects regarding anything involving the potential of individual greatness in baseball. You have the gifted 24-year-olds of Bryce Harper at No. 571 (135 homers) and Manny Machado at No. 717 (115). Kris Bryant is among the old men of rising young stars at 25, but he already has won the NL Rookie of the Year Award and the NL MVP Award. He has 76 homers in two-plus seasons, so who's to say he can't reach 600?
All I know is that eight guys already shocked reality with even more than that home run total, and Pujols is on the way. Wow.
Terence Moore is a columnist for MLB.com. This story was not subject to the approval of Major League Baseball or its clubs.