With Chisenhall out, Tribe activates Jackson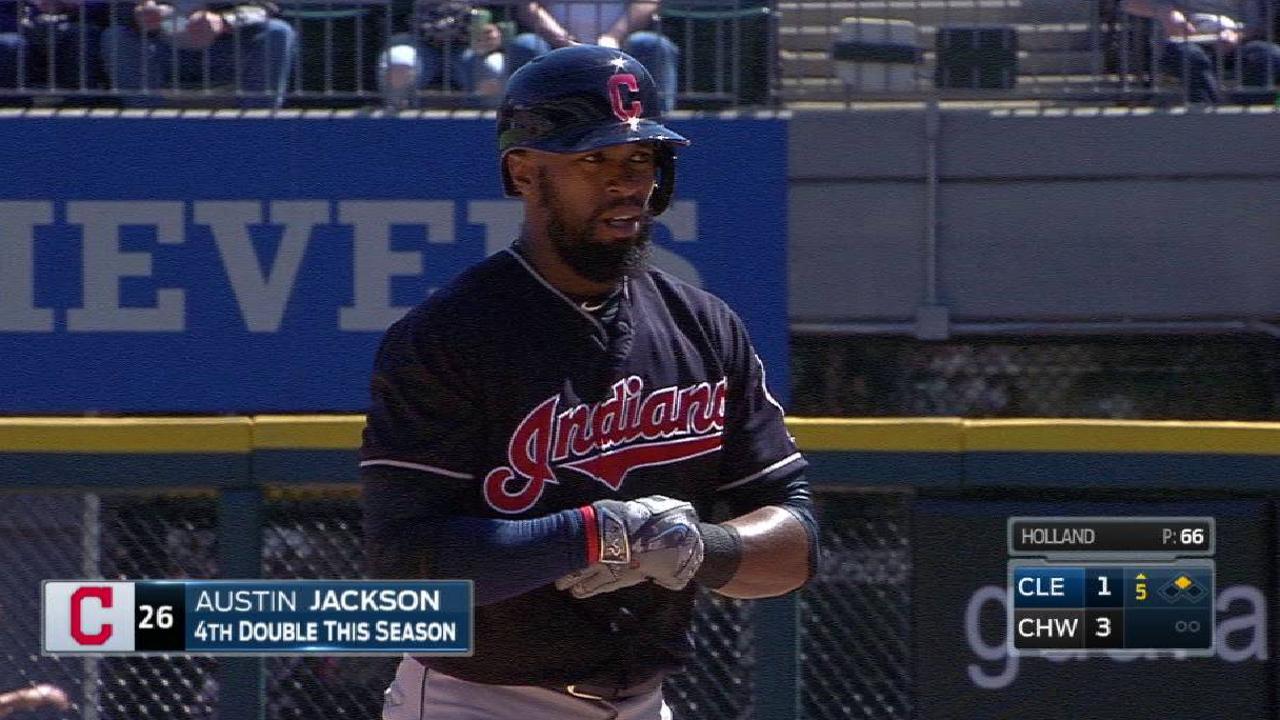 CLEVELAND -- The Indians on Friday activated outfielder Austin Jackson from the 10-day disabled list. Jackson took the roster spot that was vacated when Lonnie Chisenhall was placed on the seven-day concussion DL on Thursday.
Jackson missed the previous 20 games with a hyperextended left big toe that he sustained while beating out an infield hit on May 1 against the Tigers. He played three rehab games for Triple-A Columbus, going 4-for-10 with a homer, two RBIs, two runs scored and a strikeout.
The 30-year-old outfielder was scheduled to start in right field for Columbus on Thursday night, but rain postponed the game. The Indians' scheduled game on Thursday against the Reds was also postponed.
"[Jackson] was going to play right field last night, just 'cause he hasn't done that for awhile," manager Terry Francona said. "... Once we got through and had the off-day, we just got Austin here. Having a two-man bench is not a good way to go very long."
Jackson's return gives the Tribe some much-needed depth to its outfield, which has been muddled with injuries. With Brandon Guyer (left wrist) and Abraham Almonte (right biceps) on the DL, Jackson can play right field or move to center. The outfield now consists of Michael Brantley in left and promising rookie Bradley Zimmer in center, with Jackson and Daniel Robertson as reserves.
"I mean, we had five DL'ed outfielders," Francona said about the importance of Jackson's return. "That's digging pretty deep."
Chisenhall's placement on the concussion DL is retroactive to Tuesday. Francona described the outfielder's injury as a lower-grade concussion.
"You talk about a lower-grade ankle [sprain], that's one thing. But when you're talking about a concussion, you need to err on the side of caution," Francona said on Thursday.
Jackson hit .273/.368/.485 with a homer, two RBIs, five walks and eight strikeouts in 38 plate appearances over 12 games, beginning the year in a platoon role with Tyler Naquin in center.
Naquin, who began the year hitting .235 with a .572 OPS in 18 plate appearances, was optioned to Triple-A Columbus on April 13 to make room for Chisenhall returning from the DL with a shoulder injury sustained late in Spring Training. Naquin began his Minor League stint on a 14-game hitting streak, but he has since been sidelined with lower back tightness and hasn't played since May 2.
William Kosileski is a reporter for MLB.com based in Cleveland. This story was not subject to the approval of Major League Baseball or its clubs.