X marks the spot for 1st Bogaerts homer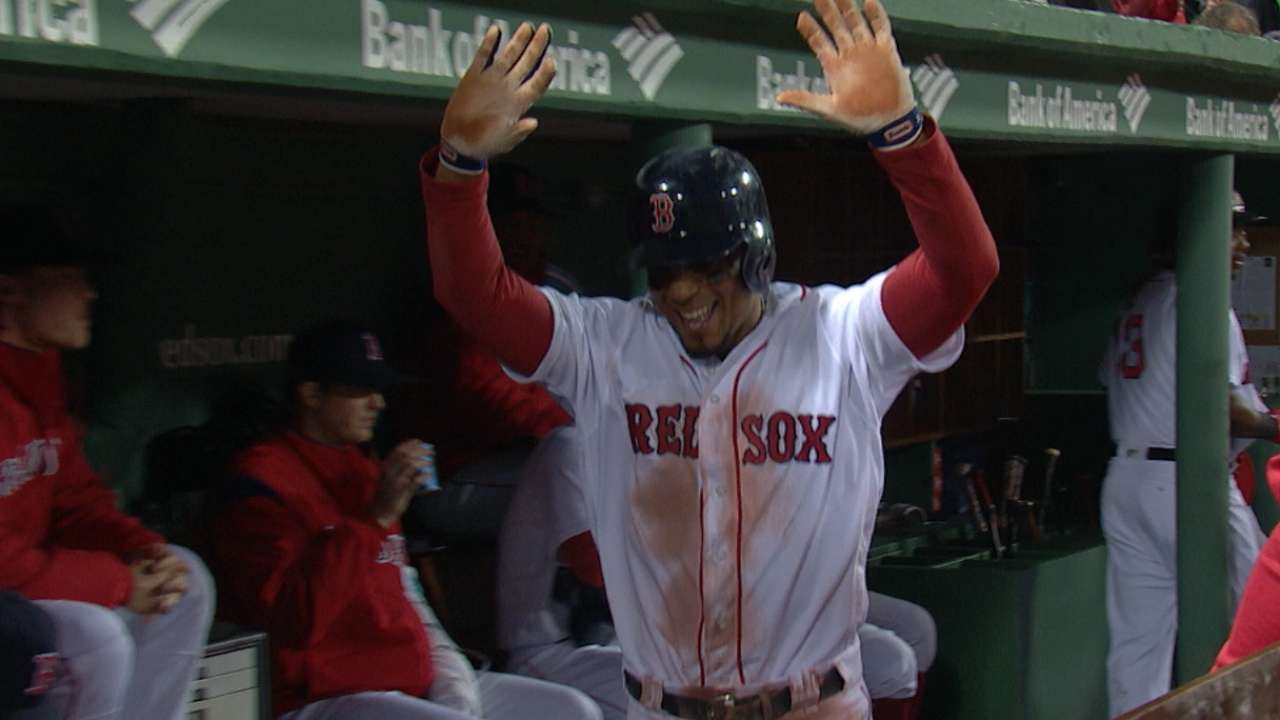 BOSTON -- Xander Bogaerts had gone 173 at-bats without a home run before his liner through the windy rain just cleared the Green Monster to help the Red Sox to a 6-2 win over the Rangers on Thursday night at Fenway Park.
Homer No. 1 was a sweet one for Bogaerts, given how long it took.
"I've been hitting balls pretty hard," said Bogaerts. "Not enough flight, height. So, it was good to get one over the wall, get it out of the way."
When Bogaerts got back to the dugout after the two-run shot in the third inning, his teammates jokingly gave him the cold shoulder and stayed seated. Bogaerts did a sprint through the dugout, giving air high-fives.
His teammates finally started to congratulate him.
"It's been a while," said Bogaerts. "It's been a while since I ran around the bases not hard. So, it was definitely a good feeling, especially to win and put us on the board."
The one thing Bogaerts attributes to his lack of power is discomfort that stemmed from a jammed left thumb on April 20.
"It's been better," said Bogaerts. "That last strikeout, I kind of felt it on the check-swing I took. I don't even know why I check-swung right there. I didn't imagine I would feel anything, but I mean, it's been feeling better since Oakland. I didn't play well in Oakland, but I've felt definitely a lot better. That's a nice step forward."
The power outage hasn't stopped Bogaerts from a strong start to the season though. The shortstop is slashing .335/.398/.470.
"Beautiful swing," said Red Sox manager John Farrell. "I know a lot has been made about the home run totals, or the lack of coming into tonight. But by no means were we ever asking him to try to pull the ball, drive the ball out of the ballpark. They're going to come naturally. He's a very talented hitter. He's hitting for an extremely high average right now. They'll come. And tonight was the first of what should be more."
Bogaerts clubbed 21 homers last year, to go along with 89 RBIs.
"As soon as you start thinking about home runs, especially with me, my approach starts going the wrong way," Bogaerts said. "I just start doing a lot of physical stuff at the plate that's not good for me in order for me to be successful. So I just try to stay within myself and make good contact."
Ian Browne has covered the Red Sox for MLB.com since 2002. Follow him on Twitter @IanMBrowne and Facebook. This story was not subject to the approval of Major League Baseball or its clubs.