Free-swinging Rangers strike out 20 times
Players lament plan at plate on record night in Boston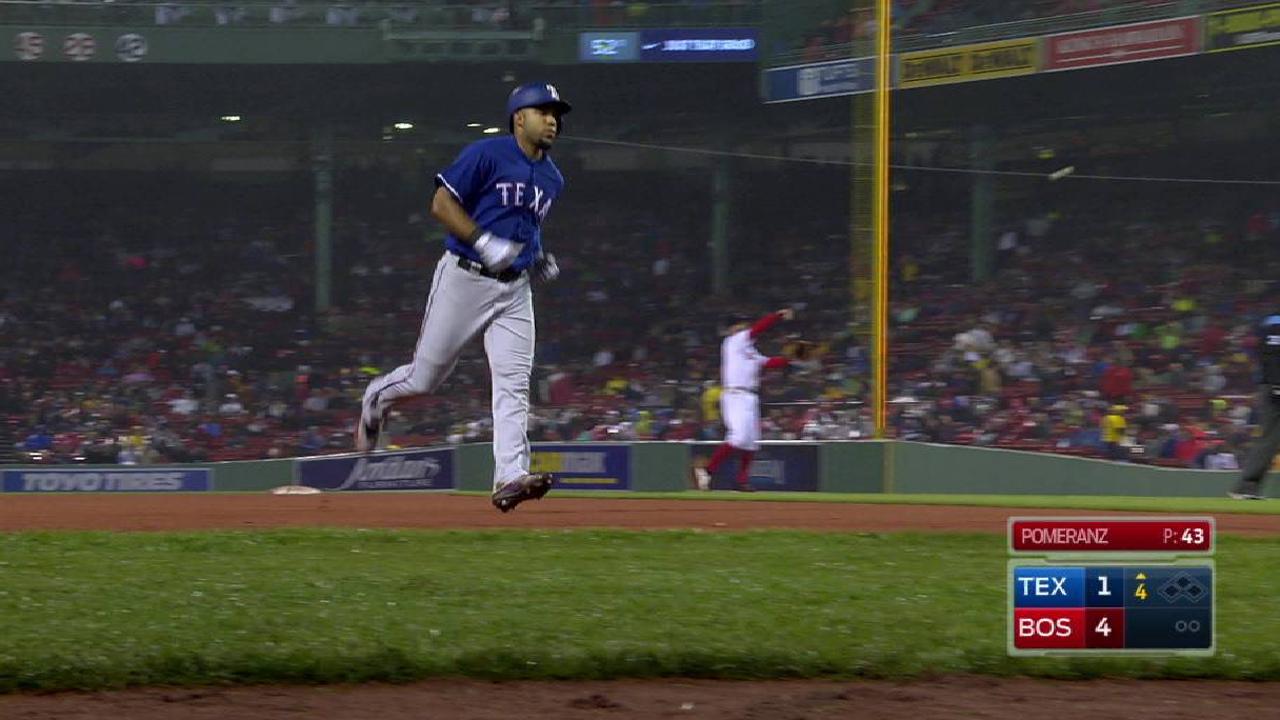 BOSTON -- The game started under strange conditions and ended with nobody sure if the Rangers had tied a Major League record.
But the game did get played despite the mist, drizzle and light rain that swirled through the entire night at Fenway Park, and there was no doubt about the final outcome. The Red Sox completed a sweep of the Rangers with a 6-2 victory on Thursday night.
It just took some time after the game to determine exactly how many times the Rangers struck out. The final verdict was 20, tying a Major League record for a nine-inning game.
"I don't think we had the best approach," shortstop Elvis Andrus said. "We needed to make adjustments really quick and have a better plan. But their guys pitched tough. Give credit to their pitchers."
It's the sixth time in Major League history that a team has struck out 20 times in nine innings, and the first time by the Rangers. Red Sox left-hander Drew Pomeranz struck out 11 in six innings.
"Any time you have a high number of strikeouts, it's a difficult night," catcher Jonathan Lucroy said. "As hitters, we have to keep working and keep grinding."
The confusion over the number of strikeouts took place in the ninth inning after Craig Kimbrel entered to protect a 6-2 lead. At that point, Texas had struck out 16 times. Nomar Mazara, leading off the inning, swung and missed at strike three, even though the ball hit him in the leg, then ran to first base when the ball eluded catcher Christian Vazquez.
He was ruled safe on a strikeout/wild pitch, and Red Sox manager John Farrell protested that the ball should have been dead once it hit Mazara's left foot. If so, Mazara would have been out.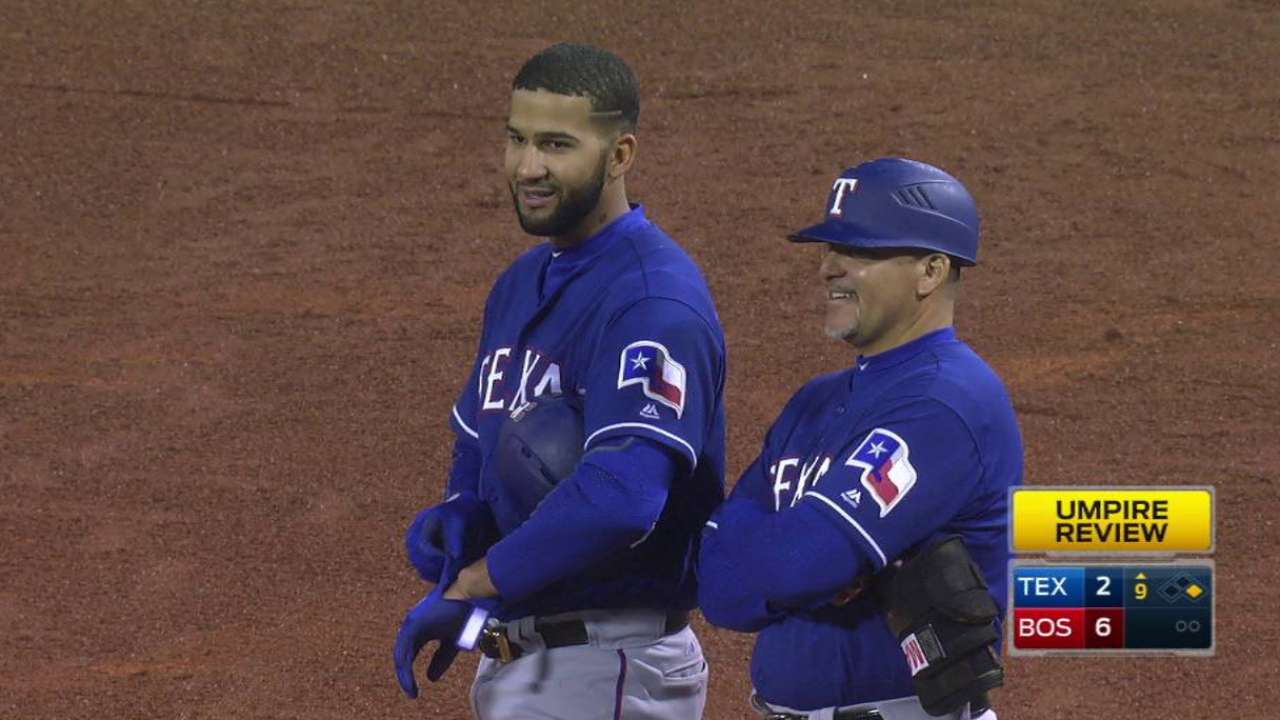 "Strike three hit-by-pitch is an automatic out," Farrell said. "That wasn't the call, unfortunately. But it is what everybody saw on the big screen. It's what everybody saw in the moment."
The umpires huddled, worked the phones and then told Farrell it was an unreviewable call.
MLB later released a statement acknowledging that the replay official and replay supervisor should have allowed for a review.
The original official scoring call was that Mazara reached on a hit-by-pitch, which caused some initial confusion. It wasn't until after the game that it was changed to a strikeout/wild pitch. That became a big deal because Kimbrel struck out Lucroy, Mike Napoli and Rougned Odor to end the game.
The Rangers had their 20 strikeouts, tying the Major League record.
"Obviously challenging," Rangers manager Jeff Banister said. "I don't think anytime you strike out that many times, it's pleasing to anybody. We knew [Pomeranz's] breaking ball would be in play and the fastball would be in play. Pomeranz did a good job with the fastball outside the zone and up in the zone, and the combination of cutter/curveball kept our guys off-balance."
T.R. Sullivan has covered the Rangers since 1989, and for MLB.com since 2006. Follow him on Twitter @Sullivan_Ranger and listen to his podcast. This story was not subject to the approval of Major League Baseball or its clubs.