MLB.com Columnist
Joe Posnanski
Trout's stunner highlights Statcast's extreme HRs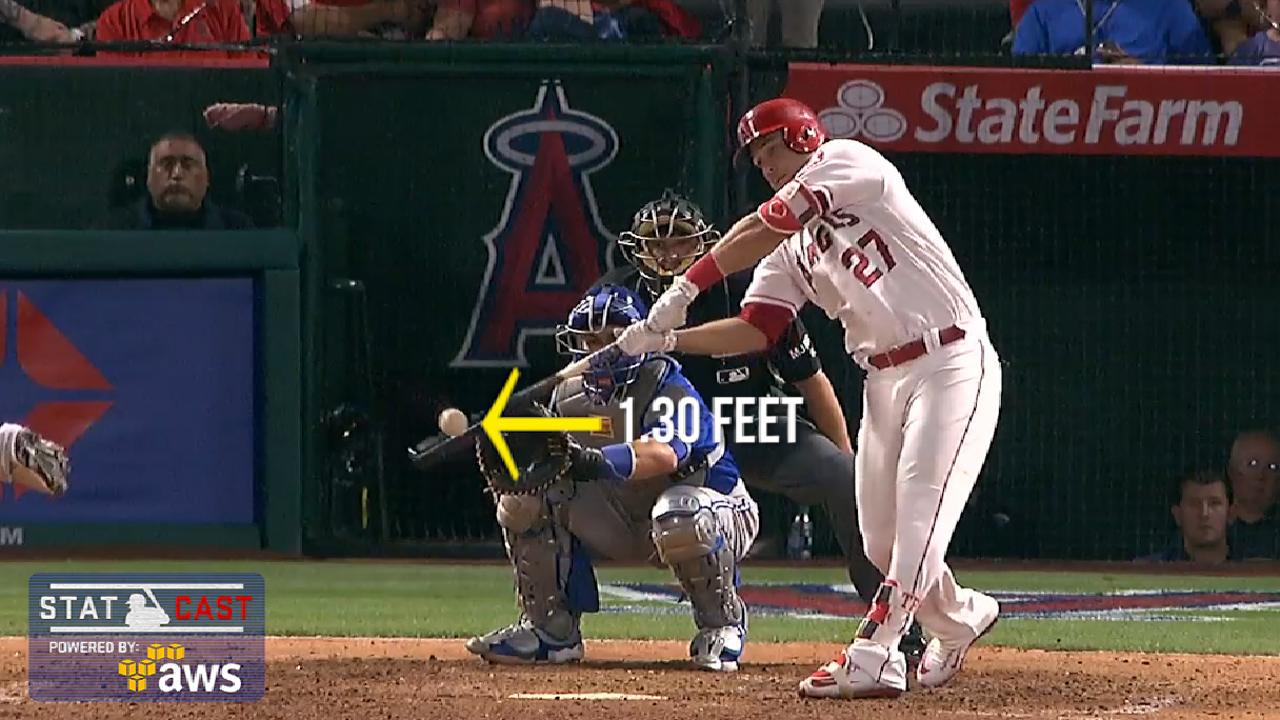 Everybody knows the incredible data being captured by Statcast™ is slowly but surely changing the way we watch baseball -- and even changing baseball itself. Here at MLB Advanced Media, people pore over the data day and night trying to find new insights. I have said before that it's a bit like the control room at NASA for space flight.
But it's not all slide rules and number-crunching and space talk for the Statcast™ gurus. They like to let their hair down and have some fun, too. And that's how we get a list like this, something we call "extreme home runs."
What are extreme home runs? Glad you asked: They are the craziest home runs of the year based on where the ball was pitched. As you probably know, there are certain places in the strike zone that are optimum for the home run hitters. Middle-middle is always nice. Some left-handed hitters like Tampa Bay's Corey Dickerson have their power low and in. Los Angeles' Mike Trout can hit just about anything, but he particularly likes the ball away.
Anyway, these extreme home runs are pitched where nobody expects a home run.
Highest pitch for a homer: 4.62 feet high, Mark Trumbo, May 8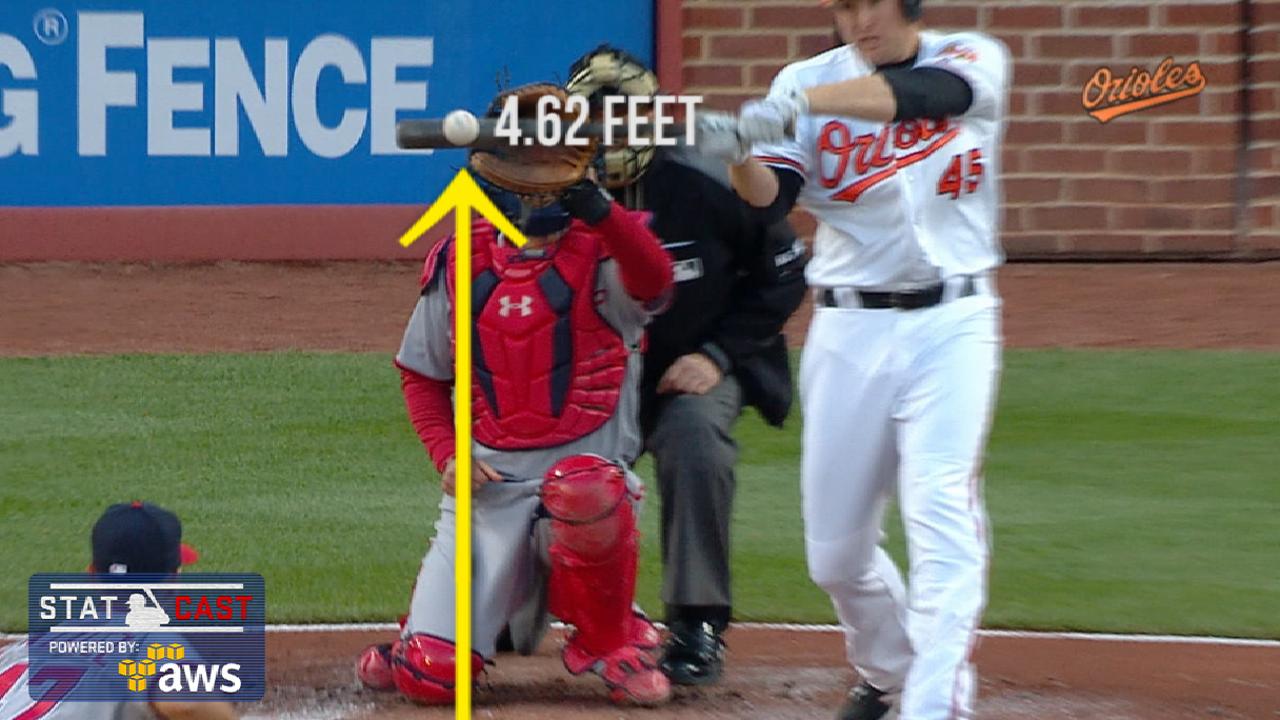 There's an old pitcher theory that pitches high and out of the strike zone are the ultimate sucker pitches. They look so tasty to the hitter, but it's extremely difficult to get the bat high enough on those pitches to drive the ball. In hitters' lingo: It's hard to get "on top" of the ball. Trumbo did not hit a home run during the 2016 season on a pitch above the strike zone. But he got all of this one from Gio Gonzalez that was basically neck-high.
Lowest pitch for a homer: 10.5 inches high, Yan Gomes, April 13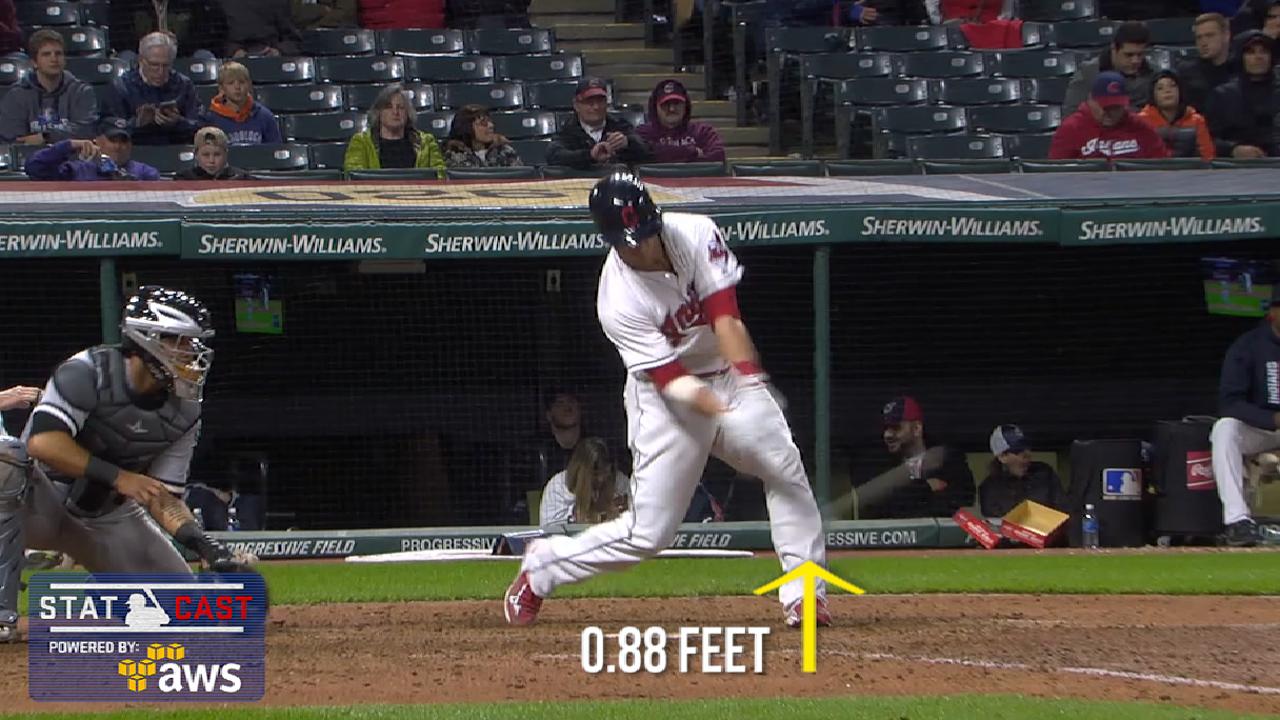 If you slow this one down, it's absolutely ridiculous -- the ball was diving for dirt. Gomes has proven one thing as a hitter over the length of his career: He's up there to swing. Gomes has walked just 80 times in more than 1,700 plate appearances. Give him a ball anywhere close, and he's unleashing. But most of all, Gomes likes the pitch low.
Farthest outside pitch to righty: 1.30 feet from center of plate, Trout, April 21
Superhuman pic.twitter.com/oIg9xIVg0X

— Angels (@Angels) April 21, 2017
The beautiful thing about this was the situation. Mat Latos was pitching for Toronto in a close game -- the Angels led 3-2 -- and Trout was the leadoff hitter in the fifth inning. Trout used to be one of those guys who rarely swung at the first pitch. In 2013, he swung at the first pitch only 12.6 percent of the time, the 10th-lowest rate in MLB that season. Last year, Trout put the ball in play on the first pitch only 31 times all year. Latos, being a veteran, probably assumed Trout wasn't swinging at the first pitch, perhaps not realizing Trout is hacking at the first offering roughly one-fourth of the time this year, a career high. But just to be sure, Latos also threw the pitch a foot outside the strike zone.
To see Trout then bash a home run on the first pitch, on a ball that far off the plate, yeah, that's discouraging. Every now and again, Trout does something that makes every pitcher in baseball just think, "OK, really, that's not fair."
Farthest inside pitch to righty: 1.30 feet from center of plate, Trey Mancini, May 6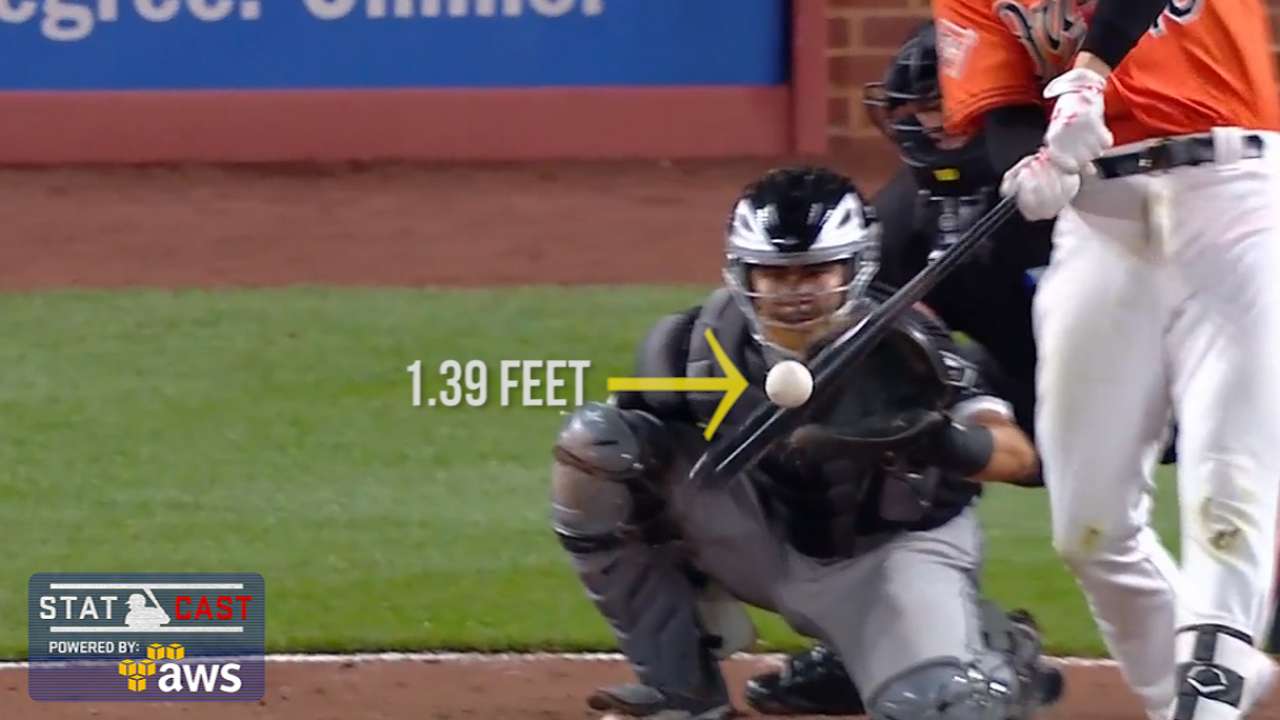 This one doesn't look like much, but it just shows the immense strength of the Orioles rookie. This pitch from Dylan Covey probably did what the right-hander intended: It started over the plate and bore in hard on Mancini's hands. The kid just turned on it and crushed it. There are many reasons for the rise in strikeouts, but this is one of them -- pitchers are finding it hard to saw hitters off, hard to find those places around the strike zone that will break bats and cause weak contact. Safer to go for the strikeout. Covey was pulled from the game after this blast, but I would bet that pitch was not a mistake.
Farthest outside pitch to lefty: 1.43 feet from center of plate, Ian Happ, May 16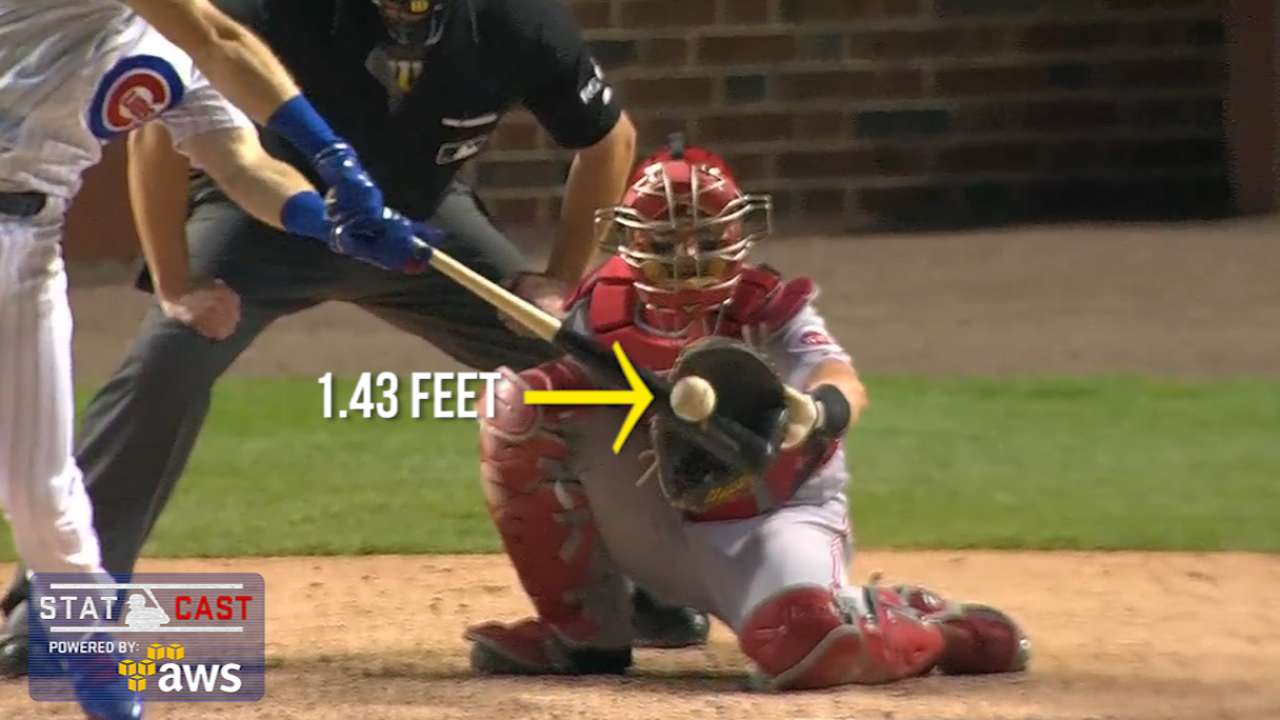 This was Happ's second career home run, and with one swing, he showed just how bright his future looks. A switch-hitter, Happ was batting left-handed when he went after a Bronson Arroyo changeup that was breaking way outside, he reached out for it and went the other way with it, exactly as you should. That was good hitting. But he's so strong that he just muscled the ball out. The Cubs have so much young hitting, it's ridiculous.
Farthest inside pitch to lefty: 1.29 feet from center of plate, Gregory Polanco, May 11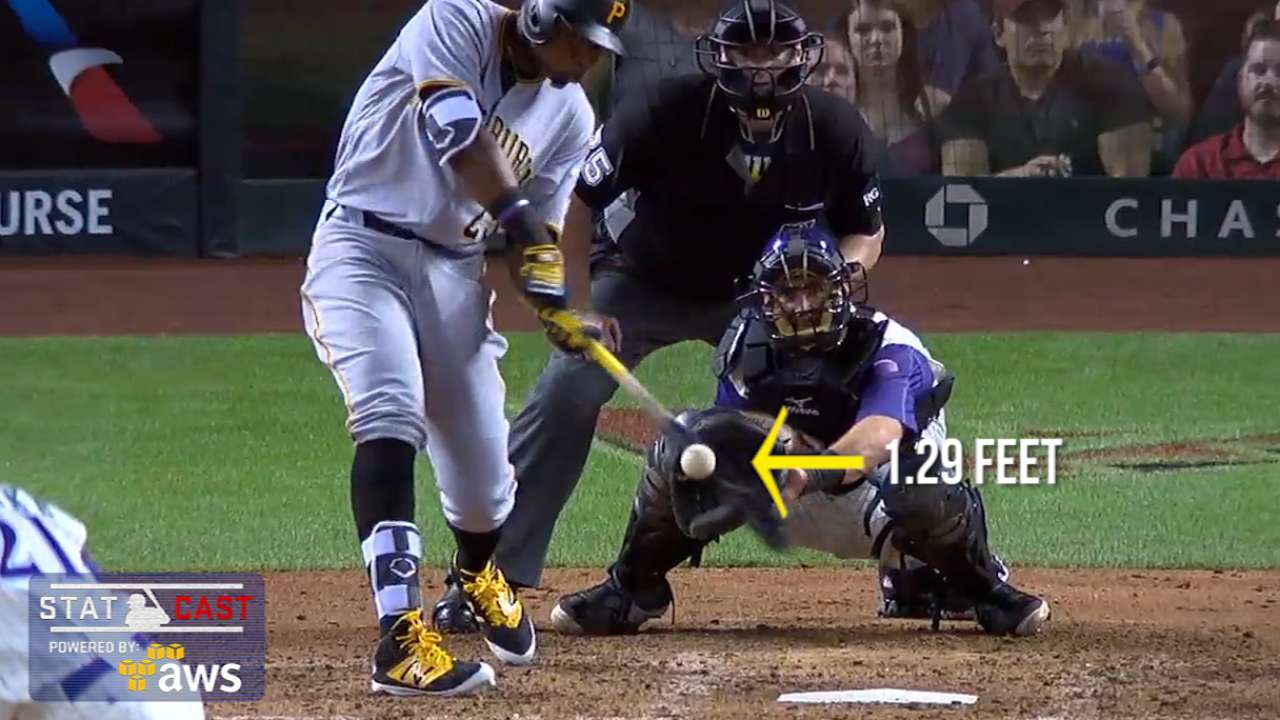 This was a fantastic at-bat between Zack Greinke and Polanco. Greinke had a no-hitter going through seven innings, and he was pretty well untouchable. On his second pitch in the at-bat, Greinke tried to go way down and way in with a fastball, and Polanco yanked it home run distance, but he pulled it foul. So with two strikes, Greinke threw a slider that was even more down and even more in. That is, absolutely, where the charts say to pitch him. Polanco crushed it anyway.
Joe Posnanski is an executive columnist for MLB.com. This story was not subject to the approval of Major League Baseball or its clubs.