Statcast looks at hardest-hitting All-Stars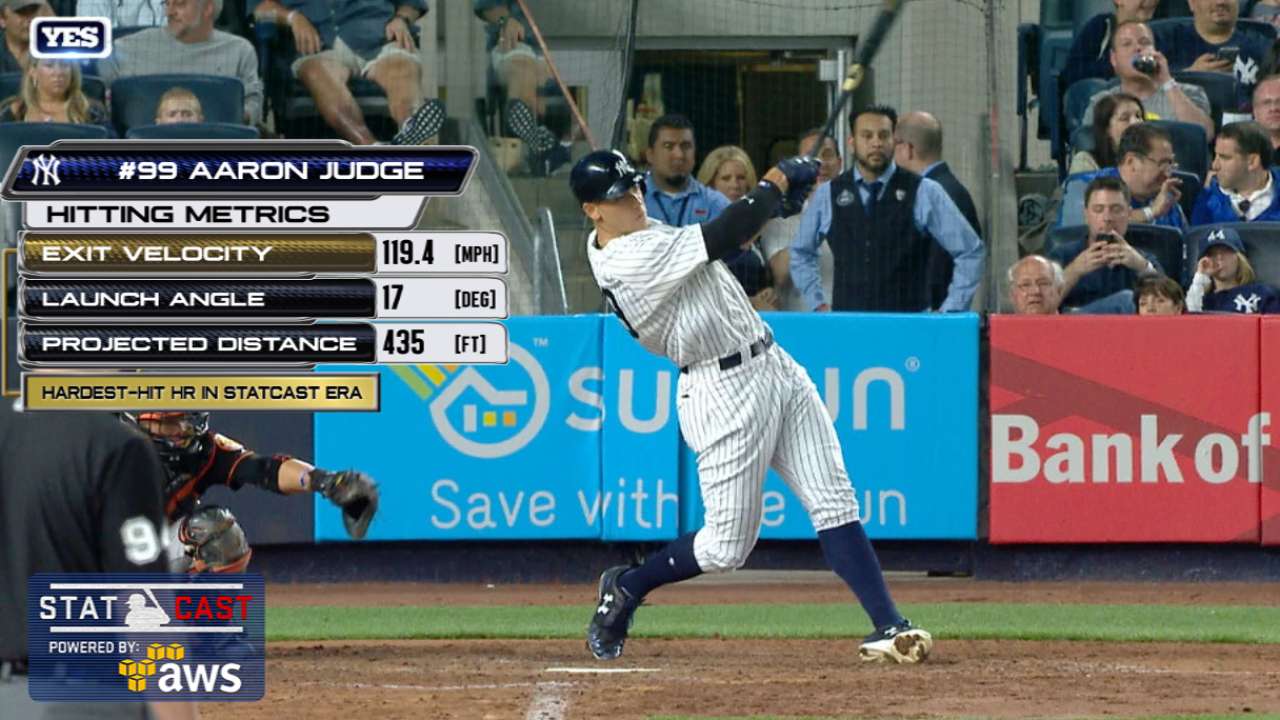 There are lots of different ways to fill out the Esurance MLB All-Star Game Ballot, but from a Statcast™ perspective, hard-hit rate is as good as any.
Statcast™ shows that when it comes to exit velocity, 95 mph -- and not 100 mph -- is the most sensible cutoff point to determine whether a ball is "hard hit." Since the start of 2016, Major Leaguers have a .541 batting average and 1.076 slugging percentage on balls hit 95 mph or harder, compared with a .222 average and .265 slugging percentage below 95 mph.
With that in mind, here is a look at an All-Star Game lineup of Statcast™ stars, featuring the top player at each position on the ballot, in terms of how often their batted balls reach that 95-mph threshold. Only those with at least 75 batted balls this season were considered -- a group of nearly 250 players across MLB.
While this isn't necessarily a measure of the best hitters, or even the most productive this season, it does provide a glimpse of who is most frequently making solid contact.
• Cast your Esurance All-Star ballot for #ASGWorthy players
Note: Stats are through Wednesday's games
CATCHER
American League: Welington Castillo, Orioles
95 mph+: 44.0 percent
Signed as a free agent this offseason, Castillo spent two weeks on the disabled list with right shoulder tendinitis, but has raked when he has been in the lineup, batting .330 with an .866 OPS. His hard-hit rate is up from 37.2 percent over the first two years of the Statcast™ Era.
National League: Yasmani Grandal, Dodgers
95 mph+: 39.0 percent
The switch-hitter has a productive track record with the bat, using power and a healthy dose of walks to overcome a .238 career average entering this year. But so far in 2017, Grandal has raised his average to .291. That includes .500 (20-for-40) on balls 95 mph or harder.
FIRST BASE
AL: Miguel Cabrera, Tigers
95 mph+: 58.4 percent
Miggy's .264/.360/.430 line this season is pedestrian by his lofty standards, yet he still ranks second in the Majors in hard-hit rate. Unfortunately for Cabrera, the gap between his actual weighted on-base average (wOBA) of .350 and his expected wOBA of .430 -- based on the quality of his contact -- is among the largest for any hitter.
NL: Ryan Zimmerman, Nationals
95 mph+: 52.0 percent
The veteran is one of this year's best rebound stories, following a miserable 2016 in which he posted a .642 OPS. But while Zimmerman's hard-hit rate is up from 46.2 percent, the bigger change is that his average launch angle on those batted balls has climbed from 8.1 to 13.3 percent, allowing him to do far more damage with his solid contact.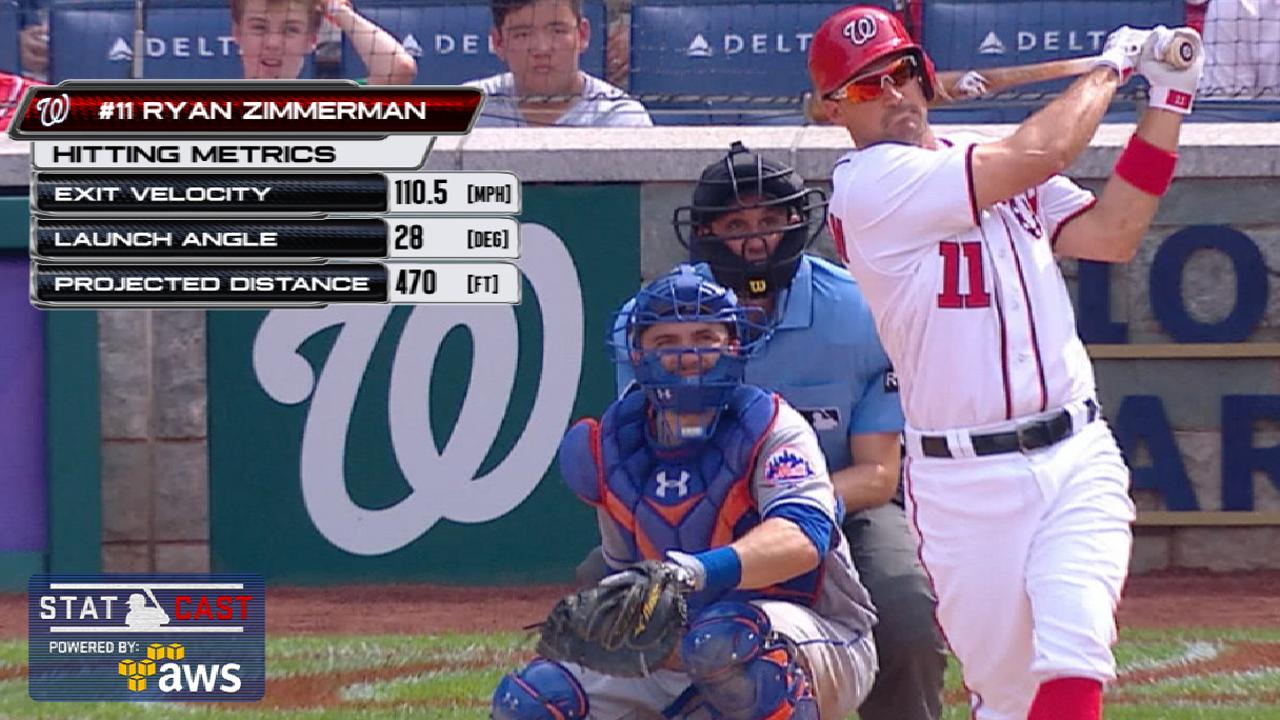 SECOND BASE
AL: Robinson Cano, Mariners
95 mph+: 42.5 percent
The sweet-swinging veteran was red-hot (.349/.411/.663) in his last 21 games before a DL stint from which he returned on Tuesday. His hard-hit rate was 48 percent during that stretch, compared to 34 percent during a slow 13-game stretch to begin the season.
NL: Daniel Murphy, Nationals
95 mph+: 37.3 percent
Murphy ranks in the top 20 in the Majors (minimum 200 swings) at putting the ball in play when he swings the bat, doing so 48.4 percent of the time. That contact ability gives him more chances to hit the ball hard.
THIRD BASE
AL: Miguel Sano, Twins
95 mph+: 62.4 percent
Yes, Sano whiffs on about 37 percent of his swings, one of the highest rates in MLB. But when he connects, he does so with more force than anyone in the game. Sano's average exit velocity of 97.7 mph is far and away the top mark in MLB. The same is true of his hard-hit rate, which has jumped about 14 percentage points from 2016.
Jake Lamb, D-backs
95 mph+: 45.2 percent
Among 90 hitters who have at least 500 total first-half plate appearances over the past two seasons, Lamb's .978 OPS trails only Mike Trout and Freddie Freeman. One of his hard-hit balls this year, a 107.7-mph rocket on April 29 at Chase Field, turned into the longest home run in the Majors this season (481 feet).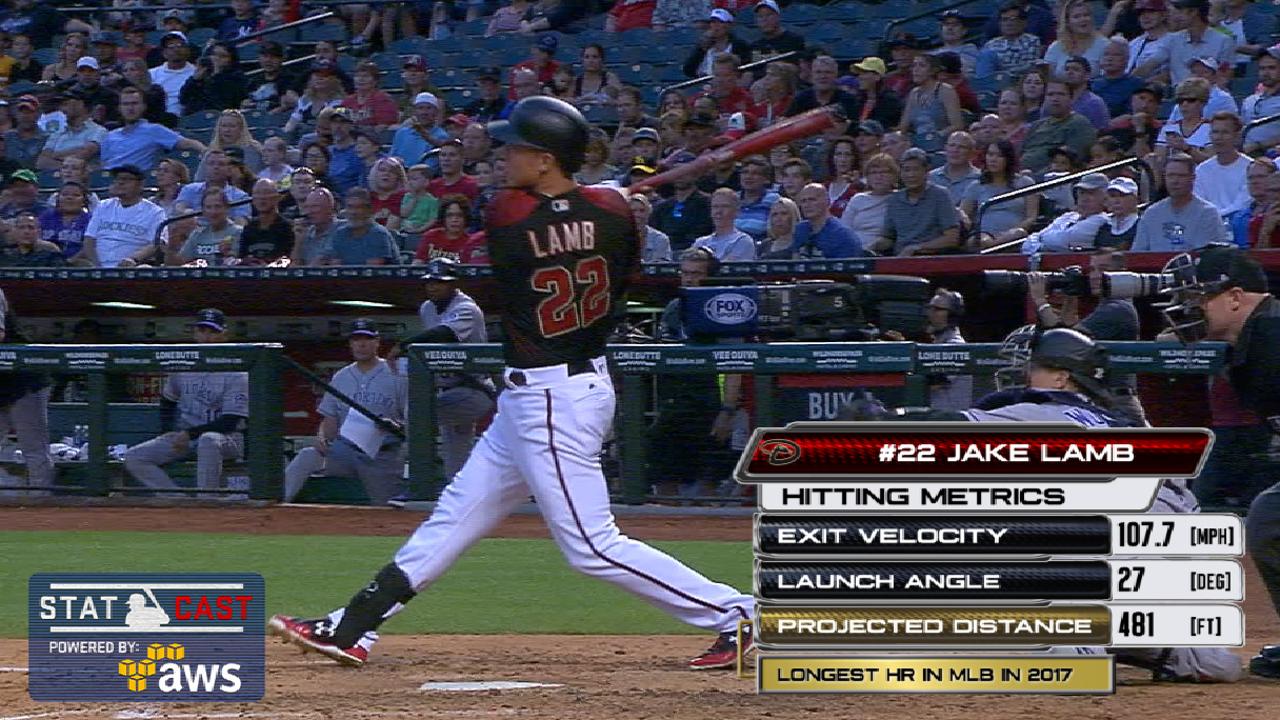 SHORTSTOP
AL: Carlos Correa, Astros
95+ mph: 43.0 percent
In April, Correa had a 42.2 percent hard-hit rate, but only a .423 average on those hard-hit balls, compared with a .579 expected average. In May, his hard-hit rate is similar (43.9 percent), but he is batting .625 on them (.575 expected), which helps explain his rebound.
NL: Trea Turner, Nationals
95 mph+: 50.4 percent
Coming off his sensational rookie year, Turner has yet to find his stride in 2017 -- at least in terms of his results. Yet he has hit the ball 95-plus mph on 20.9 percent of his swings, trailing only Joe Mauer, Zimmerman and Manny Machado among all hitters with at least 200 swings.
OUTFIELD
AL: Khris Davis, Athletics
95+ mph: 55.9 percent
Davis strikes out about 27 percent of the time, but for the second straight season he is one of MLB's hardest hitters. He leads the Majors with 25 barrels -- batted balls with an ideal combination of exit velocity and launch angle.
AL: Aaron Judge, Yankees
95+ mph: 53.1 percent
Judge's feats of strength have quickly made his at-bats must-see events. His nine batted balls hit 115-plus mph more than double the total of any other player, and his 119.4-mph shot at Yankee Stadium on April 28 is the hardest home run of the Statcast™ Era.
AL: Jackie Bradley Jr., Red Sox
95+ mph: 49.3 percent
Yes, it's jarring to see a player batting .200/.277/.360 in this spot, especially in a league that also features outfielders such as Mike Trout (41.7%). But as Mike Petriello explained in detail earlier this week, Bradley's surface-level numbers this season don't represent the quality of his contact.
NL: Yasmany Tomas, D-backs
95+ mph: 50.5 percent
Tomas' OPS at Chase Field (.964) is more than 300 points higher than his mark on the road, and that's no accident. Of his 52 hard-hit balls, 71.2 percent have come at home.
NL: Bryce Harper, Nationals
95+ mph: 46.3 percent
Harper has bounced back in a huge way from his disappointing 2016, when his hard-hit rate was 36.3 percent. He posted a 48.2-percent mark on his way to a NL Most Valuable Player Award in 2015.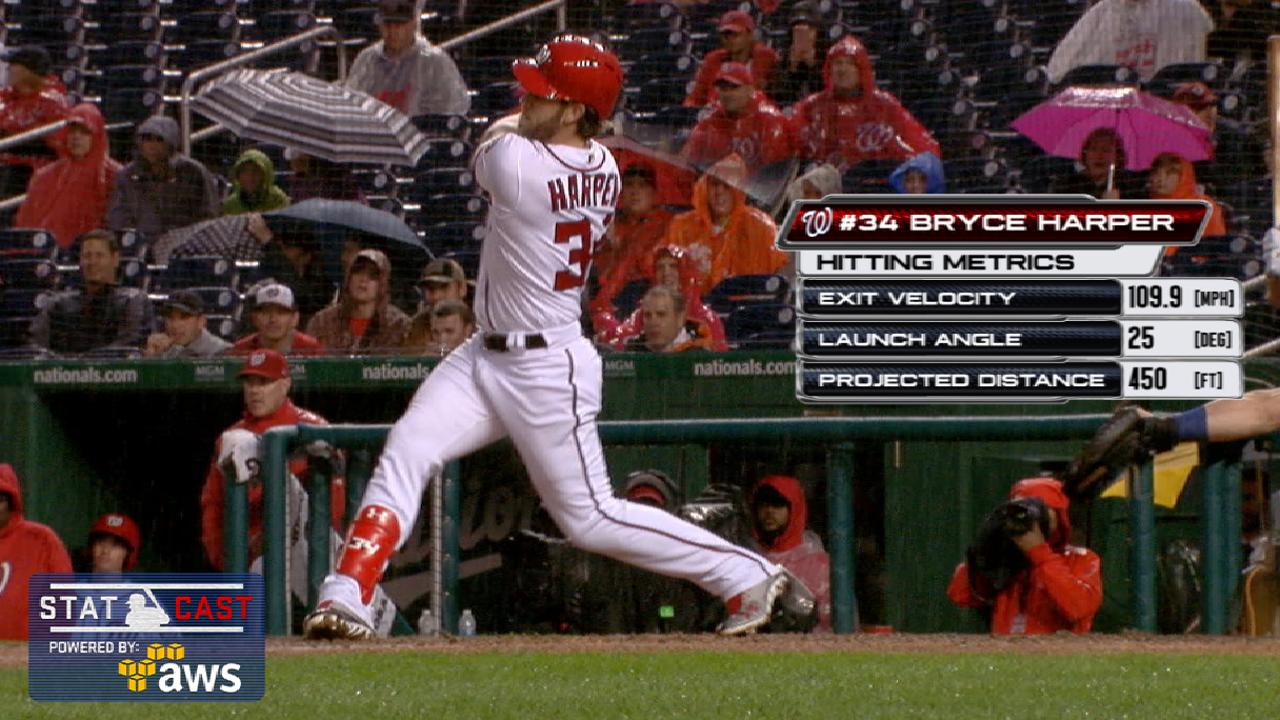 NL: Marcell Ozuna, Marlins
95+ mph: 44.5 percent
Yes, a Marlins outfielder makes the squad, and it's not Giancarlo Stanton -- though Stanton (42.6 percent) and fellow teammate Christian Yelich (43.4 percent) are not far behind. Ozuna has already hit 10 home runs at 105 mph or harder, one off his total from 2016.
DESIGNATED HITTER
AL: Nelson Cruz, Mariners
95+ mph: 48.0 percent
Cruz's hard-hit rate is down a bit from last season (52.9 percent) but he still is tied for third in most balls struck at 105 mph or harder (33). In the Statcast™ Era as a whole, Cruz has done that 32 more times than any other player.
WRITE-IN CANDIDATES
AL: Joey Gallo, Rangers
95+ mph: 54.8 percent
Filling in for the injured Adrian Beltre at third base, Gallo has established himself as the ultimate all-or-nothing hitter, with a 37.6-percent strikeout rate, .195 average and 14 home runs. His six homers at 110-plus mph are third-most in MLB behind Stanton and Judge.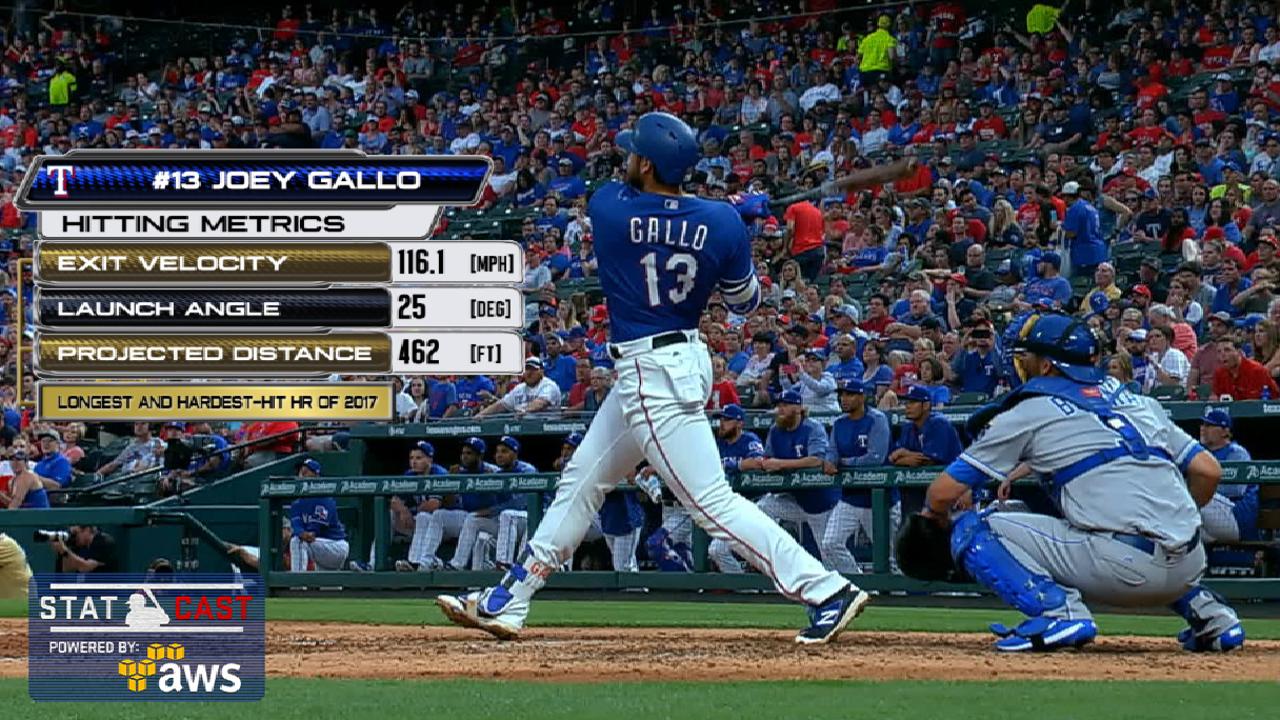 NL: Michael Conforto, Mets
95+ mph: 45.8 percent
Conforto quickly grabbed hold of a spot in the lineup and has not let go, batting .341/.437/.712. He leads all left-handed batters with seven home runs to the left side of the field, each struck at 100 mph or harder.
Andrew Simon is a research analyst for MLB.com. Follow him on Twitter @AndrewSimonMLB. This story was not subject to the approval of Major League Baseball or its clubs.