Darvish adding to deep pitch repertoire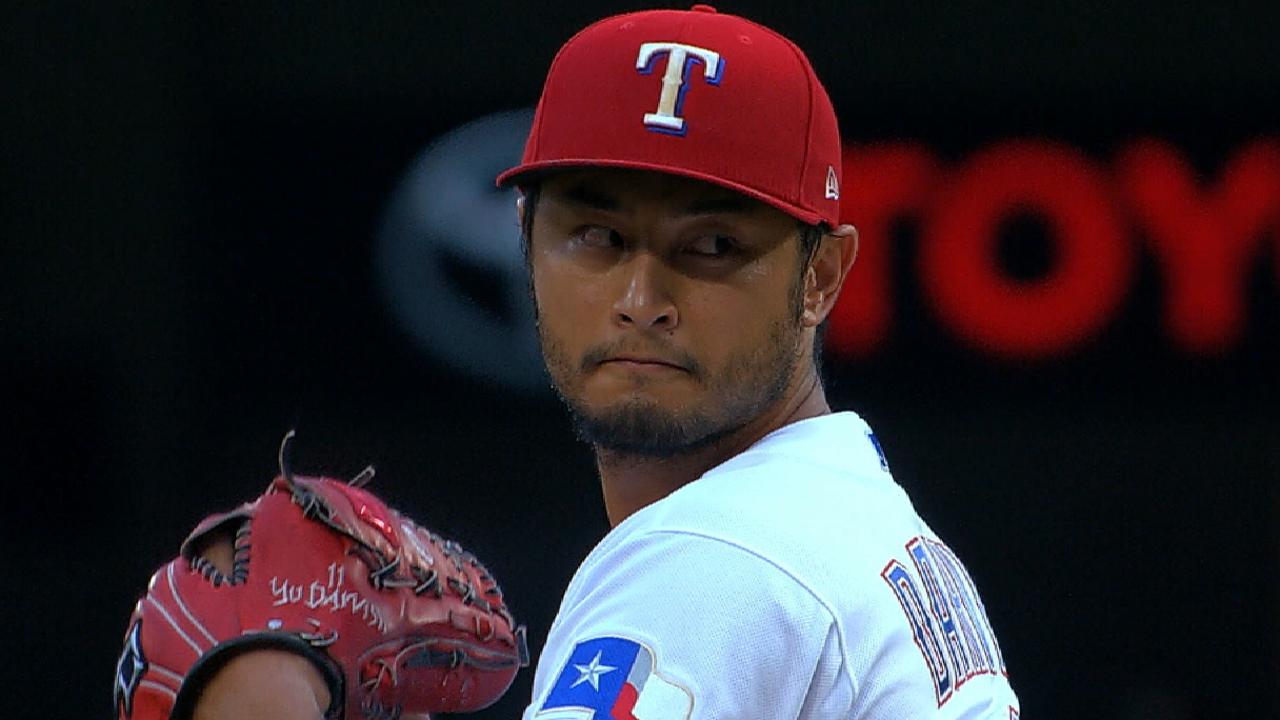 BOSTON -- Yu Darvish's best strikeout pitch is his slider, but he is trying to work on his changeup to give him a second effective offspeed weapon.
"It's not a pitch I trust as much as my slider, but I want to trust my changeup more than I do right now," Darvish said.
Darvish is a power pitcher with three kinds of fastballs. He has the sinker, cutter and the straight fastball. The slider is his main offspeed pitch, and it's the reason why he averages 9.61 strikeouts per nine innings.
But Darvish is also throwing more sliders this year than normal. He has thrown sliders on 28 percent of his pitches, as opposed to 21 percent last year, according to Statcast™. A better changeup could help lessen the dependency on the slider, and the righty was working on the changeup in his last bullpen session.
"I have been working on the changeup the last three or four games, and anytime I throw in the bullpen, I am working on something," Darvish said. "Anytime I go out there, I want to get better."
Beltre plays in game
Third baseman Adrian Beltre, on the disabled list with a strained right calf muscle, made his first appearance in an extended spring training game on Thursday. Playing against a D-backs affiliate in Arizona, Beltre was 0-for-4 with two walks. He had three flyouts and one groundout.
Beltre also played six innings at third base, but did not have a ball hit at him. He was able to run the bases at about 50 percent and reported feeling good.
"The effort level was good," Rangers manager Jeff Banister said. "He seemed to come out of it good. There hasn't been any word that the calf was an issue. It was a solid workload."
Beltre is scheduled for two more days in Arizona and then will be re-evaluated. The Rangers' extended spring team is scheduled to play the Padres on Friday.
Rangers beat:
• Mike Napoli dropped two foul balls on Wednesday night. That's the first time that has happened to a Major League first baseman since Jim Thome for the Phillies in 2004.
• The Rangers had three wild pitches in both Tuesday's and Wednesday's games. That's the first time they have had three-plus wild pitches in two consecutive games.
• Sam Dyson tied a club record on Wednesday by facing seven consecutive batters without recording an out. The last time that happened was by John Wetteland in an outing against the Rockies in 1997.
T.R. Sullivan has covered the Rangers since 1989, and for MLB.com since 2006. Follow him on Twitter @Sullivan_Ranger and listen to his podcast. This story was not subject to the approval of Major League Baseball or its clubs.