Montero can't remove mistakes in spot start
Mets righty's 45-pitch first inning proves costly in loss to Padres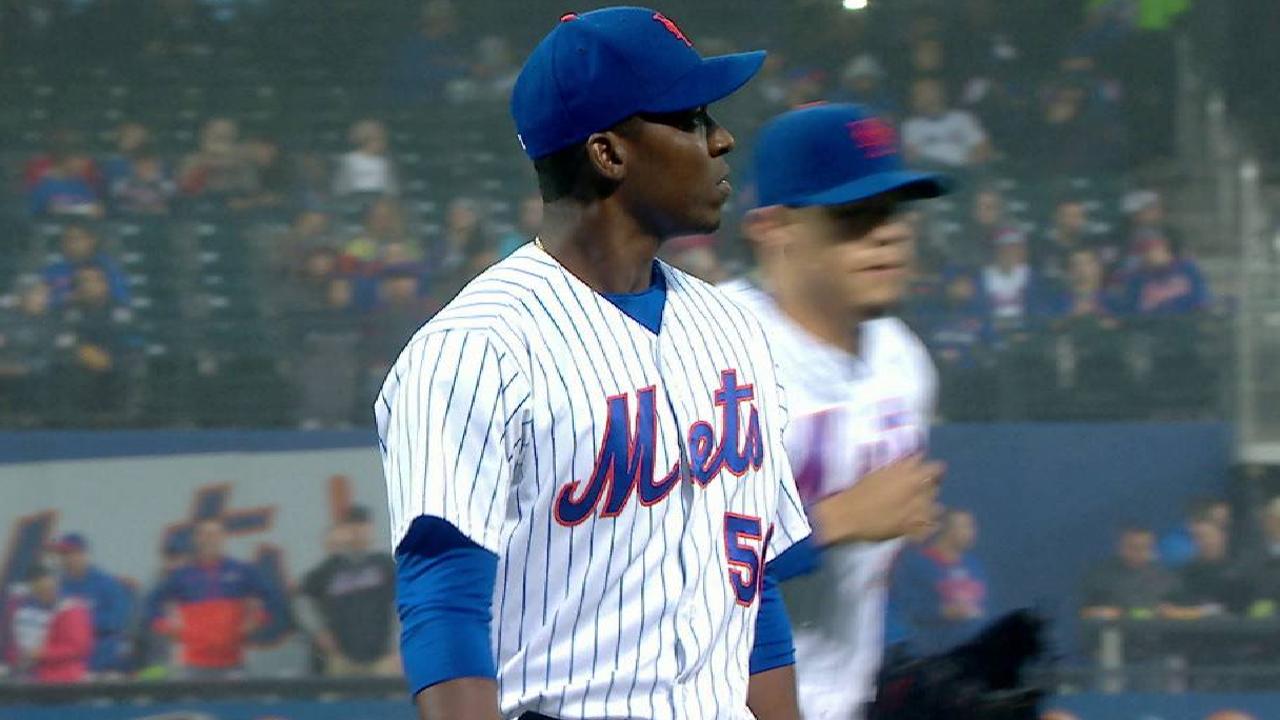 NEW YORK -- By early Thursday afternoon, Mets officials had decided to start Rafael Montero against the Padres, pushing Jacob deGrom back a day due to the threat of rain. But the Mets did not tell Montero until about three hours prior to the game's first pitch, hoping to prevent him from overthinking his outing.
So deep are Montero's struggles that the club had exhausted all other strategies to coax a strong performance from him. This one didn't work, either; Montero threw 45 pitches in the first inning alone, lasting just two beyond that in a 4-3 loss.
"There are certain expectations when you're in a big league uniform," manager Terry Collins said. "One is, you've got to command your pitches. ... Just a rough first inning for him. We don't have a lot of options. So we've got to do a better job of getting him to buy into the fact that he's got to throw strikes."
Nothing in Montero's recent history suggests he is capable of doing so. All three of his walks came in the first inning, the third of them forcing home the Padres' second run. Cory Spangenberg and Matt Szczur also hit RBI singles off Montero, who gave up five hits and struck out four. His 45 first-inning pitches were the most by a Mets pitcher in a single inning since Jonathon Niese's 48-pitch marathon in 2013.
"I think you just have to go ahead and start preparing mentally immediately," Montero said through an interpreter. "I struggled a bit in that first inning. But after that, I started feeling better."
Through two starts and 11 relief appearances, Montero is 0-4 with an 8.24 ERA and 17 walks in 19 2/3 innings.
"That's what we've been fighting," Collins said. "You got to have confidence in the stuff to throw it over the plate. You see what he does. He can get outs. But deep counts, bases on balls -- he was in constant trouble the first inning. It's just fortunate to limit the damage of what he did. But, you know, 90 pitches in three innings, that's a lot of work."
It forced the Mets, once again, to rely heavily on their bullpen, using at least three relievers for a franchise-record 26th straight game. That's nearly double the previous longest streak in team history.
All of this begs the question of what the Mets will do when Montero's rotation spot, which previously belonged to Tommy Milone, comes up again on Tuesday. Milone is on the disabled list. Steven Matz and Seth Lugo both remain on Minor League rehab assignments, unlikely to return until at least June 2. The only starter throwing with any consistency at Triple-A Las Vegas is right-hander Tyler Pill, a former fourth-round Draft pick who does not rank among the club's Top 30 Prospects by MLBPipeline.com.
The Mets may go with Pill, whom they discussed internally this week, or could ask one of their stretched-out relievers -- Paul Sewald or Josh Smoker -- to start a bullpen game against the Brewers. Or they could once again turn to Montero, hoping, somehow, that the results will be different.
At this point, the Mets have no reason to believe they will be. But with so few alternatives, there's a chance they find out.
Anthony DiComo has covered the Mets for MLB.com since 2008. Follow him on Twitter @AnthonyDiComo and Facebook, and listen to his podcast. This story was not subject to the approval of Major League Baseball or its clubs.