Big night at plate was needed for Iglesias
Tigers infielder had three hits Wednesday vs. Astros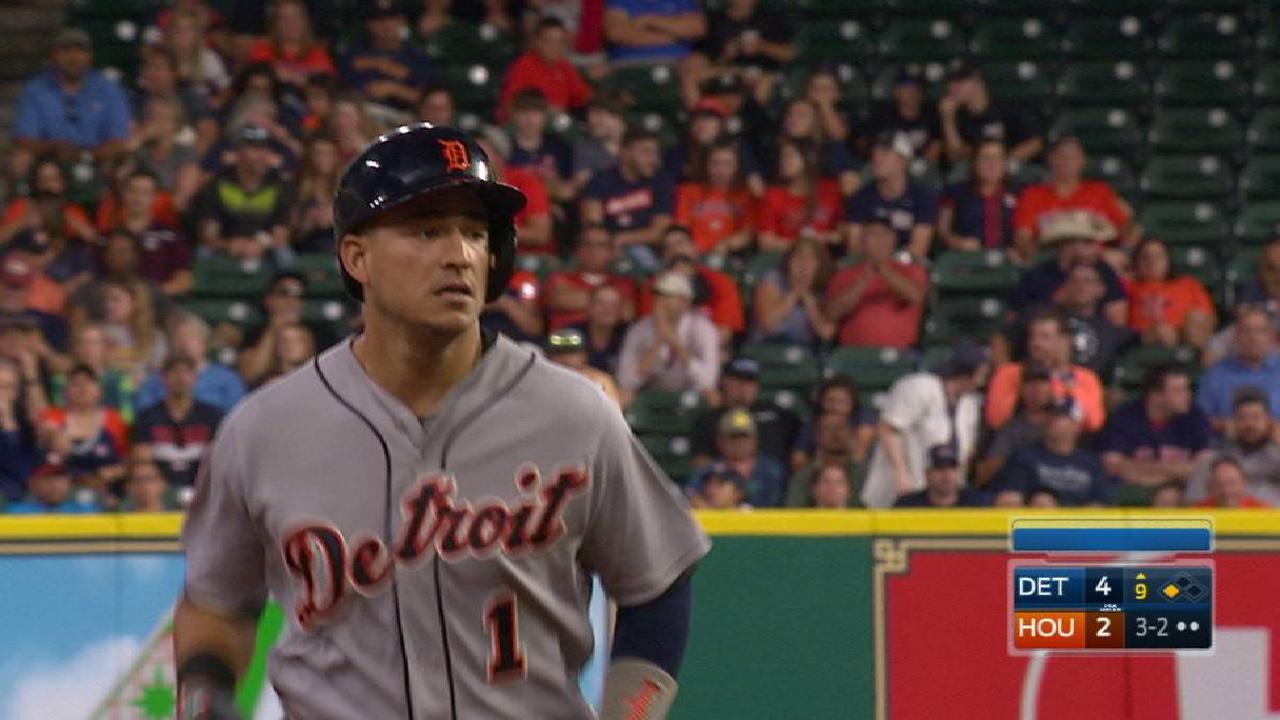 HOUSTON -- Jose Iglesias has tried his best to trust the process. But he needed a game like Wednesday as reassurance.
The Tigers' shortstop fell a triple shy of the cycle in Wednesday's 6-3 win, including a two-run homer in the ninth inning. But after a 4-for-36 slump led to a couple days off to clear his head, his first three-hit game since April 14 hit the mark in terms of positive reinforcement.
"Hitting is difficult," Iglesias said. "The only thing you can control is to put the ball in play and have a quality at-bat for the team and for myself. You pretty much can't do much of anything after that. It's not fun, I'll tell you that. But it's a long year. We've still got a lot of baseball left."
In that sense, Iglesias has done his part. He had put the ball in play on 42.2 percent of his swings entering Thursday's series finale against the Astros, according to STATS, which is third among Tigers regulars behind Victor Martinez (43.5) and Ian Kinsler (43.0). He has swung and missed with just 15.9 percent of his swings, second-lowest on the team behind Martinez (15.1).
Iglesias hasn't necessarily crushed the ball. He has "barreled" only one ball this season according to Statcast™, while just 18.9 percent of his balls put in play have had an exit velocity of 95 mph or better, while his exit velocity of 81.9 mph ranks in the bottom half among Major League regulars. Still, his .243 batting average on balls in play is 60 points below his career rate, and is probably poised for an uptick if he keeps his approach.
"When you hit the ball hard and you don't get results, you make a mistake by changing something," Iglesias said. "I feel like I did that. It doesn't guarantee that it's not going to happen. It will happen. It's baseball. But I literally have to stay with my approach consistently every day, whatever the result. It's hard to trust that."
His home run Wednesday was arguably an example of a correction, with a 90.4-mph exit velocity and a 29-degree launch angle. The hit probability on the ball, according to Statcast™, was just eight percent. Moreover, only one percent of similarly hit balls resulted in home runs. He may have benefited from the roof being open at Minute Maid Park, resulting in warmer, more humid air that can help a ball carry.
Keeping the approach, Iglesias admits, hasn't been easy.
"As a hitter, when you put together a good at-bat and you hit the ball hard, a lot of people have different speculations on changing that type of hitting," he said. "It's not fun. I'm just happy to feel good and contribute."
Jason Beck has covered the Tigers for MLB.com since 2002. Read Beck's Blog, follow him on Twitter @beckjason and Facebook. This story was not subject to the approval of Major League Baseball or its clubs.