Braun marks 10th anniversary of MLB debut
Brewers veteran doubled in first game, played third base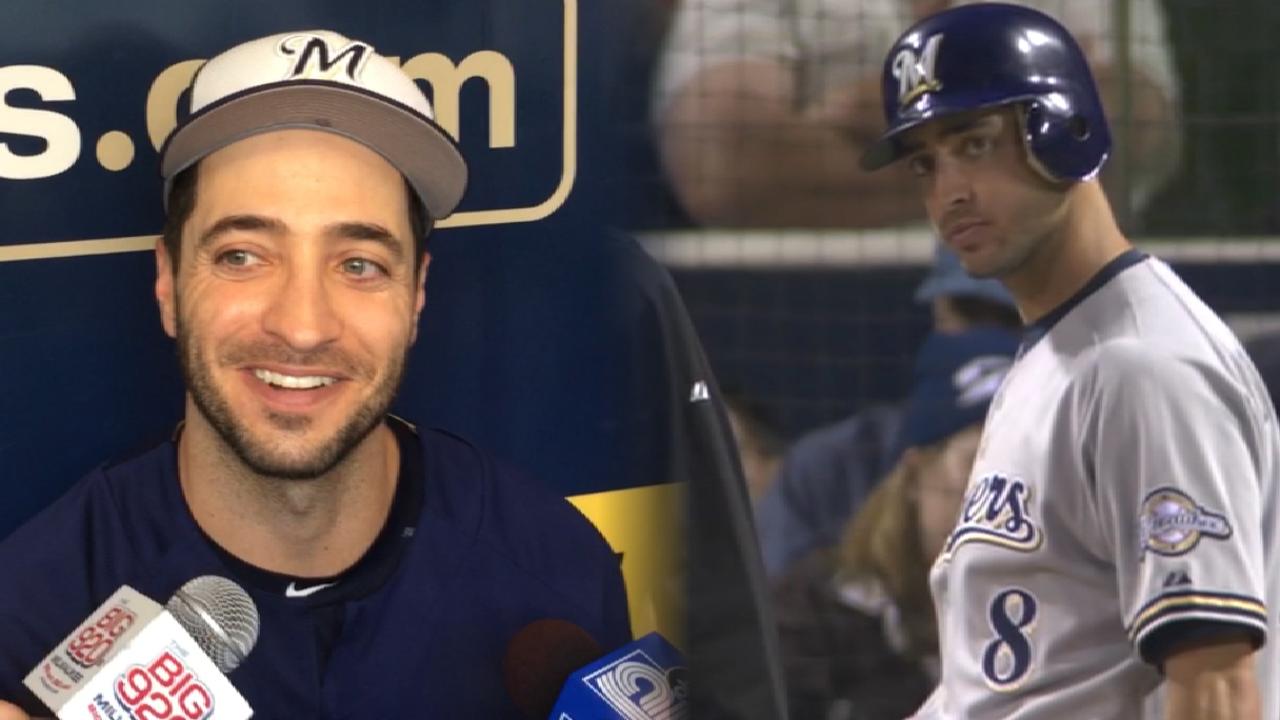 MILWAUKEE -- If you ask Ryan Braun his favorite memory of 10 years in Major League Baseball, he tells you about when the Brewers snapped a 26-year postseason drought in 2008, when they won their division for the first time in 29 years in 2011, and when that '11 team played to within two victories of the World Series.
But the single day most seared in Braun's mind was 10 years ago Thursday. On May 25, 2007, less than two years removed from being drafted fifth overall by the Brewers, he made his big league debut as a 23-year-old third baseman. Braun doubled off Padres reliever Doug Brocail in the seventh inning of an 8-6 Brewers loss at Petco Park, beginning one of the most accomplished and complicated careers in franchise history.
"It was so special for me, because I got to share the experience," Braun said. "I think I had close to 100 people in town."
That's because Braun is from Los Angeles, just up Interstate 5 from San Diego.
"I just remember how emotional it was," he said. "It was exciting, it was overwhelming, nerve-wracking. There was probably more excitement and enthusiasm for playing the game of baseball than I can ever remember feeling before. It felt like a culmination of everything I had worked for as a baseball player to that point in my career.
"It sounds cliché, but it's literally the first day of being able to live out the childhood dream of making it to the Major Leagues."
• Braun exits Thursday's game with left calf tightness
Braun still has the baseball from his first hit, and another from the next day when he hit a solo home run off Justin Germano for his first career RBI.
One of the greatest RH swings in MLB history, imo. Unchanged in 10 years. A decade in the big leagues as of today. Congrats, Ryan Braun. pic.twitter.com/i3dpT9jp3q

— Brian Anderson (@BAndersonPxP) May 25, 2017
From Braun's debut through Wednesday, he was fourth in Major League Baseball with 2,909 total bases, fifth with 658 extra-base hits, tied for fifth with 956 RBIs, sixth with 898 runs scored, seventh with 292 home runs and ninth with 1,624 hits.
His career hit a low point in 2013 when he was suspended for the final 65 games for violations of Major League Baseball's Joint Drug Prevention and Treatment program. But Braun also has enjoyed highs, from winning the 2007 National League Rookie of the Year Award, the 2011 NL MVP Award, five Silver Sluggers and making six All-Star teams. He passed Hall of Famer Robin Yount to become the Brewers' all-time home run king in 2015, and has moved up to second in franchise history in RBIs.
Along the way, Braun married wife Larisa and became a father of two.
"I've changed a lot, grown a lot, learned a lot over the last 10 years," he said.
Braun's current manager had been making starts at third base before Braun's arrival. Craig Counsell manned second base and shortstop and played off the bench after Braun took over the hot corner. Braun happily moved to the outfield the next season.
"He stepped into the big leagues and has been an offensive force from the day he stepped in," Counsell said. "When I saw Ryan in Spring Training, I was like, 'That guy is going to play for a long time.' We were all pretty sure he was going to play a long time.
"But to make it 10 years with one team, and have it be here in Milwaukee, that's really cool."
Adam McCalvy has covered the Brewers for MLB.com since 2001. Follow him on Twitter @AdamMcCalvy, like him on Facebook and listen to his podcast. This story was not subject to the approval of Major League Baseball or its clubs.