Cano, Cruz do heavy lifting as club responds
Servais pleased with Mariners' intensity in snapping five-game skid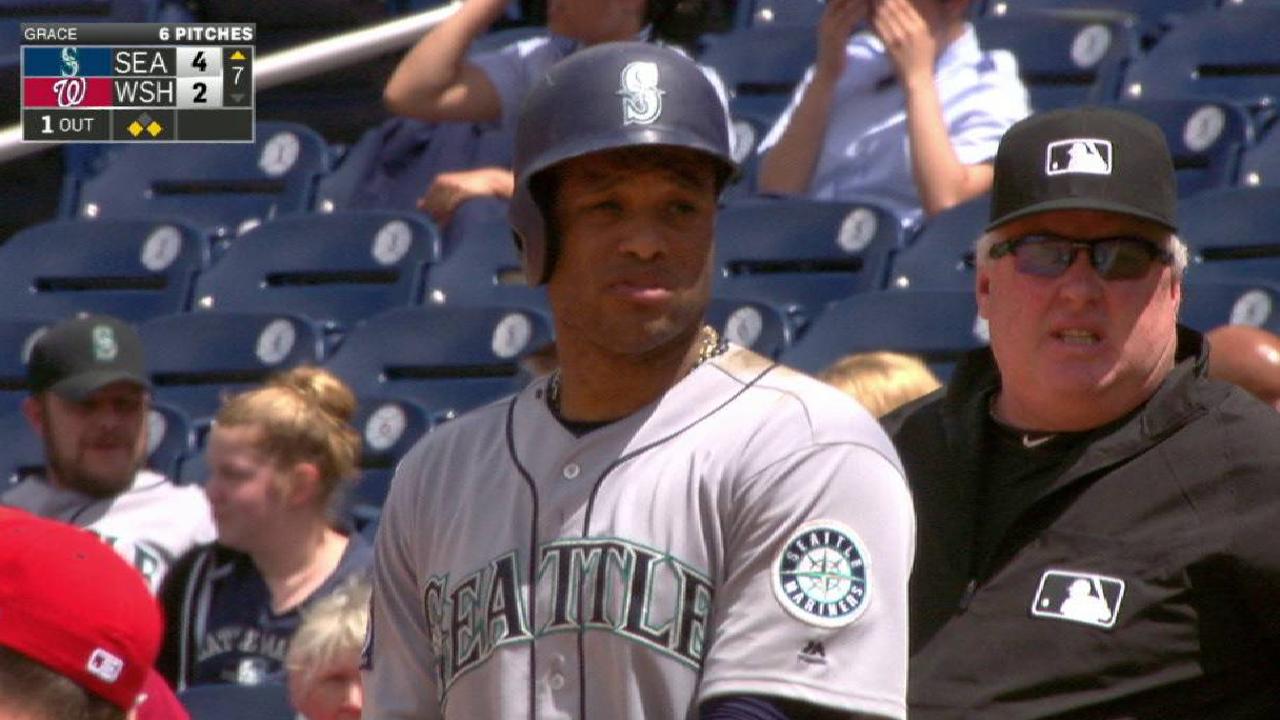 WASHINGTON -- It took less than 24 hours for the Mariners to respond to manager Scott Servais' challenge.
One afternoon after he asked for more intensity from his team, the skipper got what he was looking for in Thursday's 4-2 win against the Nationals, a victory which snapped a five-game losing streak.
"We played how the Mariners play today," Servais said.
The winning formula that had eluded Servais' club finally came to fruition after a frustrating stretch. For one, the Mariners kept the game close, limiting the Nationals' explosive lineup.
But the uplifting moment the Mariners were looking for came from their offense, which had scored a combined five runs in its previous five games. Down 2-0 in the sixth inning, Nelson Cruz delivered a go-ahead three-run home run to put Seattle ahead for good. It was the first time the Mariners had scored more than a run in a game since their last win on May 18.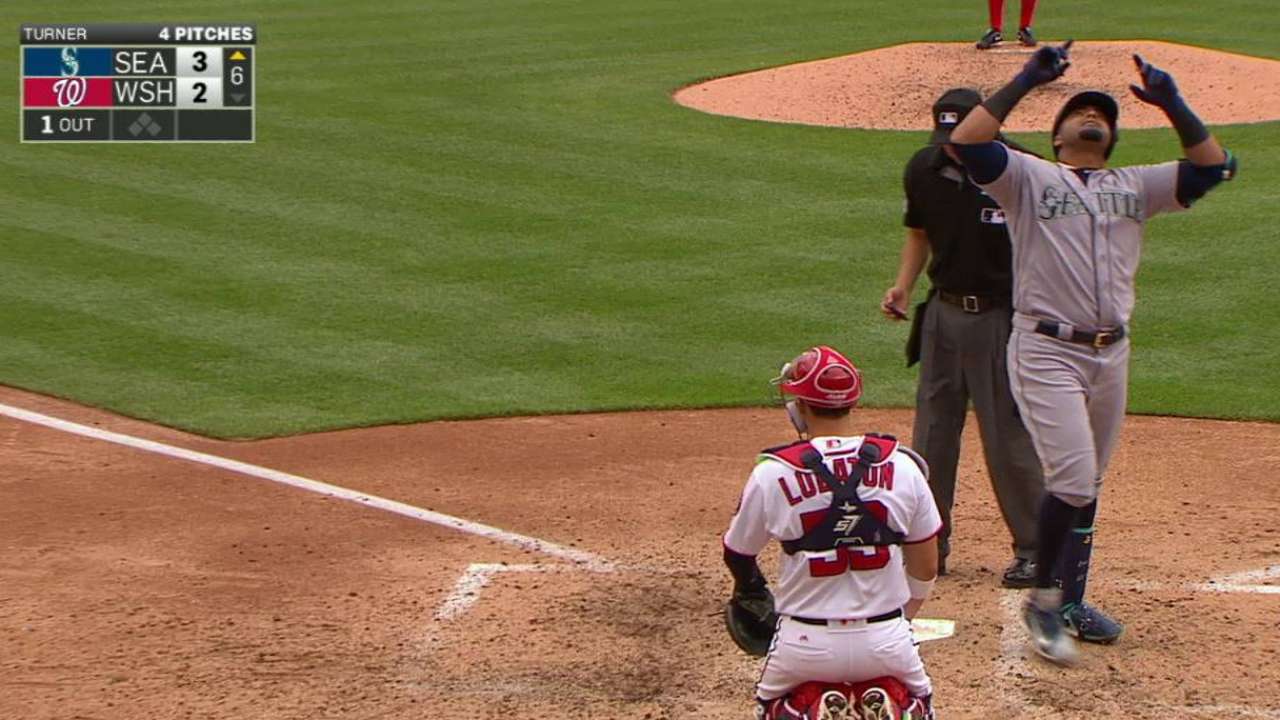 "We needed it," Cruz said of his decisive long ball. "We need the win no matter how many runs [we need] to score to win."
All four of the Mariners' runs came via the veteran duo of Cruz and second baseman Robinson Cano, whose RBI single in the seventh gave the team a two-run cushion. Cano has five hits in his first 12 at-bats since coming off his 10-day stint on the disabled list, showing how important it is for Seattle to have its one-two punch in the middle of its order intact.
"I think from a leadership standpoint, [Cruz] and Robbie, those are the veteran guys," Servais said. "That's what you need, your veteran players to drive the train and our core of guys. They've been through the wars a little bit, and they know how valuable even these games in May when you're struggling [are]. You've got to keep hanging in there."
Part of hanging in there, as Servais mentioned Wednesday night, is making sure his team's effort and intensity level is consistently high for each game. He publicly questioned whether his team was giving its all, but didn't have to wait long to see how they'd bounce back.
"I saw the adrenaline spike on everybody today, myself included," Servais said, alluding to his sixth-inning ejection just before Cruz's home run. "It's a competitive game and we want to play better than we have been. Again, our players did a great job, they responded."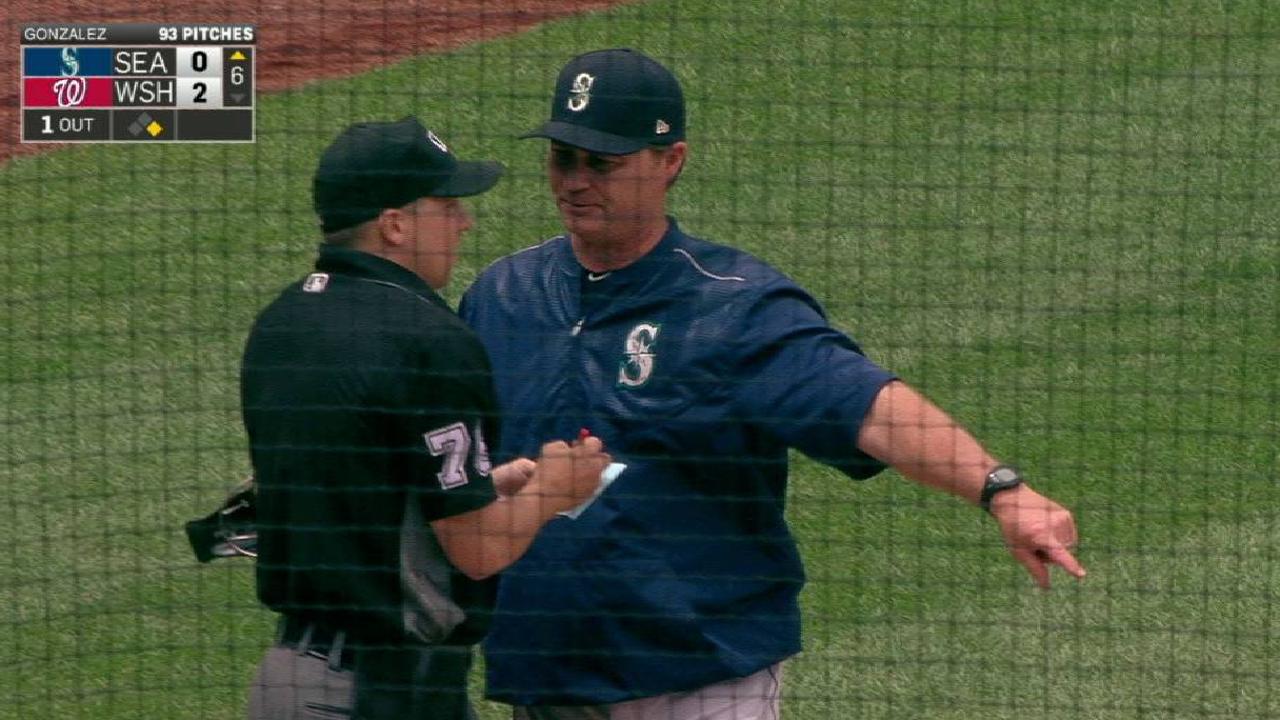 The next challenge is taking one win and stretching that out to a higher quality stretch, something Seattle feels is possible.
"Everything starts with one game," Cruz said. "It's like as a hitter, you struggle and one swing can get you going. A win can definitely change everything."
Daniel Shiferaw is a contributor to MLB.com based in Washington, who covered the Mariners on Thursday. This story was not subject to the approval of Major League Baseball or its clubs.