Balanced Bucs lineup beginning to hit stride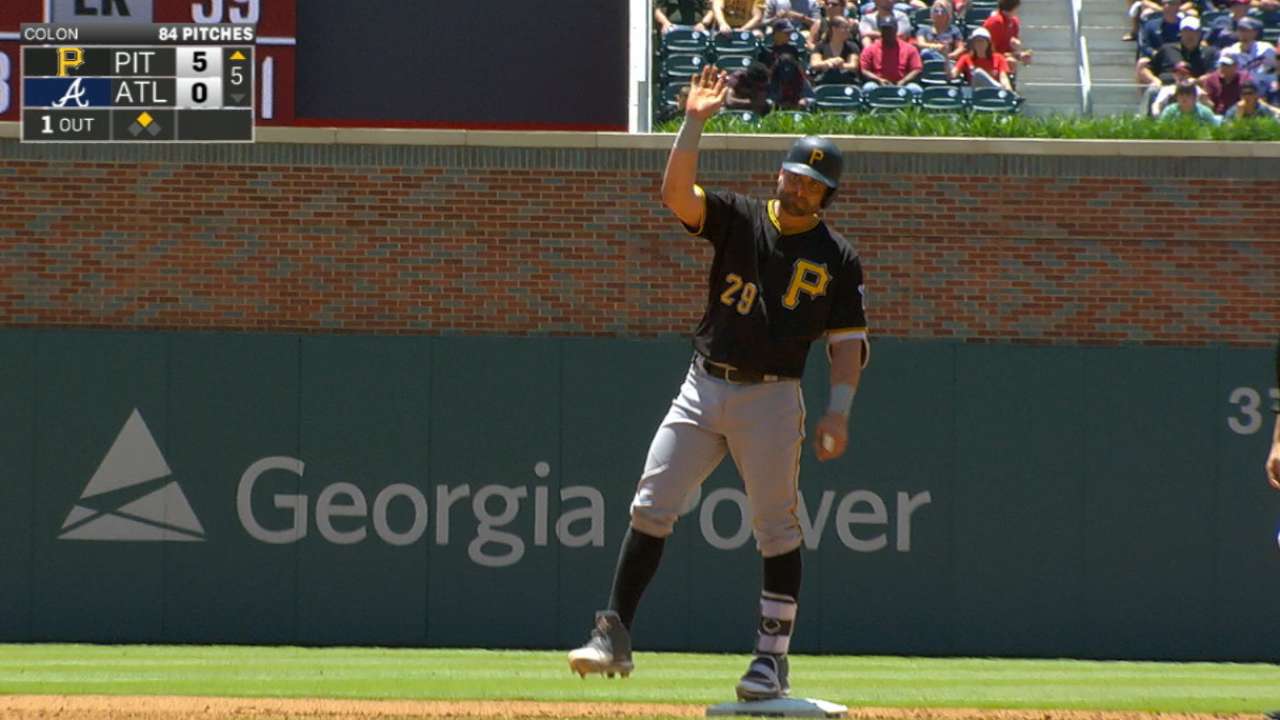 ATLANTA -- Is the Pirates' lineup hitting its stride?
After breaking out for seven runs on three homers in a 10-batter 10th inning Wednesday night, the Pirates piled up 13 hits and rode contributions from just about everyone to a 9-4 win over the Braves on Thursday at SunTrust Park.
Adam Frazier continued his torrid stretch, hitting a three-run homer for the second straight day. Josh Harrison, arguably the team's most consistent hitter this season, went 3-for-4 and raised his average to .304. Previously plagued by bad luck, Francisco Cervelli swatted a career-high-tying four hits and Jordy Mercer finished up a 9-for-17 series at the plate.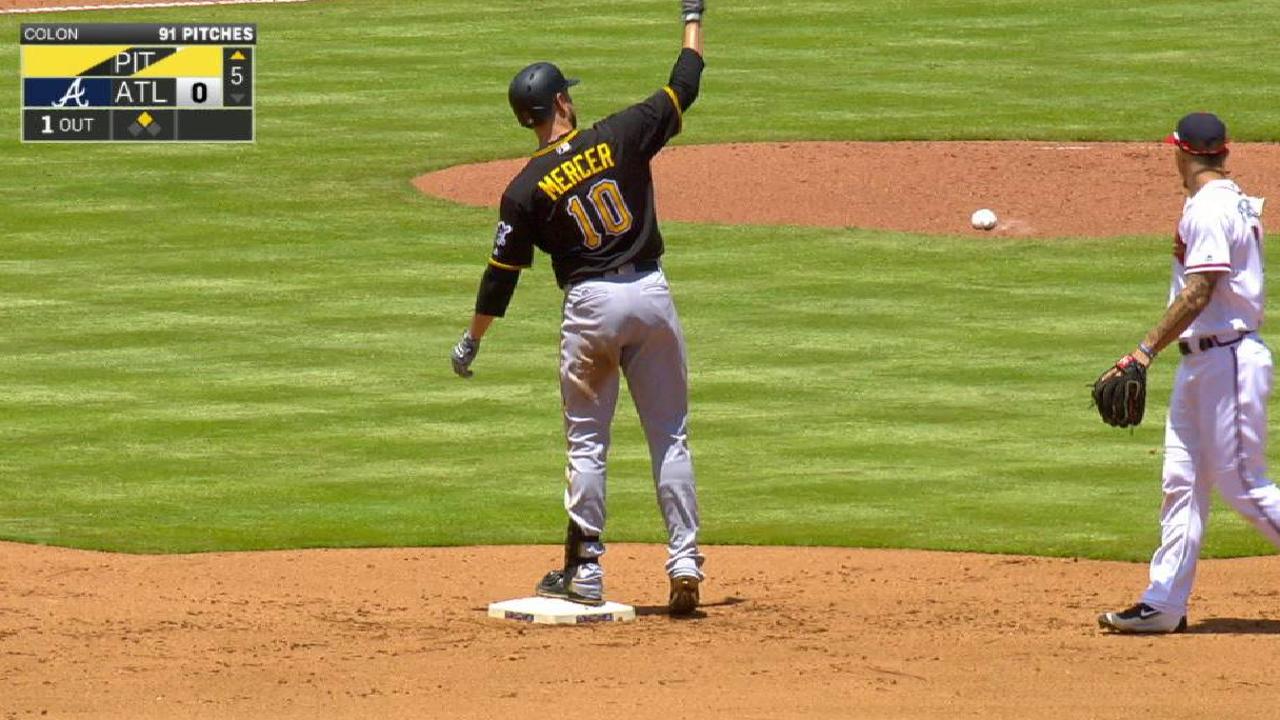 "You could tell we kind of picked up where we left off in the 10th inning last night," Harrison said. "It was a good, complete effort from the whole team."
The Pirates improved to 19-4 this season when scoring more than four runs, which they have done seven times in the last 10 games. During that stretch against the Nationals, Phillies and Braves, the Bucs averaged 5.7 runs and 9.7 hits per game. As a team, they batted .281 with 4.2 walks and only six strikeouts per game.
That also came without Gregory Polanco, who was hot before a hamstring injury, and with a struggling Andrew McCutchen, who was benched the last two games. Polanco should return to the lineup Friday at PNC Park. If McCutchen gets on track, the Pirates have the makings of a deep lineup -- even with Starling Marte and Jung Ho Kang on the restricted list.
"That's the way you want to play the game. It's about community," manager Clint Hurdle said. "Everybody needs to put something in. … When we've gone out and played good offensive baseball, everybody's thrown something in. It hasn't been one guy."
One guy has stood out, however. Frazier is batting .417/.517/.583 since coming off the disabled list May 12, sparking the lineup from the leadoff spot. With family and friends in attendance, the native of nearby Athens, Ga., hit a three-run shot to key the Pirates' five-run second inning against Bartolo Colon.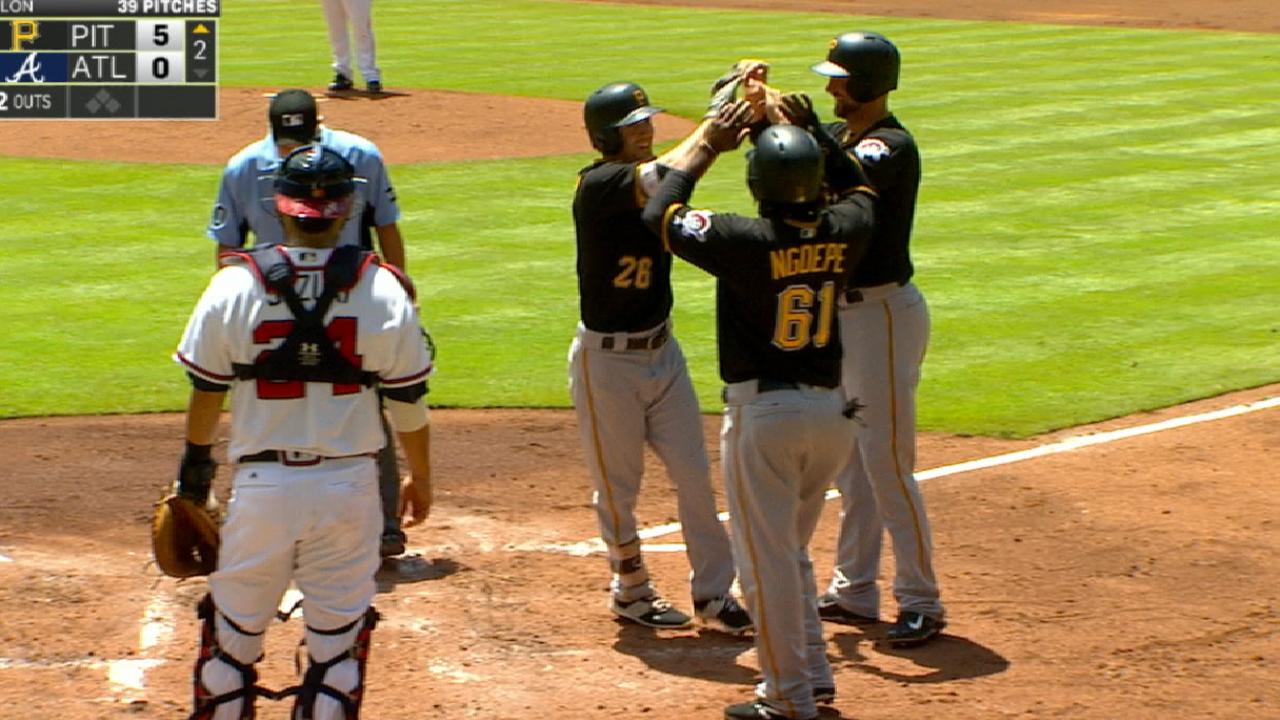 "It was pretty cool to hit a couple home runs in front of all of them," Frazier said.
Harrison has posted identical .304 averages in April and May, joining Frazier to form a potent one-two punch atop the order.
"Other teams know that he and I, back to back, are two guys that'll put the ball in play, that'll work at-bats in certain situations," Harrison said. "If both of us get on base, it's even more dangerous. He's doing a good job setting the tone, and I'm coming right behind him trying to keep the line moving."
The line kept moving Thursday with Cervelli, batting .328 in May after hitting .203 in April. The catcher was involved in all three rallies and finished the final one with a two-run single in the ninth. Batting two spots below Cervelli, Mercer improved his OPS from .585 to .686 with a big series in Atlanta.
"We need those guys to get going, and I think they're feeling pretty good right now," Frazier said. "It's huge for us to get the whole lineup involved."
Sitting four games under .500, the Pirates need more than a good 10-game stretch to make up the ground they've already lost. But their last 10 innings have shown signs of life and provided some reason for optimism.
"What we saw yesterday the last inning and today, it's amazing. The season's still young," Cervelli said. "If we're able to put pressure early on the pitcher, we're going to be successful because we've got good pitching."
Adam Berry has covered the Pirates for MLB.com since 2015. Follow him on Twitter and Facebook, read his blog and listen to his podcast. This story was not subject to the approval of Major League Baseball or its clubs.