Carpenter bunting to exploit the shift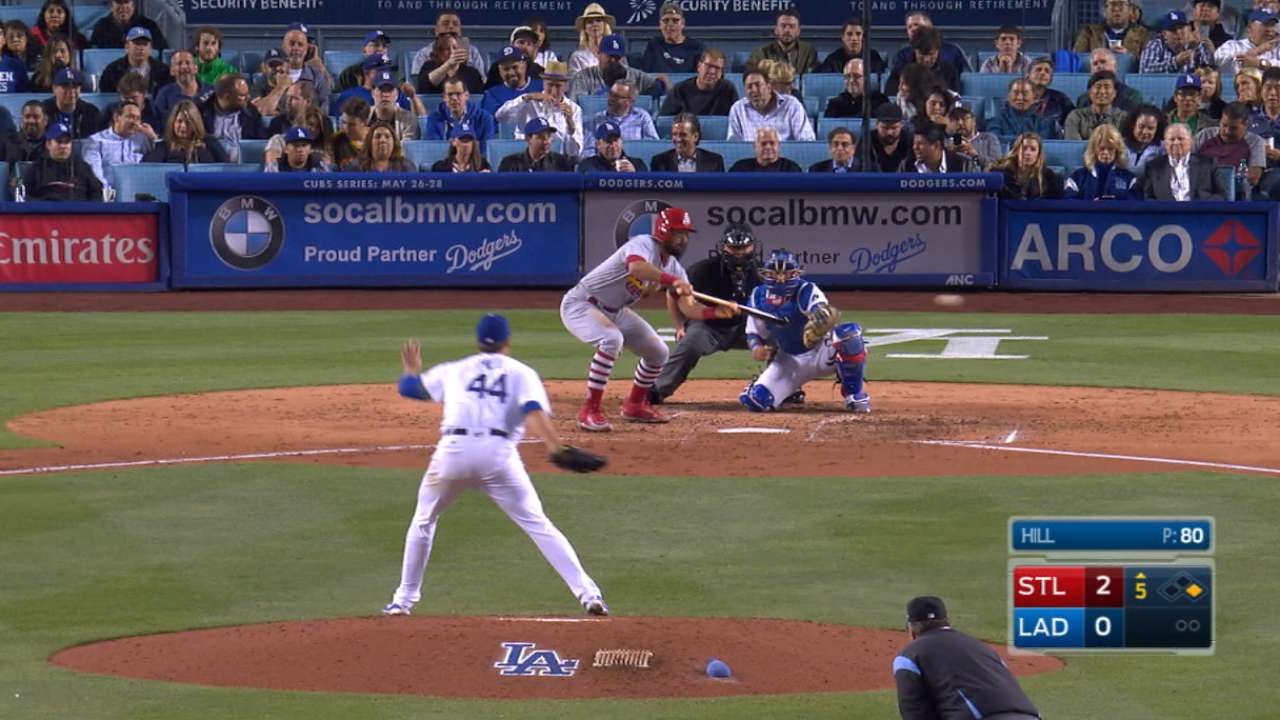 LOS ANGELES -- Despite objections others might have about a three-hole hitter settling for a bunt, Matt Carpenter insisted again on Thursday that he will continue to exploit defensive shifts by trying to push a bunt down the third-base line.
Carpenter made two such attempts on Wednesday, and the second was not only successful, it keyed the Cardinals' three-run fifth in a 6-1 win over the Dodgers. Carpenter has looked for similar openings all season, but this time, he was able to take advantage of the fact that the Dodgers employed a different shift than most other teams.
Carpenter has watched other teams wait until a two-strike count to send a third defender over to the right side of the infield. The Dodgers, however, abandoned the third-base position at the start of his at-bat.
"If they don't have a shortstop playing third or someone playing on the grass on the left side, I'll do it every time," Carpenter said. "I look every time for it. If I had the true David Ortiz shift, where they're all over there [on the right side], I'd do it all the time. They don't do it because they know that I would do it."
Carpenter never had to think much about trying to foil a shift until last season, when all of a sudden teams started defending him differently. According to Fangraphs.com, Carpenter has faced a shift in 35.9 percent of his plate appearances this year. That's similar to last year's percentage (37.5), but up drastically from 2013-15 (8.6 percent).
As a result, Carpenter has tried to counter with an overall change in approach. His fly-ball rate has climbed steadily each season since 2013 and sits at 49.5 percent entering Thursday. His thinking is simple: A fly ball can't be stopped by infielders, no matter where they are positioned.
"I think it's no question the way the game has changed," Carpenter said. "In 2013, even 2014, I noticed that you could hit ground balls for hits, you could pull balls for hits. You just can't do it anymore. There are infielders over there. As a hitter, line drives and fly balls are really your only success unless you're really lucky hitting it through the hole."
That approach also helps to explain why Carpenter's low batting average (.234) hasn't dragged down his OPS, which, at .839, ranks second-best on the club.
All the while, Carpenter remains committed to showing clubs he's also willing to still play some small ball if the opportunity is there.
"To me, he's a well-rounded hitter who can use the whole field, so, yeah, it does surprise me," manager Mike Matheny said of the change In defensive approach against his three-hole hitter. "But a bunt is a way for a lefty to upset that apple cart. I was really happy he did that [on Wednesday], and I think he's going to open up more room on the infield when he does.
"They're giving you a free hit, man. This game is too hard not to take it."
Jenifer Langosch has covered the Cardinals for MLB.com since 2012, and previously covered the Pirates from 2007-11. Follow her on Twitter, like her Facebook page and listen to her podcast. This story was not subject to the approval of Major League Baseball or its clubs.