Reliever Dunn trying to regain April form
Murphy nearing rehab assignment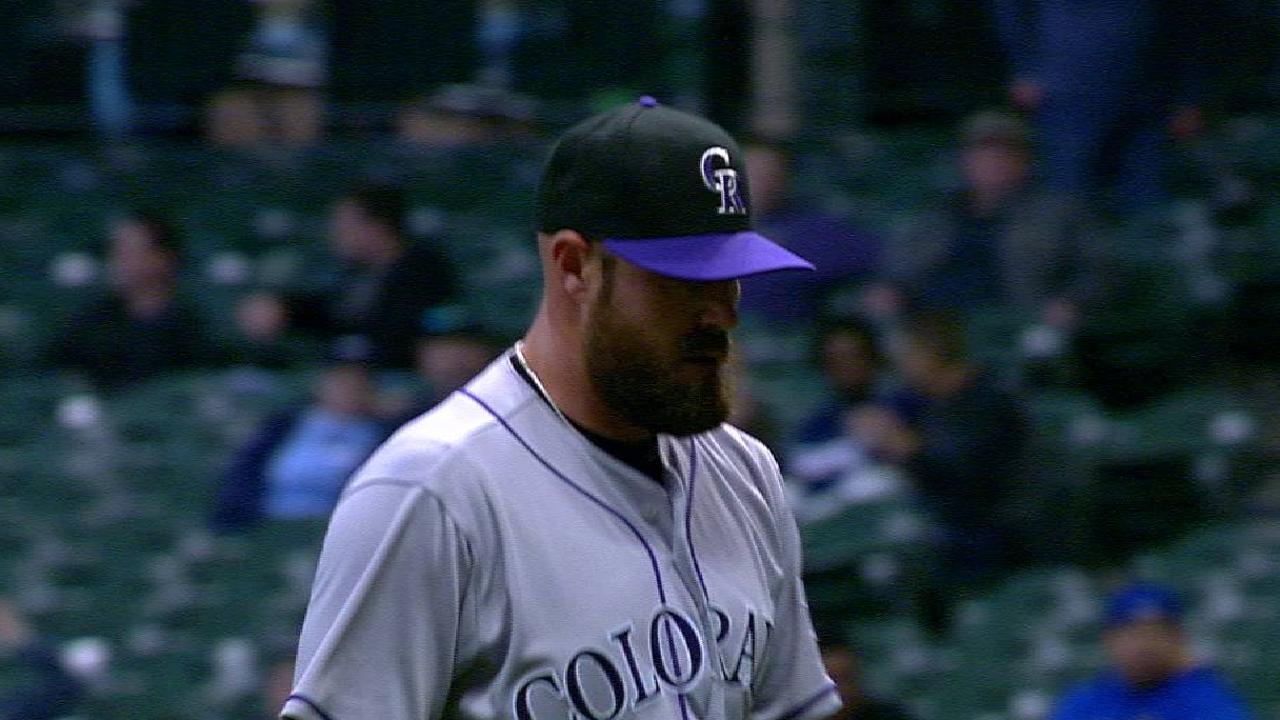 PHILADELPHIA -- Mike Dunn had the best ERA in the Rockies bullpen in April before he was sidelined with back spasms. Since he returned in the first week of May, the results have not been the same. He looks like a different pitcher.
His manager pegged his mechanics as the reason why.
"He's turning his upper body and his hips too much, too much rotation when he makes his turn," Rockies manager Bud Black said, pinpointing the movement in Dunn's leg kick as the malfunctioning gear.
"Then when you come back to throw he's getting off line. ... He's getting more side-to-side as opposed to more directional down to home plate," Black said.
Dunn's April and May numbers contrast sharply. He's walking an uncharacteristic number of hitters and striking out fewer batters. After a 1.17 ERA in April, that number jumped to 11.37 in 6 1/3 innings in May.
"His control and command has been off. I think that's a function of his mechanics," Black said.
"When you're spinning out of things the ball can go anywhere. ... His control and command suffers because his mechanics are a little bit off and whether the two-week layoff produced that, you could probably make a claim that it did."
Murphy closer to return than Dahl
For Tom Murphy, who was projected to be the Opening Day catcher, his 2017 big league debut looks to be just around the corner.
But before it takes place, he'll begin a rehab assignment, potentially as early as a week from now. Murphy fractured his right forearm when it struck a hitter's bat on a throw down to second in mid-March.
"There's going to be more tests and more studying of films of his fracture and really getting the green light and once he gets the green light, there's some things on the throwing side, just physically. He's got to get into a little better closer to game condition," Black said.
Murphy is on pace to begin his rehab assignment a bit before outfielder David Dahl, who has been sidelined since early March with a stress reaction in his sixth rib. When the Rockies return home after their 10-game road trip concludes Thursday, Dahl will also be re-evaluated. There's a chance Dahl could begin in extended spring camp.
"I think Dahl still has to clear some more hurdles, but Murphy is getting real close to going out," Black said, conceding that Dahl could also begin rehab assignments within a week. "I'd say Murphy is probably closer to a rehab game."
Ben Harris is a reporter for MLB.com based in Philadelphia and covered the Rockies on Thursday. This story was not subject to the approval of Major League Baseball or its clubs.