Roark loosens grip, grabs hold of strong start
Adjustment helps righty avoid high pitch count, last 7 innings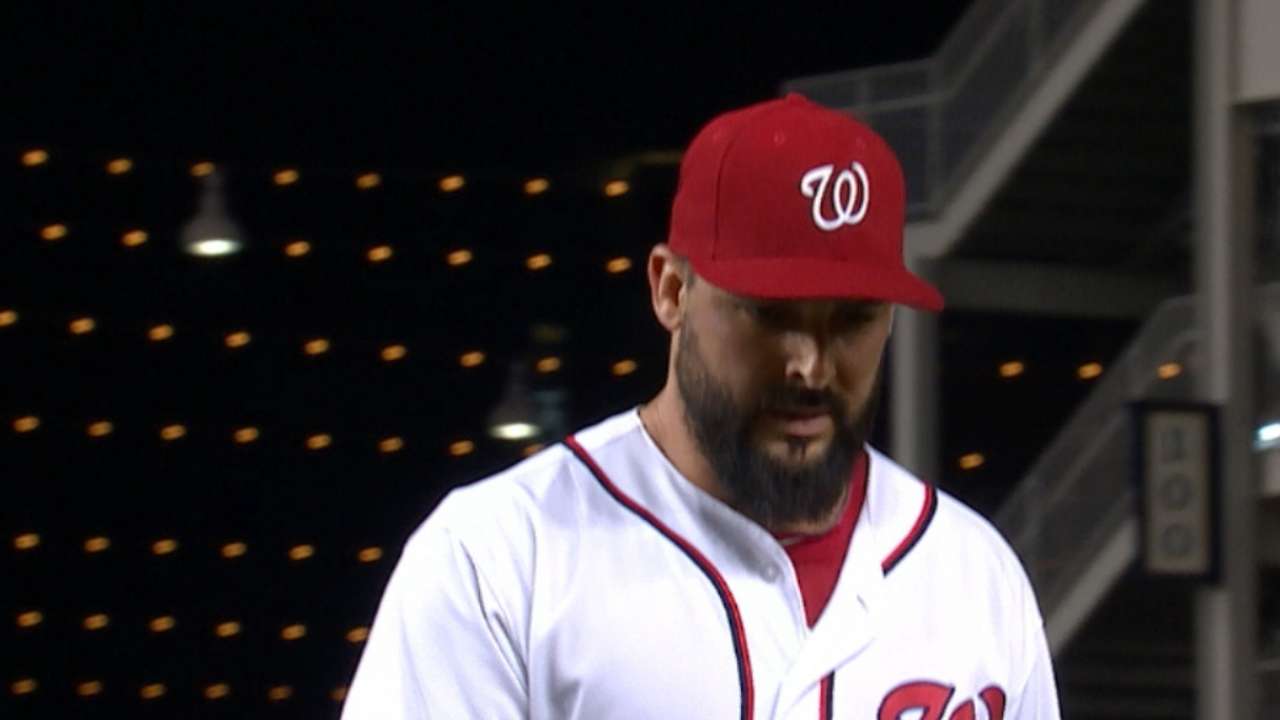 WASHINGTON -- No pitcher in the National League had thrown more pitches with two strikes than Tanner Roark entering this game, driving up his pitch count and hindering his ability to last deep into starts. That difficulty in putting away hitters quickly, or at all, has been one of the main reasons Roark has struggled this year after a strong 2016.
But the righty was as effective as he has been all season in the Nats' 5-1 victory Wednesday night against the Mariners, completing seven innings of one-run ball with eight strikeouts. He filled up the strike zone with his two-seam fastball, the command of which was the biggest takeaway from this outing, Roark said. It was the benefit of an adjustment he made in between starts.
"I think I was gripping the ball too tight," Roark said. "You've got to treat it like an egg. Can't break the egg. That's what I was telling myself. And I was saying, 'One pitch at a time,' to myself. 'Just hit your spots and attack.'"
Roark had lasted five innings or fewer in four of his nine starts entering Wednesday, thanks to high pitch counts that knocked him out of the game early. This season, when Roark got to two strikes, 26.4 percent of his pitches resulted in either a strikeout or a ball put in play for an out -- the lowest among nearly 100 pitchers who have thrown at least 200 two-strike pitches. In 2016, that number was 33.7 percent.
He improved on that issue in this game, challenging hitters and staying aggressive once he got to two strikes. It paid off as he matched a season high with the eight strikeouts.
"He threw another competitive pitch with two strikes when he got there," catcher Matt Wieters said. "He didn't get to where it was 1-2, 2-2, 3-2. He made them put a ball in play 0-2 or 1-2."
It was another strong outing for one of Washington's starting pitchers, still the backbone of this team. In the last three games, Roark, Joe Ross and Stephen Strasburg have allowed just three earned runs in 22 2/3 innings (1.19 ERA) while striking out 25 and issuing just one walk. If the Nationals can get Roark to return to form from last season and have Ross overcome his early-season issues, it could elevate their already strong rotation to perhaps the best in the Majors.
And it could alleviate some of the pressure on the Nats' struggling relievers, who have turned in three consecutive scoreless outings, a not so small accomplishment after the bullpen had allowed at least one run in the previous seven consecutive outings.
"You keep your bullpen sharp and rested at the same time," said manager Dusty Baker, "then they're going to be a lot more productive."
Jamal Collier covers the Nationals for MLB.com. Follow him on Twitter at @jamalcollier. This story was not subject to the approval of Major League Baseball or its clubs.