Story picks up where he left off
Shortstop reaches three times in return from disabled list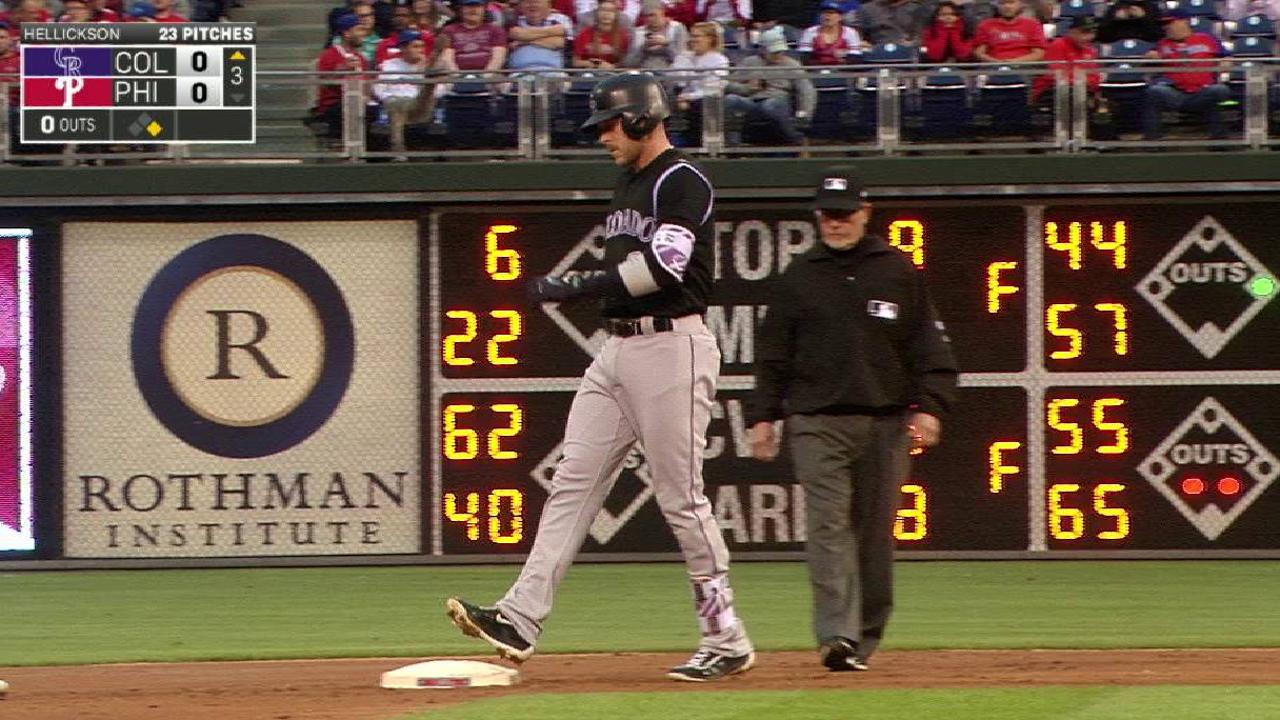 PHILADELPHIA -- Trevor Story may have missed the last two weeks with a bum shoulder, but you wouldn't have known it if you tuned into his return to the lineup in the Rockies' 7-2 win in Philadelphia on Wednesday.
The refreshed shortstop reached base in each of his first three plate appearances, doubling, walking, and scoring a run in the Rockies' seven-run third inning. He also walked in the fifth.
It was the third time this season that Story has reached base at least three times. Another came in the top half of a doubleheader on May 9, the day he was injured.
"There's some anxiousness, I'm sure, because you're back in a big league game, but it shouldn't happen," Rockies manager Bud Black said when asked if it can be tough for a player to be patient enough to draw two walks in his first game back after a trip to the disabled list.
"Should be calm, if you're a big leaguer."
Story played every bit the part of a calm big leaguer Wednesday, just as he had prior to his injury.
The injury cut off Story's hottest streak of the season, but he seems to have picked up right where he left off. In his last five games -- including going 0-for-4 in the game he was injured -- Story is hitting .375 with a .944 OPS.
On Tuesday, Story noted that the time off allowed him to work on "slowing [his] body down." His skipper saw that come into play early Wednesday night.
"What he's worked on over the last couple weeks, about being in the batter's box and being a little more quiet and within himself, I think that showed up tonight," Black said.
Everything was moving slowly for Story on Wednesday. In a good way.
"Once you get back in the box, you kind of let your instincts play out, and that's what I did tonight," Story said.
His four-game rehab stint with Triple-A Albuquerque was a hint that he was fully healed. He slashed .273/.385/.545 and hit a homer. Now he's carried that into what is already the hottest lineup in baseball.
"I feel good right now, I feel like I'm in a good spot. It's really fun when we're winning, and that's what I try to keep thinking about," Story said.
"Hitting is contagious, I think especially with us we pride ourselves on being good hitters. It's fun when we get it rolling, and it's fun to be a part of it."
Ben Harris is a reporter for MLB.com based in Philadelphia and covered the Rockies on Wednesday. This story was not subject to the approval of Major League Baseball or its clubs.