Bursitis forces Moreno to DL; Garton recalled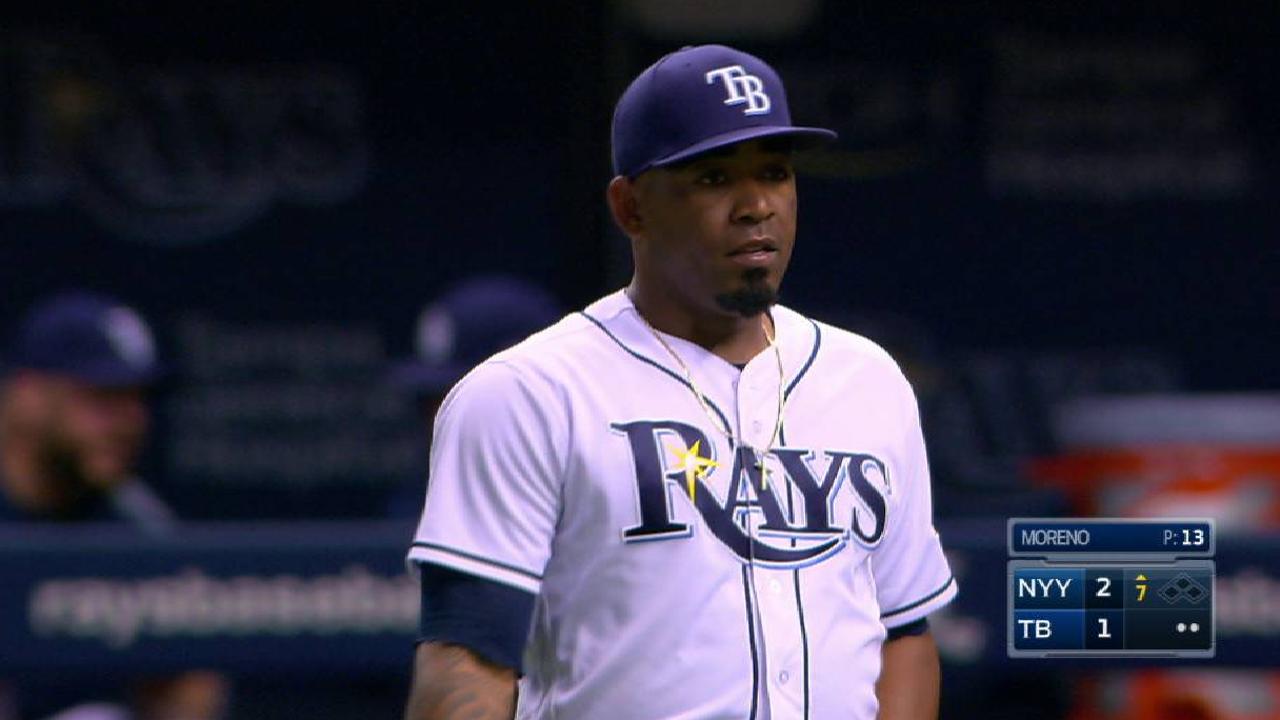 ST. PETERSBURG -- The Rays placed right-hander Diego Moreno on the 10-day disabled list with right shoulder bursitis and recalled right-hander Ryan Garton from Triple-A Durham.
Moreno last pitched Sunday, so the move is retroactive to May 22.
"Moreno, it's unfortunate," Rays manager Kevin Cash said. "He's a guy that we like, that we're intrigued by. He seemed to match up pretty well against some lefties because of his changeup. The hope is to get him healthy as soon as possible, and get him back in the bullpen."
Moreno is 0-1 with a 4.76 ERA in five games for the Rays this season.
Moreno did not sound too concerned about his condition.
"I've got something that's just kind of inflamed in the shoulder," Moreno said.
This is Garton's second stint with the team, following a stretch from April 22-30. He is 0-1 with an 11.57 ERA with the Rays this season, and 2-0, 0.59, in 12 appearances with Durham. His last 11 appearances with the Bulls are scoreless.
"Ryan Garton's been tremendous at Triple-A," Cash said. "Maybe this is a time that we see him take his Durham steps into the Major Leagues, because what he's doing in Durham is impressive."
Garton split last season between Durham and the Rays, going 1-2 with a save while pitching to a 4.35 ERA in 37 appearances over five stints with the Rays -- his first Major League action.
"He's striking out a lot of guys," Cash said. "I think he's in the zone a lot more in Durham. [He has] shown the ability. Hopefully that's what we get when he gets here tonight, and going forward."
Also, when asked about right-hander Tommy Hunter (right calf strain), Cash told reporters: "We could see him [being reactivated] very soon."
Bill Chastain has covered the Rays for MLB.com since 2005. This story was not subject to the approval of Major League Baseball or its clubs.