Hedges' superb D goes beyond diving catch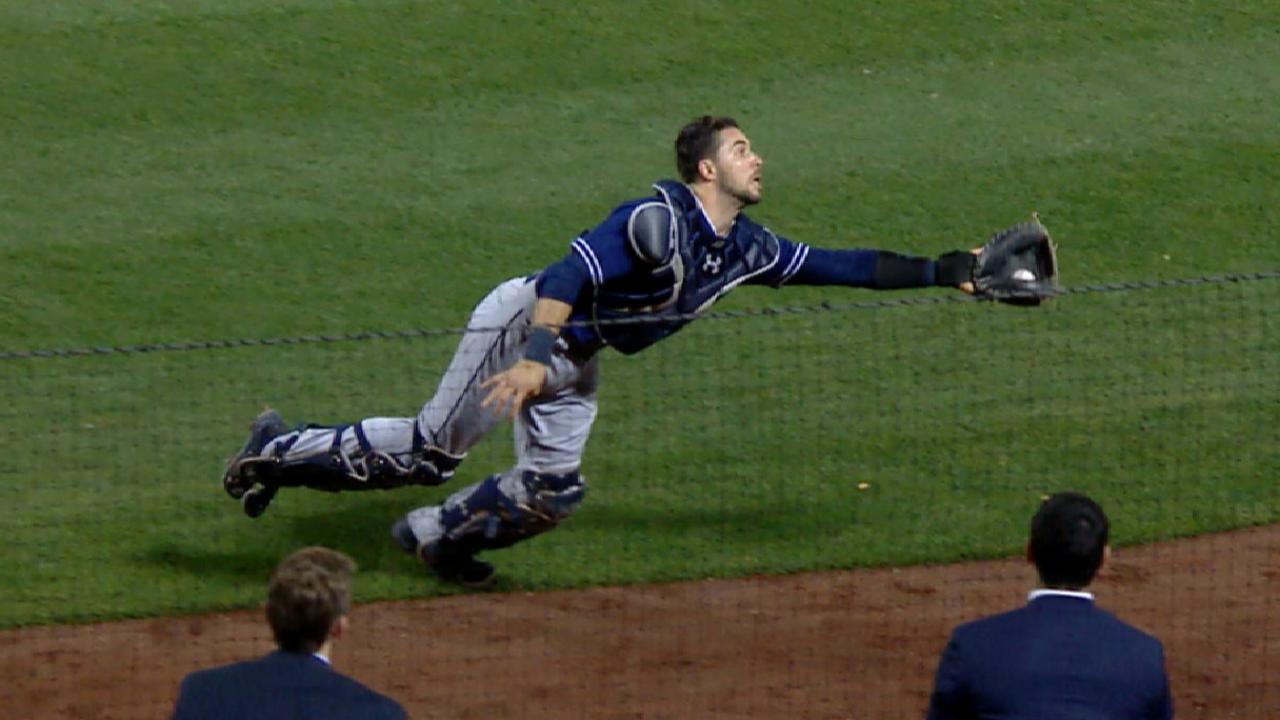 NEW YORK -- Austin Hedges' brilliant diving catch Tuesday night might go down as the best defensive play made by a catcher this year. It's not often that a backstop, in full gear, engages in a face-first all-out dive. And that's not to mention the ground Hedges covered to reach the warning track in the first place.
The play will run on Padres highlight reels long after the 2017 season is over. But it's probably not fair to define Hedges' defensive prowess with a catch as aesthetically pleasing as that one. After all, the bulk of the impact Hedges makes behind the plate isn't quite so obvious.
"Catcher popups are at the bottom of the totem pole in what's important," Hedges said Wednesday afternoon. "Obviously, it's cool to be able to get to those balls. But that play's not going to win us the ballgame. Receiving and blocking and throwing and calling a good game -- that is going to win us a ballgame."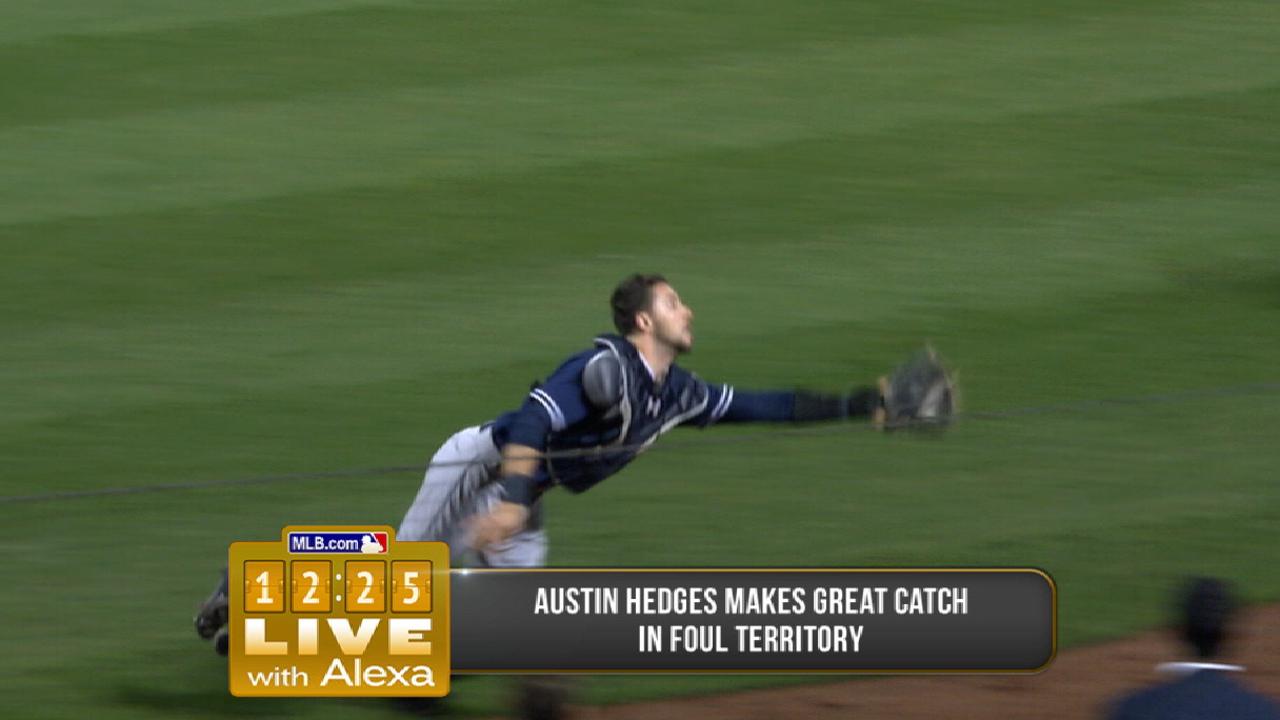 Hedges has done all of those things well this season. He ranked third in the Majors with 4.6 framing runs saved, according to Baseball Prospectus, entering Wednesday. He's thrown out eight would-be basestealers. And his pitchers have universally raved about his ability to block pitches in the dirt.
Since he was drafted in 2011, Hedges has been considered one of the game's top young defensive catchers. He's backing up that label at the Major League level in his first season as a starter.
"The consistency of framing pitches, presenting balls as strikes, keeping balls in front of him when a pitcher buries stuff -- that's what's going to separate him defensively from other catchers," said Padres manager Andy Green. "He's done a very nice job of that this year."
In franchise history, Benito Santiago is the only catcher to earn a Gold Glove Award. He did so three times from 1988-90.
It might seem a bit premature to get into Gold Glove talk with Hedges. But he's been good enough to warrant it. One of his teammates forecasted "multiple" Gold Glove Awards down the road.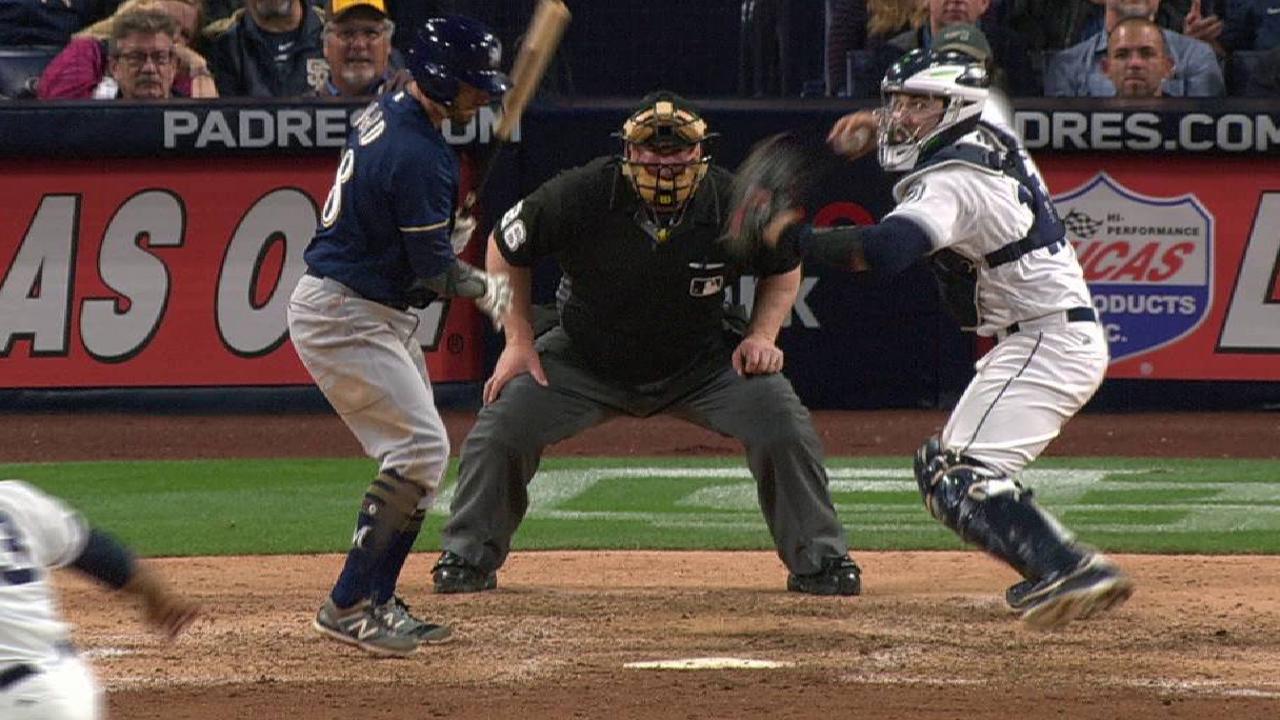 "He's great back there," said first baseman Wil Myers. "He's one of the best defensive catchers in the game -- in all aspects. He's a lot of fun to watch. Me and him stay on the same page, especially when runners are on first base with pickoffs. He's a lot of fun to play behind. He does a good job calling games, puts in the preparation for it. He's a great catcher."
Given the intricacies of the position, catcher might be the toughest place on the field to quantify defensively. Framing, throwing and game-planning are generally as dependent on the pitcher as the guy behind the plate.
In that sense, accolades are often doled out on reputation, and with Yadier Molina, Buster Posey and Yasmani Grandal in the same league, it's an uphill climb for Hedges. But at 24, he still has plenty of time to build that rep.
"Absolutely, I want to win a Gold Glove one day," Hedges said. "That's the ultimate defensively. But I just want to be the best I can be to help us win ballgames behind the plate. It's arguably the most important position on the field behind pitcher. If we're winning, that can go hand in hand with what I'm doing behind the plate."
O's claim Sardinas
Former Padres shortstop Luis Sardinas was claimed off waivers by Baltimore on Wednesday afternoon. Sardinas was hitting .163 in 29 games this season with San Diego.
The Padres designated Sardinas for assignment on Monday, after claiming Chase d'Arnaud from the Red Sox. d'Arnaud, who debuted with the Padres on Tuesday, figures to fill largely the same role as Sardinas -- backing up at short, while playing an assortment of other spots across the diamond.
AJ Cassavell covers the Padres for MLB.com. Follow him on Twitter @ajcassavell. This story was not subject to the approval of Major League Baseball or its clubs.