Heisey lands on DL with biceps rupture
Goodwin, who was ticketed for Triple-A when Ross returned, remains in DC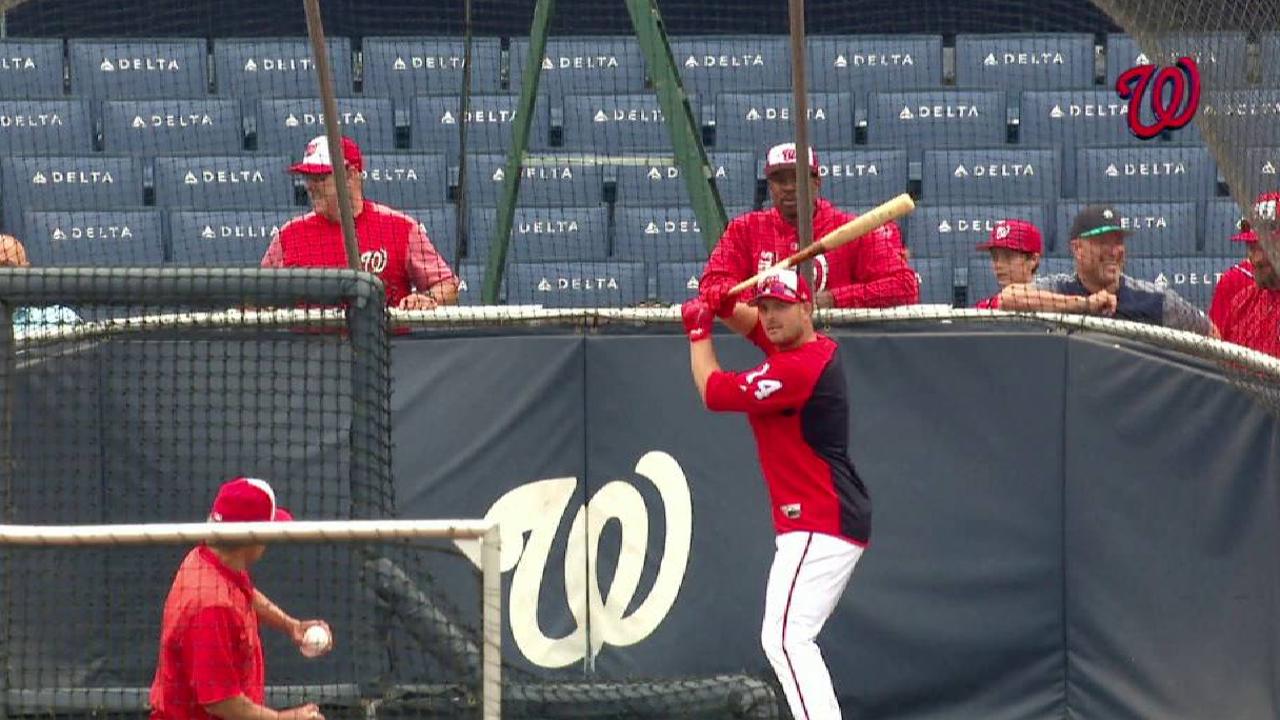 WASHINGTON -- Chris Heisey's shoulder has been bothering him all season, but when the Nationals' pinch-hitter extraordinaire struck out in his lone at-bat against the Mariners on Tuesday night, he could tell he damaged his arm.
Heisey received treatment when he arrived to the clubhouse before Wednesday's 5-1 Nats win, but he grimaced and limped out of the cage after one batting practice swing, experiencing a pain he said he's never felt before. The Nationals found that Heisey tore his biceps tendon, and they placed him on the 10-day disabled list. The 6-foot-1, 220-pound outfielder will receive an MRI exam on Thursday to confirm the injury and reveal if there's more damage.
"It's tough," Heisey said. "Even though I wasn't playing very well, it's still fun to be a part of the team and feel like at any moment I'm able get in there and help the team. ... Hopefully when I come back I'll be better than new and really contribute."
Heisey said he'll plan his rehab process after receiving the MRI results. He doesn't expect the injury to keep him out the entire season, though.
In 47 at-bats this season, Heisey is hitting .128/.180/.213. After holding a .273 batting average on April 19, his hitting numbers have sharply declined. Still, of healthy players, Wilmer Difo was the team's only bench player with more at-bats than Heisey, meaning Adam Lind may receive more opportunities.
"It's sad that it happened to such a good guy," Nationals manager Dusty Baker said. "The guy's one of the spiritual leaders of the team. We'll just rally around him like we did [Adam] Eaton, and the other guys have to step up."
The Nationals recalled outfielder Brian Goodwin from Triple-A Syracuse as Heisey's replacement. Goodwin has been hitting .256 with Syracuse this season. He was called up May 8 for Rafael Bautista and batted .188 in 10 games with the Nationals. Goodwin was initially optioned on Tuesday when pitcher Joe Ross was recalled.
• Nationals left-hander Sammy Solis has traveled to Florida to begin his rehab assignment from nerve inflammation that he sustained in his left elbow last month.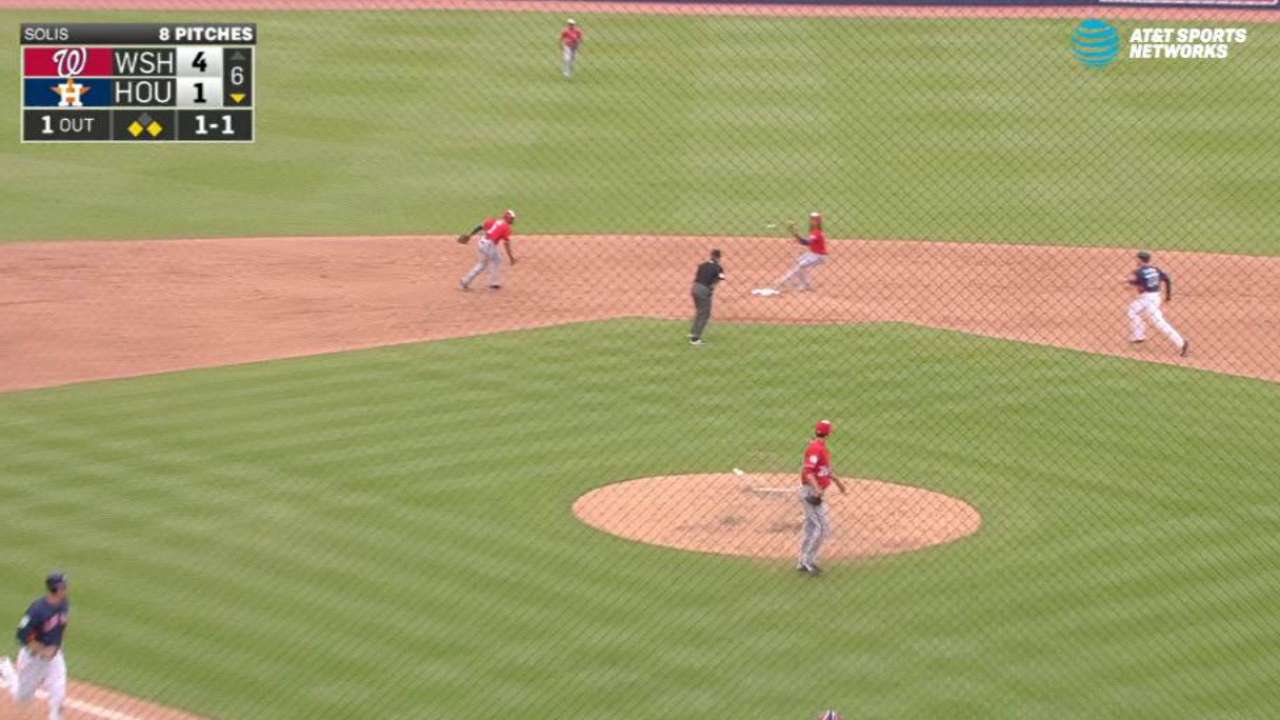 Solis, who holds an 8.31 ERA in six appearances this season, was placed on the DL on April 19. Manager Dusty Baker said Solis has been throwing the past three or four days, and the team wants him to progress under supervision while playing games.
"It's like Spring Training, not to rush him and get him in the games, but try to get him game-ready," Baker said. "And hopefully [there] will be no setbacks; this will be like his Spring Training."
Baker used Solis as the first left-handed reliever out of the bullpen to open the season, and his absence has forced the manager to change his strategy for a bullpen that holds the highest ERA in the Majors. The Nationals have three healthy left-handed relievers, and Enny Romero has received the most appearances of the trio (20).
"I would have to match up left with left, right with right, because Sammy was our lefty in the bullpen that had pretty good success against right-handers and definitely against left-handers," Baker said. "We got to use two for one instead of just using Sammy. That puts pressure on other guys in our bullpen that I wouldn't ordinarily have to use because of the matchup situation. Sammy was big in our equation."
Last season, Solis notched a 2.41 ERA in 37 games, but he also landed on the DL twice. Solis underwent Tommy John surgery in 2012, and Baker was relieved Solis didn't have a recurrence.
"We were monitoring him from day one," Baker said. "We hope it doesn't come back. Is there a possibility with his history? Yes. We'll do whatever we can to make sure Sammy is here at the end, which is most important."
• Baker said right-hander Joe Blanton is throwing again after he was placed on the 10-day DL on May 17 for right shoulder inflammation. Baker said Blanton might be available late in the Nationals' road trip next week.
Blanton held ERAs of 2.84 and 2.48 the past two seasons, but it's ballooned to 9.49 in 14 appearances this year. The 6-foot-3, 225-pound reliever has allowed six home runs after giving up seven all of last season.
"We're going to take our time and make sure he's right, too," Baker said. "It just depends how he looks to [pitching coach] Mike [Maddux], how he feels to himself and how he responds to treatment."
• The Nationals moved their game Thursday against the Mariners from 4:05 p.m. to 12:05 p.m. ET due to the forecast of inclement weather. If the teams needed to postpone a game this series, the Mariners would probably have to fly across the country again, which likely prompted the Nationals' precaution.
Kyle Melnick is a reporter for MLB.com based in Washington. This story was not subject to the approval of Major League Baseball or its clubs.