Relaxed, 'healthy' Gray finding groove
Oakland ace fans 11, sets season high in win over Miami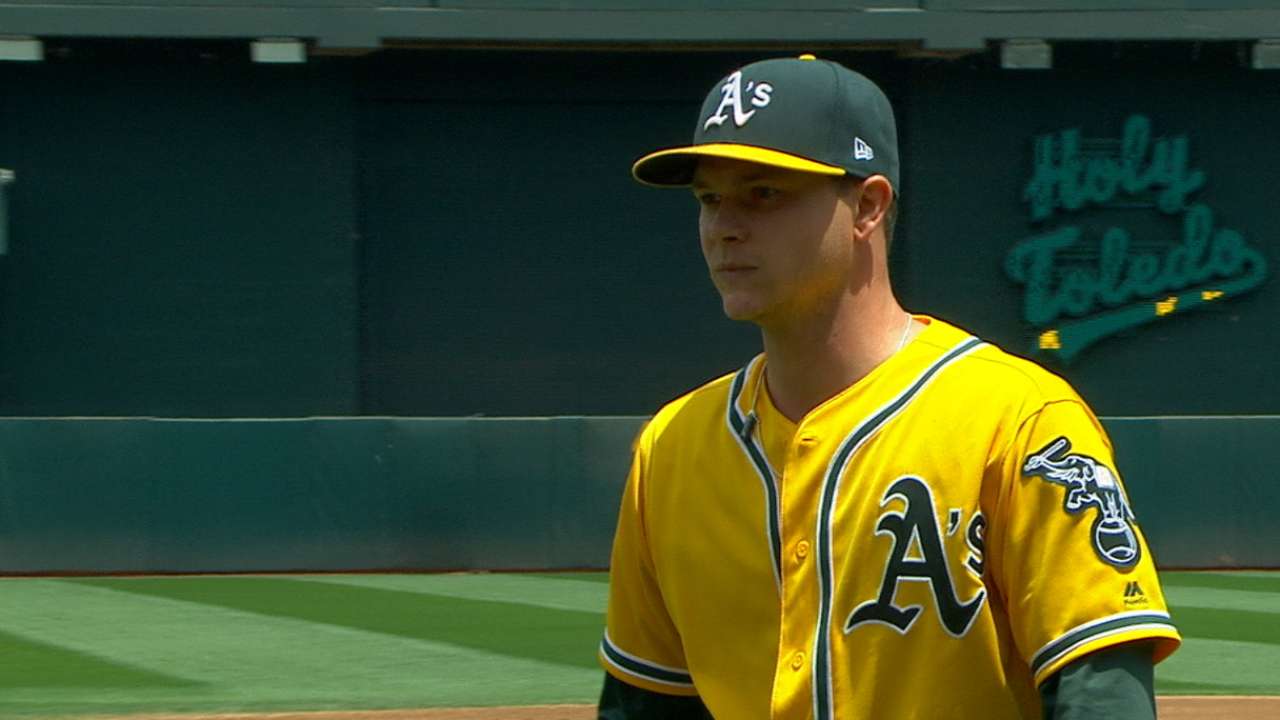 OAKLAND -- About two hours before Wednesday's first pitch against Miami, Sonny Gray set the mood in the A's clubhouse with some soothing zen music while someone else dimmed the lights.
Don't expect him to stop that pregame ritual any time soon.
On Wednesday, Oakland's ace set a season high with 11 strikeouts, tossing seven dominant innings of one-run ball to lead the A's to a 4-1 victory over the Marlins.
"Trying to do things a little different at times," Gray said with a smile. "We were just getting everybody nice and relaxed. It was a good way to start the day."
The locker next to Gray's in the A's clubhouse used to belong to rehabbing right-hander Chris Bassitt. It now houses a makeshift zen garden, complete with some bamboo sticks, a small fountain with candles, a miniature rock garden, hanging dreamcatchers and faux leaves.
So, is the new decor the key behind Gray's recent success?
"I'm not allowed to discuss that," he said.
Gray finished strong in his previous start and kept the momentum going on Wednesday. He allowed just three hits and one walk, retiring the first nine batters he faced. His slider was crisp from the get-go, as he struck out the side in the third inning and retired all three batters using the pitch. After allowing back-to-back singles and a run to score on a wild pitch, Gray struck out the side again in the fourth.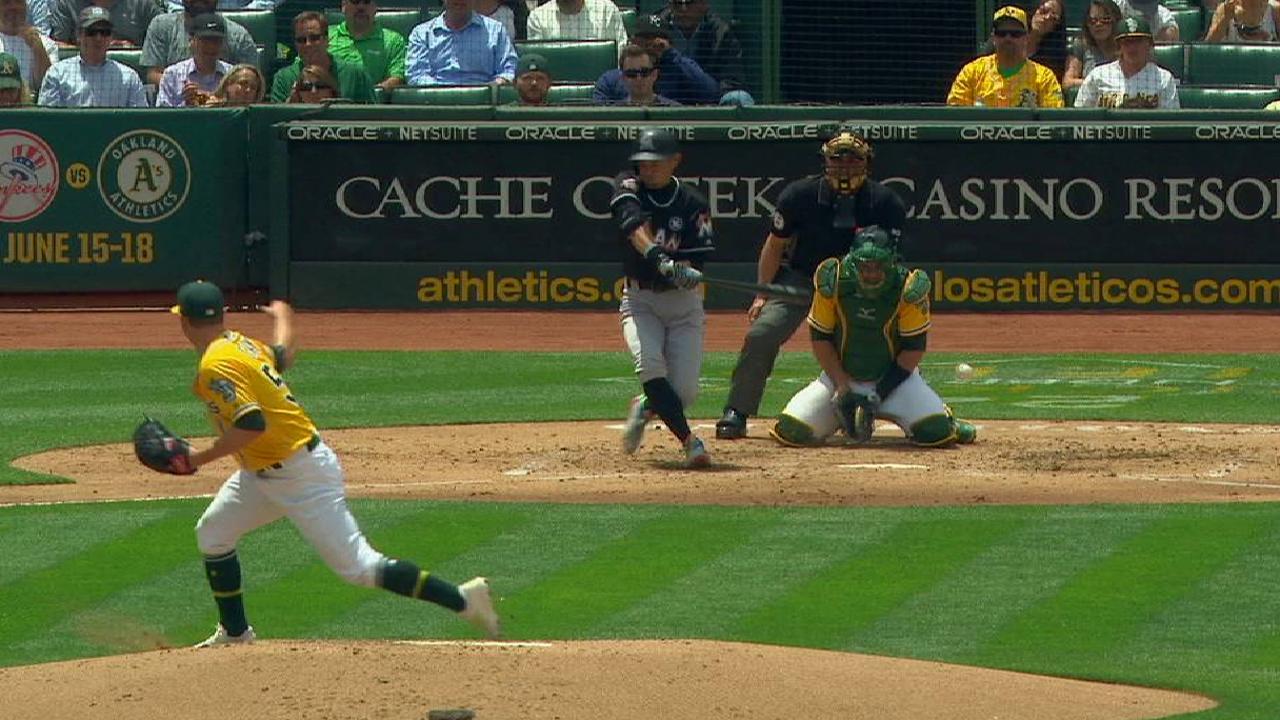 In all, nine of Gray's 11 strikeouts came via slider, including eight swinging. For A's catcher Josh Phegley, it means he has to be on top of his game with so many pitches ending up in the dirt that will fool hitters.
"It's survival mode back there a lot of times," Phegley said. "With two strikes, you see me go down to a knee or something when the ball's in the air. You got to cheat a little bit to get in front of that thing. When he's throwing it well, he gets swings and misses on it, and guys are not seeing it well."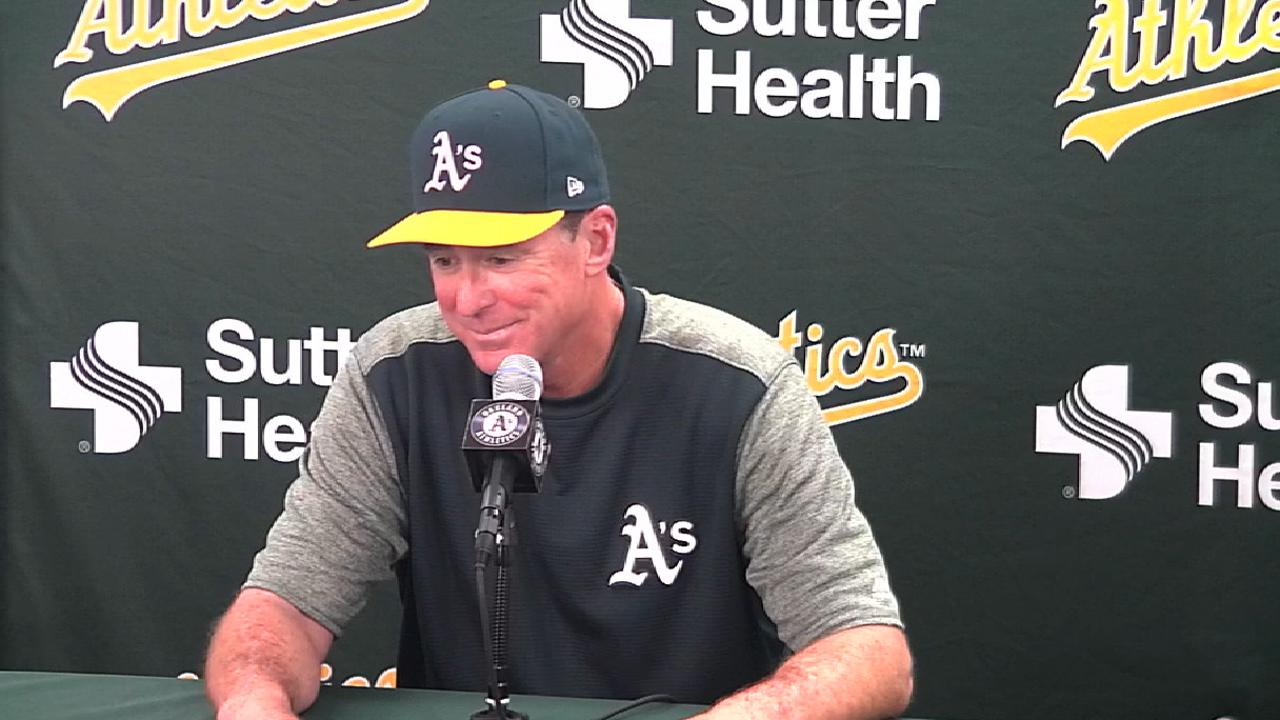 But when he wasn't punching people out, Gray was busy being efficient. He needed just 88 pitches to get through his outing, which was his longest since June 10, 2016 -- a span of 16 starts.
"The main thing you can take away -- and I kind of told you guys last week -- is that I feel healthy," Gray said. "I'm not doing anything different. There's nothing that clicked, there's nothing that mechanically I changed, there's nothing I'm trying to do different. I just feel healthy. I feel like I can do what I want to do with the ball again, and my breaking ball is sharp. That all stems from mentally and physically feeling healthy."
The A's have to be encouraged by what they're seeing from their ace lately. He was hampered by injuries throughout 2016 and struggled to a career-worst 5.69 ERA before missing the first month of this season with a strained lat. But he appeared to turn a corner midway through his most recent start vs. the Red Sox en route to racking up eight strikeouts.
"When he's at his best, he's getting strikeouts, he's getting bad swings on his breaking balls, good command of his heater, throwing strikes, low pitch count, all of the above," A's manager Bob Melvin said. "Really good. And each time out, he gets better."
Alex Espinoza is a contributor to MLB.com based in the Bay Area who covered the A's on Wednesday. This story was not subject to the approval of Major League Baseball or its clubs.