Warren adjusting to role with Aroldis on DL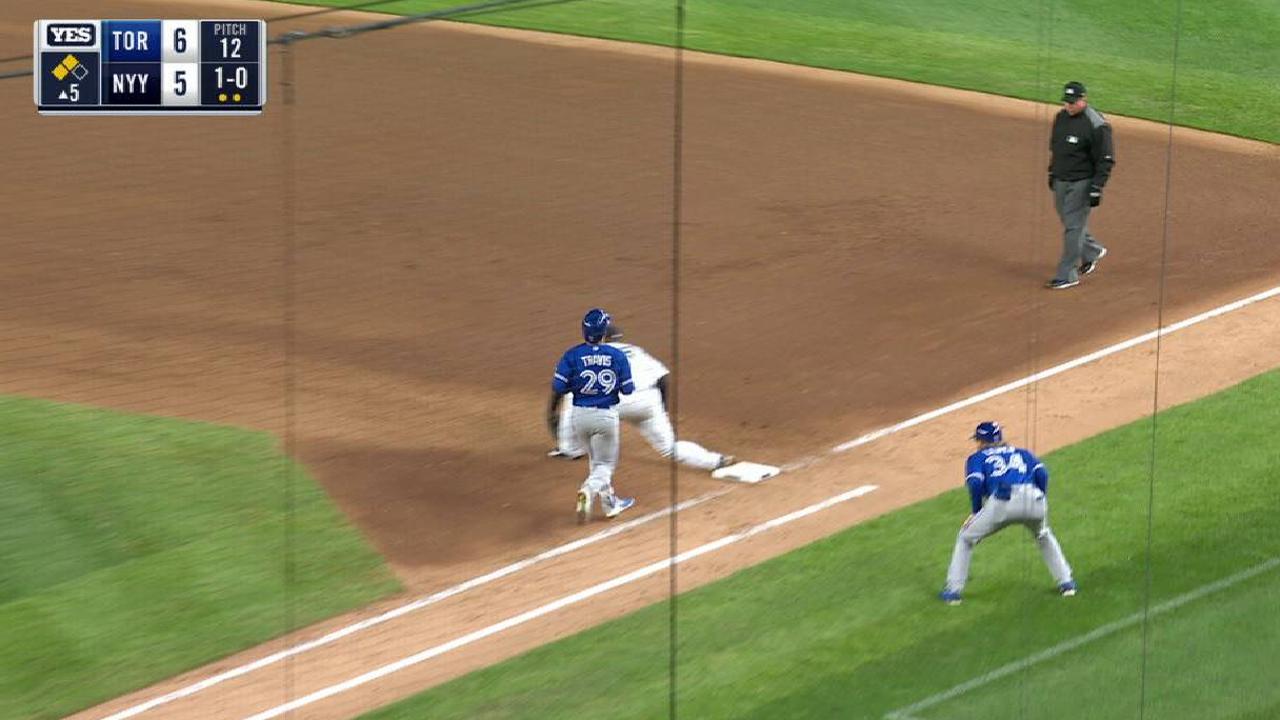 NEW YORK -- Aroldis Chapman's injury significantly altered the Yankees' bullpen hierarchy, and manager Joe Girardi believes that the domino effect may have impacted Adam Warren more than anyone.
"Oh, it changes things a lot," Girardi said prior to Wednesday's game against the Royals, "and I think the loss of Chapman has really changed Adam's role the most."
Warren served up Jorge Bonifacio's go-ahead two-run homer in the seventh inning of Tuesday's 6-2 loss to the Royals. Since limiting opponents to three runs (one earned) over 19 innings in his first 11 games, Warren had allowed eight runs (seven earned) in 5 1/3 innings over his last five games entering Wednesday.
"I think it's been a little something different every time," Warren said. "I think I just need to get back to making sure everything is crisp and watching video, and making the necessary adjustments."
Chapman has been on the DL since May 14 and could begin a throwing program on Saturday. In the meantime, Dellin Betances took over the closer's role and Tyler Clippard inherited the eighth inning. Warren moved into the seventh, and Girardi said he does not think the promotion changed Warren's mentality.
"He's done that before," Girardi said. "The thing about Adam is there have been times we'd use him for multiple innings and times we would substitute him. Sometimes you have to save him for some tough situations. And that's how the role has changed a little bit."
Girardi said that Chad Green has done a good job filling Warren's old role, but the bullpen has been worked heavily in the last two weeks. Yankees starting pitchers have been unable to complete seven innings over the previous 13 games (4-6, 5.70 ERA), and New York has won just five of those contests.
"[Warren has] probably been used a little bit more, too," Girardi said. "But again, I thought his stuff was good [Wednesday] night. He just made one mistake and it cost him."
Still banking on Chase
Girardi said he continues to have confidence in third baseman Chase Headley, who entered Wednesday slashing .154/.185/.231 over his last 20 games after starting the year with a .324/.425/.541 line over his first 21 games.
"He's run into some bad luck. He's hit some balls hard and hasn't had a lot of luck," Girardi said. "It's been frustrating for him, but his at-bats have not been nearly as bad as the numbers have indicated."
Headley has said he is not looking over his shoulder, even after the Yanks promoted Gleyber Torres, ranked as the club's No. 1 prospect by MLBPipeline.com, to Triple-A. Torres made his RailRiders debut on Tuesday, going 1-for-3 with a walk in a 6-3 loss at Columbus.
"His at-bats looked fine. I think his defense was fine," said Girardi, who routinely reviews video of the team's top prospects daily. "I didn't really look that closely."
Also down on the farm, Tyler Austin (left ankle fracture) entered Wednesday having hit safely in all four of his Minor League rehab games for Double-A Trenton, going 5-for-11 (.455).
Bryan Hoch has covered the Yankees for MLB.com since 2007. Follow him on Twitter @bryanhoch and on Facebook. This story was not subject to the approval of Major League Baseball or its clubs.