No 10 K's, but to Sale, win more important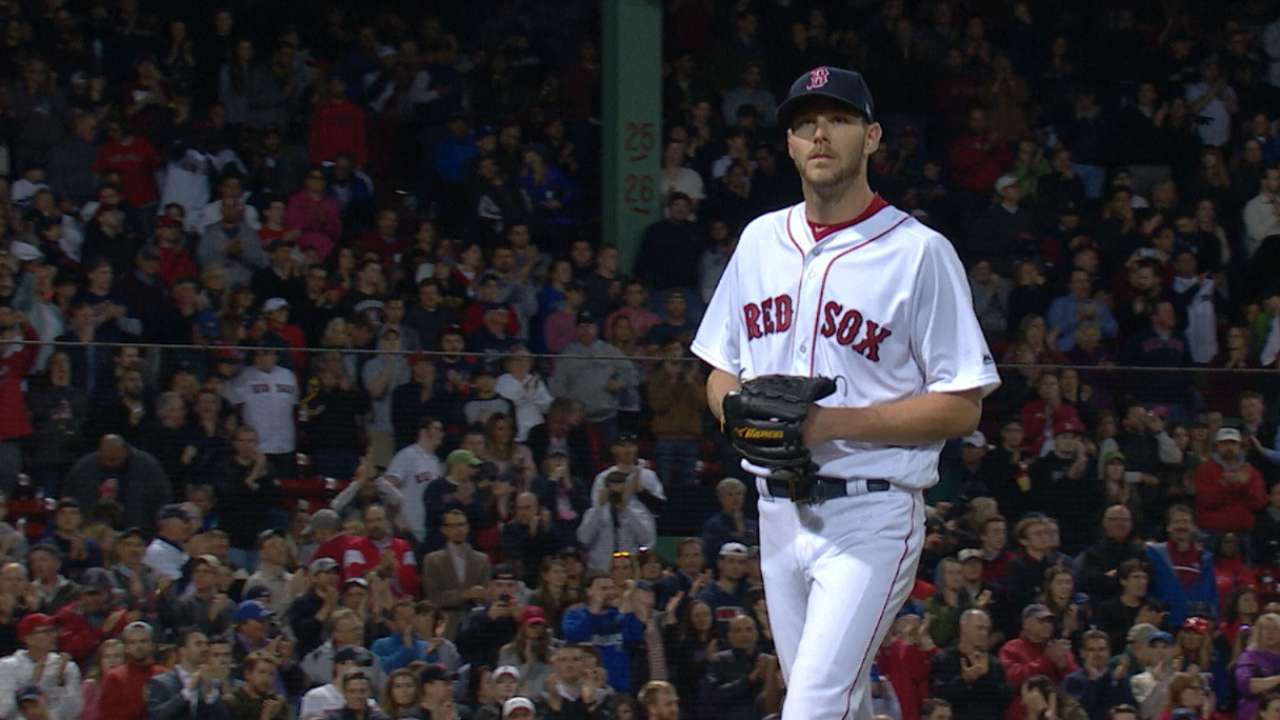 BOSTON -- When Chris Sale struck out Delino DeShields to open up Wednesday's game between the Rangers and Red Sox, it felt like it was going to be his night. The lefty needed 10 strikeouts to break the record for consecutive games with double-digit strikeouts (9), and he was off to a perfect start.
However, when John Farrell relieved Sale after 7 1/3 innings, his strikeout tally was at six. The streak was over.
For Sale, who adamantly decried the importance of the streak last week, the more important marker on the night was that of his win-loss column. The Red Sox won the game, 9-4, and Sale improved to 5-2 on the season.
Boston's ace started well, striking out three of the first six batters he faced and carrying a no-hit bid into the fifth inning. Rangers first baseman Mike Napoli's home run deep into the Green Monster bleachers in the fifth ended Sale's hitless effort, and the Rangers led, 3-1, through six innings.
The pitch to Napoli was a high fastball, and highlighted Sale's slight loss of control after the fourth inning. The left-hander acknowledged that the Rangers had a roster capable of stopping his momentum.
The way to sum up every Sale start: #RedSox pic.twitter.com/kcwuCjewVz

— Boston Red Sox (@RedSox) May 25, 2017
"It's a good team," Sale said. "They came in on a pretty good roll, and it's a team that's not going to roll over, either. They were fighting the whole time, and I was doing everything I could to keep them at bay."
As the seventh-inning stretch rolled around, it looked like it would be another game in which the run support wouldn't be there for Sale; in each of his two losses this season, he has given up two runs.
The narrative was different this time, however, thanks in part to first baseman Sam Travis, who made his Major League debut Wednesday. Travis' single in the bottom of the seventh inning would ignite a seven-run inning for the Red Sox, giving them a lead they wouldn't relinquish.
"Seven runs right there, that's big," Sale said. "The guys pulled through for me tonight in a game where I was probably pretty mediocre. Our guys picked me up. … They never gave up on me; they never gave up on us. That's big for me, that's big for the team, and it's nice to see that."
While Sale didn't etch his name in the record books Wednesday, he was reminded of his team's potential to string runs together.
"That's why you never panic with a team like this," he said. "It doesn't matter who we're facing, what inning it is. Our offense can explode at any time."
Evan Chronis is a reporter for MLB.com based in Boston. This story was not subject to the approval of Major League Baseball or its clubs.