Travis has two hits, one smile in MLB debut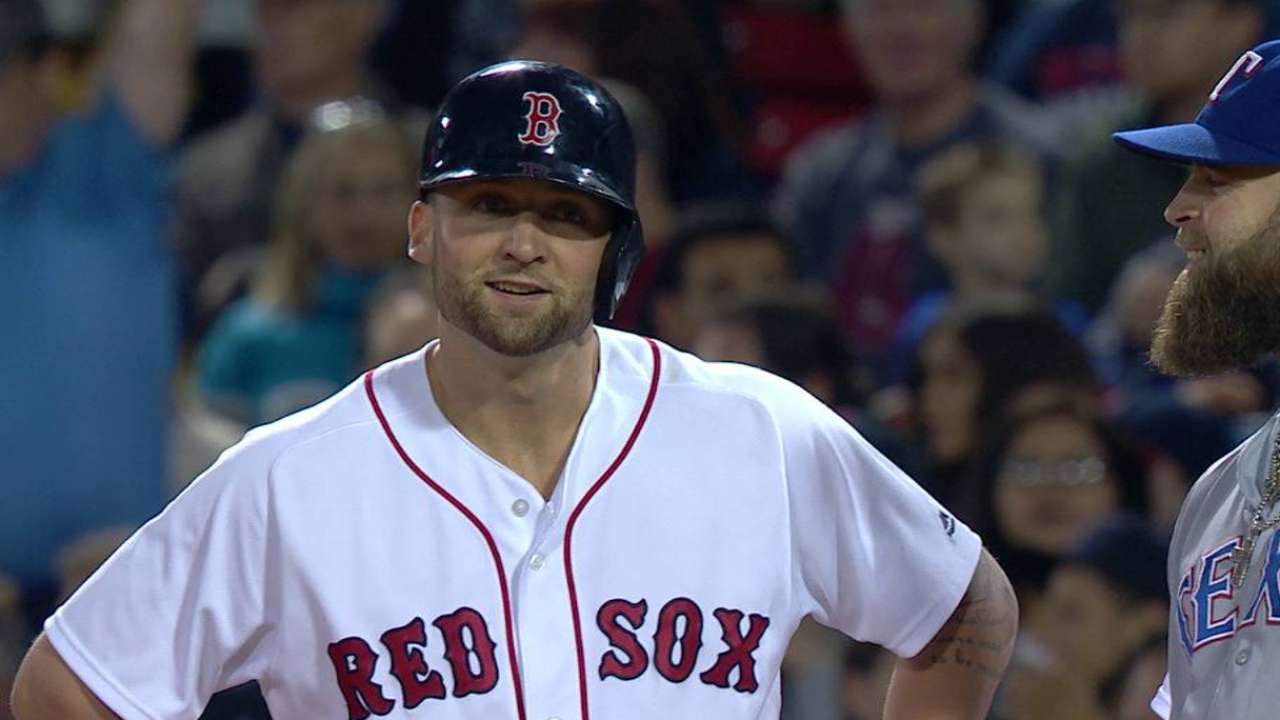 BOSTON -- The moment was so precious that even Sam Travis cracked a smile.
Taking just his second Major League at-bat, Travis produced his first career hit, a hard grounder that went off the glove of Rangers left-hander Martin Perez in the bottom of the fifth inning of an eventual 9-4 victory by the Red Sox on Wednesday night at Fenway Park.
The Fenway faithful should get used to the hits. Travis is known for his bat, which is why he's the No. 3 prospect in the Red Sox's farm system.
But don't get used to the smile.
Travis is a fierce competitor on the baseball diamond, and this probably will be one of the few occasions he'll ever let his guard down in the heat of competition.
When Travis beat out the throw by Elvis Andrus, you could see the slight grin come across his face.
"I didn't even know if I did [smile]," said Travis. "I was leading off the inning and just trying to get something going for the team. Was I laughing? I didn't even know. I couldn't even tell you. I don't even know what I was thinking about. I think I was just kind of happy."
There was even more to be happy about in the bottom of the seventh inning, when Travis rifled a single to right-center field to put runners at the corners with nobody out in what turned into a game-breaking, seven-run rally for Boston.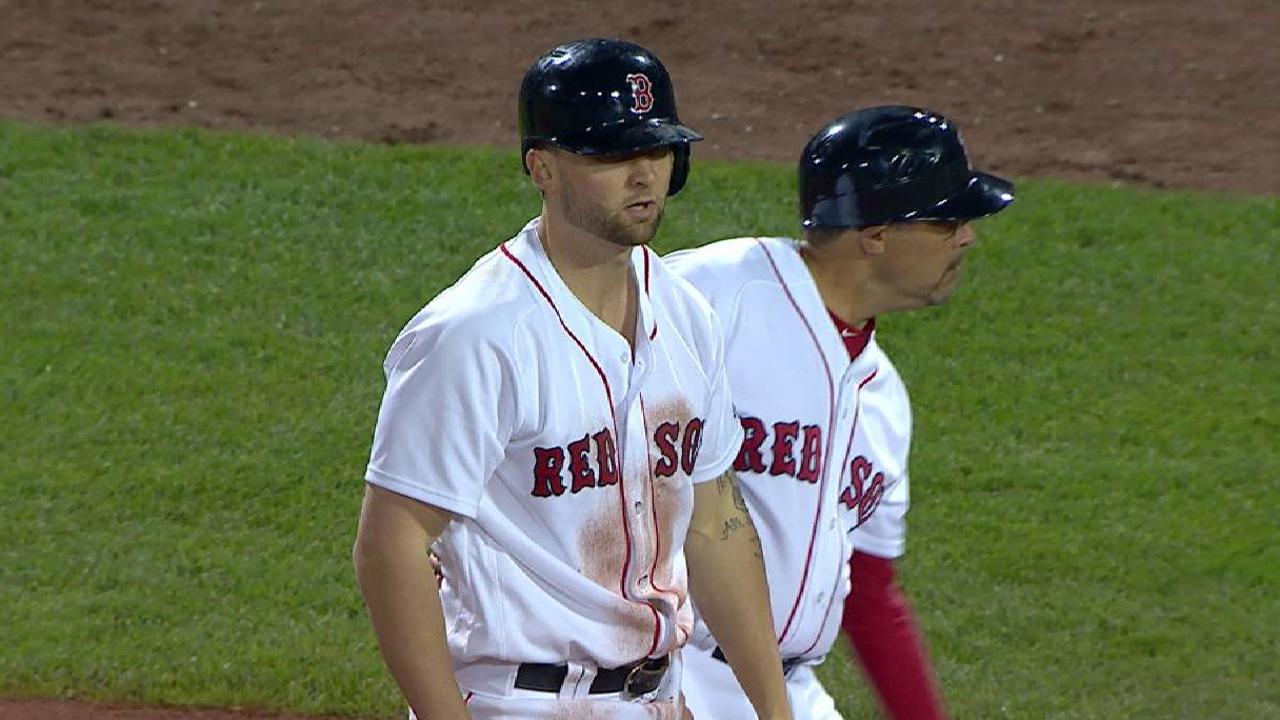 With the Rangers starting lefty Martin Perez, Travis had the chance to appear in his first MLB game after taking in Tuesday's win from the bench.
One thing Travis noticed is that Fenway Park can get really loud.
"Uh, not like this," said Travis, when asked if he had ever played in front of a crowd like that. "The most I probably played in front of was Omaha in the College World Series. There's not quite an atmosphere like this. It's amazing."
Travis was robbed of a hit in his first at-bat when Andrus ranged up the middle to make a fine play. That was pretty much a "welcome to the big leagues" type of moment.
"Yeah, it definitely might get by [for a hit] at the lower levels, but that's why he's here, and that's why it's not a hit," said Travis. "That's that."
A teammate of Cubs left fielder Kyle Schwarber at Indiana University, Travis was selected by the Red Sox in the second round of the 2014 Draft.
With starting first baseman Mitch Moreland signed by the Red Sox to a one-year contract, Travis could get a chance to win the job by Spring Training.
But he'll keep tunnel vision for now.
"Just when my name gets called upon, just try and help the team win and whatever I've got to do to help the team win, that's what I'm going to try and do," Travis said.
It was understandable for Travis to give a Crash Davis-type quote one game into his career, but his veteran teammates could be more candid.
"Everybody remembers their Major League debut, good, bad or indifferent," said Red Sox ace Chris Sale. "It's special. It's nice that he had a good one. He had some big hits for us, too. That shows a lot about him. He's not very flashy. He's strictly baseball. It's fun to see a guy like that."
Ian Browne has covered the Red Sox for MLB.com since 2002. Follow him on Twitter @IanMBrowne and Facebook. This story was not subject to the approval of Major League Baseball or its clubs.