Meyer latest Angels starter to go on DL
Right-hander has back spasms; Wright will get start vs. Rays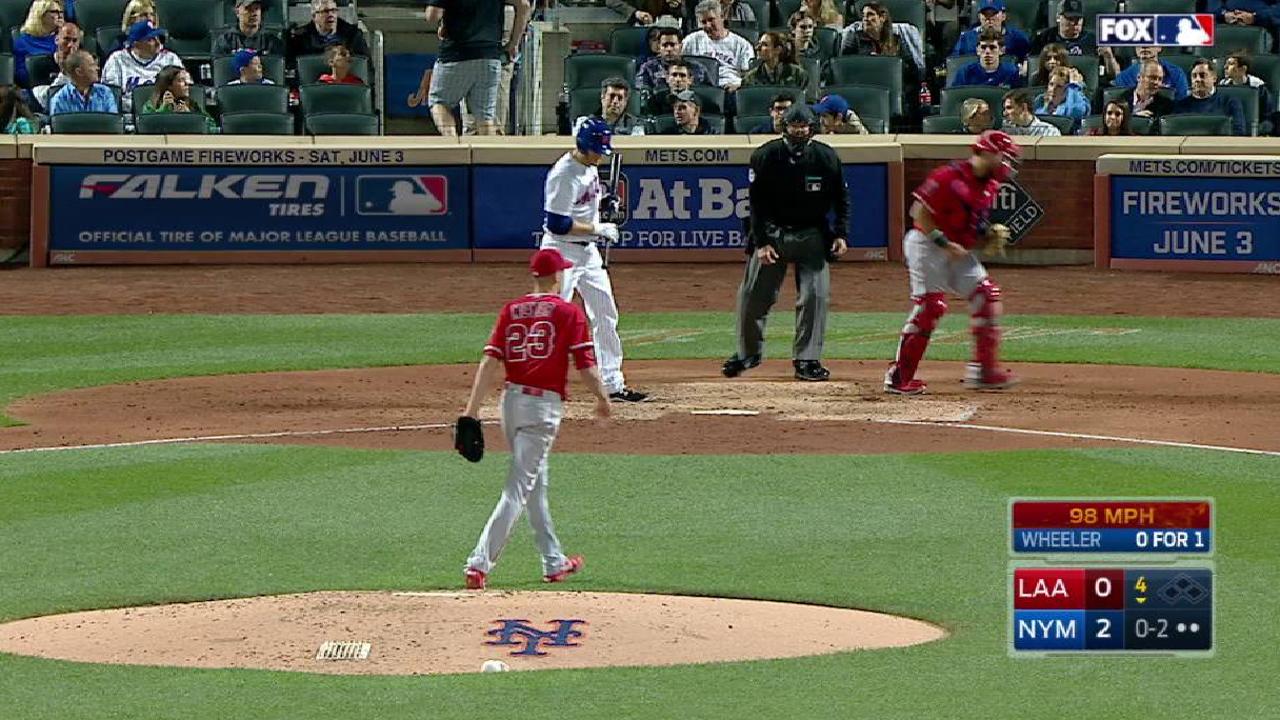 ST. PETERSBURG -- The Angels placed right-hander Alex Meyer on the 10-day disabled list with back spasms Wednesday, and Daniel Wright will start Thursday against the Rays in his place, general manager Billy Eppler said. The move is retroactive to Sunday.
Brooks Pounders was recalled from Triple-A Salt Lake to take Meyer's roster spot for Wednesday's game against Tampa Bay, and was optioned back after pitching one scoreless inning in the Angels' 5-2 loss.
The Angels do not expect Meyer's stint on the disabled list to be a long one. The 27-year-old right-hander said he first experienced tightness in his back during his start against the Tigers on May 14, though he didn't think it was anything serious. His back has flared up intermittently since then, most recently after a Tuesday bullpen session at Tropicana Field.
"There was just a little bit of a knot where I guess some muscles have tightened up," Meyer said. "I went out and threw my bullpen and it was fine, but then 45 minutes after, everything kind of tightened up again a little bit. On a precautionary side, they just wanted to give it a couple of days and try to let it die down. Hopefully, I'll just miss one start and come back and be good to go."
Manager Mike Scioscia said he's "not concerned" about Meyer's ailment in "the big picture."
"I think what he's dealing with is definitely manageable," Scioscia said. "Hopefully, we'll see him back out there pitching within seven or eight days."
Meyer, who logged a 5.79 ERA in five starts for the Angels this year, is the third Halos starter to land on the DL this season, joining Garrett Richards and Tyler Skaggs. Richards is out with nerve irritation in his right biceps and still has not been cleared to pick up a baseball. Skaggs is sidelined with a right oblique strain, though he received clearance to begin a throwing program on Monday.
Meyer is eligible to come off the disabled list May 31, but the Angels will still have to fill his spot in the rotation for a second time on Tuesday against the Braves.
Wright has made three appearances for the Halos this season, recording a 5.54 ERA over 13 innings. In his lone start this year, Wright tossed five scoreless innings against the Blue Jays.
The Angels bolstered their starting rotation depth by signing veteran right-hander Doug Fister to a one-year contract last weekend, but Fister is currently at the club's facility in Arizona and is not expected to be ready to pitch in the Majors for a few weeks.
Worth noting
• Right fielder Kole Calhoun, who is 4-for-33 (.121) over his last nine games, received a day off Wednesday. Cameron Maybin started in right in Calhoun's place, with Ben Revere playing left.
"[Calhoun is] just a tick off," Scioscia said. "He's expanding at times, but he will get it. He's going to be important to us."
• Right-handed relievers Huston Street (lat strain) and Mike Morin (neck tightness) each pitched one scoreless inning in the first game of their rehab assignments with Triple-A Salt Lake on Wednesday. Street, who is on the 60-day DL, is not eligible to be activated until June 1.
Maria Guardado covers the Angels for MLB.com. This story was not subject to the approval of Major League Baseball or its clubs.