Kershaw dominant despite missing shutout
Dodgers' ace lowers ERA to 2.01 after 10-K gem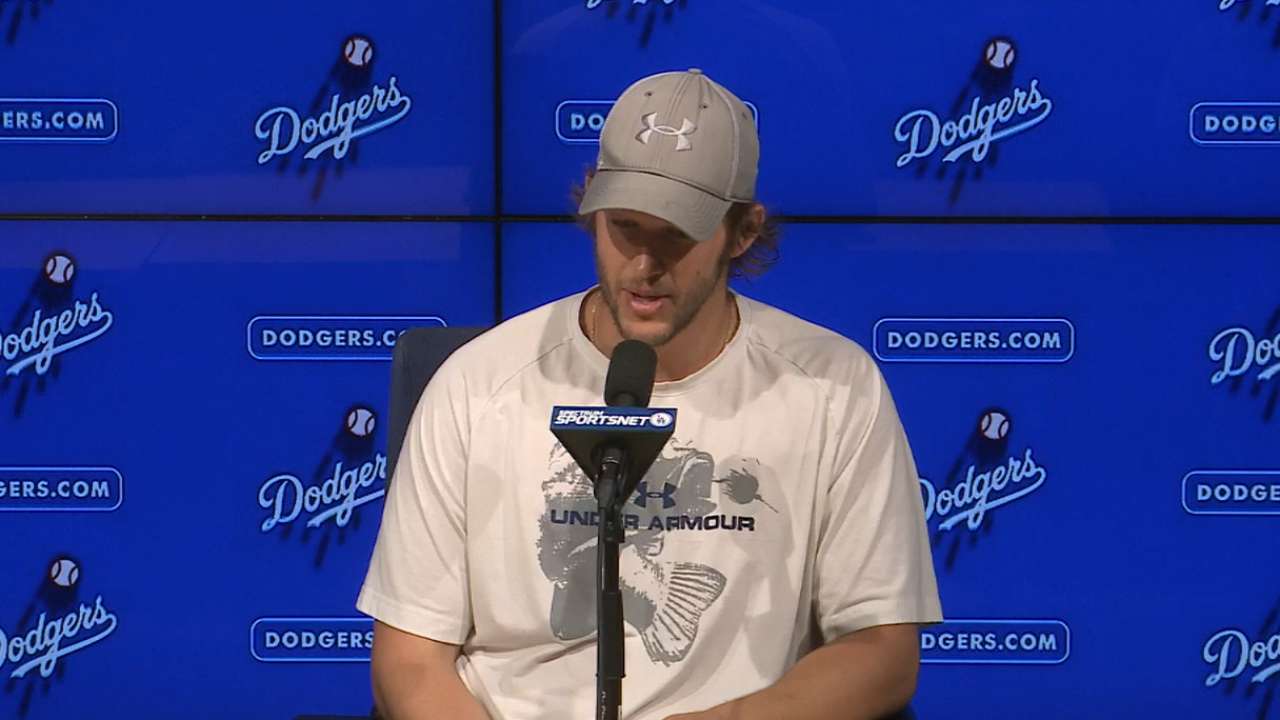 "It was a tough pitch to block," said Kershaw. "Just unfortunate, no way else to put it. The way it bounced and where it ended up. Two bases on a wild pitch, that's no fun."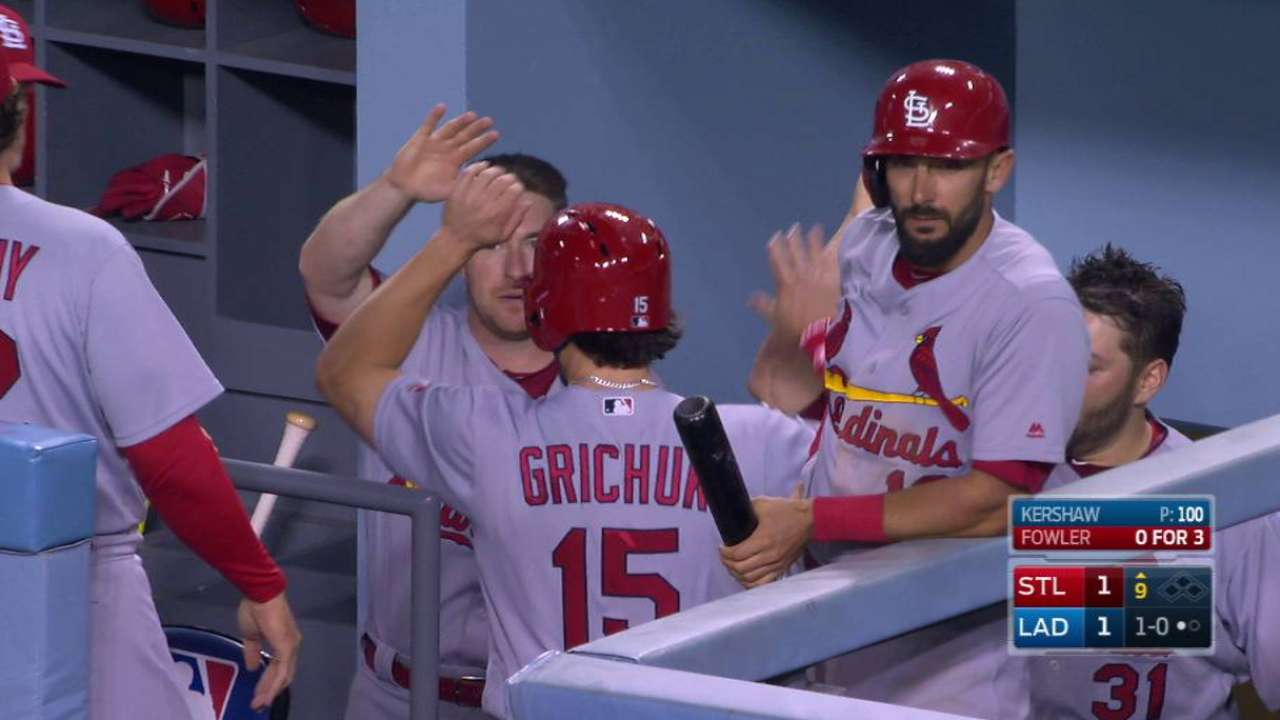 The ball bounced into the air to the left of home plate. Grandal couldn't find it, Kershaw was pointing to it as it rolled toward the entry gate by the owners' dugout seats, and by then, Grandal was too late to make a play.
"I saw it pretty well, a ball in the dirt," said Grichuk. "I knew I was going to get third. Just kind of running hard. I saw that he [Grandal] did a little twist and kind of threw up his arms like he didn't see it. I knew at that point that it would be tough for him to slide and catch it and make a good throw if I continued to run hard."
Kershaw finished the ninth inning having allowed one run on three hits with 10 strikeouts and no walks for a tough no-decision. It was his 53rd time with at least 10 strikeouts, the Dodgers going 42-11 in those games, and the 20th time with at least 10 strikeouts and no walks. His ERA this year is 2.01 and his career WHIP is rounded up to 1.00 (but actually .99964).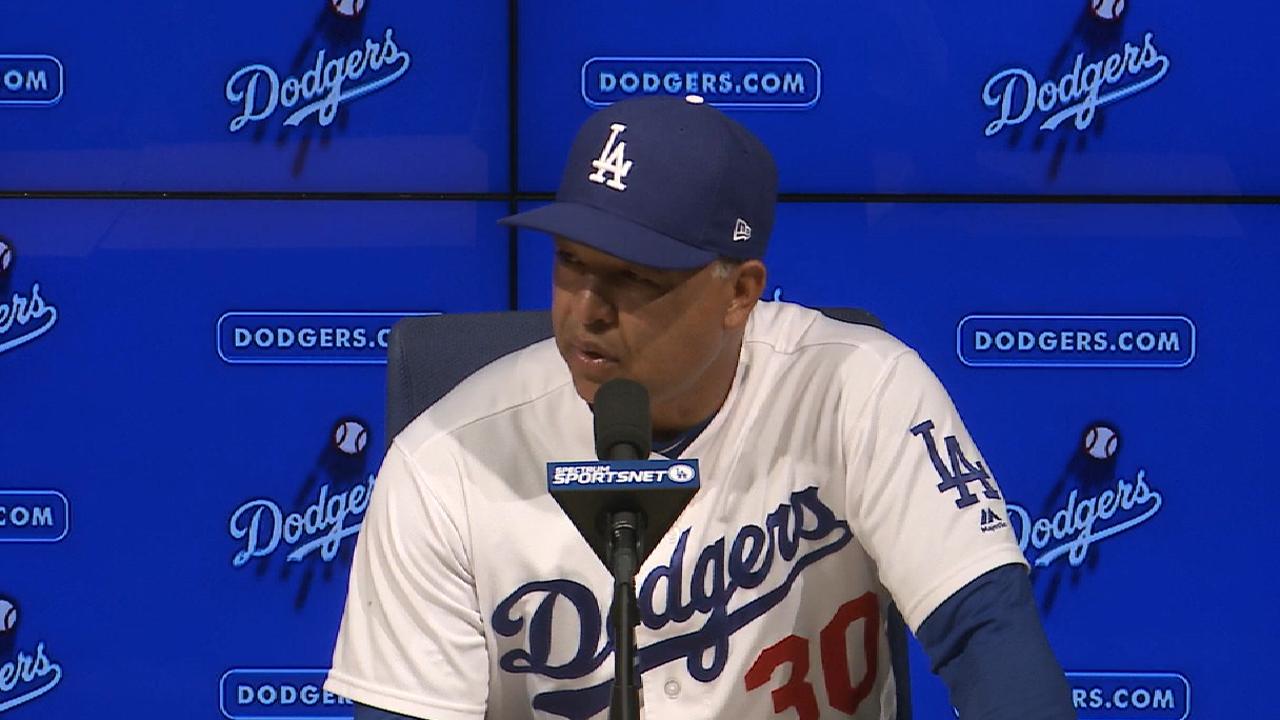 The Dodgers' bullpen -- Kenley Jansen, Pedro Baez, Luis Avilan and winner Josh Fields -- allowed one hit in four scoreless innings.
"Our relievers did awesome and it's awesome to have Logan back," said Kershaw, who said he took on the role of cheerleader after his outing was done. "It was a rough night [for Forsythe with four strikeouts] before that, but he grinds through an at-bat and puts a great swing on the ball and wins the game the first game back. Just a testament to him and the way he approaches the game."
Part of being a spectator for Kershaw was watching the frightening outfield collision between Joc Pederson and Yasiel Puig. Pederson left the game with a stiff neck and Puig remained in the game despite bruised ribs.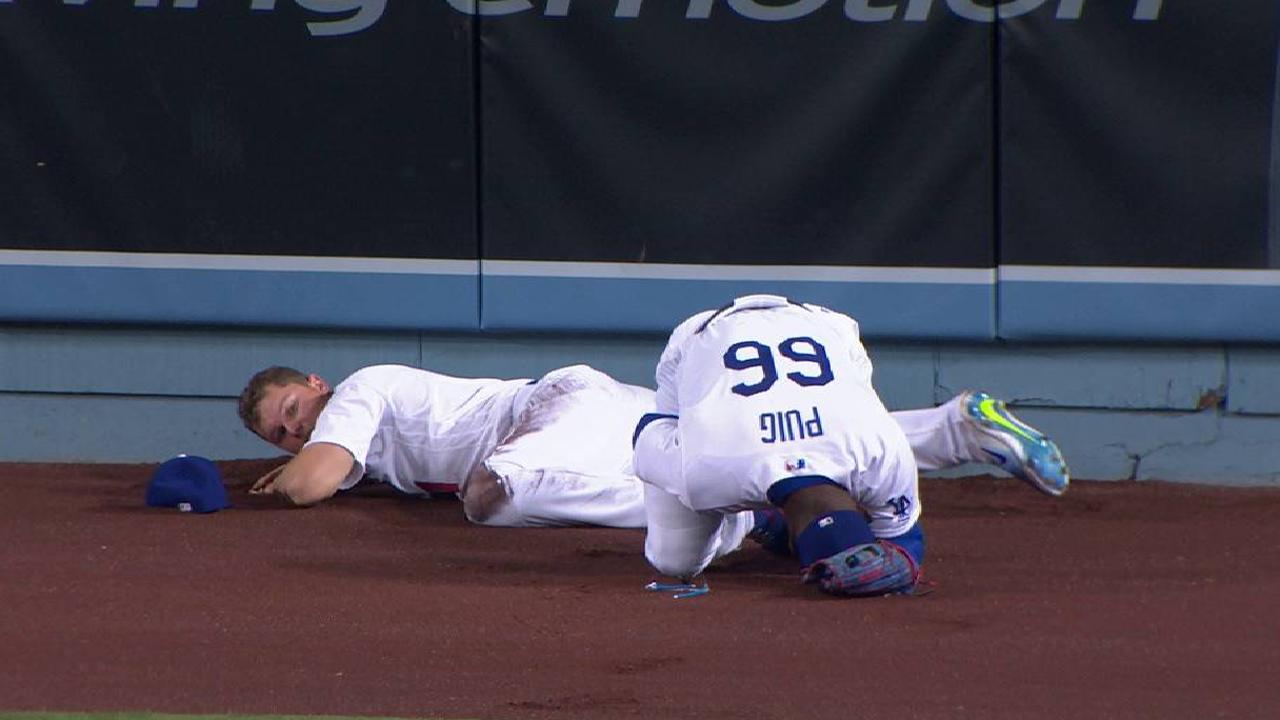 "It's scary, man, with those two guys, everyday players," Kershaw said. "Not just for the benefit of the team, but for their well-being. It looked pretty bad. Joc gets a forearm shiver and his head jammed into wall. It was really scary."
Ken Gurnick has covered the Dodgers for MLB.com since 2001. This story was not subject to the approval of Major League Baseball or its clubs.