Tigers tripped up by defensive missteps
Three errors give way to four unearned runs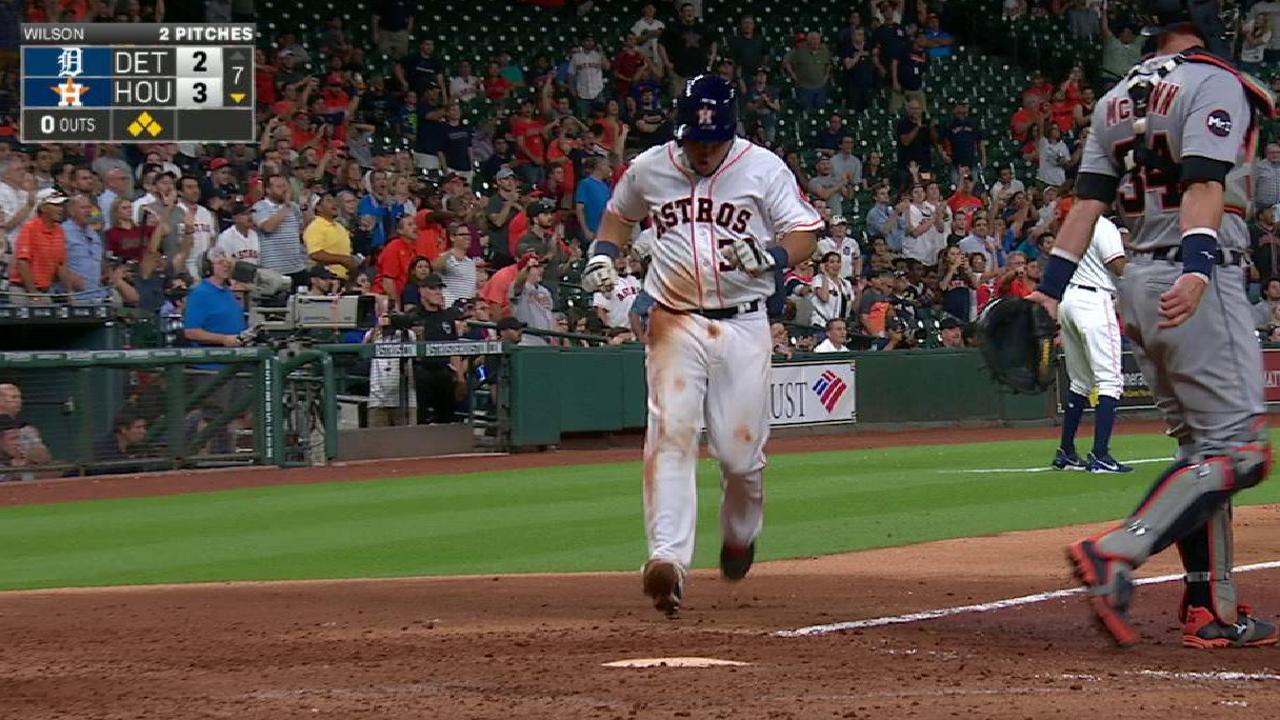 HOUSTON -- Jordan Zimmermann has shown a remarkable ability to limit the damage from the 13 home runs he has allowed this year. He can only do so much, though, to pitch around defensive errors behind him.
Though Zimmermann yielded two homers in Tuesday's 6-2 loss to the Astros, both were solo shots, both survivable once the Tigers mustered some offense. Houston's other four runs were unearned thanks to three defensive gaffes.
Thus, like the Jose Altuve ground ball that skirted under Nicholas Castellanos' glove and into left field for a third-inning run, the Tigers saw a game that was within their reach elude them for a second straight night.
"The errors didn't help," manager Brad Ausmus said, "and it makes it that much more difficult to win a baseball game when you tack that on top of the fact that we're having trouble getting hits and scoring runs."
Two errors came from Castellanos, who has now matched his season total from last year with nine. In a season where he has made defensive improvements and put in the work, reflected in a small sample size in defensive metrics, the error total belies that.
"I've missed some balls. It is what it is," Castellanos said. "But it doesn't mean that I was a better third baseman last year than I am now. It's just one of those things."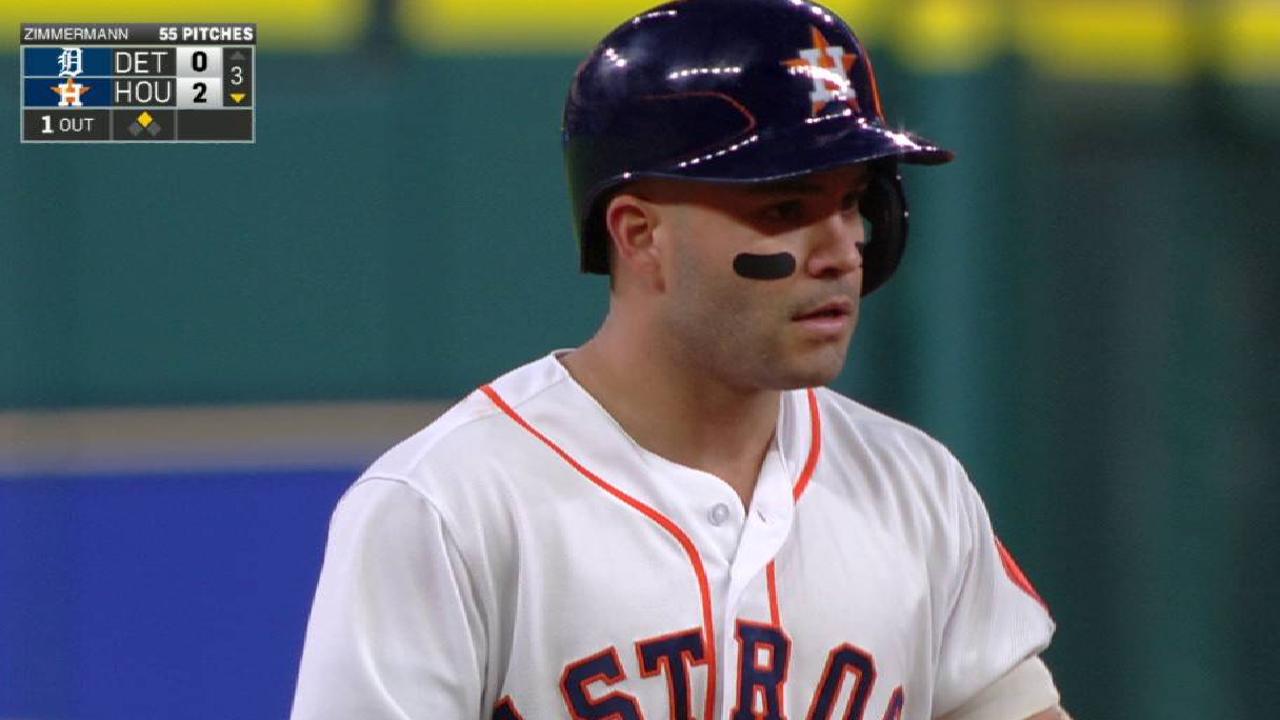 Both of Castellanos' errors were mistakes of haste. When Zimmermann induced a ground ball from Altuve out of a full count with one out in the third, Castellanos was in position to make the play. However, he turned his attention to Josh Reddick at second base before collecting the ball.
"I was more worried about the guy on second, so I peeked up to see where he was," Castellanos said.
The ball ended up going under Castellanos' glove and continuing into left field, allowing Reddick to score and putting Altuve on second. Zimmermann retired Carlos Beltran and Marwin Gonzalez to strand Altuve, but the Astros had a 2-0 lead.
Zimmermann left after a leadoff single in the seventh, but reliever Alex Wilson induced a double-play comebacker from George Springer with two on and nobody out. Wilson didn't get an out at any base when his throw to second sailed behind Ian Kinsler and into center field.
"Rather than looking to a spot, I kind of got lost looking at [Kinsler and shortstop Jose Iglesias], who were crossing back behind me because of the ground ball," Wilson said. "I think if I let [the ball] go, 'Kins' picks it up easy and turns it on his own, honestly. I fell into the trap of not looking to a particular spot and following a player.
"Unfortunately, it was a terrible play on my part and one that should never have happened. I take a lot of pride in being able to field my position, and that one was ugly. I'll take the blame for that."
An inning later came Castellanos' second error, this one when Warwick Saupold had Gonzalez caught between second and third base.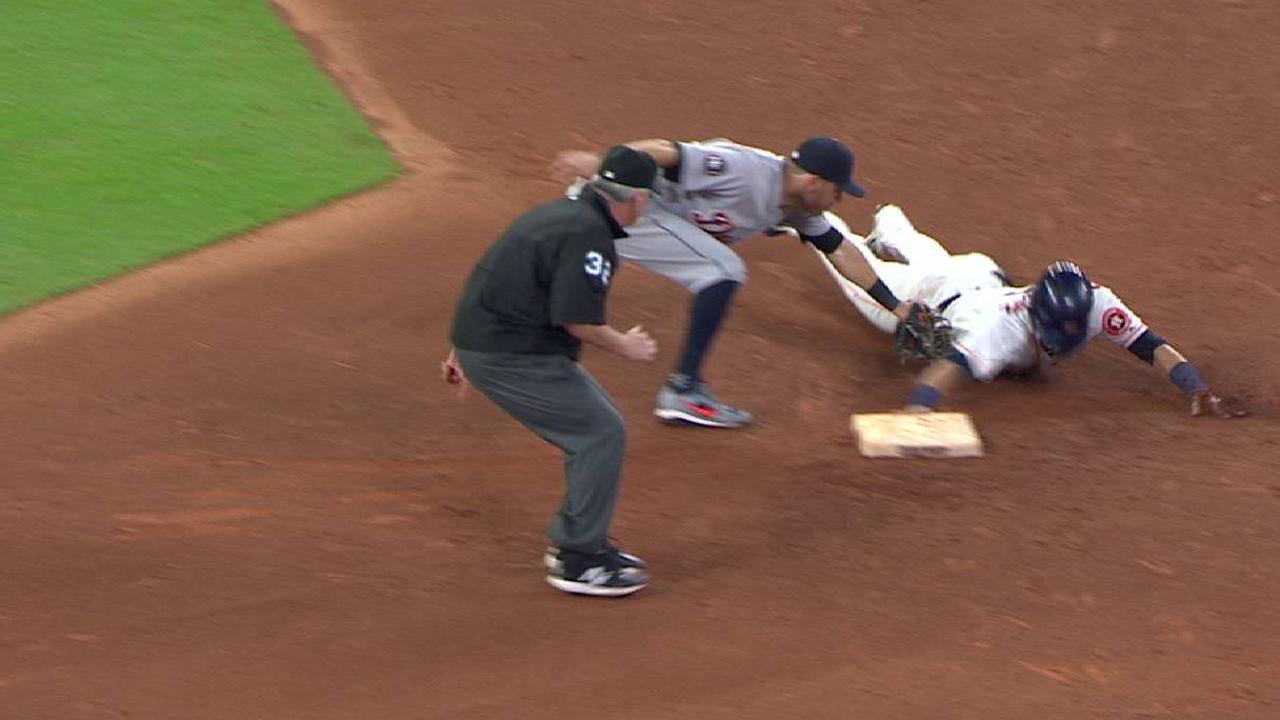 Castellanos charged in to cover third and readied to fire back to second as Gonzalez retreated, but Castellanos never cleanly caught Saupold's throw, fumbling it as Gonzalez beat the throw to second. Jake Marisnick eventually drove him in for a four-run lead.
"Today was a bad day," Castellanos said.
Jason Beck has covered the Tigers for MLB.com since 2002. Read Beck's Blog, follow him on Twitter @beckjason and Facebook. This story was not subject to the approval of Major League Baseball or its clubs.