Alonso day to day after HBP to wrist
X-rays on A's first baseman are negative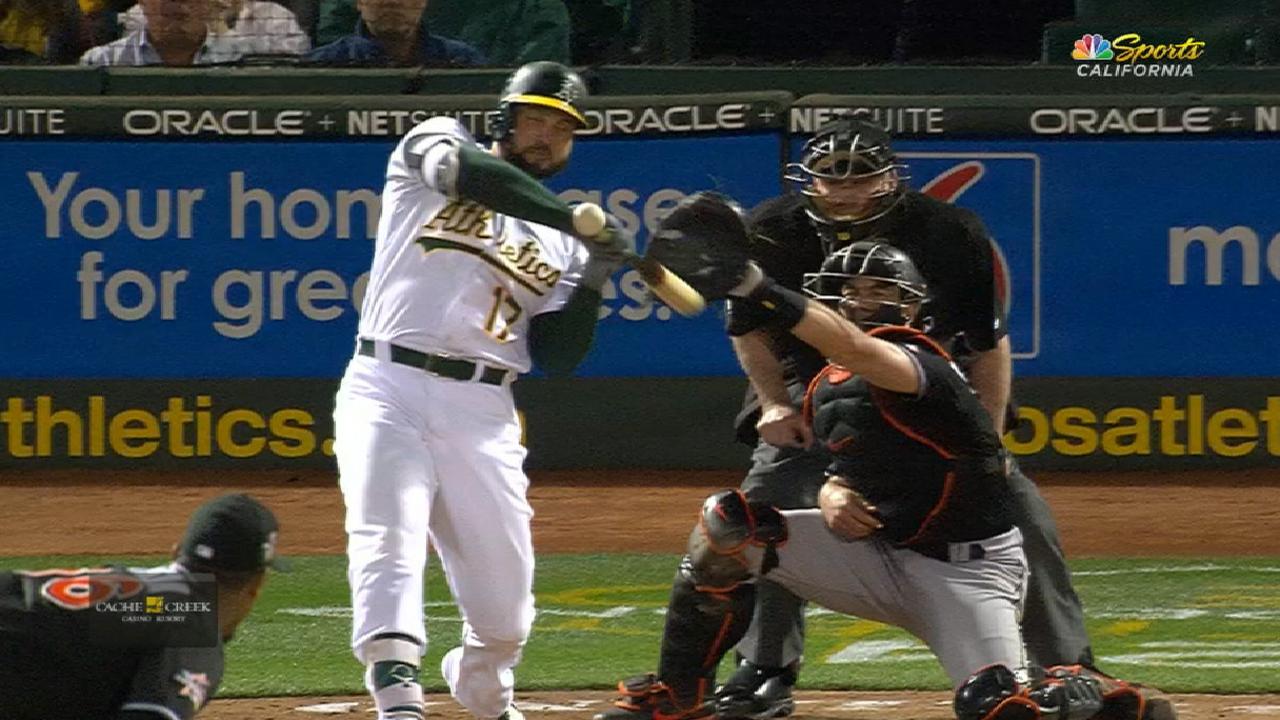 OAKLAND -- Slugging A's first baseman Yonder Alonso was removed from Tuesday night's 11-9 loss to the Marlins, shortly after being hit in the right wrist by a pitch in the sixth inning. Alonso sustained contusions to his right hand and wrist, but X-rays were clean and he is considered to be day to day.
"I've got to see how it feels throughout the night and, obviously, in the morning," Alonso said. "I think we got very lucky. It got me right on the wrist and a little bit on the hand as well. Just have to see how it is moving forward."
Alonso took an 85 mph changeup from Jarlin Garcia square on his right wrist before collapsing to the ground. Though he took a quick visit to the dugout with A's manager Bob Melvin and head athletic trainer Nick Paparesta, Alonso returned to the field as a baserunner and finished the inning.
After dealing with a broken right hand in 2013, Alonso had a flashback once the pitch initially made contact.
"At the time I got hit, I thought that was the case all over again," Alonso said. "Obviously, the pain started going away and that's when I realized that I think I'm OK, and could get back out there. Once I was on base, it was swelling up on me a little bit."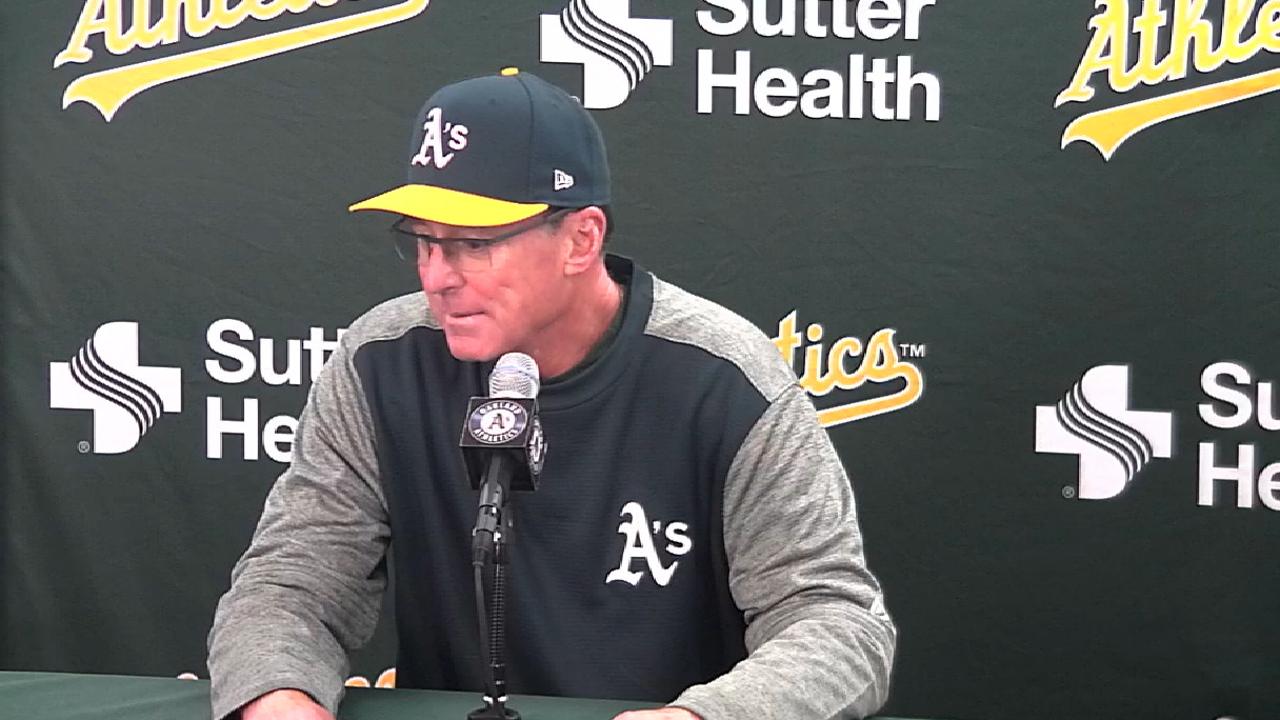 Alonso was replaced by Rajai Davis in the top of the seventh, as center fielder Mark Canha moved over to first base. In the second inning, Alonso belted a solo shot for his 13th homer of the year. Tuesday marked his first game back in action after missing the previous four-game series against Boston with left knee soreness.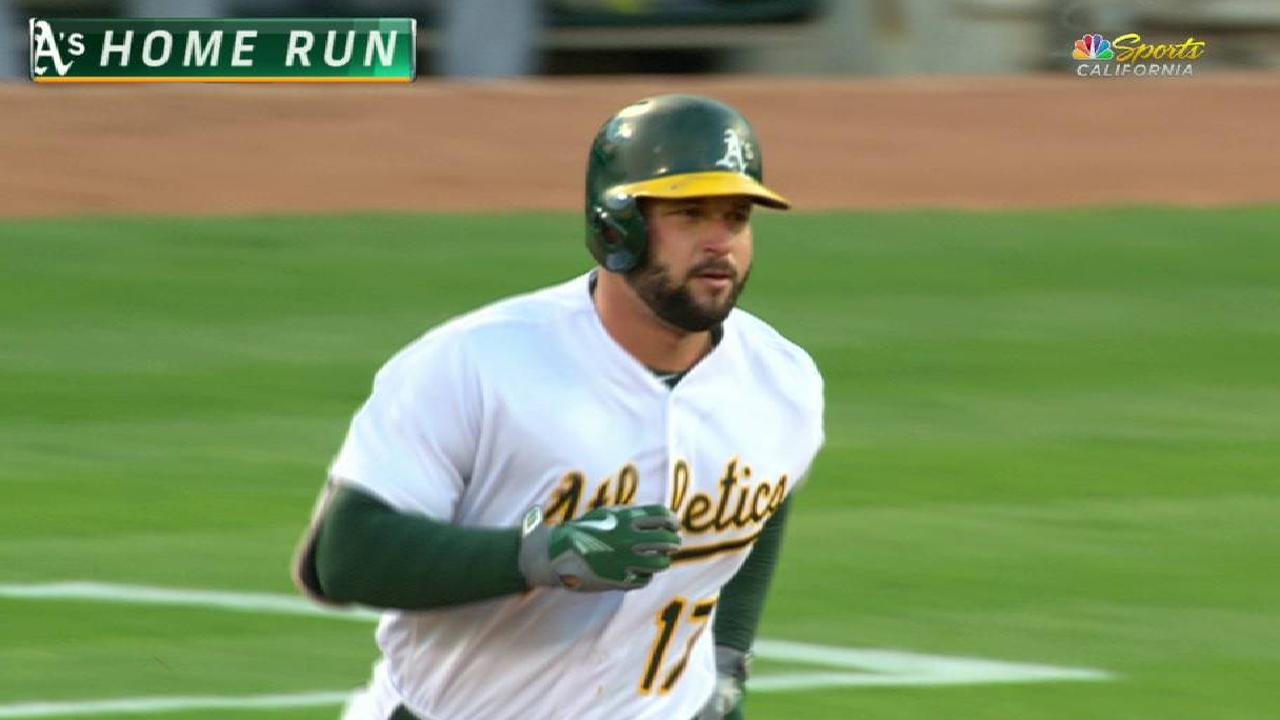 "I'm going to stay positive," Alonso said. "It's just a little bump. Nothing crazy. Nothing to be worried about. I've got to be out there for the guys."
Alonso is in the midst of a career year, as his 13 homers already surpass his previous personal best of nine. He leads the A's with 30 RBIs and also ranks second on the team with his .275 batting average.
While Alonso was on the bench against the Red Sox, Ryon Healy manned first base. Healy, who hit a three-run homer on Tuesday, is riding a 10-game hitting streak.
The A's already had an injury scare earlier in the evening when right-handed starter Jesse Hahn had to leave in the third inning with a strained right triceps.
Alex Espinoza is a contributor to MLB.com based in the Bay Area. He covered the A's on Tuesday. This story was not subject to the approval of Major League Baseball or its clubs.