Petit emerging as key to Angels' bullpen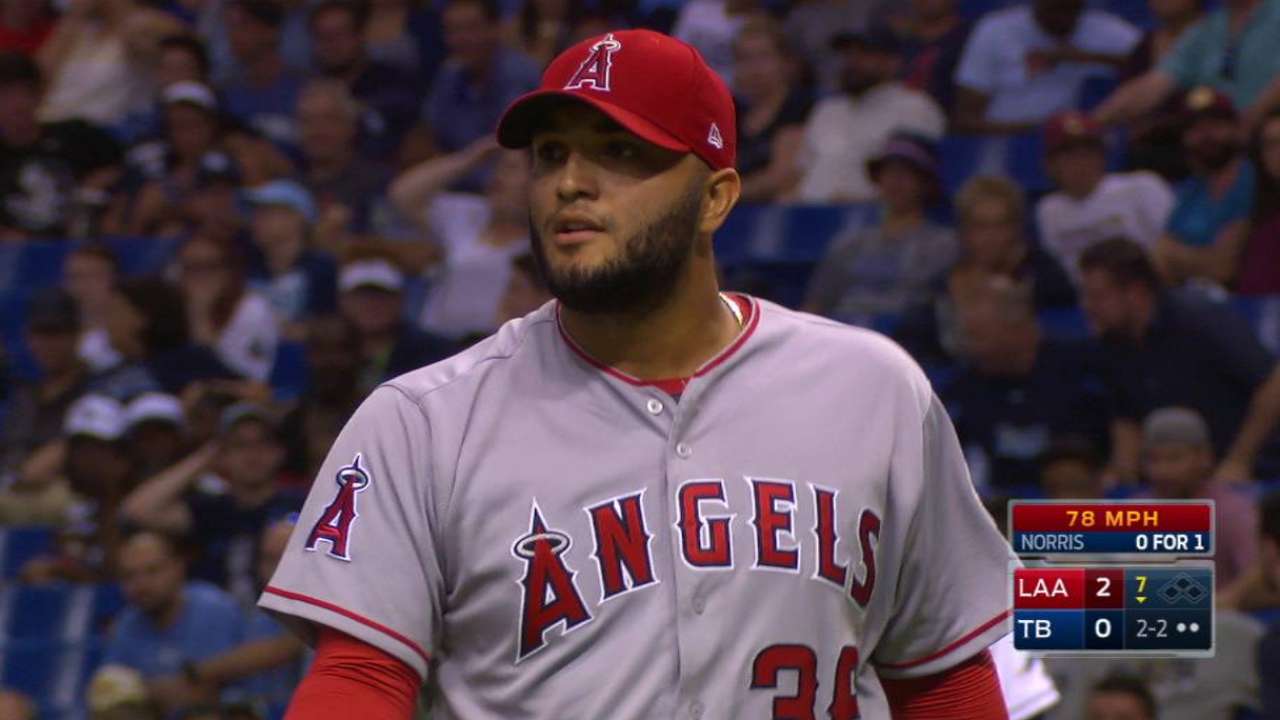 ST. PETERSBURG -- Yusmeiro Petit bailed out Matt Shoemaker and the Angels on Tuesday night, working out of a bases-loaded jam in the seventh inning of the club's 4-0 win over the Rays at Tropicana Field.
Shoemaker dominated Tampa Bay through the first six innings of the game, but he fell into trouble in the seventh after allowing a one-out double to Logan Morrison and a walk to Tim Beckham. Colby Rasmus then hit a fly ball that nearly left the park, but it ended up bouncing off the padding above the right-field fence and fell for a single, loading the bases for the Rays.
With the Angels clinging to a 2-0 lead, manager Mike Scioscia decided to bring in Petit, who struck out Steven Souza Jr. and Derek Norris swinging to abate the threat.
"Petit was absolutely huge in that situation," Shoemaker said. "Picking me up, picking the team up. Getting those next two outs to keep the game where it was, that was huge."
Petit also started the eighth and whiffed Daniel Robertson to cap his big outing. The 32-year-old right-hander has emerged as a key member of the Angels' bullpen this season, logging a 2.45 ERA over 29 1/3 innings after earning a spot on the team as a non-roster invitee out of Spring Training.
"Petit's been as important as any piece on our pitching staff," Scioscia said. "He fills in late in the game, he can give you mid-innings, he can give you multiple innings. He struck out the three batters he faced. You can't do much better than that."
Petit recorded a 4.50 ERA as a long man for the Nationals in 2016, but he said he would often go eight or nine days without getting in a game, which made it difficult for him to keep the ball down.
"This year is different for me, because I'm consistently more in the game," Petit said.
Petit, Jose Alvarez and Keynan Middleton combined to pitch 2 2/3 scoreless innings to preserve the Angels' shutout and seal Shoemaker's third consecutive win. Despite his rocky finish, Shoemaker held the Rays to three hits while walking three and striking out five over 6 1/3 innings.
Though he posted a 5.21 ERA through his first seven starts of the season, Shoemaker has now yielded just three earned runs in 18 2/3 innings over his last three outings.
"For stretches early, Shoe was throwing as well as he did at any stretch last year," Scioscia said. "That was encouraging."
Maria Guardado covers the Angels for MLB.com. This story was not subject to the approval of Major League Baseball or its clubs.